Sea Otter Classic - D2
Monterey, California, USA, April 15-18, 2004
Main Page Results Previous Stage
Stage 4 - April 18: Cross Country, 36 miles
Meirhaeghe too strong, Luna Women rule
By Kristy Scrymgeour
Filip Meirhaeghe (Specialized)
Photo ©: CN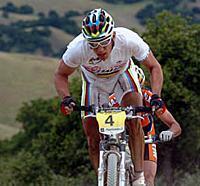 Filip Meirhaeghe (Specialized) and Katerina Hanusova (Luna Women) took out the final stage of the Sony Playstation Gravity MTB stage race finishing four days of racing at Laguna Seca Raceway. Meirhaeghe's win moved him up in the GC to secure the tour win overall. In the women's race Hanusova's teammate Alison Dunlap finished just behind her to hold onto her lead and take home another 60 valuable UCI points.
Both the men and the women raced two times around a 17-mile loop, which consisted of a lot of single track and dry rutted roads. The terrain was consistently rolling with very few flat sections to speak of. At the end of the first lap, the race rolled onto the tarmac of the racetrack to complete a lap before heading back out for the final 17 miles and eventually finishing on the racetrack after 54 miles. In the men's race it was Candian Geoff Kabush (Maxxis), donning his orange kit with matching orange Rocket 7 shoes, who pushed the pace early saying that he wanted to stay out of trouble. "There were a lot of sandy areas and places that were [dodgy in a group]," he explained. "So I wanted to split up the bunch a bit."
On the last hill at the end of the first lap, Liam Killeen (Subaru Gary Fisher) attacked taking Kabush and Jeremy Horgan Kobelski (RLX Ralph Laeren) with him. Meirhaeghe hesitated and missed the break. He chased solo but couldn't bridge the gap. Finally Roland Green (Trek Volkswagen) and Thomas Frischknecht caught him and the three worked together on the racetrack to bring down the gap.
Just before the steep pinch on the racetrack, as the trio was closing in on the leaders, Meirhaeghe bridged, leaving Green and Frishcknecht behind. "When I got up to them," said Meirhaeghe, "I looked back and saw that Roland and Thomas were not with me anymore so I thought that this was a good time to make my move. Only Geoff was able to go with me." From there, Meirhaeghe, looking and feeling strong, just kept going with Kabush in tow.
Killeen chased hard but wasn't able to keep up. "Liam was on a hard tail whereas we had duelies," said Kabush. "So we were able to pedal through more of the tough bits."
The pair worked together, but according to Kabush, Meihaeghe was doing most of the work for throughout the final lap. "In the last lap, I was just trying to hold on, he explained. "Filip just kept putting the pressure on." On the final climb Kabush gave it one last attack to try to get rid of Meirhaeghe,but the World Champion was well prepared for it and was able to follow and then counter the move to go himself. "It was coming down to the final and I had to give it a go, but the power only really lasted five seconds," said Kabush.
Meihaeghe pulled away knowing he had the race and the tour won. "Geoff was only two seconds behind before the stage, so I was worried about him, but when he attacked, I expected it," said Meirhaeghe. "We had been working together and then he stopped working. He basically gave me a call to tell me what he was going to do." Meirhaeghe soloed home to cross the line in his world champion stripes. He took the stage and the tour overall. "I really wanted to take it all he said. In racing there shouldn't be too many presents and today wasn't a day for presents," Meirhaeghe joked.
Kabush came in 16 seconds later to end a very strong four days, taking second place today and second place overall, with Killeen coming another minute later to take third. Rounding off the podium positions were Horgan-Kobelski and Karl Platt (Rocky Mountain), with original tour leader Frischknecht taking 10th place today.
Meirhaeghe was very happy with results saying that his motivation was high coming here. "I have never won Sea Otter and I really wanted to win," he said. "After the time trial I was disappointed and I thought I'd messed it up, so I'm happy. It was a cool course today, with so much single track, rolling hills and turns."
Kabush was also happy with the way things went and happy with his form at this time of year. "I have been trying not to get too psyched up for this race because I'm really looking forward to the first World Cup in Madrid, but it's certainly a good indication that the winter went well. Now I have the opportunity to go home and get some good training in."
Katerina Hanusova (Luna Women)
Photo ©: CN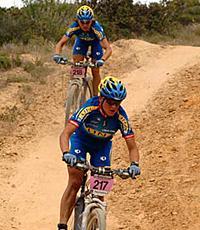 In the women's race things were a little more conservative, again due to the long length of the race. "We don't really race this long and especially with it being so early in the year, I think people were being cautious today," said Dunlap.
As the race was moving along though, Dunlap picked up the pace and split up the field a bit. "I wanted to split it up because the group was too big and I was getting nervous on the descents," said Dunlap. A small group of three including Barbara Blatter (Specialized) and Chrissy Redden (Subaru Gary Fisher) were able to go with Dunlap and other riders were yo-yoing on and off the group throughout the race. In the last lap Hanusova was also consistently in the front group.
When the riders came up the final hill before entering the raceway there was a group of nine riders together. The Luna Women's team kept the pace high on the climb and nobody really attacked. Once they reached the racetrack, only five riders remained to contest the sprint finish. Kiara Bisaro (Gears Racing) pushed the pace towards the end ensuring that only those five did remain for the sprint. "I could see another group behind us when I looked back," she said. "I knew that if it came down to a sprint with ten people, I would come ninth or tenth, so I pushed the pace a little."
It was Dunlap who controlled the final sprint. "I told Katerina to hold on," said Dunlap, "because I wanted to lead her out."
That she did, and Hanusova, despite crashing on the first lap, won the sprint with Dunlap taking second. Gretchen Reeves (Rocky Mountain) came third ahead of Blatter (Specialized) and Kiara Bisaro (Gears Racing). Thirteen seconds behind the front group was Shonny Vanlandingham, with Sue Haywood (Trek Volkswagen) finishing just ahead of Redden.
Redden was disappointed with her eighth place, despite enjoying the long course. "I was disappointed because I was in the top three for most of the race,"she explained. "I just cracked on the final climb. It was a hard race after three days of racing, but it was certainly good selection," she added.
Bisaro's stage win on day two and her fifth placing today put her into second place in the overall with Hanusova taking third in the tour.
Hanusova was happy with her win saying that having two teammates is a certain advantage in a race like this. "After crashing I was still feeling good so chased and was able to get back on," she said. "At the end, it was great to have Alison's help. She has so much experience with road racing, so we played our cards right and we won."
The third member of the Luna Women team, Shonny Vanlandingham, was also excited with the way the race turned out. "I was really interested to see how we would go in a three hour race," she said. "We are thinking about doing the Marathon World Championships later in the year so I guess this was a good test for that."
Dunlap, obviously happy with her win, was even happier that her teammate got the stage win and said she felt good the whole race. "If I had have been racing for myself today, I would have attacked the hell out of the last climb, but I really wanted to make sure Katerina got the stage today," Dunlap said.
Dunlap and Vanlandingham now head to Ecuador for the Pan Am Time Trial Championships before actually having a weekend off the following week.
Photography
Images by Kristy Scrymgeour/Cyclingnews
Results

Men
 
1 Filip Meirhaeghe (Bel) Specialized MTB Team            2.28.16
2 Geoff Kabush (Can) Team Maxxis                            0.16
3 Liam Killeen (GBr) Subaru-Gary Fisher                     1.18
4 Jeremy Horgan-Kobelski (USA) Rlx Ralph Lauren             1.34
5 Karl Platt (Can) Team Rocky Mountain In                   3.55
6 Mathieu Toulouse (Can) Gearsracing                        4.09
7 Christoph Sauser (Swi)                                    4.37
8 Trent Lowe (Aus) Factory Yeti                             5.05
9 Todd Wells (USA) Gt/Hyundai                               5.18
10 Thomas Frischknecht (Swi) Swisspower/Scott               7.36
 
Women
 
1 Katerina Hanusova (Cze) Luna Women's MTB Team          3.02.05
2 Alison Dunlap (USA) Luna Women's MTB Team
3 Gretchen Reeves (USA) Rocky Mtn/Business Objects
4 Barbara Blatter (Swi) Specialized MTB Team
5 Kiara Bisaro (Can) Gearsracing
6 Shonny Vanlandingham (USA) Luna Women's MTB Team          0.13
7 Sue Haywood (USA) Trek-Volkswagen
8 Chrissy Redden (Can) Subaru-Gary Fisher                   0.24
9 Sarah Noble (Can) Rocky Mountain Bicycles                 0.28
10 Kim Anderson (USA) Team T-Mobile                         1.20
 
Final general classification
 
Men
 
1 Filip Meirhaeghe (Bel) Specialized MTB Team            4.41.20
2 Geoff Kabush (Can) Team Maxxis                            0.18
3 Liam Killeen (GBr) Subaru-Gary Fisher                     2.16
4 Jeremy Horgan-Kobelski (USA) Rlx Ralph Lauren             3.08
5 Karl Platt (Can) Team Rocky Mountain In                   3.53
6 Mathieu Toulouse (Can) Gearsracing                        5.54
7 Todd Wells (USA) Gt/Hyundai                               6.18
 
Women
 
1 Alison Dunlap (USA) Luna Women's MTB Team              5.01.56
2 Kiara Bisaro (Can) Gearsracing                            1.03
3 Katerina Hanusova (Cze) Luna Women's MTB Team             1.20
4 Gretchen Reeves (USA) Rocky Mtn/Business Objects          1.25
5 Shonny Vanlandingham (USA) Luna Women's MTB Team          1.36
6 Sue Haywood (USA) Trek-Volkswagen                         2.17
7 Chrissy Redden (Can) Subaru-Gary Fisher                   2.49
8 Barbara Blatter (Swi) Specialized MTB Team                3.25
9 Sarah Noble (Can) Rocky Mountain Bicycles                 4.08
10 Kim Anderson (USA) Team T-Mobile                         5.29