Sea Otter Classic - D2
Monterey, California, USA, April 15-18, 2004
Main Page Results Previous Stage Next Stage
Stage 2 - April 16: Time Trial, 6 miles
McGrath and Bisaro take the win and move up in CG
Alison Dunlap holds on to her lead
Photo ©: CN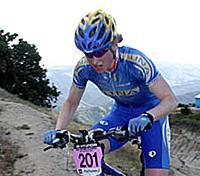 Kiara Bisaro (Gears Racing) and Seamus McGrath (Haro Adidas) won the off road time trial at Sea Otter today, both moving themselves up into second place in the General Classification going into day three.
The course was six miles long starting at the base of the short track and heading out along single track and fire roads to a long climb at the back of the course. From the top of the climb it is fast single track and grass home. It was a beautiful sunny day but the wind was strong.
In the women's event Bisaro's time of 27'20" was four seconds faster than that of Alison Dunlap, who kept her lead position on GC. Taking third place was Gretchen Reeves (Rocky Mountain) with Shonny Vanlandingham (Luna) and Sarah Noble (Rocky Mountain).
Bisaro was all smiles and very excited with the result saying that it is her first big win ever. "I just went as hard as I could out there," she said. "Sometimes as far as the heart rate goes, you just don't feel top shape and that's when you have a good race and everything is smooth. It was also a fun course with a nice little downhill that gives you a bit of adrenaline."
She made it obvious on the podium that it was the first time she had popped open a bottle of bubbly after a race, but luckily she had old hand, Dunlap to help her out. Bisaro has made the qualifications for the Olympics and now has to try her hand at the world cups for selection.
Race leader, Dunlap, was also happy with her ride, despite a problem with her derailleur late in the lap. "I felt good and I had a solid ride," she said, "and I felt a little better than yesterday. I had a little problem with my rear derailleur, so I had to coast the last down hill section to the finish. Who knows it may have changed the results, but I don't know."
Dunlap is looking forward to tomorrow's short track race and says that Chrissy Redden (Subaru Gary Fisher) and Katerina Hanusova (Luna) will be the ones to watch.
The men's podium
Photo ©: Colin Meagher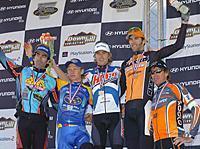 In the men's event is was McGrath who was the fastest around the course, clocking a time of 23'18". Liam Killeen (Subaru Gary Fisher) took second place and Geoff Kabush putting another Canadian on the podium for third.
McGrath explained of course that on a race like this you never feel good and pacing yourself is important. "I started fairly easy today because I knew the climb was where the race was made. I rode really hard in the last half of the race."
Second place getter Killeen was surprised with his result, mainly because of his jet lag and lack of sleep. "I felt really bad out there," he said, "so second place is more than I could hope for."
Kabush explained that the course was really tough. "I just kept saying in my head 'keep going, keep going'. It's really a battle against yourself out there. The good thing for me was that Seamus was the rider in front of me and I could see him on a lot of the sections and was able to give myself time checks. I knew he would have a good race, so I knew if I kept him within sight, I'd do ok. This result was one better than Waco, so I'm happy with it."
Photography
Images by Kristy Scrymgeour/Cyclingnews
Images by Colin Meagher
Results

Men
 
1 Seamus McGrath (Can) Haro/Adidas                         23.18.0
2 Liam Killeen (GBr) Subaru-Gary Fisher                     0.00.2
3 Geoff Kabush (Can) Team Maxxis                            0.09.9
4 Mathieu Toulouse (Can) Gearsracing                        0.13.4
5 Thomas Frischknecht (Swi) Swisspower                      0.13.7
6 Roland Green (Can) Trek-Volkswagen                        0.17.7
7 Chris Sheppard (Can) Haro/Adidas                          0.21.7
8 Adam Craig (USA) Giant Pearl Izumi                        0.27.2
9 Max Plaxton (Can) Rocky Mountain-Business Objects         0.29.7
10 Alan Obye (USA) U23 National Team                        0.31.2
11 Ricky Federau (Can) Gearsracing                          0.35.5
12 Jeremy Horgan-Kobelski (USA) Rlx Ralph Lauren            0.36.4
13 Karl Platt (Can) Team Rocky Mountain In                  0.36.8
14 Todd Wells (USA) Gt/Hyundai                              0.41.2
15 Trent Lowe (Aus) Factory Yeti                            0.45.9
16 Carl Swenson (USA) Rlx Ralph Lauren                      0.47.9
17 Christoph Sauser (Swi)                                   0.48.7
18 Jeff Hall (USA) Salsa Cycles                             0.50.0
19 Sam Schultz (USA) U23 National Team                      0.51.2
20 Jay Henry (USA) Specialized                              0.53.2
21 Roddi Lega (Can) United Cycle                            0.53.9
22 Paul Rowney (Aus) Yeti Factory                           0.57.2
23 Filip Meirhaeghe (Bel) Specialized MTB Team              0.59.9
24 Ryan Trebon (USA) Kona Clarks Les Gets                   1.00.5
25 Mark Weir (USA) Wtb/Santa Cruz                           1.01.1
26 Andreas Hestler (Can) Rocky Mountain-Business Objects    1.06.8
27 Jesse Jakomait (Can) Gearsracing                         1.11.5
28 John Devine (USA) U23 National Team                      1.14.8
29 Derek Wilkerson (USA) Specialized                        1.16.7
30 Travis Brown (USA) Trek-Volkswagen                       1.21.2
31 Frank Mapel (USA) Specialized                            1.30.9
32 Nick Ranno (USA) Trek Factory Team                       1.31.2
33 Carlos Gennero (Mex) Scott Mexico                              
34 Jimi Mortenson (USA) Specialized                         1.31.3
35 David Juarez (USA)                                       1.33.1
36 Nick Waite (USA) U23 National Team                       1.33.8
37 Eric Atwood (USA) Benaroya Research Insitute             1.37.9
38 Phil Dixon (GBr)                                         1.39.4
39 Cameron Brenneman (USA) Team Monex                       1.41.4
40 Eric Batty (USA)                                         1.41.7
41 Brandon Ott (USA) Tailwind                               1.42.1
42 Barry Wicks CAB Kona Clarks Les Gets                     1.49.3
43 Alexander Soto (Mex) Scott Mexico                        1.58.2
44 Drew Mackenzie (Can) Peyto/Oak Bay                       2.00.9
45 Walker Ferguson (USA) Giant                              2.03.1
46 Brent Miller (USA) Bianchi                               2.05.8
47 Andy Jacques-Maynes (USA) Specialized                    2.14.4
48 Jeremiah Bishop (USA) Trek-Volkswagen                    2.15.9
49 Charles Jenkins (USA) Cytomax/Specialized Racing         2.17.2
50 Cale Redpath (USA) Hassle Free Sports                    2.21.8
51 Mark Webster (Can) Bianchi-The Bike Shop                 2.23.0
52 Jesse Rients (USA) Nature Valley/Penn Cycle              2.24.9
53 Warren Gravely (USA) Dean Bicycles                       2.28.0
54 Thomas Skinner (Can) Pacific Sport                       2.31.6
55 Dave Wiens (USA) Rlx Ralph Lauren                        2.31.8
56 Troy Wells (USA) Hille Grande Specialized                2.37.1
57 Michael Lee (USA) Trek/Vw Westcoast                      2.42.4
58 Scott Wingo (USA)                                        2.43.6
59 Amon Pease (USA) Intense Cycles                          2.49.1
60 Charles Pendry (USA) Btd Racing                          2.53.0
61 Ariel Lindsley (USA)                                     2.54.2
62 Matt Patterson (Can) Gearsracing                         2.55.8
63 Scott Keller (USA) Speedbikes                            2.59.8
64 Brendan Macintosh (Can)                                  3.11.0
65 Justin Robinson (USA)                                    3.13.2
66 Steve Carwile (USA) Lindsey Wilson College               3.21.3
67 Carter Hovey (Can) Brodie Bikes/Sugoi/Rider's Cycles     3.27.3
68 Andre Sutton (Can) Hardcore Bikes                        3.34.1
69 Damon Roberson (USA) Nema-Delivery Solutions             3.34.7
70 Lucas Livermon (USA) Colarodo Altitude Traing            3.40.6
71 Hal Helbock (USA) Cytomax/Specialized                    3.40.9
72 Patrick Bush (USA) Clif Bar/Trek                         3.41.0
73 Jason Jablonski (USA) Arlberg Sports/Golds Gym           3.42.2
74 Adam Snyder (USA) Team Devo                              3.59.6
75 Perry Paolini (USA) Balance Bar/Devo                     3.59.7
76 Duncan Meyers (USA) Soulcraft                            4.09.4
77 John Foley (USA) Bike Alley                              4.17.6
78 Earl Bradley (USA) Trek Vw/Jbl Southeast Us              4.28.1
79 Jeff Blair (Can)                                         4.45.4
80 Steve Martins (Can) Hardcore/Fiore/Schwalbe              5.01.8
81 Billy Holmes (USA) Intense Cycles                        5.02.1
82 Forrest Huisman (USA) Team Easty-Bicycle Warehouse       5.02.9
83 Andy Schultz (USA)                                       5.40.1
84 Peter Wedge (Can) Kona Clarks Les Gets                   6.48.0
85 Brian Astell (USA) Independent Fabrications              7.48.0
86 Carl Decker (USA) Giant Pearl Izumi                      9.16.1
 
Women
 
1 Kiara Bisaro (Can) Gearsracing                           27.20.9
2 Alison Dunlap (USA) Luna Women's MTB Team                 0.04.0
3 Gretchen Reeves (USA) Rocky Mtn/Business Objects          0.16.9
4 Shonny Vanlandingham (USA) Luna Women's MTB Team          0.22.5
5 Sarah Noble (Can) Rocky Mountain Bicycles                 0.30.4
6 Katerina Hanusova (Cze) Luna Women's MTB Team             0.37.5
7 Kim Anderson (USA) Team T-Mobile                          0.39.5
8 Melanie McQuaid (Can) Ford Cycling                        0.42.4
9 Kelli Emmett (USA) Specialized                            0.43.8
10 Dara Marks-Marino (USA) Ford Cycling Team                0.44.9
11 Sue Haywood (USA) Trek-Volkswagen                        0.47.3
12 Kerry Barnholt (USA) Subaru-Gary Fisher                  1.09.1
13 Trish Sinclair (Can) Gearsracing                         1.13.1
14 Rhonda Quick (USA)                                       1.23.5
15 Chrissy Redden (Can) Subaru-Gary Fisher                  1.32.3
16 Wendy Simms (Can) Frontrunners/Steed Cycles              1.39.5
17 Barbara Blatter (Swi) Specialized MTB Team               1.44.1
18 Jimena Florit (Arg) Rlx Ralph Lauren                     2.08.4
19 Danelle Kabush (Can) Gearsracing                         2.09.6
20 Melissa Thomas (USA)                                     2.20.5
21 Sara Bresnick (USA) Minuteman Road Club                  2.26.2
22 Georgia Gould (USA) Yeti Cycles                          2.27.5
23 Barbara Howe (USA) Velo Bella                            2.39.0
24 Willow Koerber (USA) Rlx Ralph Lauren                    2.41.5
25 Annemarie Huisman (USA) Cannondale Mountain Bike Team    2.45.3
26 Josie Beggs (USA) Starbucks Coffee Company               2.47.4
27 Dorothy Wong (USA) Kelly Bike Company                    3.01.3
28 Catharine Pendrel (Can)                                  3.11.6
29 Jennifer Todd (USA) Cannondale                           3.13.6
30 Kathy Sherwin (USA)                                      3.26.7
31 Abigail Hippely (USA) Klein Maverick                     3.40.0
32 Joan Davies (USA) Tds-Schwalbe                           3.45.4
33 Alice Pennington (USA)                                   3.48.3
34 Ruby Evans (USA) Helens Cannondale                             
35 Lisa Matlock (USA) Ford Cycling                          3.54.2
36 Sarah Kerlin (USA) Another Bike Shop Velo Bella          4.04.7
37 Melodie Metzger (USA) Velo Bella                         4.05.0
38 Judy Freeman (USA) Cannondale                            4.10.0
39 Amy Hunter-Dillinger (USA) Cannondale                    4.17.2
40 Nina Baum (USA) Titus                                    4.31.3
41 Heather Svahn (USA)                                      4.33.3
42 Cristina Begy (USA) Maverick/Spot                        4.47.6
43 Celine Foreht (Can)                                      4.56.6
44 Niki Gudex (Aus) Intense Cycles                          4.58.1
45 Joan Orgeldinger (USA) Redhook / Turin                   5.33.7
46 Rebecca Blay (USA) Team Dean                             6.10.6
47 Jessica Runyon (USA) Velobella                           6.19.1
48 Caitlyn Tuel (USA) Trek Vw East Coast Factory Team       6.39.7
49 Julie Hudetz (USA) Team Dean                             7.00.1
50 Dj Morisette (USA) Ellsworth Copperchase                 7.41.9
51 Alisha Engel (USA) Bear Valley Bikes                           
52 Julie Emmerman (USA) Epic Roots/Pearl Izumi                    
 
General classification after stage 2
 
Men
 
1 Thomas Frischknecht (Swi) Swisspower                     1.50.00
2 Seamus McGrath (Can) Haro/Adidas                            0.06
3 Geoff Kabush (Can) Team Maxxis                              0.16
4 Roland Green (Can) Trek-Volkswagen                          0.24
5 Karl Platt (Can) Team Rocky Mountain In                     0.33
6 Filip Meirhaeghe (Bel) Specialized MTB Team                 1.01
7 Liam Killeen (GBr) Subaru-Gary Fisher                       1.18
8 Todd Wells (USA) Gt/Hyundai                                 1.20
9 Mathieu Toulouse (Can) Gearsracing                          1.42
10 Andreas Hestler (Can) Rocky Mountain-Business Objects      1.46
11 Jeremy Horgan-Kobelski (USA) Rlx Ralph Lauren              1.54
12 Max Plaxton (Can) Rocky Mountain-Business Objects          1.59
13 Alan Obye (USA) U23 National Team                          2.00
14 Christoph Sauser (Swi)                                     2.18
15 Sam Schultz (USA) U23 National Team                        2.20
16 Chris Sheppard (Can) Haro/Adidas                           2.27
17 Barry Wicks CAB Kona Clarks Les Gets                       2.28
18 Derek Wilkerson (USA) Specialized                          2.46
19 Travis Brown (USA) Trek-Volkswagen                         2.50
20 Carl Swenson (USA) Rlx Ralph Lauren                        3.51
21 Jeff Hall (USA) Salsa Cycles                               3.53
22 Jay Henry (USA) Specialized                                3.56
23 Roddi Lega (Can) United Cycle                              3.57
24 Paul Rowney (Aus) Yeti Factory                             4.00
25 Ricky Federau (Can) Gearsracing                            4.02
26 Ryan Trebon (USA) Kona Clarks Les Gets                     4.03
27 John Devine (USA) U23 National Team                        4.18
28 Frank Mapel (USA) Specialized                              4.34
29 Carlos Gennero (Mex) Scott Mexico                              
30 Phil Dixon (GBr)                                           4.42
31 Nick Waite (USA) U23 National Team                         4.49
32 Adam Craig (USA) Giant Pearl Izumi                         4.55
33 Carter Hovey (Can) Brodie Bikes/Sugoi/Rider's Cycles       4.56
34 Brent Miller (USA) Bianchi                                 5.09
35 Trent Lowe (Aus) Factory Yeti                              5.14
36 Mark Weir (USA) Wtb/Santa Cruz                             5.29
37 Jesse Jakomait (Can) Gearsracing                           5.40
38 Jimi Mortenson (USA) Specialized                           5.59
39 Cameron Brenneman (USA) Team Monex                         6.09
40 Eric Batty (USA)                                           6.10
41 Andy Jacques-Maynes (USA) Specialized                      6.20
42 Jeremiah Bishop (USA) Trek-Volkswagen                      6.44
43 Cale Redpath (USA) Hassle Free Sports                      6.50
44 Michael Lee (USA) Trek/Vw Westcoast                        7.36
45 Charles Jenkins (USA) Cytomax/Specialized Racing           7.39
46 David Juarez (USA)                                         8.26
47 Eric Atwood (USA) Benaroya Research Insitute               8.34
48 Mark Webster (Can) Bianchi-The Bike Shop                   8.38
49 Drew Mackenzie (Can) Peyto/Oak Bay                         8.57
50 Dave Wiens (USA) Rlx Ralph Lauren                          9.28
51 Charles Pendry (USA) Btd Racing                            9.49
52 Ariel Lindsley (USA)                                      10.17
53 Steve Carwile (USA) Lindsey Wilson College                10.33
54 Justin Robinson (USA)                                     11.03
55 Brendan Macintosh (Can)                                   11.07
56 Peter Wedge (Can) Kona Clarks Les Gets                    11.16
57 Alexander Soto (Mex) Scott Mexico                         12.53
58 Carl Decker (USA) Giant Pearl Izumi                       14.30
59 Perry Paolini (USA) Balance Bar/Devo                      14.47
60 Brandon Ott (USA) Tailwind                                15.35
61 Amon Pease (USA) Intense Cycles                           16.50
62 Damon Roberson (USA) Nema-Delivery Solutions              17.14
63 Adam Snyder (USA) Team Devo                               17.38
64 Scott Wingo (USA)                                         18.16
65 Matt Patterson (Can) Gearsracing                          18.28
66 Nick Ranno (USA) Trek Factory Team                        19.39
67 Jesse Rients (USA) Nature Valley/Penn Cycle               19.40
68 Warren Gravely (USA) Dean Bicycles                        19.43
69 Thomas Skinner (Can) Pacific Sport                        20.17
70 Walker Ferguson (USA) Giant                               20.18
71 Troy Wells (USA) Hille Grande Specialized                 20.50
72 Andre Sutton (Can) Hardcore Bikes                         21.34
73 Brian Astell (USA) Independent Fabrications               21.49
74 Duncan Meyers (USA) Soulcraft                             22.10
75 Jason Jablonski (USA) Arlberg Sports/Golds Gym            24.10
76 Earl Bradley (USA) Trek Vw/Jbl Southeast Us               25.20
77 Lucas Livermon (USA) Colarodo Altitude Traing             25.29
78 Patrick Bush (USA) Clif Bar/Trek                               
79 John Foley (USA) Bike Alley                               26.06
80 Hal Helbock (USA) Cytomax/Specialized                     26.08
81 Billy Holmes (USA) Intense Cycles                         27.19
82 Forrest Huisman (USA) Team Easty-Bicycle Warehouse        28.26
83 Jeff Blair (Can)                                          28.29
84 Steve Martins (Can) Hardcore/Fiore/Schwalbe               31.03
85 Scott Keller (USA) Speedbikes                             33.36
86 Andy Schultz (USA)                                        41.13
 
Women
 
1 Alison Dunlap (USA) Luna Women's MTB Team                1.12.56
2 Kiara Bisaro (Can) Gearsracing                              0.20
3 Gretchen Reeves (USA) Rocky Mtn/Business Objects                
4 Shonny Vanlandingham (USA) Luna Women's MTB Team                
5 Sarah Noble (Can) Rocky Mountain Bicycles                       
6 Melanie McQuaid (Can) Ford Cycling                          0.15
7 Katerina Hanusova (Cze) Luna Women's MTB Team               0.20
8 Kim Anderson (USA) Team T-Mobile                                
9 Kelli Emmett (USA) Specialized                                  
10 Dara Marks-Marino (USA) Ford Cycling Team                      
11 Kerry Barnholt (USA) Subaru-Gary Fisher                        
12 Sue Haywood (USA) Trek-Volkswagen                          0.45
13 Trish Sinclair (Can) Gearsracing                           0.20
14 Chrissy Redden (Can) Subaru-Gary Fisher                    0.10
15 Rhonda Quick (USA)                                         0.20
16 Wendy Simms (Can) Frontrunners/Steed Cycles                    
17 Barbara Blatter (Swi) Specialized MTB Team                     
18 Jimena Florit (Arg) Rlx Ralph Lauren                           
19 Sara Bresnick (USA) Minuteman Road Club                        
20 Melissa Thomas (USA)                                       0.35
21 Barbara Howe (USA) Velo Bella                              0.20
22 Willow Koerber (USA) Rlx Ralph Lauren                          
23 Josie Beggs (USA) Starbucks Coffee Company                     
24 Dorothy Wong (USA) Kelly Bike Company                          
25 Annemarie Huisman (USA) Cannondale Mountain Bike Team      0.45
26 Kathy Sherwin (USA)                                        0.20
27 Danelle Kabush (Can) Gearsracing                           1.40
28 Georgia Gould (USA) Yeti Cycles                                
29 Melodie Metzger (USA) Velo Bella                           0.20
30 Catharine Pendrel (Can)                                    1.40
31 Abigail Hippely (USA) Klein Maverick                           
32 Jennifer Todd (USA) Cannondale                             3.14
33 Joan Davies (USA) Tds-Schwalbe                                 
34 Alice Pennington (USA)                                         
35 Ruby Evans (USA) Helens Cannondale                         3.26
36 Sarah Kerlin (USA) Another Bike Shop Velo Bella            3.14
37 Judy Freeman (USA) Cannondale                                  
38 Amy Hunter-Dillinger (USA) Cannondale                          
39 Joan Orgeldinger (USA) Redhook / Turin                     2.00
40 Nina Baum (USA) Titus                                      3.14
41 Heather Svahn (USA)                                            
42 Lisa Matlock (USA) Ford Cycling                            6.02
43 Julie Hudetz (USA) Team Dean                               3.14
44 Niki Gudex (Aus) Intense Cycles                            6.30
45 Rebecca Blay (USA) Team Dean                               5.26
46 Cristina Begy (USA) Maverick/Spot                          7.07
47 Celine Foreht (Can)                                        7.34
48 Dj Morisette (USA) Ellsworth Copperchase                   6.19
49 Jessica Runyon (USA) Velobella                            14.59
50 Caitlyn Tuel (USA) Trek Vw East Coast Factory Team