2004 MTB World championships - CM
Les Gets, France, September 8-12, 2004
Main Page Results Previous Race Next Race
Race 6 - September 11: Downhill Elite Women
Quin wins; Chausson DNS
By Rob Jones in Les Gets
Vanessa Quin
Photo ©: Birke Ulrich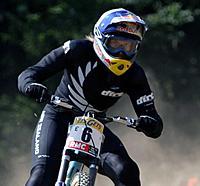 The biggest news of the women's race was that the overwhelming favourite, Anne-Caroline Chausson of France, would not be starting after a crash in training. This threw the field wide open, with New Zealand's Vanessa Quin, the second fastest in qualifying, coming down last to snatch the title from former junior World Champion Mio Suemasa of Japan.
American April Lawyer set the early fast time of 3:22.20, which stood up until countrywoman Kathy Pruitt knocked nearly six seconds off. Suemasa came through two riders later to take a further four and a half seconds off, and her time stood until Quin, who was a further 2.78 seconds ahead.
"The run was the same as practice for me, and I hit all my lines." explained Quin, "but not having Anne-Caroline there was a big deal, and made it more of an open book, and some of us handled it better than others. It was a funny kind of feeling, to know that you definitely were not racing for second. All the women were nervous, because they suddenly had a chance."
Photography
Images by Birke Ulrich/www.alakarte.de
Images by Rob Jones/www.canadiancyclist.com
Images by Birke Ulrich/www.alakarte.de
Results
1 Vanessa Quin (New Zealand)             3.08.04
2 Mio Suemasa (Japan)                    0.02.78
3 Celine Gros (France)                   0.03.98
4 Marla Streb (USA)                      0.05.72
5 Marielle Saner (Switzerland)           0.06.37
6 Kathy Pruitt (USA)                     0.08.25
7 April Lawyer (USA)                     0.14.16
8 Lisa Sher (USA)                        0.14.37
9 Danika Schroeter (Canada)              0.14.56
10 Nolvenn Le Caer (France)              0.16.45
11 Bernardita Pizarro (Chile)            0.18.46
12 Fionn Griffiths (Great Britain)       0.20.30
13 Anneke Beerten (Netherlands)          0.20.83
14 Amelie Thevoz (Switzerland)           0.23.78
15 Claire Buchar (Canada)                0.27.15
16 Miriam Blas (Spain)                   0.27.67
17 Michelle Dumaresq (Canada)            0.28.70
18 Katrina Strand (Canada)               0.35.83
19 Anka Martin (South Africa)            0.40.03
20 Katarina Siskova (Slovakia)           0.43.24
21 Junelle Cassidy (Canada)              0.48.42
22 Angelika Hohenwarter (Austria)        0.56.55
23 Dalma Kiss (Hungary)                  0.57.84
24 Helena Boskova (Slovakia)             1.01.65
25 Antje Kramer (Germany)                1.03.72
26 Gale Dahlager (USA)                   1.08.46
27 Jaymie Michelle Mart (Barbados)       1.13.86
28 Caroline Milot (Canada)               1.18.45
DNF Julia Lasso (Equador)                       
DNS Anne-Caroline Chausson (France)             
DNS Anita Molcik (Austria)