2004 MTB World championships - CM
Les Gets, France, September 8-12, 2004
Main Page Results Previous Race Next Race
Race 3 - September 10: Cross Country Junior Men
Schurter wins it for Switzerland
By Rob Jones in Les Gets
Nino Schurter
Photo ©: Rob Jones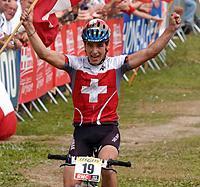 Switzerland confirmed that its development program is in great shape, with Nino Schurter taking the Junior Men's cross-country title less than 24 hours after countrywoman Nathalie Schneitter won the Junior Women's gold medal. Host country France took both the silver and bronze medal podium spots with strong rides from Stephane Tempier and Maxime Marotte.
Schurter led the five lap race from start to finish, with the fastest lap splits on all but the final lap, when he slowed to savour his victory. Behind, Russia's Denis Vorontsov moved into second, and looked to be heading for the silver medal through the first half of the race. However, the French duo were moving up steadily, and overtook Vorontsov on the fourth lap, with Tempier dropping his team mate in the final lap for the silver medal. Vorontsov faded badly in the last lap, and was overtaken by Germany's Andi Weinhold for fourth.
While Schurter did not disappoint his pre-race favourite status, he came into the race wary: "Last week I was very worried because I had pain in my throat and ears, and I had to take antibiotics. I was concerned that they might affect my condition, but during my lap in the Team relay it was okay, which was a big relief."
Stéphane Tempier, Maxime Marotte,
Photo ©: Rob Jones

The Swiss then declared himself a happy man: "For me, this is like a dream come true. I had a perfect race, with no crashes or incidents. I was able to ride at my own speed, never over the red line, at a comfortable pace for me."
Photography
Images by Rob Jones/www.canadiancyclist.com - Gallery
Results

Junior Men
1 Nino Schurter (Switzerland)            1.34.24
2 Stephane Tempier (France)                 2.05
3 Maxime Marotte (France)                   2.48
4 Andi Weinhold (Germany)                   4.02
5 Denis Vorontsov (Russia)                  4.46
6 Fabian Giger (Switzerland)                5.08
7 Raphael Gagne (Canada)                    5.33
8 Benjamin Giraud (France)                  5.42
9 Hans Becking (Netherlands)                5.49
10 Shaun Lewis (Australia)                  6.23
11 Giuseppe Clara (Italy)                   6.34
12 Luka Kodra (Slovenia)                    7.01
13 Olivier Sarrazin (France)                7.10
14 Marc Colom (France)                      7.25
15 Yannick Bernasconi (Switzerland)         7.35
16 Justin Case (Australia)                  7.39
17 Joel Healy (Australia)                   7.42
18 Thomas Juul-Jensen (Denmark)             7.52
19 Quincy Vens (Belgium)                    7.53
20 Rudolf Biedermann (Switzerland)          8.02
21 Jan Skarnitzl (Czech Republic)           8.04
22 Alexander Wetterhall (Sweden)            8.14
23 Robert Gehbauer (Austria)                8.48
24 Burry Stander (South Africa)             8.55
25 Ken Onodera (Japan)                      9.09
26 Nicola Rohrbach (Switzerland)                
27 Bjorn Brems (Belgium)                   10.01
28 Michael Hutter (Switzerland)            10.18
29 Jonathan Boulanger (Canada)             10.47
30 Dariusz Batek (Poland)                  11.12
31 Dario Gasco (Argentina)                 11.18
32 Ermin Van Wyk (Namibia)                 11.58
33 Martin Matrat (France)                  12.39
34 Daniel Schütz (Switzerland)             12.44
35 Fabio Cappi (Italy)                     12.51
36 Maarten Krommendijk (Netherlands)       12.54
37 Michal Lami (Slovakia)                  13.03
38 Alexandre Fortier (Canada)              13.08
39 David Rosa (Portugal)                   13.44
40 Georg Huber (Austria)                   14.01
41 Romain Straub (France)                  14.22
42 Arno Viljoen (Namibia)                  14.26
43 Ian Legg (Great Britain)                14.33
44 Tim Wijnants (Belgium)                  14.41
45 Rumen Voigt (Germany)                   14.46
46 Lachlan Norris (Australia)              14.52
47 Alex Hodge (USA)                        15.28
48 Mathiaz Budin (Slovenia)                15.29
49 Renay Groustra (South Africa)           15.45
50 Jordi Vila Membrado (Spain)             15.50
51 Ondrej Bambula (Czech Republic)         15.53
52 Ziga Trampuz (Slovenia)                 15.55
53 Gabriel Jarry-Bolduc (Canada)           15.57
54 Sam Malfliet (Belgium)                  16.15
55 Joao Pereira (Portugal)                 16.19
56 Igor Zorin (Estonia)                    16.21
57 Martin Flano (Chile)                         
58 Josh Keep (Australia)                   16.41
59 Barry Nolan (Ireland)                   16.46
60 Stijn Mettepenningen (Belgium)          16.51
61 Rotem Ishai (Israel)                    16.54
62 Benjamin Jost (Germany)                 17.16
63 Clinton Avery (New Zealand)             17.29
64 Mark Batty (Canada)                     17.41
65 Matias Giusta (Argentina)               17.57
66 Manuel Gschnell (Italy)                 18.04
67 Alistair Farley (Australia)             18.47
68 Garrett Gibson (USA)                    18.55
69 Lukas Sablik (Czech Republic)           21.35
 
One lap down
 
70 Gunther Huber (Italy)                        
71 Milos Masny (Slovakia)                       
72 Martin Kostelnicak (Slovakia)                
73 Joao Matos (Portugal)                        
74 Marios Athanasiades (Cyprus)                 
75 Noah Singer (USA)                            
76 Juraj Paller (Slovakia)                      
77 Ola Kjoren (Norway)                          
78 Martin Skopek (Slovakia)                     
79 Ian Mcavity (Canada)                         
80 Andrew Mccullough (Ireland)                  
81 Jakob Nimpf (Austria)                        
82 Baurzhan Turganbayev (Kazakhstan)            
83 Tamas Kajtar (Hungary)                       
84 Matej Justin (Slovenia)                      
85 Mithchell Peterson (USA)                     
 
Two laps down
 
86 Luke Pennington (USA)                        
87 Adam Gulyas (Hungary)                        
88 Sam Jurekovic (USA)                          
 
DNF Jiri Samek (Czech Republic)                 
DNF Lukas Hanus (Slovakia)                      
DNF Pawel Szpila (Poland)                       
DNF Miguel Valles Fernandez (Spain)             
DNF Jose Melitao (Portugal)                     
DNF Ian Field (Great Britain)                   
DNF Anders Hovdenes (Norway)                    
DNF Periklis Ilias (Greece)