2004 MTB World championships - CM
Les Gets, France, September 8-12, 2004
Main Page Results Previous Race
Race 14 - September 12: Cross-Country Elite Men
Absalon adds World Title to Olympic gold
By Rob Jones in Les Gets
Julien Absalon
Photo ©: Rob Jones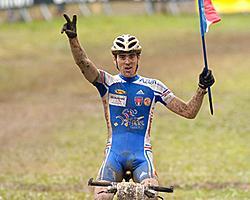 Olympic champion Julien Absalon (France) showed up at the start line for the men's cross-country resplendent in gold - gold helmet, gold shoes, mostly gold bike. Whether it was the gold accoutrements, or the partisan French crowd, Absalon rode to a decisive victory, adding the elite title to his previous Junior and Under 23 titles. French team mate Cedric Ravanel took the silver medal, and Thomas Frischknecht (Switzerland) the bronze, an incredible 15 years after winning silver in the first mountain bike world championships, in Durango, Colorado.
The men's race favoured riders who could both ride and run, such as former world cyclo-cross champion Frischknecht, who attacked early in the first lap and opened up a gap.
"I had a hard time after the Olympics; I had such a great time and I was so focussed there that afterwards I had an empty head. So the weather here made a big difference for me when it began to rain. I knew then I could win a medal, be on the podium. I was really hoping to get the jersey here, since it is probably one of my last chances. But I had big chainsuck in the middle of the race and had to stop. It got caught between the frame and chainring, and because there was so much mud, it took a long time to figure it out. That was when I had 30 seconds, but I think I lost two minutes."
A little further
Photo ©: Birke Ulrich

This was the third lap, and was the point when Absalon took the lead, shadowed by Marek Galinski of Poland. A lap later Absalon was on his own, and Ravanel had moved into second, followed by a fading Galinski and Roel Paulissen (Belgium). Frischknecht was back in seventh at this point. By the start of the final lap Paulissen had moved into third, but Frischknecht was in fourth and moving in. At the finish line, the crowd was treated to an unusual sight in mountain biking - Frischknecht sprinting past Paulissen out of the final corner to take the bronze in the final 75 metres.
"The battle with Roel was special." Frischknecht agreed. "On the last climb at one kilometre to go he had 20 seconds. But it is just one of my things that I never give up. I was still 5 seconds back with less than 500 metres but I could see that he was not going well - his knees were sticking out. I barely made it round the second last turn and then caught him and he just gave up. It couldn't have been tighter."
However, while the finish for third was exciting, the focus was all on Absalon, who professed to be surprised that he could win the rainbow jersey.
"I'm actually very surprised. I knew I had the form, but just didn't think I could get a medal. I let it go after the Olympics, and I was really just here to see the crowd. My coach said to me 'you've got form, go for it.' But it was only yesterday that I actually thought 'Yes'. Like Thomas I adore the rain and mud, so when I looked out the window and saw the rain it motivated me even more.
"I started a little slower, but I was picking up the pace because the crowd was cheering me on. I thought on the third lap I was going too fast, but it was hard to go slower when there was so much support."
Photos
Images by Birke Ulrich/www.alakarte.de
Images by Rob Jones/www.canadiancyclist.com
Results
1 Julien Absalon (France)              2.20.37
2 Cedric Ravanel (France)                 0.57
3 Thomas Frischknecht (Switzerland)       1.44
4 Roel Paulissen (Belgium)                1.48
5 Marek Galinski (Poland)                 2.57
6 Lado Fumic (Germany)                    3.18
7 Kashi Leuchs (New Zealand)              3.45
8 Jean-Christophe Peraud (France)         5.48
9 Martino Fruet (Italy)                   5.53
10 Michael Weiss (Austria)                7.14
11 Christoph Sauser (Switzerland)         8.28
12 Karl Platt (Germany)                   8.41
13 Igor Bogdan (Ukraine)                  9.03
14 Todd Wells (USA)                       9.26
15 Geoff Kabush (Canada)                  9.42
16 Chris Sheppard (Canada)                9.52
17 Balz Weber (Switzerland)               9.58
18 Christof Bischof (Switzerland)        10.34
19 Marco Bui (Italy)                     11.02
20 Yohann Vachette (France)              11.20
21 Fredrik Kessiakoff (Sweden)           12.06
22 Mirko Pirazzoli (Italy)               12.10
23 Jochen Kass (Germany)                 13.38
24 Adam Craig (USA)                      14.00
25 Jeremiah Bishop (USA)                 14.22
26 Ricky Federau (Canada)                14.54
27 Andreas Kugler (Switzerland)          15.01
28 Maxim Gogolev (Russia)                15.06
29 Bart Brentjens (Netherlands)          15.29
30 Calle Friberg (Sweden)                15.32
31 Robin Seymour (Ireland)               16.12
32 Silvio Bundi (Switzerland)            17.07
33 Marten Tjallingii (Netherlands)       17.12
34 Jimmy Tielens (Belgium)               18.04
35 Carlos Coloma Nicolas (Spain)         18.19
36 Marcin Karczynski (Poland)            18.51
37 Oliver Beckingsale (Great Britain)    19.52
38 Milan Spesny (Czech Republic)         20.45
39 Fredrik Modin (Sweden)                21.03
40 Jody Crawforth (Great Britain)        21.07
41 Jhon Botero (Colombia)                21.14
42 Zak Toogood (Great Britain)           21.30
43 Sergiy Rysenko (Ukraine)              23.07
44 Perren Delacour (Australia)           23.55
45 Nick Craig (Great Britain)            25.19
 
1 lap behind
 
46 Christian Poulsen (Denmark)                
47 Mike Northcott (New Zealand)               
48 Bas Peters (Netherlands)                   
49 Phil Dixon (Great Britain)                 
50 Gody Jacobs (Belgium)                      
51 Mathieu Toulouse (Canada)                  
52 Hallvar Barlaup (Norway)                   
53 Hiroki Irokawa (Japan)                     
54 Thys Al (Netherlands)                      
55 Michael Broderick (USA)                    
56 Tim Vincent (New Zealand)                  
57 Jay Henry (USA)                            
58 Peter Wedge (Canada)                       
59 Yevgeniy Yakovlev (Kazakhstan)             
60 Antonio Ortiz Barranco (Spain)             
61 Sid Taberlay (Australia)                   
 
2 laps behind
 
62 Igor Baretto (Italy)                       
63 Janos Vizdak (Hungary)                     
64 Peter Riis Andersen (Denmark)              
65 Roddi Lega (Canada)                        
66 Raita Suzuki (Japan)                       
67 Andrei Moukhine (Russia)                   
68 Carlos Gennero (Argentina)                 
69 Takanori Yamaguchi (Japan)                 
70 Robert Vrecer (Slovenia)                   
71 Szilard Buruczki (Hungary)                 
 
3 laps behind
 
72 Sebastian Quiroga (Argentina)              
73 Stuart Houltham (New Zealand)              
DNF Ralph Naf (Switzerland)                   
DNF Christoph Soukup (Austria)                
DNF Carsten Bresser (Germany)                 
DNF Erwin Bakker (Netherlands)                
DNF Miguel Martinez (France)                  
DNF Ivan Alvarez Gutierrez (Spain)            
DNF Ryder Hesjedal (Canada)                   
DNF Stefan Sahm (Germany)                     
DNF Martin Kraler (Austria)                   
DNF Massimo De Bertolis (Italy)               
DNF Philip Tavell (Sweden)                    
DNF Nicolas Filippi (France)                  
DNF Josh Fleming (Australia)                  
DNF Roman Rametsteiner (Austria)              
DNF Yader Zoli (Italy)                        
DNF Chris Jongewaard (Australia)              
DNF Mannie Heymans (Namibia)                  
DNF Dario Acquaroli (Italy)                   
DNF Ryan Trebon (USA)                         
DNF Mauricio Bugarin (Argentina)              
DNF Jeremy Horgan-Kobelski (USA)              
DNS Radim Korinek (Czech Republic)