Recently on Cyclingnews.com
MTB index page for all MTB content
An interview with Pia Sundstedt, July 24, 2006
Falling in love again
An accomplished road cyclist, Pia Sundstedt had gone as far as she wanted to go in cycling by 2002. She was worn down from the stress and pressure of European road racing and walked away from the sport. Two years later, she reemerged; this time on a mountain bike at a marathon in Pfalz, Germany. After she won, and realized that the second-place rider was the current leader in the World Cup, she knew she had found something to love about cycling again. Steve Medcroft caught up with the 2006 UCI Marathon World Cup Series leader on the eve of the marathon in Vilabassa, Italy (in which Sundstedt went on to place third).
Pia Sundstedt

Date of Birth: May 2, 1975 in Kokkola, Finland

Teams:
- 2006/2006, Rocky Mountain/Business Objects MTB Team
- 2002, Sponsor Service Norway
- June 2001-October 2001, Team Intersports Canada
- 1999-May 2001, GAS Sport Team Italy
- 1998, G.C. Mimosa Sprint Italy
- 1997, G.C. Mimosa Sanson Italy
- 1996, Libertas-Technogym Holland
Results:
2006
- 2nd, Marathon World Cup #1, Naoussa, Greece
- 1st, Marathon World Cup #2, Mont St Anne, Canada
- 3rd, Marathon World Cup #3, Dolomiti Superbike - Villabassa, Italy
2005
- 1st, European Champion MTB Marathon
- 5th, World Championships MTB Marathon
- Finnish road champion
- 1st, Dolomiti Super Bike, Villabassa, Italy
Black Forest Ultra Bike Marathon, Kirchzarten, Germany
- 1st, Marathon Neustadt/ Pfalz, Germany
- 1st, Marathon Bad Wildbad, Germany
- 1st, Overall Euro Bike Extremes Marathon Series
- 1st, Overall Adidas Evil Eye German Bike Masters Marathon Series
2002:
- Finnish road champion
2001:
- Finnish road champion
- 1st, GP. Fèminin, Quebec, Canada, Overall classification
2000:
- Woman Athlete of the Year in Finland
- 2nd, World cup Road Cycling, Fleche Wallone, Belgium
- 1st, World cup Road Cycling, Montreal, Canada
- 1st, World Cup Road Cycling, Oberembrach, Switzerland
- 2nd, World-cup Road Cycling, Overall Classification
- 21st, Olympic Games in Sydney, Road Cycling
- 1st, Giro del Trentino, Italy, overall classification, 1 stage-win
- Giro d'Italia, 1 stage-win
- 1st, Giro dei 6 communi, Mendrisio, Switzerland
- 1st, Giro del Piave, Italy
1999:
- 6th, World cup, Fleche Wallone, Belgium
- 3rd, Giro del Trentino, Italy, Overall classification
- Giro d'Italia, 1 stage-win
1998:
- 2nd, Fleche Wallone, Belgium
- 1st, Giro Toscana, Italy, Overall classification, 1 stage-win
- Giro d'Italia, 1 stage-win
1997:
- 1st, Giro Trentino, Italy, Overall classification, 1 stage-win
- Finnish road champion
1996:
- Finnish road champion
1994:
- Finnish Champion XCO
1979:
- Finnish Champion in Sand Castle Building, Childrens' Category, Hailuoto island
The town of Kokkola, Finland is an unlikely breeding ground for an elite cyclist. The city of 36,000, which sits some 500-kilometers north of Helsinki on the Western coast of Finland, boasts and average annual temperature of just 4.8 degrees Celsius and sunlight for as little as five hours a day in winter. But it happened anyway; in a region where every child lives, plays and gets to school on cross-country skis, Pia Sundstedt found a way to become a cyclist.
"In my school years, when I was a competitive skier," the thirty-one year old said from her hotel in Vilabassa, Italy just before the third round of the 2006 UCI World Cup, "I kept active in summer and cycling was available so I got into it."
Originally a sport she used to keep her fitness up for skiing, Sundstedt says she became hooked on cycling after her first race, in 1989 when she was only fourteen years old. She soon began to dream of racing full time. "I was doing road cycling in summertime and cross country skiing in wintertime; competing all year round. Until I was eighteen. And then I chose only cycling."
Glory on the road
Leading out Lynne Bessette
Photo ©: Rory McAdams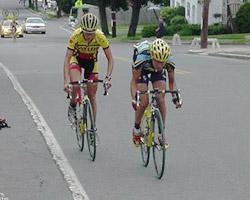 Finland offered limited opportunity for Sundstedt to develop as a racer so she set her sights on the burgeoning women's road racing scene several hundred miles south in central Europe. "Being a cross country skier in Finland is ideal," she says. "Being a cyclist in Finland was impossible so when I chose to do only cycling, I chased my dream by going to Europe to see how I could do in races there."
In 1996, Sundstedt moved to Holland, returning home to Finland only to take the her first Finnish national road racing championship. She was twenty-one. "From '97 on I was in Italy and riding for an Italian team," she says.
Sundstedt spent six years competing at the highest levels of women's cycling in Europe. Besides sweeping up her national championship for three of those years, Sundstedt was posting impressive results in both stage and single-day races. In 2000 alone, as captain for GAS Sport Team Italy, she won World Cup races in Montreal, Canada and Oberembrach, Switzerland, finished second to Genevieve Jeanson at the Fleche Wallonne World Cup, won a stage in the Giro D'Italia Femminile, competed in the Sydney Olympics (21st in the road race) and was named Finnish Athlete of the Year.
Disappearing act
Then after the 2002 season, Sundstedt's results dry up. She could have stopped racing because her team folded (Sponsor Service Norway, of which current MTB World Champion Gunn-Rita Dahle-Flesjaa was a member). But, she says, it was the daily pressures of racing at the elite level that got to her. "I had no motivation to train anymore," she says about her absence. "And when it's not fun to ride, riding five hours a day is impossible to do. Being an athlete who can perform well, I wanted to do well all the time - I didn't want to be one just riding in the bunch - so since I wasn't motivated to train as much as I needed to, I moved back to Finland and stopped racing bikes completely while I went back to school."
Sundstedt walked away from cycling. But not from all sport. "I did only some long distance cross country skiing during that time," she says. "Not seriously - just because it was fun and once you do sports, you don't ever really stop; you want to be fit."
The thirty-one year old says that the side effect of pressure-less activity was that she once again began to enjoy competition. "It was fun to train again."
2006 Mont Saint Anne
Photo ©: Rob Jones

As part of that 'having fun again' attitude towards sport, Sundstedt entered a mountain-bike marathon in Finland in 2004. The results were not the reason she returned to cycling the following year. "I hated it," she said about the race. "I had to run everything. One lap was 60k and I needed five hours to do that lap. It was really bad. I said I would never, ever ride a mountain bike again."
But she did ride a mountain-bike again. "I moved to Germany in the beginning of 2005. My boyfriend - he's German, that's why I moved to Germany - said 'no, no, no, in Europe, the races are not as bad (as the one in Finland). At the time, I was a guide - riding around with tourists on road and mountain bikes. My employer suggested I race with them at a marathon (in Neustadt- Pfalz, Germany). It was fun. I crossed the finish line as the winner. The second place woman was the World Cup leader. I thought there was a mistake. Two weeks later, I won the European Championships."
Resurrection
Inspired again, Sundstedt entered a number of other marathons in 2005, including the Dolomiti Superbike in Vilabassa, Italy (which she won). By the end of the season, she had also picked up sponsorship. "That was (the doing of) my two German colleagues - Karl Platt and Carsten Bresser. They told our (Rocky Mountain Bicycles) German distributor that he has to have Pia on the team; that he has to give Pia a bike. That's how I got in."
1979 Finnish Champion in sandcastle building?
CN: How is it that a four year old Finnish child gets to be a sandcastle building champion?
PS: We were on vacation and we just happened to be in a place where they had, for the first time ever, this sand castle building competition. They had this children's category and we just took part. We were just building a sand castle there with my brothers and the judges came. The Finnish news filmed us and everything. We won. It was pretty fun and I still remember it quite clearly.
CN: Do you build sand castles and more?
PS: No. But afterwards I was in an art school so I like doing things like that with my hands.
Known as a climber in her road-racing heyday, Sundstedt says the same natural abilities that brought her road success made her adaptable marathon mountain biking. "Marathon's are about a lot of climbing. I've always liked climbing; always been good at it. I think you have to have a little bit of talent and, of course, you have to work a lot, you have to train a lot."
Her dedication to the relatively new discipline (Although long cross-country races have been staged for years, the UCI marathon format is only two years old) shows in her results; she won the Mont Saint Anne marathon, came second in Nassau, Greece and third in Vilabassa, Italy. She currently leads the World Cup series. "I do take it seriously," she says. "It's my goal to keep the green jersey (UCI World Cup leader's jersey) until the end."
And even though teammates Platt, Bresser, Tomlinson, Plaxton, Hestler and Sydor have all strapped on the Rocky Mountain team kit for multi-day off-road adventures like Trans Alps and Trans Rockies, Sundstedt says she will keep her focus on the World Cup. For now. "I will take it one year at a time but in the future I want to ride Trans Alps and races like it as well. But of course when I ride it, I will ride only for the victory. If I ride with a woman, the woman has to be as strong as me. If I ride mixed, then I have to be strong because in the mixed team competition, the team with the strongest woman wins."
As for 2006 goals, Sundstedt says she has her eye on the marathon world championship jersey (won in 2005 by Gunn-Rita Dahle-Flesjaa; Sundstedt finished fifth). "I would also like to win the European Championships - I really want two European championship wins."
Does she have the form to reach her goals? "I feel pretty good now. I hope to have this feeling still in a few weeks (for Worlds)"
Photography
For a thumbnail gallery of these images, click here
Images by Rocky Mountain/Business Objects
Images by Rob Jones/www.canadiancyclist.com
Images by Rory McAdams
Images by Team GAS