MTB index page for all MTB content
An interview with Marla Streb
Take a walk on the wild side
By Mike Kallal
It's difficult to associate the experience of talking to Marla Streb with her image as a weathered competitor who's endured some rugged storms and survived a few colorful stunts. You anticipate sensing Streb is propelled by some powerful and turbulent current of energy, an intensity swirling perceptibly just below the surface.
No - whatever's driving Marla Streb is deeper than that. True to her reputation as a thinker, she is sharp-witted, quick to respond, and adept at shifting her style for changes in conversational tack as easily as she chooses her gearing for her upcoming race. Streb is affable, equally cordial in relating to journalist, photographer and fan, alike. And, for someone cresting the swell of several business successes, their first US downhill title and best UCI World Cup season to date, Marla Streb is surprisingly - almost strangely - even-keeled.
Marla Streb
Date of birth: June 25, 1965
Place of birth: Baltimore, Maryland, USA
Team: LUNA Women's Mountain Bike Racing Team
Career highlights
2003
US National Downhill Champion
1st, UCI World Cup Finals, Kaprun, Austria
1st, NORBA Series, Snowshoe, W VA
1st, NORBA Series, Mt. Snow, VT
3rd, UCI World Cup, Mount Ste. Anne, Canada
4th, UCI World Cup, Overall Ranking
8th, UCI World Championships, Lugano, Switzerland
2001
1st, NORBA Series, Big Bear Lake, CA
1st, Sea Otter Classic, Monterey, CA
2000
1st, NORBA Series, Mammoth Mt., CA
1st, NORBA Series, Deer Valley, UT
3rd, UCI World Championships, Sierra Nevada, Spain
3rd, UCI World Cup, Arai, Japan
1999
1st, NORBA Series, Mt. Snow, VT
1st, Sea Otter Classic, Monterey, CA
1998
1st, NORBA Series, Seven Springs, PA
1st, NORBA Series Finals, Durango, Colorado, USA
Cyclingnews: In your tenth season as a professional, you've won your first US Downhill Championship. I've read that you're a Grateful Dead fan, so a line from the song, Truckin' - "What a long, strange trip it's been" - might be appropriate?
Marla Streb: It has been. I'm a late-bloomer. I started late - at 28 - and everybody said I was too old. For years I'd think: 'OK, I'm just going to do it one more year and see what happens.' But, here I am, 38 - the same age as [San Francisco Giants baseball player] Barry Bonds, and I'm in my prime. I'm peaking - it feels great!
CN: What change brought you into the NORBA series final, pretty much needing to just finish in order to clinch the national title?
Streb and Pruitt chillin'
Photo: © Andy Lee/USA Cycling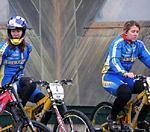 MS: I'm much more relaxed. And, I have a new team-mate, Kathy Pruitt, who's added a new and fun dimension to the team. Last year I was trying too hard, putting too much pressure on myself. We were so serious, it was almost taking away from my racing. We're more relaxed, now. We're having fun. That's the bottom line, and it ends up working better.
Learning the Luna cycle
CN: Tell me about the LUNA Women's Mountain Bike Racing Team.
MS: The owner of Clif Bar, Gary Erickson, had an epiphany a couple years ago on a beach, in Greece: He was watching his daughter play in the surf and thought: 'You know, I want to give her role models. I think I'll start a women's mountain bike team.' That's the kind of guy he is - he's been very successful, and now he's trying to give back.
"Once you start letting rational consciousness come into the picture, you start thinking about hospital bills. You've got to turn that off and just play... play like an animal."
The LUNA Women's Mountain Bike Team was like a Godsend. It was created when the sport was struggling, and provided opportunities for competitors. We're trying to promote the sport of mountain biking, not only by achieving our own goals in racing, but by participating in clinics and attending charity events for organizations like The Breast Cancer Fund. We want to do whatever we can to get the word out to women - mountain-biking is a fun sport, it's empowering; it can change your life. I always try to tell people that you live a rich life if you use your bike as much as possible.
CN: Talk about the use of mountain biking to raise awareness of breast cancer issues.
MS: The LUNA Ambassadors - two groups of women, one in California and one in Colorado - organize charity and fundraising events on behalf of The Breast Cancer Fund. They also organize cycling clinics and rides as opportunities for women to get together and bond, to have fun. The Ambassadors use these occasions to make people aware of how insidious breast cancer is, how ubiquitous. The racing team provides another platform for The Breast Cancer Fund. Gary Erickson's mother had breast cancer. It's something he feels strongly about.
CN: What were some of your expectations for the 2003 season?
MS: To have a more consistent season and get some wins. And, I've achieved both. My life has become more simplified. I finished writing my book last year, and I finished filming "Top Speed" [an IMAX movie]. This year, all I had to focus on was racing and, of course, promoting the book. With the sharper focus on racing, things have been great.
Living life to the I-Max
CN: Talk a little about the IMAX film. What's it like to ride your bike down a frozen bobsled run?
MS: That was definitely the most technical shoot I've ever done! Salt Lake City's Olympic bobsled track is the fastest course in the world. When I first saw the track I was intimidated. I'd raced on an ice-covered track before, but this one was very narrow with cement walls, steep transitions and low overhangs. I was concerned about the obvious lack of traction, even with spiked tires. I was also worried about breaking my neck on one of the overhangs. Another problem was coordinating the run with the camera man. He was on skis and couldn't slow down, especially with a 40 pound. camera between his legs. I had to sprint like mad and stay off the brakes. Otherwise, we'd slam into each other - that would've been ugly. Then, there was the speed-wobble - the transitions coming out of the corners were so abrupt, that with the bike's short wheelbase, I'd get speed wobbles and have to fight just to keep on the track.
CN: You have a reputation for being very analytic, almost hyper-rational in your preparation. But, then you assault the course - any course - with a primal abandon that's alternatively complemented and criticized as bordering on reckless.
MS: I tend to over-analyze. I've done a lot of data acquisition over the years. The best riders race in 'The Zone,' and one of my biggest challenges is to turn off that intellectual side. Once you start letting rational consciousness come into the picture, you start thinking about hospital bills. You've got to turn that off and just play, play like an animal. This sport rewards people who aren't thinking deeply while they're riding. You want to be on automatic pilot.
CN: Given your scientific background, an intellectual approach makes sense. Do you integrate a spiritual component?
MS: Not a religious element, no. But, I do love racing. It's really the first thing I've felt actual passion for in my life, except for maybe my family and my boyfriend. It's the first job that I felt real true love for. I use more of the scientific side to be successful, but my passion keeps me in the sport.
CN: What do you do off the bike, training-wise?
MS: I ride a lot of motor-cross, only four-strokes. I enjoy running. I go to the gym a lot - got a new personal trainer this year. A lot of cross-country riding too, that's my true love. I like to suffer. The ultimate 'birthday present' for me is to suffer so badly that I bonk. I like novelty. I enjoy trying new sports in the off-season, and, of course, dirt-jumping with 12 year olds.
The joys of being successful
Always time for the little-uns
Photo: © Andy Lee/USA Cycling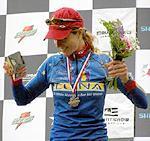 CN: On that last comment, I watched a young boy approach you after one of your practice runs. There didn't seem to be any doubt in his mind that you would give him your attention. You did, and he seemed very comfortable talking with you.
MS: Yeah, that's one of the joys of being successful. Actually, when I was younger, I was very insecure. I think a lot of shy people have a fantasy of being 'movie-star' famous. And, that's what I wanted when I was little, because I was terrified of everybody. Now, little kids come up to me and treat me like I'm famous. It just makes my day. I want them to enjoy the sport and fall in love with it. Every little kid, you've got to give them the time of day. You've got to try and provide them with a role model.
CN: Are you a role model?
MS: (laughing) eerrr... I hope not! No, I wouldn't mind being thought of as a role model. I believe in a good education, and I have one. It helps you to be successful no matter what you do. I'm not perfect, I'll chug the whole bottle of champagne on top of the podium every once in awhile. But, I think that if you can show people you have your head on straight, and if you try to be nice to everyone around you, then that's the kind of person this world needs to see.
CN: If a little girl walked up to you with stars in her eyes and said, "Marla, when I grow up I want to be just like you!" How would you respond?
MS: I'd say that you don't necessarily have to pick a sport like this. You can do anything you want. That's what I really want to convey to girls - you don't have to do what the world wants you to do. Just pick your passion, and go with it. Attack it, even if everybody tells you not to do it.
Post-Lugano
Streb's UCI season demonstrated notable consistency. She never finished outside the top 10 in the downhill, including a win in the World Cup finals and eighth at the World Championships. Streb's fourth place overall in the World Cup ranking was her best yet and put her first among all American female mountain bikers, across all disciplines. A few weeks after our discussion in Durango, the athlete shared her thoughts on the competition and culture of the international MTB arena.
CN: How do you compare the level of competition between the NORBA Series and the UCI World Cup?
MS: The NORBA is almost identical to the World Cup. Some of that has to do with the lack of funding for teams and riders to travel. When we go to Europe, we race against a lot of their local talent. Domestically, we're getting some of the European riders who can afford to make the trip (to the US). The World Cups are maybe slightly harder. I think there's a little more depth in Europe. But, they're very close, competitively.
CN: Talk about your performance in Lugano.
MS: I never felt great during the practice week. My arms kept seizing up from braking too much. [Downhillers refer to this condition as 'arm pump'. It can result in being unable to apply the brakes, control the bike or even hang onto the bars - Ed]. I became hesitant. On race day, I just wanted to get down the course without getting arm pump. That was a concern because of a large road gap that could have been catastrophic if I couldn't hold on to the bars. I never really 'raced' the course, I just survived and had to settle for eighth.
"I'm surprised at where my life has gone. I'm just trying to enjoy the moment. Even if it's before the race and I'm nauseous, I try and enjoy it."
CN: French riders took the first three places in the downhill. Though mountain biking originated in the US, are we at a competitive disadvantage to other countries where cycling is more thoroughly woven into the social fabric?
MS: It has to do with the [French people's] culture: They don't take cars as seriously as we do. They actually ride their bicycles, and it's a real sport there. When they see a youngster who's got talent on a bike, they nurture that talent. They have a very accepting environment for bicycles. And, they have that same perspective on a lot of extreme sports. They embrace these crazy sports because they're not completely focused on making money and being caught up in the 'rat race'. Life is just different there, and it caters more to cyclists.
CN: What would it take to beat (Anne-Caroline) Chausson?
MS: It would take a relaxed ride, an almost flawless ride. She tends to be pretty flawless. Her skills are just better than the rest of the world, as far as women go. The women are getting closer, but to beat her, she almost needs to make a major mistake.
CN: You've mentioned Kathy Pruitt's positive contribution to team morale. She's also racing well and took sixth in Lugano. Do you have a mentoring role there? Can you talk a little about that relationship?
MS: I've heard Kathy looks up to me, but I think it's because she's half my age! We have a lot of fun together. I can easily regress to 19. As far as marketing and business, I don't mentor as much as set an example. On the racing side, she does just fine on her own. She's been racing longer than I have.
Analyse that
2003 has been a season marred by injury, not only for the LUNA Team [Alison Dunlap severely separated a shoulder and both Kathy Pruitt and Shonny Vanlandingham fell victim to fractured clavicles; Pruitt also fractured a hand in practice at Kaprun, keeping her out of the World Cup Finals-Ed], but also the horrifying crash of John Waddell at the Mont-Sainte-Anne UCI World Cup, and the tragic death of Haruko Fujinaka in a practice run at NORBA Series opener in Big Bear, California. Streb, however, managed to remain upright and out of harm's way.
CN: There have been some terrible crashes this year. You've commented to the effect that this is not a matter of statistical probability.
MS: It used to be more natural; they ran ribbons down a mountain. If they found a rock section, great - they ran us down the rock section. They didn't use to build these huge motor-cross jumps. And, a lot of the problems are because of the jumps, I think. If they're not properly designed and built, they're very dangerous on a bicycle with a relatively short wheelbase and no engine. There's the belief that people want more air. Well, the more you're in the air, the more likely you are to crash. How extreme does it have to get before we start backing-off?
CN: As an athlete with a decade of perspective on the sport, what do you think the course designers need to know that they're just not getting?
MS: In the pros, only the 'squeaky wheels' are getting the grease. The organizers and promoters are only hearing from the riders who complain, 'Oh, it's too much pedaling', or 'the jumps are too small'. They should survey every professional rider at the end of the year, and have every athlete give their perspective.
CN: Fourth in the UCI World Cup downhill overall standings is your highest placing to date. That kind of consistency seems a little out of character, given your 'thrash or crash' history?
MS: It has a lot to do with my lack of injuries this season. I was also able to compete in every World Cup for a change. With the exception of the last race, I was just riding more conservatively. The approach paid off and got me onto the podium.
CN: The World Cup finals in Kaprun provided your first UCI Downhill win. At 38, how do you continue improving against much younger and increasingly tougher competition?
MS: I've always had to work harder because of my age. Every winter, I evaluate my last season and go crazy trying to improve one specific weakness. This might be a more structured approach than the younger riders take. Hopefully, after nine off-seasons I've attended to most of my weaknesses!
Marla the marketeer
Streb is one of the few American bicyclists whose media presence extends well beyond the racing community. Besides the IMAX feature, Streb has competed successfully in the X Games. She has been interviewed on the US National Public Radio, profiled on several US television news magazines and in Sports Illustrated, as well as featured in an Outside Magazine cover story.
CN: You've managed to project an image of yourself beyond the competitive arena to an extent that most riders in US bicycle racing do not.
MS: I think I've had to compensate. I was way behind when I turned pro. I was crashing all the time, my results were spotty. So, I compensated by using my education to be articulate with the press. I would run to a camera. I think I understand the world a little bit better than some of the racers. Most sponsors are tying to sell a product - I want to promote their product, because I want to thank them all the time, and show them: 'Look at all the media coverage I've gotten'. Not all the racers see that. They don't know which company wants what. Every company has different ideas on how they want to market things.
CN: Do you manage your own business affairs?
MS: I do, but Mark [Fitzgerald, longtime boyfriend] does quite a bit for me. He's very bright, and he's got a very good perspective. He's out of the world that I'm in, so he can see from a totally different vantage. Plus, he cooks really well and gives me massages every night. Without him, there's no way I'd still be racing.
CN: How would you characterize your success in terms of leveraging cycling victories and an 'extreme sports' image for financial gain? Are you set for life because of cycling?
MS: Commercial success is in the eye of the beholder! If you want to make something work, especially in America, you can. With the right marketing, you can find a niche for anything.
CN: What would you offer an up-and-coming athlete, in terms of how to develop and manage their professional cycling career as a business?
MS: The riders have to understand why the sponsors are supporting them. It doesn't matter who is walking up to you. It doesn't matter if they have a camera or a clipboard. You have to be very, very approachable to every single person. Every single lead you have to follow up. If it's a girl doing a high school senior project, you have to make the phone calls. You have to go meet her, and you have to pay for it out of your own pocket. It's every single person. You can't let one person slip through your fingers, because that might be 'a lead', or that might be 'an opportunity.' A lot of riders don't appreciate that.
CN: Are you a defining force in extreme sports iconography?
MS: I don't know if I'm defining. I'm unconventional, and hopefully that adds a dimension. There's a stereotype in Extreme Sports: the eighteen year old with baggy pants and dyed hair. I think I go against that. I think it's good to show that a 38 year-old woman who went to grad school can also be a success in extreme sports. Hopefully, that will draw different types of people into extreme sports.
CN: You've been somewhat sensational in promoting yourself outside of cycling. I'm thinking of the Gerald Bybee photo of you nude on a bicycle that appeared in Outside Magazine. Would you know whether publication of that image preceded the Ann Leibowitz photo of Lance Armstrong nude on his bike?
MS: I think it did. That it turned out to be a nude was such a coincidence.
Trailblazer
Photo: © Andy Lee/USA Cycling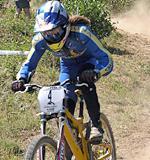 CN: You're a Trailblazer!
MS: I think it actually came out right before Lance's, but I'm not sure on that one. We weren't supposed to do a nude shot, but the clothes just kept coming off in the photo shoot!
An irrational dream turns to reality
Marla Streb's autobiography, Downhill: The Life Story of a Gravity Goddess, will be released this fall. The author expects to be signing copies at the Interbike trade show, in Las Vegas. Many racers are contributors to cycling publications, and Streb has written for BIKE and Mountain Bike. Few competitors go so far as to write their own book. Even Armstrong relied on a professional journalist to assist with his biographies.
CN: What's the book about?
MS: You'll have to read it and find out. Basically, it's about my transition into mountain bike racing, how I got into the sport - about my transformation from a meek research scientist to a full-blown professional mountain bike racer, and why I quit a stable job at the relatively late age of 28 to pursue my irrational dream of becoming an extreme sports athlete. It chronicles my uphill struggle to find success in going downhill.
CN: What are your plans for 2004?
MS: I'll be riding for Luna, and I'm planning to do the NORBA Series. I'll add in some festivals and 24 hour/marathon races to start some new Luna Ambassador clinics and cross-promote my book.
CN: Are you a happy person?
MS: I'd like to think I am. Sometimes, I'm elated - I'm giddy, and it's because I'm shocked. I'm surprised at where my life has gone. You can't always be content, but you really have to grasp what's happening, right now. Being an older athlete, I know how fast my 20s went. I'm just trying to enjoy this moment. Even if it's before the race and I'm nauseous, I try and enjoy it.
CN: The comparative mythologist Joseph Campbell said that it wasn't 'the meaning of life' that people were looking for, it was 'the experience of being fully alive'. If that's true, you seem to be looking in awfully strange places.
MS: I know, I know. I love being lost. I love going on bike rides, not knowing where I am, and having the challenge of trying to find my way home. I have no idea what life is, and it's really fun to ask questions. You have to keep wondering, 'What is it, what's it all about?' As soon as you stop asking questions, or if you stop feeling lost, it gets boring.
CN: What would the cycling community be surprised to learn about you?
MS: That I'm actually a very shy person.