MTB index page for all MTB content
An interview with Jimena Florit
Striving for perfection
April 4, 2003
The reigning queen of US mountain bike racing isn't an American, but an Argentine. But when that Argentine is hard-working, down-to-earth Jimena Florit nobody seems to mind at all, as Stephen Medcroft discovered.
At Nova
Photo: © Keli N.Medcroft

Jimena Florit says her goal is to progress year over year and attain perfection at the art of her chosen sport, cross-country mountain bike racing. She almost got there in 2002, winning four out of five US National Championship series races. This represented a breakout year for the eight-year veteran mountain bike racer and former Olympian.
But there's more to come. With World Cup ambitions and a berth in the 2004 Olympic roster at stake in this year's competitions, we can expect Florit to contribute to an exciting year for women's cross-country.
Florit, who races with team RLX Polo-Sport and currently resides in San Diego, California, grew up in Buenos Aires, Argentina with her parents, her sister, and three brothers.
Cyclingnews.com caught up with her in Arizona where she was participating in team photo sessions and a mini training camp following the three-day Subaru Nova Desert Classic in Fountain Hills.
Cyclingnews: Looking at your UCI results for the past few years, you are an accomplished cross-country racer yet many people may not know you well. Can we start with your background? Were you always a cyclist?
Jimena Florit: No. I was actually a runner in high school and some after. I was always searching for my sport and I went through different sports. Field Hockey is the traditional sport for girls [in Argentina], so I did that. My sister was really good and I always wanted to do what she did. Although I was pretty good, I was not happy with it, I mean it was no fun for me.
CN: So you switched to running?
Warming up
Photo: © Keli N. Medcroft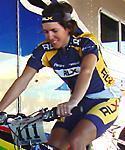 JF: Running was pretty good, more of an individual sport. But it still didn't have 'it'.
CN: How did you discover cycling?
JF: They had local races in Buenos Aires. The courses were run in these little parks. [I remember] one in particular that was made up of a section of a freeway that was closed. The big climb was a section [a trail] under the freeway.
CN: You had a bike and just decided to enter?
JF: No, I didn't have a bike of my own. A bike shop promoting these races was real close to my house. They wanted to promote more cycling for girls, for women, so they got me a bike. They said "you can use this bike [any time], pick it up, go training, and return it."
CN: How did you do that first race?
JF: The races were not big, there were probably five girls, six girls tops in a race but I finished second to the current national champion so I said "this is my sport."
CN: Take us from there to your first race internationally...
JF: I started in '94 in Argentina. And then, in '95, we had the Pan-Am Games in Argentina. That's when I met Tinker Juarez. We started a friendship by mail. Then the town where I'm from sponsored me, supported me financially, to come to the United States to train and race; to be able to race my level.
CN: So was it Tinker who invited you first to try racing in the U.S.?
JF: Right. I don't remember exactly how everything went but I came [to the U.S.] with a friend. My first race was the Keystone Classic in California. [Jimena won that first race and her relationship with Tinker led to a marriage that has subsequently ended -- Ed.]
CN: When were you first sponsored by someone other than the patrons of your hometown?
JF: I got into a very small little team in '96; Klein / Ben & Jerry's. There was [little] support, just the equipment and the jerseys.
CN: And after '95, when you stepped up to begin racing in the U.S. National series?
JF: I was still [traveling to and competing in] races on my own. By then we didn't have Ben & Jerry's anymore [leaving only the Klein sponsorship]. Then I got with what was, back then, Headshok Cannondale. What is now Sobe Cannondale.
Headshok gave me the opportunity [to compete in World Cup events]. I started seriously training with a coach in '96, with my current coach [Arnie Baker]. In '98, I started getting results. I finished on the top 10 in the NAPA World Cup race. That's when I started getting a lot of attention from other teams.
CN: Did you stay with Headshok / Cannondale through '99?
JF: Until '98. '99 was the year I started with RLX.
CN: You've been with RLX for a while now?
JF: I'm starting my fifth season.
CN: And you've been all over the world with them?
JF: I have. I've been to Australia, South America [in Colombia], all over Europe, Canada.
CN: What's kept you in RLX such a long time? I mean five years with the same team would seem unusual in this sport.
JF: Well, we have a great team. The environment that the team creates is what works for me. [The team works hard to] sign riders that can contribute to that chemistry. They treat me really well so I have no reasons to look someplace else.
CN: One teammate, Jeremy Horgan-Kobelsky, is the current U.S. champion. Does he give RLX / Polo Sport a contender for World Cup or World Championship this year?
Focused
Photo: © Keli N. Medcroft

JF: He's amazing. He's not only a phenomenal athlete but he's a great, great person. He's also smart. He has it all, the full package. So I would not count him out at all.
I don't think he knows what kind of talent he has. He probably will say "Oh, I don't think so," [about winning in World Cup competition] but this is the first year he can focus one-hundred percent on cycling because of school. Plus, he was not expecting this result in this recent race. He surprised himself big time but he did not surprise me at all.
CN: Do you do any road riding, training or racing?
JF: The year before, I'd done more than I should have and I ended up finishing the year very, very tired. I lost the desire to go on so I decided not to [race road at all]. I mostly ride my mountain bike on the road.
CN: Speaking of training, how is your winter program going?
JF: Basically there are not too many secrets [to training] now. [I do] what everybody does; a lot of miles, then more intensity to start getting ready for Sea Otter. Then [peak for] the World Cup.
CN: Is the World Cup your primary focus for the year?
JF: The goal for the year is to qualify for the Olympics. Because I'm pretty much the only Argentinean rider in women's cross-country who competes internationally, I have to qualify myself. Which means, if the system is the same as last Olympics in 2000, I need to be top thirty in the UCI rankings.
CN: There are no other Argentinean riders to watch out for?
JF: I don't want to say there are none because there are riders everywhere. It's [more that] that they don't have the opportunity to develop because there is not the support they would need to get out [of Argentina and compete internationally]. It does not help whoever is winning [to compete only in] the races at home. They need to get out and get smoked [laugh]; to get themselves off the couch and train hard.
CN: So racing out of the country was something that took you up a level?
JF: Yeah. In Argentina, there were no girls racing. I would race with the guys. That was fine but I needed to go to a place where there were a lot of girls and the competition was a lot higher. I figured, put yourself in that situation and you automatically should be better.
CN: How did you qualify for the Olympics in 2000?
JF: I actually qualified the last two times around. In 1996, I was here [in the United States] and I qualified by getting a bronze medal in the Pan-Am Games, and they put another girl for that year. [The Argentinean Olympic Committee had some discretion in their selection and favored a racer who lived and raced mostly in Argentina. They selected Sandra Ambrosio, who unfortunately DNF'd in the race - Ed.].
In 2000, the system was different so I made sure I qualified in all the possible ways. I qualified in three different ways, making sure that nothing made me miss that spot. [Jimena secured a bronze in the PanAm Games, won the Pan-Am Challenge, and placed in the top 30 in UCI points, all Olympic qualifiers - Ed.]
CN: Were you happy with your experience at the 2000 games?
JF: I didn't do well. I honestly [didn't feel] I was a medal contender. I was [more] a top ten contender and that was my real Olympic hope.
When I got to Australia, about ten days before the event, I had a reaction to a pollen in the area, something that was making me asthmatic. This was something that had never happened to me before. I was coughing twenty-four hours a day. I could not have a conversation with anyone. I was coughing, coughing, coughing.
They couldn't give me any medicine for it because everything was banned so I had to race like that [Jimena placed 20th in the event - Ed.].
CN: Should you qualify, Do you feel you have a better chance to contend for a medal in 2004?
JF: Every year I want to feel that I am a little better than the year before and so far I have been accomplishing that. Every year I've been one step closer to the highest level possible and that's what keeps me motivated. Yes, I think I am a definite medal contender.
CN: Last year was a breakout for you. Was this a concerted effort or did things just come together?
Racing
Photo: © Keli N.Medcroft
JF: A combination of [both of those things]. My coach and I have been working together and things have been coming into shape the last few years.
I felt there was a big weakness [in] my downhilling so, from my desire of always getting better, I got myself a downhill coach. That made a huge difference.
Another thing that made a difference was that we did a little test [at the end of] the Olympic year. I usually train a lot of hours during the winter so we did a little bit less volume, which automatically brings up your intensity; you work a little harder because you are fresher overall. We didn't know how my body was going to be after that. It reacted very well.
CN: Keeping with the concept of always improving, what are the things you are working on this year?
JF: We continue working on my downhill. I push myself and try to clear all the hard downhill spots near my house, for example.
Then, you are always trying to keep yourself motivated, you have to find ways to make yourself work hard. Like looking at a heart rate monitor while you're doing intervals or going out to a unassisted race.
Little by little you get to where everything's perfect. Everything has to be perfect. I want to go to the start line knowing that [I have done] everything there is for me to do at this point. That way I can race relaxed. And I don't have to think about "Oh man, I should have done this or that." This way, whatever [result] I get today is what I deserve.
CN: The science of training has come a long way since you started in '95. Do you use a lot of technology in your training?
JF: Number one, I use intuition; how I feel. Communication with my coach is also a key; he knows me very well. And as far as technology; the only reason I use a heart-rate monitor is just to have something to show my coach. Because he doesn't train with me every day, it's the way he knows how hard I've worked.
CN: How do you prepare for races? Do you have a set routine you follow?
JF: Pretty much. It starts like ten days before the race. If the race is in altitude, I go to altitude, to the place, early. I like to pre-ride the course, study, to know the course in my head; well enough that I can do it with my eyes closed. Then about three days before my race, I like to have a steak, good red meat. [I make sure I get] lots of fluids and avoid vegetables that [cause] you to lose too many fluids.
CN: What then is your tactic, your approach to a race?
JF: I like to be out there leading. Why not? I don't mind at all. [Although] here I didn't want to lead because my fitness is not where it needs to be for a great race.
[I decided] to get right behind Mary [Grigson] because in this race in particular I knew she was going to try hard because she was second overall going into the last day. I got right on her wheel. I knew she was going to try to drop Sue Haywood.
She made a mistake in one turn and fell down. Suddenly I found myself in a lead I didn't want. But by then it was singletrack for miles. Sometimes your tactics get you stuck. If I pulled out to let one girl go by, to be second, then the whole group of ten would have gone. [Jimena placed fifth in the cross-country race and earned fourth in the general classification - Ed.]
CN: Beyond the attainment of perfection in mountain biking, what is the path of your future?
JF: I think that once I retire from cycling, if I ever fully retire - I'm sure I will retire from competing but I will never stop riding my bike - I would like to try some cross-country skiing. I find it fascinating.
CN: You've done cross-country skiing before?
JF: No, I haven't. In fact I probably [wore] skis once in my life, I just like that it looks so hard and it's so physical.