MTB index page for all MTB content
An interview with Anna Baylis, December 7, 2003
Ghost Rider
Ghost rider: Anna Baylis
Photo ©: Anna Baylis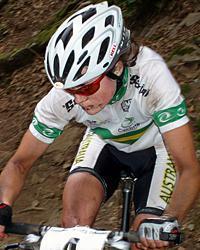 With the constant uncertainty and insecurity that surrounds contract renewals in professional cycling, particularly in mountain biking, Aussie mountain-biker Anna Baylis and her Austrian partner Jörg Scheiderbauer decided to start their own team this year. With a crew of just four riders and no budget, the Ghost International Racing Team claimed the U23 European champion's title, fourth place at the World Championships and a podium place in mountain bike's Tour de France. Kristy Scrymgeour finds out how they did it.
Cyclingnews: What attracted you to cycling? When did you start and why?
Anna Baylis: I grew up riding bikes - to school, to the corner shop or just mucking around with the boys in the street. I bought my first race bike in '96 after watching a triathlon on the telly.
At the time I was studying [human movement, similar to physical education-Ed] at uni and there was an organised trip to the University Games in Coffs Harbour for triathlon. I started training two months prior to the event, swimming, biking and running. Sure enough, I had immediate success and placed third in the juniors. I had so much fun and it all rolled on from there!
I went on to compete for Australia in the duathlon world championships, finishing 19th junior - with two crashes on the bike!. The following year, I made the world's team for triathlon in my age group, 20-24. Unfortunately, I was unable to compete due to a stress fracture in the tibia.
A few months later, I competed in my first mountain bike event. I borrowed a MTB from a friend - and shoes three sizes to big - and entered the sport class. I again had immediate success, winning the sport women category and I ended up catching the tail-end of the elite women who started five minutes earlier - I had so much fun. From a young age, I had dabbled in so many different sports, and finally I had found my niche. From then on it was clear: no more swimming and running.
CN: When was your first international MTB race?
AB: I travelled to Europe in '99 after finishing my university degree. I stayed with a friend in Austria for a few months racing, and then met up with the national team for the World's. My first World Cup was in Sydney in '99 and my first international race overseas in July the same year.
"I must say, from starting at nothing, the team has really exploded."
- Anna Baylis about the success of the Ghost International Racing Team in its first year, a team she founded with her partner Jörg Scheiderbauer
CN: You met Jörg [Scheiderbauer, partner and team-mate] the next year, and now you spend most of your time in Europe in the off-season. How do you like living there year-round?
AB: Jörg and I met in 2000, quite a funny story actually. We first met in Zurich at a Swiss cup race, a mutual friend introduced us. However, it wasn't until one month later where we met again by chance that we got together. It was at a World Cup in Italy. I was walking along the street and it just happened that Jörg was standing there chatting with a few people. I stopped to say hello and it flowed on from there.
Riding in Aussie national team colours
Photo ©: Anna Baylis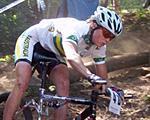 Since then, I have been based here in Germany, living with Jörg, all year-round. We live on the edge of the Black Forest, in one of the best areas in the world for bike riding, both road and MTB. Initially, I went home over the summer for three to four months to train and race the MTB nationals. But each year, the time I spend in Oz seems to get shorter and shorter. I am now used to training in temperatures below zero and enjoy the off-season cross-training including skiing and mountain hiking here in Europe. However, by January, I am usually ready to head home to the warmer weather and to see my family again.
CN: After riding a few years with the Australian National team you signed up with a German based team right? How was that experience for you?
AB: It wasn't as glamorous as it is cracked up to be! Firstly, I went from riding a bike where I had chosen the equipment - i.e., brakes, tyres, gears - to a bike where I had to ride what I was given.
The first few months I had problems adjusting. Normally, it would not be a problem, however, the disk brakes were faulty and I had continuing problems with the suspension fork. The next thing is I had to race every weekend, and of course, they expected great results. With the national team, I could choose the races that would fit in with the year plan. The organisation of the team was also not national team standard; I didn't really feel comfortable in the team, with pressure to perform and this affected my racing. Looking back now, it was a great experience and I learnt a great deal, especially now having my own team.
CN: Tell us about the team you set up with Jörg?
AB: Jörg and I had always talked about developing our own team together. At the end of 2002, Jörg had big problems with his current team and I had no results worthy of a good contract. It was at this point that we made the commitment to start up our own professional MTB team.
We sent out hundreds of team resumes to potential sponsors. The response was great; the sponsors really appreciated that the athletes themselves were putting in the effort to build a team. Ivonne Kraft, our number one team rider had contacts with the German bicycle company Ghost. Ivonne rode for Ghost Bicycles the previous few years and they were very keen to support a World Cup-level team. The list of sponsors continued to grow over the months including Shimano Europe, Craft Scandinavia, Bell Helmets, Smith sunglasses, Maxxis tires, EMP4 muscle recovery, Fi'zi:k saddles, Tip Top, Ritchey, Roeckl hand gloves, Thule roof racks, a local car house... and so the new look Ghost International Racing Team was unveiled in April 2003.
CN: How successful has the venture been this year?
The bad-ass team van
Photo ©: Anna Baylis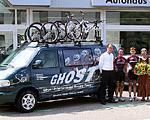 AB: I must say, from starting at nothing, the team has really exploded. We had a very successful first year, despite no budget, including a U23 European champion's title from Michi [Michael] Weiss and a fourth in the European and World Championships from Ivonne Kraft, the German powerhouse. Aside from playing team chief, Jörg was third in the MTB Tour de France. As for myself, I'll get to that a bit later on!
We are now one of the top teams here in Europe: Ivonne is currently ranked number five in the UCI world ranking and is a top favourite for a medal in Athens next year; Michi ended the year as the top ranked U23 male rider in the world, 17th overall and with a U23 European champion's title to his name; Michi is currently the top ranked Austrian, looking good for the Olympics; and Jörg found his forte in tours and marathons, with his third place in the MTB Tour de France and a win in the Black Forest marathon. I had a consistent year, with a third in the Swiss O-tour, an Austria Cup win and 24th overall in the World Cup rankings.
The Ghost International team is quite unique. A team developed through friendship and a common desire to win is the perfect environment for success. Each rider has their say and most importantly their freedom to race when and where they want. I must also say that a lot of the success comes from the equipment. We definitely have the best from the best in terms of material. Super light Scandium frames from Ghost, the new Shimano XTR shifting and disk brake system, world-class tyres from Maxxis... the list goes on! Equipment in mountain biking is extremely important.
CN: What are your plans for next year?
AB: Plans for next year are... top secret! No, just kidding. To the original four riders, we will be contracting two new top athletes. Close to home, two-time Junior world champion from Down Under, Lisa Mathison. In starting up the team, I always had in the back of my mind the aim to help other Australians get contracts on a professional team here in Europe - a link between Europe and Australia in mountain biking you could say. It's really tough for the Aussies to get a break, other than with the national team, to race and live here in Europe. We will be giving Lisa the opportunity to live here in Germany and pursue her cycling career. If we had the budget we would certainly look to contracting more Aussies!
Also to join us is Brazilian Jacqueline Mourao, currently eighth in the UCI world rankings and already qualified for the Olympics in Athens. We will be like one big happy family!
"I always had in the back of my mind the aim to help other Australians get contracts on a professional team here in Europe."
- Baylis about the signing of double world champion Lisa Mathisonand her aspirations for the future direction of the team
CN: This is an amazing venture for two cyclists to set up while you are also concentrating on training. How do you do it?
AB: We fit it in somehow. The most of the work to set up the team was done in the weeks where we were taking a break from training. Instead of taking an end of season holiday, we spent hours contacting potential sponsors and developing the team. We have great support here from friends and family to make it all happen. The team sponsors have also been extremely supportive, which helps with the successful functioning of the team.
CN: Back to your cycling career. In 2002, you were hit by a car and broke your leg. Four months later you finished sixth at the Commonwealth Games in Manchester. It must have been a hard time for you?
AB: Yeah, I was back in Oz over the summer out training in the Dandenongs. I don't remember anything from the accident, just waking up in the hospital in extreme pain and shock. I would not have been going faster than 18 kilometres per hour - uphill! - and was hit at 50 kilometres an hour. The driver was looking in the rear vision mirror at a policeman on the side of the road booking someone for speeding. He saw me at the last minute and swerved, hitting me on an angle, possibly directly on the leg itself. Apparently, I did a few summersaults in the air and landed in the bushes on the side of the road. Luckily I had my helmet on!
I ended up with a broken fibula, bone bruising in the thoracic spine and a grazes on my face and knees - not very pretty! The doctors told me I can forget about the Commonwealth Games, which were four months later. However, I wasn't going to give up that easily. Two weeks later I was in the gym on a stationary bike, starting the preparation to get me back in shape. Initially, I trained on the wind trainer until the pain in the back went away. After one and a half months I started riding outside again and after two months I competed in my first MTB race - A World Cup! My result was my worst ever, however, I continued on and managed to qualify for the Commonwealth Games. I was so elated to finish sixth, with all the pain endured along the way. It was a very special race for me, emotionally up there with the Olympics.
CN: After the comeback you were again sidelined with mysterious cramping. What exactly was the problem??
No cramps here
Photo ©: Anna Baylis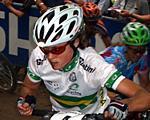 AB: I am still unsure what the exact problem was. I first experienced unusual cramping in 2001 while hiking in the Austrian mountains. The cramps were so severe I needed to be carried down the mountain. One month after the Commonwealth Games, I experienced the cramping again. This time they didn't go away. I couldn't train; just walking down the starts triggered pain in the quads. It was a burning feeling, deep in the muscles. It was not like a normal cramp that releases upon stretching - stretching only made it more intense. After two weeks of seeing various specialists, osteopaths, physiotherapists, none of which could help me, I consulted the osteopath from the Volvo Cannondale MTB team [Benoit Nave, Cyclingnews Form & Fitness panel member].
Benoit treated me straight away, cracking my back at least 15 times. I walked out pain free and was on the bike one hour later. Unfortunately it was at the time of the World's, so I could only sit on the sidelines and my 2002 season was over. At the time, I had various blood tests performed, all of which indicated high CK levels [a sign of muscle break down], and high liver and kidney enzymes.
Not to be taken lightly. I continued on training over the off-season with no problems and sure enough, one week before the Oceania Games this year, the cramps returned. I went straight to a local osteopath and told him to manipulate my back. Again the cramps were released when the back was cracked. I had a blood test done again to see if the values corresponded to last time. Not only were the CK and liver/kidney enzymes high, an unusually high level of the heart enzyme Troponin was found. I was told to straight away go to the hospital for further tests on my heart - such a level in my blood indicates a heart attack in normal people!
I had no indications of heart problems, just the cramps in the legs. They did numerous tests on my heart, ECGs, blood examinations and monitored everything overnight. Luckily they found nothing to indicate any heart damage. I left the hospital with no real answers. I sent out emails to all professors all over the world asking for their help. I had one reply, funnily enough from an institute in Germany that specialises in cardiology. They invited me to go to their institute for further testing.
A month later I went there and they did further more in-depth tests on my heart. Again, nothing was found and they told me it is okay to go on with training and racing as usual. The reason as to why the cramps occur I still cannot say. I think it is due to a trapped nerve in the lower back, causing the cramping, or burning sensation in the quads. This year I have had them three times on separate occasions. I am currently working on strengthening my back and abdominal area through Pilates and in the gym. I can only hope this helps!
CN: You represented Australia in mountain biking in the Olympics in 2000 and also quite a few world championships now. How do you rate your career in terms of personal goals? Have you achieved what you set out to achieve - if not what are your goals for the future?
AB: Always a tough question! From the beginning, I always wrote down my goals as wanting to be world champion, Olympic champion, and so on. However, after a few frustrating years, with the broken leg and problems with mysterious cramping, I am more concerned about improving, being more competitive at the top level. Sure the ambitions are still big, however, I am now a little more realistic. At this point in my career, I have achieved my biggest goals. To compete in an Olympic Games in my own country is definitely a once in a lifetime achievement. It was all so fast, the rise in my performance and after six months of international competition, straight into the biggest event on the cycling calendar. Being Australian and competing in a Commonwealth Games is also a dream come true. In terms of the future, I'll leave that one open!
CN: Tell us about the new MTB race you are planning for next year. Why did you decide to do this?
AB: Another one of Jörg's crazy ideas of course - as if managing a professional team is not enough! Not for Jörg. Maybe he needs a bigger challenge. We had always talked about putting on a race here in Hoffenberg, as the area is so great for mountain biking. An article was written in the local paper outlining our plans to bring 10,000 spectators here for the race. We didn't really think much of it until the local town mayor phoned us with his full support to make it happen. Over the last few months, we have had meetings with the various organisations, the forestry people, local clubs and potential sponsors. The response has been amazing. The local people are crazy about the idea. At the moment we are full on organising everything for the race.
CN: What will be special about this race?
AB: We have planned a mega MTB weekend for the public, full of racing and attractions. The event is called Worldclass MTB Challenge and is planned for April 2004. On Saturday, April 24, there is a MTB marathon for everyone. This is the Challenge part of the event.
We have three different courses, or Challenges, planned. 'Give it a Go' Challenge is 42 kilometres and 1260 metres difference in height, 'Test the Limits' Challenge is 75 kilometres and 2355 metres difference in height, and 'The Ultimate' Challenge is 93km and 2980 metres difference in height. On the same day, we will run a race for the school kids, teams of four, a relay race on a short circuit through the town. During the day we have planned various shows and attractions. We will have an expo area with different stands, a trials show, music, food and drinks. Saturday night, the action will be in the party tent, with the local radio station hosting a dance party. We will also present to the public the top athletes racing the next day in the cross-country.
Sunday the 25th is for the Worldclass athletes to battle it out. The cross-country race is registered as UCI Category E1, with world ranking points up for grabs. The professionals can use the race as a qualification for the Olympics, which are four months later. The course will be one of the hardest cross country courses around. We designed the course ourselves and have included technical switchbacks and a hard-core drop-off, along with a north shore section with wooden bridges. We have four categories scheduled: Junior Women, Junior Men, Elite Women and Elite Men. All the top cracks will be personally invited. We are expecting up to 10,000 spectators to cheer on the stars. And of course, Jörg and I will be racing both the marathon ['The Ultimate' Challenge] and the XC race the next day. When there, why not!
CN: What are your chances for representing Australia again at the Olympics?
Sydney 2000: Anna, Anna, Anna! Oi, Oi, Oi!
Photo ©: Anna Baylis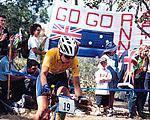 AB: It is always difficult to say. I know from the last Olympics, I was not considered a favourite to make the team, more of an underdog you could say. I went into the qualification races with the view that 'anything is possible'. I will be doing the same this time round. We have only one women qualified for the MTB race, which makes things more difficult.
CN: This team, the racing as well as training must take up most of your time. What else do you do in your spare time?
AB: Spare time? At the moment there is not much of that around. We are so full on with organising the event and the team for next year, that I was unable to make it back to Oz for the recent nationals. The time that I have free, I touch up on my German, whether it be watching TV or reading the newspapers. However, with the team and the event, there is always something to organise.
CN: Is Jörg an inspiration to you with your riding? Do you train together and help each other with training or do you have a coach?
AB: Sure, it is great to have a partner that does the same as you. We help each other in different ways. For example, I offer him tips to improve his technical skills and he is continually trying to help me improve my strength on the bike. Over the last few years, we have had a similar training plan from a coach and it is always good to talk about how the training was or what we think could be done better. Sometimes we train together, like in the gym or technique training on the MTB. So Jörg is an inspiration and a good motivator for me - I think it works both ways!
Click here to go to Ghost International Racing Team's website
Click here to go to the website for the Worldclass MTB Challenge