MTB index page for all MTB content
An interview with Jeremy Horgan-Kobelski
The mentality of mountain bike racing and what it takes to be a champion.
By Stephen W. Medcroft
JHK: 2003 Nova Desert Classic winner
Photo: © Jonathan Devich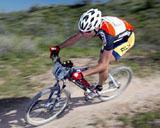 A week before his scheduled trip to the Sea Otter Classic, reigning U.S. cross country champion Jeremy Horgan-Kobelski spoke freely with Stephen W. Medcroft about his fantastic run of success and beyond.
With pork-chop sideburns and a deep cycling tan, Jeremy Horgan-Kobelski carries his lithe frame with a laid-back demeanor that betrays his Colorado roots. A Denver native from a family with three children (one brother one sister), everyone calls Jeremy JHK, an abbreviation he welcomes. "Even my girlfriend calls me JHK," he says. "It's just easier for everyone."
Speaking with flurries of words and thoughts arriving seemingly from several directions at once, he's confident and extremely secure in his understanding of his chosen profession. And so he should be. At 24 years old, Horgan-Kobelski has achieved more in the sport or professional mountain bike racing than most will achieve in an entire career.
His passion for mountain biking was ignited on a week-long mountain bike vacation with high school friends when he was fourteen. "I got super into it after that," he says. Casual passion led to competition. "From '92 or '93 on I was racing a lot. Mostly local stuff, but by '95 I was going to all the national races."
JHK credits his parents for stoking the fire of competition once it had been lit within him. "I was lucky. My parents were supportive when I was a junior. They were enthusiastic about what I was doing.
"I had so many friends whose parents attitude was more like, 'Oh, when are you going to be done with that bike racing thing?'. My parents always said if I was having fun and it was something I really liked to do, then I should do it as much as possible."
However, parents can only drive you so often and so far, he says. Aspiring to enter national events, he fell in with a junior racing team based in California that supported racers from Denver. "I raced with the Devo team, which was a great program for juniors and basically enabled me to get to all of the races. I continued to race for that program when I was an under 23."
As a junior, JHK says he did not have the greatest results. But the consistency of his racing was encouraging enough to lead to a career on the University of Colorado at Boulder cycling team. With C.U., he earned four straight collegiate national cross-country championship titles. So JHK knows all about success, and it was no surprise when in 2001 - his first season as a professional - he ended the year with a short-track national championship title. It then became obvious early in just his second season he was a contender for the ultimate U.S. national title: cross-country champion.
Dangerous in Durango
Photo: © Rob Karman

Cyclingnews:The difference between 2001 and 2002 is that you ended up US cross-country champion last year. Do you attribute the difference to a natural progression of your abilities or did you change some things over the previous winter that paid off?
Jeremy Horgan-Kobelski:I certainly didn't change anything drastic. I did do a little more conscientious training throughout the winter though. I had a really, really disappointing race in Vail (last major race of the 2001 season) which I had high hopes for. I felt great that day but double flatted. So I ended the season disappointed. But also really motivated for the next year. I trained that much harder in the off season. Not necessarily that much harder but more consistently. I rode a lot more with Travis (Brown, former Olympian and current Trek/VW cross-country star). We pushed each other and I felt like I came into the year with a much stronger base of fitness than I ever had.
CN:You came out of the gate strong in the first two National Championship series races, finishing 2nd and 5th respectively. What came next?
JHK:I was 3rd and had two 4th places to finish out the season. I ended up second overall in the series to Roland Green (Green being Canadian is ineligible to bear the US national champion moniker). And that's a huge accomplishment to me. Even though I didn't win the series to win the title, to get second to anyone, especially last year, I couldn't ask for more than that.
CN:When did you first get an inkling during the season that national championship title was a possibility?
JHK:I guess right from the beginning, from the first race, I had it in the back of my mind. I was the first American in the first race and I was thinking well, yeah, this is definitely within my capability. The first three races went really well then there was a good break (in the schedule). It gave me some time to let it sink in and concentrate on finishing the season strong.
CN:Going into the 5th race, was there any real challenge at that point or did you just need to just finish to ensure the title?
JHK:No. It was actually really close. I was second overall and Travis was third overall. We train together so we have a friendly competition even though on the racecourse we try to kill each other. He had to only beat me by a few slots in Vermont to take the national title so I had to have a good race.
Top US finisher at World's
Photo: © Tim Maloney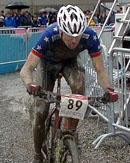 CN:What was going through your mind the night before?
JHK:I tried to stay as relaxed as I could, nervousness does nothing but sap your energy. I told myself that I had been successful all season and there was no reason why I shouldn't have a good race the next day.
CN:Were you extra jittery on the start line that day?
JHK:I was extra jittery all the way through the race but I felt good after ten minutes of racing so I knew I could do it. I just hoped my bike would stay together, that I wouldn't get a flat or anything like that.
CN:How did the race evolve?
JHK:This was Vermont. That course is really technical and there's a lot of climbing so the race shattered right off the start. I was in 3rd behind Roland (Green, Trek/VW pro and current UCI world champion) and Ryder (Hesjedal, Subaru/Gary Fisher) basically the whole race. It was a solo march the whole time. They were about a minute ahead of me for most of it although Roland ended up putting a lot of time on the last lap. It was pretty close behind me to two other people, including Travis. I kind of knew where (Travis) was the whole time.
CN:What was your feeling going across the finish line?
JHK:Complete relief more than anything else. From Big Bear, I had more than two months to think about it, to have the possibility of winning the national title in the back of my mind. Crossing the finish line in Vermont was a huge relief that this season was over.
CN:You've had such great success young. It's obvious you have the natural, genetic predisposition to perform at this level but that's not always enough. What is your approach to training. I mean, do you train on the road mostly?
JHK:Most of the pro mountain bikers train almost exclusively on their road bikes. I don't actually. I ride my mountain bike probably more than most. Travis (Brown) and I train together just about every day. Both of us really enjoy riding our mountain bikes. Our take on it is that it is better preparation for the races. I ride pretty close to half and half (road and mountain bike).
Supernova
Photo: © Jeff Horen
CN:What of the available technology do you use to help you coach yourself, heart-rate and power monitors, that sort of thing?
JHK:I trained with a power monitor before and with a heart-rate monitor extensively in the past - more like in '97, '98. I was meticulous about recording everything. I've totally changed my approach in the last three years though and use none of those things. Now, I feel like not only do I have a better sense intuitively of my fitness because of having trained with those things, but I also feel like (intuition's) more important. I benefit more from concentrating on how I'm feeling as opposed to numbers. So no heart-rate monitor, nothing. I Just use a watch to know how long I rode for.
CN:Besides a focus on intelligent training, what else is required to compete at the top levels of the sport?
JHK:The mental aspects for sure. 2000 was the season that I first had big results which was exciting. It was the last year that I was going to be an under 23. At the beginning of the season I was kind of getting towards the end of my rope in terms of how much longer am I going to bang my head against the wall at this sport and not have the results that I want. I was getting to that point where I was thinking more about what I should do after cycling. I had doubts. I thought that maybe I should focus on something else, to relax. As soon as I thought about (life after cycling) more and took the pressure off myself, I really started having results.
CN:You attribute it more to mentality than your reaching a physical maturity during the same time?
JHK:I attribute it much more to mentality. The major strides that are made at the top of racing are obviously physiological in some sense but I think that the mental aspect of racing is often overlooked.
CN:One common thing I hear is that those who are having new or renewed success are those who took a conscious effort to increase the amount of time they rest in the winter.
JHK:That's actually something that I've fortunately always been careful about. I've only ever had a couple of times where I was really burned out on training. I've been lucky, or just successful, in terms of how I've managed my time lately the last 4 or 5 years. I haven't had really hard burnout. A lot of other people my age that I raced against - and who didn't maybe take as much care with their recovery while training and racing - aren't racing any more. Resting is something I'm particularly cautious with because my perennial goal is to just get a little better every year. If you can really improve every year and you're willing to persevere, there's a point in which you will be rewarded.
JHK and Green: healthy competition
Photo: © Rob Karman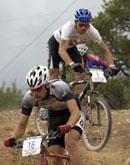 CN:You recently graduated college. How do you think not having the workload of school will help your cycling?
JHK:I never felt like being in school was holding me back in my training. I always felt like I had enough time. Maybe during finals or exams I'd have to cut back but I didn't feel like school ever really held me back from doing the training I needed to. But now that I'm not in school, I realize there are things that I certainly was cutting back on. I sleep way more now, for example. I was stretched a little thinner then and now I see that it makes it difference. I'm hoping that now, (without the workload of school), I'll have more time that I can train a little more and recover more.
CN:So it's helping you again mentally?
JHK:I think so. But on the other hand, I think that college helped me mentally too. With the pressure of racing, it's good to have a distraction. It's too easy to focus too much and put all your eggs in one basket. When I was in college and I had all this stuff to do and had a bad ride, I didn't have all day to focus on my bad training ride. I had to go and do stuff. Now, I can sit around and think about what I was doing wrong or this and that. I think that there are pros and cons to not having a lot to do outside of training.
CN:The logical next level for you to attempt to conquer in racing is the international series, the UCI World Cup. How do you change your approach to a race or preparation when you race internationally?
JHK:First, the field is much tougher. Then the hardest thing is starting at the back. Since I'm not highly UCI ranked and I haven't done a lot of international competition, I'm starting those races in the 9th or 10th row. That's hard both physically and mentally. You start the race and it bottlenecks into the first singletrack and you're literally standing around while you know the leaders are screaming up the trail. It goes back to that mental hole where all of a sudden you're in 90th place and you race as hard as you can to pass everyone you possibly can for what looks in the results like a mediocre finish.
Hopefully by doing all the World Cup races this year, I won't find myself in the same situation. If I have a few consistent results at the beginning of the year, I'll be much farther up to the front when the World Cup races , by the time the World Cup races I really want to peak for roll around. Hopefully, I can start (closer to) the second or third row.
CN:Speaking of attending World Cup races, where are your sights set this year?
JHK:My long-term sights are set on the Olympics in 2004. They haven't formally released the selection criteria for it but the preliminary belief is that they're going to heavily weigh international competition. So really, my goals this year are first to defend the national title, then to be much more serious about international competition, hopefully get top ten at some World Cups. My travel schedule is pretty heavy from the beginning of May.
CN:Without knowing the specific selection criteria, how will you know what to focus on?
JHK:Previous Olympic selection was basically up to the coaches. There was no "you have to do x, y, or z and you're guaranteed a spot." There's was no race where you win and you're in. Which has been a little bit controversial in the past. I don't know if they're going to change (the criteria) this year or not. All you can do if it is a subjective thing is just prove that you're one of, if not the, top American riders.
CN:Knowing those are your goals, how is your preparation come along?
JHK:Going really well. The (Subaru Nova Desert Classic stage race) definitely surpassed my expectations for where my fitness was so far this year (Jeremy won the overall title and two of the three stages). I didn't really change too much from last year yet I feel like I'm ahead in terms of my training. I've done a little more volume and just a little bit more intensity but I still haven't done the kind of hard training (that racing brings).
CN:You don't feel like you've done too much too soon, that you may be sacrificing good form late in the year when you need it most?
JHK:That's always a concern. I'm especially wary of people that are really fast in March so I'm being careful. But I don't think so. I feel like I'm on target.
CN:Your published schedules has you doing all National Championship and Worlds events but there are other races here; Tour of the Gila, Sea Otter. What's the draw of those events?
JHK:Sea Otter I'm going to use as a training race but I'm going to try to do better than I usually do this year because I feel like I have pretty good form and the race is later than it usually is. I'm also racing this weekend (April 5th) in Moab, there's just a local bike race there (which he won) then next week I'll go to Sea Otter. Then I'll probably do a couple more local races before Tour of the Gila. Now that's a pretty good race; five stages with a bunch of road races, not so many time trials and criteriums.
CN:It's also a race that draws a decent pro road field?
JHK:Oh yeah. It always does. It's always a hard race.
CN:Good luck. We'll watch for you at all the major stops along the way to your goals.