MTB news & racing round-up for November 22, 2008
Welcome to our regular roundup of what's happening in mountain biking. Feel free to send feedback, news, & releases to mtb@cyclingnews.com and results, reports & photos to cyclingnews@cyclingnews.com.
Edited by Sue George
South Africans check out home courses for Pietermaritzburg 2009 World Cup opener
Greg Minnaar
Photo ©: SA MTB

Greg Minnaar celebrated his 27th birthday last week while inspecting the course for the first round of the 2009 UCI Mountain Bike World Cup to be held in his hometown of Pietermaritzburg, South Africa. Minnaar, who was crowned the 2008 World Cup Champion, was all smiles as he chatted to media and local dignitaries at a launch function that gave a glimpse of what the midlands city can expect next April, when the world's best and their entourage arrive to contest the prestigious cycling event.
"It's awesome to be able to race a World Cup event right in my hometown and I'm looking forward to it. I will of course be under a lot of pressure as the current World Cup champion, but I relish the prospect of racing against the world's best riders in front of my friends, family and home fans," said Minnaar.
With heavy overnight rain making the downhill course extremely muddy and slippery, Minnaar opted to serve as a tour guide to local media, international and local cycling officials and Pietermaritzburg city officials by walking them through sections of the downhill course, nestled on the steep forested slopes to the west of the city, just above the Cascades Shopping Centre.
"It's a fantastic course that's going to offer a very solid all-round test to riders," said Minnaar. There is no time to recover really, and there are some spectacular drops and jumps that will definitely thrill spectators!"
Burry Stander, who finished second at the 2008 UCI World Championship U23 cross country race, also offered praise. He was as thrilled as Minnaar in looking forward to such a high profile international event coming to his home province.
"I rode sections and it felt no different to being on any other World Cup cross-country course I've raced overseas" said Stander, who lives in Port Shepstone, just 100km from Pietermaritzburg. "What it does have is a lot of short steep climbs and is quite similar in toughness to the Beijing Olympic Games course, which most riders rated as the best 'and hardest' in 2008."
Rising local stars Travis Browning and South African junior champion, Hayden Brown, also gave their feedback on the downhill course while South African national junior champion Rourke Croeser and elite national champion Brandon Stewart joined Stander in checking out the cross country course.
"There will be a junior category on the World Cup circuit from next year and I'll be contesting that" said Croeser, a talented 17-year-old from the KwaZulu-Natal province. "The fact that the first round is starting right here in our backyard is like a dream. Today I just got a sample of this course, but you can bet I'll know this course better than anyone by April!"
"Hosting such a high profile international event is a wonderful way to showcase Pietermaritzburg to the world," said Rob Haswell, Msunduzi municipality strategic executive manager. "It's also great to have sporting heroes coming to Pietermaritzburg to inspire a new generation of Greg Minnaars and Burry Standers."
With the downhill and cross-country courses virtually complete, construction began last week on the 4X course.
The 2009 UCI World Cup series will kick off in Pietermaritzburg and run from April 3 to 12.
Brentjens to fill dual roles
By Marcel Slagman
Bart Brentjens (The Netherlands).
Photo ©: Rob Jones

In addition to continuing to race for another year, Bart Brentjens will take on the responsibilities of team manager with the Brentjens Mountain Bike Team, currently known as the Dolphin-Trek team. Brentjen made the decision after current team manager, Ralf van Heugten, resigned his post effective December 31 after five years as manager.
When asked why he is taking on the additional role, Brentjens replied, "So I can hang on in the sport I love. I will give young and ambitious riders the chance to become top riders. Holland needs that.''
"For me, the Olympic Games in Beijing was a nice completion of five years of intense work on a beautiful team!" said the departing van Heugten. "It's been a great time with many ups and downs on a great team. I'm super proud of what we have achieved ... and the riders that I've been able to work with."
Brentjens, who won the gold medal at the Olympic Games in 1996, will reveal more information about the team's sponsors and racers in the coming weeks. He is expected to contest events such as the Cape Epic stage race and the Bart Brentjens Challenge, named after himself.
Brentjens said that he regretted not being named the new national coach after Dutch federation coach Leo van Zeeland left the job recently. Had he been offered the opportunity, he said, "I would love to do that, even with the new job I have. But it would have been more logical to work one or two years together with Van Zeeland to learn the job.
"Now Van Zeeland is not the coach anymore, I don't know who can handle the role. He had 18 years of experience and knowledge in mountain biking.''
Industry reps network & grapple with cycling's issues at US summit
By Sue George
USA Cycling CEO Steve Johnson
Photo ©: USA Cycling
Promoters, officials, team managers, NORBA board members, USA Cycling CEO Steve Johnson and representatives of the mountain bike industry converged for a three-day, first-time mountain bike summit held November 14-16 at USA Cycling's headquarters in Colorado Springs, Colorado. Forty-five attendees met to discuss changes and issues within the sport, share best practices, offer their suggestions about how to promote mountain bike racing in the US.
USA Cycling opened Saturday's session with an overview of its programs and a presentation on relations between promoters and officials. Race publicity, insurance, athlete development, race sponsorship, relationship building, trends and the future of mountain biking were among other topics on the agenda.
"It brought a variety of different aspects of the sport together, connecting people from around the country and offering amazing opportunities for networking and sharing best practices," said USA Cycling's Mountain Bike Events and Program Director Kelli Lusk according to the USA Cycling website.
A similar summit involving National Racing Calendar promoters also took place over the same weekend. Both groups met Saturday evening to share an informal dinner.
"Mostly I was there for the road summit, but I dropped into the mountain bike side to see what was going on," Iceman Cometh promoter Steve Brown told Cyclingnews after he returned home from the summit. Brown has promoted the Iceman for 19 years and also puts on the Tour de Leelanau, a UCI category 1.2 road event.
"I'm completely removed from a lot of the mountain bike scene - living in my own little insulated world up here in northern Michigan, so I wasn't aware that there was so much interest in the gravity events. I knew about 4X and downhill, but I wasn't aware that it was that big of a scene. That was interesting to me," said Brown. "There is a culture difference between the cross country and the gravity guys. How do you work with those two together?"
About 45 people attended
Photo ©: USA Cycling

While there is a culture gap between the road and the mountain bike sides of the sports, Brown said that although many perceive the two disciplines to be facing different issues, he saw both grappling with the same problems. "When I would jump into the mountain bike side, we were talking about the same things as on the road side.
"On the road side, promoters are interested in protecting their race dates. There is so much equity in their race dates as they are tied to other cycling and non-cycling events within the community.
"Dates were a big issue in the mountain bike side - especially fitting everything in with the World Cups. How do you make a series to fit in with all the other races? There were just five or seven weekends that the top pros could be available to race in the US. That got a lot of attention. We were trying to figure out how to slot all the races in at the level that they wanted to be."
While mountain bike summit attendees struggled with their sport's calendar, road summit attendees agreed to measure to help promoters going forward. "On the road side, there was more conclusion. Steve Johnson asked his staff to show us how the events are evaluated and picked for the NRC - as opposed to just submitting your bid and receiving the dates you are allocated. There is going to be a lot more transparency in the process."
Brown said he would attend another such summit. "Certainly networking with your peers and finding out what works for them and what doesn't is really valuable. It's like 'Hey I'm not alone.'" He added that there may be another summit in the spring of 2009, allowing more time to sort through date-related issues before the 2010 UCI calendar is decided.
McMullen documentary screenings coming to California
Visually impaired downhill mountain bike racer Bobby McMullen is the subject of a documentary which will be screened in the Bay Area to benefit the NorCal High School Mountain Bike Racing League and Bay Area Outreach Recreation Program. Each screening will be followed by a Q&A session with Bobby.
The 60-minute "The Way Bobby Sees It" was produced by Davis, California, based Poison Oak Productions. A mountain biker before he lost his vision, McMullen remains as true to the sport as ever.
"Mountain biking is truly a test of your own abilities. Just like life, it is only you out there when it comes down to it. You can go as fast and as hard as you want to. You are not sheltered behind your team. It teaches life lessons, sometimes you just have to eat it. I think it is a great sport for high schoolers for many reasons; it is a great outlet for communication with peers and coaches, unlike other sports there are no bench sitters, mountain biking is for everyone," he said.
Open captioning and open description will enable individuals with hearing and visual impairments, such as McMullen himself, to enjoy the experience along with everybody else.
The film documents one man's determination to live an active life even when the path is partially blacked out and completely out of focus. Not totally blind, McMullen has described his vision as looking through a long tube with a smeared lens. He lost his eyesight as a result of diabetes in 1993. Several years later his kidneys began to fail. He can't drive a car, grocery shop, or read a menu without help. He relies on others to see and takes 32 pills a day to stay alive. Despite these limitations, he is on a mission to race the most difficult downhill course in the country.
The schedule of screenings is listed below. For more information, including advance tickets, visit www.norcalmtb.org.
December 2, 7:00 pm: Sundance Kabuki Theater in San Francisco
December 4, 7:30 pm: Cinema West Theater in Livermore
December 9, 7:30 pm: Rialto Cinema in Santa Rosa
December 10, 7:30 pm: Grand Lake Theater in Oakland
December 11, 8:00 pm: The Lark Theater in Larkspur
Filipino race to include "Expat" category
Organizers of the Puerto Princesa Mountain Bike XC Challenge to be held on January 29-31, 2009, in the Philippines, are considering the addition of a new "Expat" category, for foreigners participating in the event according to balita.ph.
Race Director Joey Mirasol said the event was created for the citizens of the Phillipines, but foreigners would also be welcome. Mirasol has been fielding inquiries from citizens of Singapore, Malaysia, Indonesia, Thailand and Hong Kong.
He consulted with the only UCI-accredited Mountain Bike Commissaire in the country about how to handle foreign competitors. According to the current plan, the race will host an "Expat-Am" category for amateur foreigners to compete with each other. However, licensed elite racers will instead contest the race's elite category open to all genders, ages and nationalities.
The race will be run at the Magarwak Integrated Recreation & Nature Park of Puerto Princesa City.
Colorado's trails organization awarded
A Durango, Colorado-based trails organization was recently recognized by the US Forest Service. The Rocky Mountain Regional Forester presented the Recreation Partner of the Year award to the Trails 2000 group according to IMBA.
The non-profit volunteer organization has worked for two decades to engage the public in the planning of trail proposals on federal lands in southwestern Colorado. Since 1990, the group has provided annually up to 3,000 hours of volunteer work for trail maintenance and public involvement, valued at more than US$500,000.
"This award recognizes all of the work our volunteers have contributed to our trails for the past 20 years and the importance of volunteer work on public lands," said Mary Monroe, Trails 2000 executive director. "We are honored to receive such a prestigious award on behalf of our volunteers."
Intermontane Challenge drawing top talent
The inaugural Intermontane Challenge, set for July 27-31, 2009 in British Columbia, Canada, has been drawing some high profile entrants to compete for a top prize of CAN$10,000 for the overall win in the men's and women's solo categories.
Former Olympian David "Tinker" Juarez confirmed his participation in the solo category along with former Kamloops native Chris Sheppard. They will race the cloverleaf style course, with all racers staying in the same place throughout the event as each stage heads out in a different direction.
The Intermontane Challenge is 25% filled and offering 300 total spots for solo or team entrants.
For more information, visit www.intermontanechallenge.com.
TransAndes race set for February
The TransAndes, held in the Patagonian Andes Mountains between Chile and Argentina, will be held February 3-8, 2009. A maximum of 400 teams will race singletrack, jeep roads and technical terrain starting and finishing in Pucón, Chile. Racers will cover six stages ranging from 60 to 90km each and will pass six volcanoes and 10 lakes en route.
Organizers likened the race's format to that of the TransAlp Challenge and the TransRockies Challenge. For more information, visit www.transandeschallenge.com.
Cyclingnews' MTB Contest: Win an autographed calendar featuring female MTB celebrities
Cyclepassion 2009 Calendar
Photo ©: Cyclepassion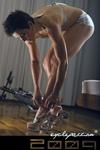 Ever wonder what some of the world's elite female mountain bikers look like under all the mud and their jerseys, helmets and sunglasses? A few of the fastest female mountain bikers bare not quite all to show off their super fit bodies in the 2009 Cyclepassion calendar.
Time is almost up to enter Cyclingnews' contest to win an autographed copy of the Cyclepassion calendar.
Photographer Daniel Geiger has captured images of the following six of the sport's elite racers in a 40 cm x 68 cm (15.75" by 20.72") calendar.
- Norwegian Gunn-Rita Dahle-Flesjaa, Seven-time World Cup champion and 2004 Olympic gold medallist
- German Hanka Kupfernagel, 2008 Elite Women's Cyclo-Cross World Champion, 2000 Olympic champion
- Russian Irina Kalentieva, Bronze medal winner 2008 World Championship and 2007 World Champion
- American Willow Koerber, Sixth overall in the 2007 World Cup
- Germany Steffi Marth, 2008 German 4X champion
- Sabine Spitz, 2008 European champion, 2008 Olympic champion, 2008 World marathon champion
The calendar is signed by each of the athletes and it also includes a section about the making of the calendar. The contest's winner will be selected at random from all correct answers to a mountain bike trivia question.
Hurry and enter now to be in the draw. Good luck!
(All rights reserved/Copyright Future Publishing Limited 2008)