MTB News & racing round-up for March 29, 2006
Edited by Steve Medcroft
Welcome to our regular round-up of what's happening in the dirt. Feel free to send feedback, news and gossip to mtb@cyclingnews.com
Wells and McConneloug take Puerto Rico UCI race
By Steve Medcroft
A handful of U.S. pro mountain bikers got a chance to stretch their legs against real competition for the first time at last weekend's Medalla Light Ultimate Dirt Challenge in Rincon, Puerto Rico. U.S. Cyclo-Cross National Champions Todd Wells (GT / Hyundai) and U.S. MTB National Champion Mary McConneloug (Kenda/Seven) took the UCI E1 race, scoring the first of many points the U.S. needs to increase its number of qualifying spots for the Beijing Olympics in 2008.
Also chasing points and getting some tropical training in advance of the UCI World Cup opener in nearby Curacao were a number of other Americans including Chris Eatough, Lea Davison and Jeremiah Bishop of the Trek/VW factory team, Adam Craig and Carl Decker of Team Giant, Mike Broderick (Kenda/Seven), and Jason Sager.
The Ultimate Bike Challenge wasn't just a cross-country race though, says thirty-two year old Doel Gonzalez; owner of the Ciclomundo West bike shop in Mayaguez, Puerto Rico and member of the fifty-strong cycling club (the Contra el Viento - Against the Wind) that puts on the event. "We've been putting on the race for three years," Gonzalez said by phone on Tuesday. "Every year, we try to make it better, try to make it more interesting."
Held fifty meters from some of the world's greatest surfing beaches, promoters put on two additional attractions to complement the two-hour cross-country race. "We invited about ten dirt jumpers from the States and Canada and there were five rock bands playing on the main stage," Gonzalez said. An emcee tied all three events together. "You could watch the concert, the dirt jumps and the cross country from one spot. The announcer was always talking about everything, talking about the current standing in the race or explaining the tricks, introducing the bands."
Gonzalez says he loves that the Ultimate Dirt Challenge is getting a reputation among racers as a great, warm way to end winter. "The club has been putting on races for locals since 1984," he said. "(At first) we started the Ultimate Dirt Challenge as a way to give local riders a great race. But we've been getting a lot of elite riders from the U.S. and Canada because Rincon makes the perfect training setup. Todd (Wells, who won his third Ultimate Dirt Challenge in a row) has been here two weeks, for example. He gets to take advantage of our local course local course and the temperature. He'll leave here just in time to make the two-hour flight to Curacao for the first World Cup."
The 2007 edition of the race will be held March 25th.
NORBA Marathon series opens in Phoenix
Kris Sneddon, the winner of the first 2006 National Mountain Bike Series (NMBS) Marathon race in Fountain Hills, AZ on March 24, traces his sharp early season form to an unlikely source - training with road riding ace Levi Leipheimer. "For two months before the Tour of California I was hiding out in Santa Rosa training with Levi," confesses Sneddon. "That guy trains really hard."
This certainly paid off for 24-year old Kris Sneddon of Team Kona/Les Gets, who would usually be training around his home in soggy British Columbia, as he won the men's pro Marathon race by nearly four minutes in a time of 3 hours, 37 minutes, 11 seconds. It still wasn't easy as Sneddon claims to have felt the desert heat which climbed to over 85 degrees during the race. "There was a lot of single track and it was constantly rolling out there. Not really any big climbs, but it never felt like you weren't tired. I also got super sunburned," said Sneddon.
Rounding out the pro men's top five were Troy Messeghers of Blairmore, AB in a time of 3:41:06, Travis Brown of Boulder, CO (Team Trek/VW) in a time of 3:43:07, Jay Henry of Avon, CO (Team Ford/Specialized) in a time of 3:44:12, and Ian Stanford of Winona, MN (Team Nature Valley) in a time of 3:50:19.
The first stop on the 2006 National Mountain Bike Series saw ninety-two riders toe the starting line - the largest field to date in an NMBS Marathon race. "The atmosphere was awesome, everyone was relaxed and helping each other out. I didn't have a feeder but some guy named Mike said 'I'll help you out!' The whole event was just like that," said Sneddon.
The women's pro field saw Jenny Smith of Gunnison, CO (Team Trek/VW) take the top spot on the podium with a time of 4 hours, 22 minutes, 35 seconds. Like Sneddon, she also felt the heat. "It was really hot! The course was very good, and I felt strong and comfortable until the last half of the last lap when I started cramping. The race was demanding because it was mainly single track. I just had to rise to the challenge," said first time Marathon racer, Jenny Smith. Smith, a native of New Zealand, has a background that includes extensive Xterra triathlon and cross-country mountain bike racing.
Rounding out the women's top five were Kylia Malenkovich of St. Cloud, MN in a time of 4:29:40, Kate Aardal of Elkford, CAN in a time of 4:32:57, Jennifer Wilson of El Paso, TX (Team Titus/Clif) in a time of 4:35:14, and Kristy Lanier-Mantz of Marlinton, WV (Team Dirtbean) in a time of 4:47:55.
The National Mountain Bike Series continues on May 5-7, at Southridge Park in Fontana, CA with downhill, cross country, short track, mountain cross, and Super D races that will count towards NMBS points.
2006 National Mountain Bike Series Schedule
May 5-7: Southridge Park, Fontana, CA - XC/ST/DH/MTX/SD
Jun 10-11: Sugar Mountain Resort, Banner Elk, NC - XC/ST/DH/DS/SD
Jun 17-18: Mount Snow Resort, West Dover, VT - XC/ST/DH/DS/SD/MTX
Jul 8-9: Deer Valley Resort, Park City, UT - XC/ST/DH/SD/DS/MA
Jul 15-16: Infineon Raceway, Sonoma, CA - MTX/XC/DH
Aug 5-6: Brian Head Resort, Brian Head, UT - DS/XC/DH/ST/SD/MA
Aug 12-13: Snowmass Resort, Aspen, CO - DS/XC/DH/ST/SD
Commonwealth Games MTB race wrap-up
Liam Killeen (England)
Photo ©: Rob Jones

Team England's Liam Killeen and Canada's Marie-Helene Premont won Commonwealth Games gold medals in last week's Commonwealth Games in Lysterfield, Australia.
Under hot skies, Killeen, who finished third in the Manchester, England Commonwealth Games four years ago when he was just 20, finished ahead of teammate Oli Beckingsale, a 29-year-old cyclist from Bristol and 2002 silver medallist, Canada's Seamus McGrath.
Killeen finished in 2:13:11, just 15 seconds ahead of his teammate and 32 ahead of McGrath.
"It's a pretty special feeling and it hasn't completely sunk in yet," said Killeen in a statement released by Team England. "I'm happy I've come here and achieved what I set out to do. I was aiming for gold throughout. (Chris) Jongewaard built up a solid lead and I wasn't sure whether we'd be able to reel him in, but as the race moved on we could see that we were catching him up." Killeen and Beckingsale overtook the Australian National Champion in the final lap and battled each other for the top spot.
In the women's race, Marie-Hélène Prémont (Château-Richer, QC) with a commanding two-minute lead. The young French-Canadian led the race from the start. The twenty-eight year old Canadian champion and Olympic silver-medallist said, "It was a very good race today considering that this is the start of the season for the Canadians," in a press release from Team Canada. "My legs felt good and I was able to execute my plan of pushing the pace from the start. The heat was intense, about 30C, good chance that I liked it!"
Click here for complete Commonwealth Games Men's and Women's MTB results and reporting.
Global MTB racing round-up
It's starting. The mountain bike season is upon us. Around the world, UCI, NORBA and endurance races are drawing the world's elite to dust off their knobby tires and see where they stand against the rest of the world. Check out the results of their efforts at the following races:
Open de España, Spa (E2), March 26: Full results
Medalla Light Ultimate Dirt Challenge, PRc (E1), March 26: Full results
Swisspower Cup #1, Swi (E1). March 25-26: Full results
Comm Games - Men's MTB: Full results, report & photos
Comm Games - Women's MTB: Full results, report & photos
Maxxis Cup International, Por (E2), March 19: Full results
Portugal Cup, Por (E2). March 12: Full results
Grand Prix Zlatolicje - Slovenia Cup #1, Slo, E1, March 19: Full results
Gaerne MTB Trophy/Liquigas Cup #2, Ita (E1), March 18: Full results
Meirhaeghe wants to ride the classics
The winner of the GP Rudy Dhaenens, former MTB XC world champion Filip Meirhaeghe (Landbouwkrediet-Colnago), has expressed a strong desire to ride most of the April classics. Together with team manager Gerard Bulens, Meirhaeghe has extended his program to include Paris-Roubaix, Amstel Gold Race, Fleche Wallonne and Liege-Bastogne-Liege.
Rotorua World Championship venue gets thumbs up from UCI
The UCI has given its blessings to the organizers of the Rotorua World Championships venue. After visiting the Oceania venue during the Oceania Championships in early March to evaluate preparations for the next Mountain Bike/Trials World Championships that will be held in Rotorua from 22 to 28 August 2006, a UCI delegation released a statement saying that it is "confident that these World Championships will be a success."
TransRockies dishes up new route for 2006
Hundreds of mountain bike riders from all over the World will converge on Fernie, BC for the start the 2006 TransRockies Challenge, a seven-day mountain bike race to be held from August 6-12.
Though exact course details are kept secret until immediately before the event, riders who have participated in the TransRockies Challenge before should be ready for a very different route this year. The new course will head North and West to a finish line in Panorama Mountain Village, located near Invermere, British Columbia, three hours west of Calgary. Along the way, it will take in some of the stunning scenery along the Central and Western Canadian Rockies where the peaks of British Columbia's Purcell and Kootenay ranges soar to heights of over 3000 metres.
"The TransRockies Challenge has always been about offering the riders the best and most memorable experience," said Event Director Aaron McConnell. "We've set the bar very high over the last four years, but having scouted and explored this new course, we're really excited about the race that we're going to be able to put on in 2006."
While the new route will pass through traditional host communities Sparwood and Elkford, it will also include new communities who have not previously been able to be part of the event. The experience of hosting hundreds of exhausted, hungry mountain bikers along with dozens of RVs, scores of tents, and an army of volunteers and support staff is something these towns will not soon forget.
"Participants come to the TransRockies to test themselves against the toughest, most challenging mountain bike event in the World, and we're excited to show them more of what the Rockies have to offer in 2006."
Cape Epic introduces adidas new honors for multiple Epic finishers
To reward riders that return each year to ride the Epic, adidas and the Cape Epic have created a loyalty programme for multiple Epic finishers. Riders that have finished the Cape Epic three times will be awarded membership of adidas Amabubesi – The Cape Epic Finisher Club.
"Amabubesi" means "pride of lions" in Zulu - an excellent description for mountain bikers that return year after year to ride the Epic. Apart from a special certificate honouring their achievements, Amabubesi club members will receive a set of benefits including a guaranteed spot in future races - Amabub members don't have to enter the public lottery in order to get a start place. Also in the prize package is a dedicated hospitality area at the finish line of every stage complete with masseurs, food and recovery drinks exclusive to Amabub members (for 2007).
"To finish the Cape Epic just once is a great accomplishment," says Axel Burkhardt, head of Global Sports Marketing adidas Olympic Sports, Cycling, and Outdoor. "That is why we would like to award mountain bikers that keep coming back to the Cape Epic and complete this tough race year after year, to pay tribute to their achievements."
The Cape Epic, presented by adidas, will kick off for the third time on 22 April 2006 in Knysna and lead over 1000 mountain bikers from 37 nations through the magnificent scenery of the Western Cape. Riders will tackle more than 900 gruelling kilometres and climb over 16000 vertical metres during the eight stage race that finishes at Spier Wine Estate on 29 April 2006.
Please visit www.cape-epic.com for more information.
Bendigo stage race planned for April
The Bendigo MTBA Club in central Victoria (Australia) will be running its second annual three-stage mountain-bike tour on the weekend of April 29th and 30th. The Tour is designed to be achievable by riders with a reasonable level of fitness. Each stage starts and finishes at the same venue (on private property bordering the Sedgwick Forest).

Camping at the start venue is available on the Saturday night and amenities available will include hot showers, toilets, a bon fire and byo barby (sat tea). Racers in a number of categories will race the following three stages:

Saturday 29th 1.00pm: Point to Point 37km 60% single trail
Sunday 30th 10.00am: 10km Individual time trial 80% single trail
and 1.00pm: Cross country lap race 100% single trail
Maverick named official bicycle of Granny Gear 24 Hour Series
Maverick Bicycles announced this week that it has been selected as the official bike of the 2006 Granny Gear Productions 24 Hour Race Series. Over the course of the April-through-October race series, Maverick will donate ML7 complete bikes to be auctioned off at each event. Proceeds will benefit IMBA and regional IMBA affiliate clubs. "We're happy to support IMBA. The 24 Hour race format is a great showcase for our products and for the sport of mountain biking," says Ed Kuh, Maverick's vice-president.
"IMBA and our local mountain bike affiliates thank Maverick and Granny Gear for providing such a unique fundraising opportunity," said Pete Burhop, IMBA's Development Director. "Granny Gear's 24 Hour races are an awesome venue to highlight our affiliates' untiring work to keep trails open and rideable. The raffle of a new Maverick mountain bike will help provide much-needed financial resources to the IMBA club in each race location."
"Our patented MonoLink rear suspension and lightweight high performance forks make Maverick the ideal bike for high-intensity all around riding," says Kuh. "We design and build bikes that climb and descend extremely well…and are still comfortable and efficient enough to excel in ultra-distance events," he adds.
Beginning with the 24 Hours of Temecula on April 21-22, all models of Maverick suspension frames and forks will be available for test rides by racers and spectators at each 24 hour event.

Event locations and dates for the 24 Hour Race Series are:
Temecula, CA: April 21-22
Conyers, GA: May 20-21
Morgantown, WV: June 10-11
Killington, VT: July 22-23
Kansas City, MO: Sept. 16-17
Moab, UT: Oct. 15-17
IMBA Summit Conference registration open
The IMBA Summit and World Mountain Bike Conference (June 20-23, 2006, in Whistler, BC) will be a premier event for trail advocates, land managers, resort and ski industry representatives, and members of the mountain bike industry. Register now and you'll save $100 per registrant. Or enroll three people and pay for two — but hurry, because Early Bird pricing offer expires March 31.
"This much-anticipated conference is the first-ever merger of the IMBA Summit with World Mountain Bike Conference," says Event Director Richard Juryn. "Our event plenary will focus on hard-hitting topics including risk management and liability, sustainability and multi-use trail access and other challenging topics from international experts."
Delegates from around the world — Africa, Nepal, Netherlands, Israel, United Kingdom and Australia — will attend. Confirmed speakers include Welch recreational trails expert Dafydd David; former IMBA President and Mountain Bike Hall of Fame inductee Jim Hasenauer; and Switzerland's Darco Cezin, an organizer for the 2005 World Mountain Bike Championships. Other bike luminaries will give presentations on a range of topics — check the conference web site for speaker updates this spring.
Visit http://www.worldmountainbikeconference.com/ for additional information about the event.
An interview with Nat Ross: Going the distance
Nat Ross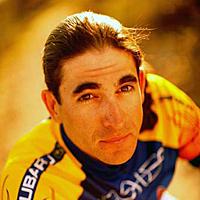 As a six-year professional mountain biker who's competed in twenty-eight solo 24-hour races, you'd think that ultra-endurance racing has consumed every waking hour of 35 year-old Nat Ross' adult life. But as Steve Medcroft discovers, the lean, long-haired and laid-back Coloradoan has a more complete resume than even the most upwardly-mobile corporate go-getter.
For starters, Ross holds a biochemistry degree from Western State College in Gunnison, Colo. After college, he pulled a five-year stint as high school teacher and coach. He also built Tough Guy Productions, the company that puts on the Arapahoe Basin based Telemark Freeskiing Championships and has produced five editions of the Total Telemark extreme ski movies. In 2005, he even took a swing at mountain-bike race promotion; designing the course for Sleepless in the Saddle.
The most impressive thing about this list of accomplishments is that he's built it at the same time as he's developed a world-class endurance resume that includes one solo national championship, a number of key individual wins, and top placements in races like Montezuma's Revenge and the 24 Hours of Moab.
Click here for the full interview.
Ford MTB Team Training Camp; the Chris Davidson diaries
CN diarist Chris Davidson, who writes from the perspective of his role as wrench for the Ford Women's MTB Team has been a busy guy. After officially ending his off season with a whirlwind trip to Europe and when a garage load of Scott mountain-bikes showed up at his house, Davidson has been running non stop. His latest set of diaries cover the new team's pre-season training camp and a little training race called the Redlands Classic.
Chris Davidson 'hangs loose'
Photo ©: Chris Davidson

I left a snowstorm in Salt Lake City to arrive in much warmer and sunny conditions in Southern California. Ford Cycling is holding a training camp to get everything squared away for the 2006 season here near Malibu and I am excited to get things underway. Most of the riders flew in last night, so this morning started a disbursement of clothing, helmets, shoes, bikes, wheels, etc…the cycling equivalent of Christmas.
I had been able to ship the riders their road bikes about a month ago, so everyone has been able to get dialled in on the fit and handling, but today the riders saw their 'home' hardtail bikes for the first time. This year each rider gets four bikes: a 'home' hardtail, a 'race' hardtail, a 'race' dual suspension, and a road bike. Here at camp riders flew in with their road bike, as we head directly from camp to do the Redlands Stage race.
The morning saw me fit up riders on the 'home' hardtail and send them out on test rides to check fit. Bars and levers were adjusted, steerer tubes were cut and saddles were tweaked numerous times. Our newest U-23 pro rider, Melanie Myers, got the one pair of slick tires that I had mounted up on 26" disc wheels and headed out for a test spin as I worked with other riders on fit. About a half an hour later, someone from the hotel office came out to the parking lot to say that there was a call in the office for the Ford Team.
Read the rest of Chris Davidson's first day of camp diary (and the rest) here.
Heat and thorns in Curacao; the Gunn-Rita diary
Many things are different here on the Caribbean island of Curacao, but the biggest challenge for me is the heat and the high humidity. The World Cup race track doesn't include many climbs, but even so it's a tough course. We have one week to go until the opening of the world cup, and I'm very much looking forward to it!
The trip across went smoothly, and we received our luggage and bikes with no hitches. We're living in spacious and comfortable accommodation a few hundred meters from the stadium, right next to the start and finish area. We were a bit shocked when we got off the plane on Monday evening and felt the heavy heat in our faces, but we're beginning to get used to it now. You're constantly sweating here because of the high humidity, and you have to keep drinking water all the time.
Many things on this island are different from what we're used to. The beaches right next to the hotel are fantastic and there are lots of plants growing everywhere. Everything is brightly coloured; from flowery bushes, colourful parrots flying around us and the many green iguana lizards we've seen on our bike rides in the woods, to the houses which are all painted in every colour of the rainbow. The sea is also magnificent. It's simply wonderful to have my swimming training in the sea instead of having to do it in an indoor swimming pool.
Read the entire Gunn-Rita Dahle diary here.
(All rights reserved/Copyright Knapp Communications Pty Limited 2006)