MTB News & racing round-up for March 9, 2005
Edited by Steve Medcroft
Welcome to our regular round-up of what's happening in the dirt. Feel free to send feedback, news and gossip to mtb@cyclingnews.com
Oceania Championships wrap up
Leuchs in hot pursuit
Photo ©: Mikkeli Godfree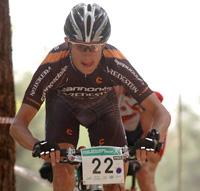 The cross country, downhill and four-cross courses in Rotorua, New Zealand got a test run in preparation for this August's UCI World Championships when they hosted the Oceania Championships this past weekend. Under mostly dry and warm skies (barring the odd flash shower), the region's finest did battle for championship honours (with New Zealand coming out on top in all categories) while carpetbaggers from as far away as Canada and France stole the spotlight by winning key individual races.
John Kirkcaldie took the first continental championship of the weekend in four cross. He won the all-Kiwi final ahead of countrymen Tom Holland, Craig Pattle and Scott Geater. In the non-championship all-comers event, Cedric Gracia (Oakley - Commencal) put enough dirt between him and the other three finalists to pull air tricks off the jumps on his way to a win.
Kiwis Kashi Leuchs (Cannondale) and Rosara Joseph (Giant) swept the cross country championships. Joseph took her win with more than a two-minute margin over countrywoman Annika Smail. In the men's race, outsider Geoff Kabush (Maxxis/Turner) proved that even in his first dirt race of the year, he could still put the hurt to Leuchs, Australian National Champion Sid Taberlay and Chris Jongewaard (both Avanti-SRAM-Rock Shox).
Breaking New Zealand's championship streak, Aussie Sam Hill (Iron Horse - SRAM - Rock Shox) took the downhill; but only after finishing second to Frenchman Fabien Barel (Kona Les-Gets). The pairing was a chance for both racers to relive last year's world championships but no matter how clean a final run Hill put down, he couldn't change his fate. New Zealander Vanessa Quinn (Intense) won both the women's race and the Oceania downhill championship.
Cyclingnews' Mikkeli Godfree was on hand to capture the event in words and pictures. See his Four Cross, Cross Country and Downhill reports here.
USAC announces MTB World Cup Incentives
USA Cycling announced today that it has earmarked more than $50,000 for a new Elite Mountain Bike Performance Stipend program. The initiative is aimed at rewarding off-road athletes with incentives and support to compete at the highest level of international mountain bike competition.
The 2006 mountain bike season marks the beginning of the two-year Olympic qualification period in which countries accumulate points towards its nation's overall ranking – the deciding factor in how many start spots a country receives at the 2008 Olympic Games in Beijing. USA Cycling says it created the stipend program as one of several efforts maximize America's international ranking.
"The international performances of our top athletes over the next two years will determine the number of Olympic start positions we are awarded as a nation," said Steve Johnson, chief operating officer and director of athletics for USA Cycling. "The participation of our top athletes in the UCI World Cup calendar is critical in this process and we are committed to supporting their efforts."
The program is specific to elite men's and women's cross country disciplines and begins with the first UCI World Cup event April 1 in Curacao. Following each World Cup event, USA Cycling will pay cash incentives to the top-four men and the top-four women in the following day's UCI rankings. To be considered for the cash incentives, athletes must participate in the World Cup in question and be ranked in the top 60 overall for men and top 40 overall (in UCI World rankings).
For each European-based World Cup race, athletes meeting the criteria for incentive funding will receive $1,200 per event. For World Cups in the Americas, qualified athletes will receive $750 per event.
"The benefit of this program is really twofold," explained Gerard Bisceglia, chief executive officer of USA Cycling. "By providing funding for athletes to compete internationally, we're creating a platform that supports more participation in World Cups and other internationally-sanctioned events. That alone will assure the U.S. a better chance at becoming one of the top-ranked nations in the sport of mountain biking. Secondly, the simple exposure to a higher level of competition will make our athletes more competitive globally."
This stipend program is another example of USA Cycling's commitment to securing the maximum number of start positions for the 2008 Olympic Games. Last week, USA Cycling announced its investment in the National Mountain Bike Series which resulted in the UCI sanctioning of six domestic mountain bike events and allows U.S. athletes the opportunity to obtain UCI points on home soil.
USA Cycling 2006 Mountain Bike Performance Stipend Program Qualifying Events:
Apr. 1-2, UCI World Cup #1, Curacao
May 13-14, UCI World Cup #2, Madrid, Spain
May 20-21, UCI World Cup #3, Spa-Francorchamps, Belgium
May 27-28, UCI World Cup #4, Fort William, Scotland
June 24-25, UCI World Cup #5, Mt. Sainte Anne, Quebec
Sept. 9-10, UCI World Cup #6, Schladming, Austria
MTB at the North American Handmade Bicycle Show
The double chainstays
Photo ©: James Huang

Last weekend, over a hundred master framebuilders, tubing manufacturers and component suppliers crowded the San Jose Convention Center in downtown San Jose, CA to share information and show off the latest in the growing business of hand-building bicycles. On hand at the North American Handmade Bicycle Show was a solid mix of legends of the game and the up-and-comers; from Richard Sachs and Brian Baylis to Sacha White of Vanilla Bicycles.
Cyclingnews sent its resident U.S. tech head, James Huang, to prowl the aisles and generally lust after the one-of-a-kind creations and creative innovations that can only come from the hands-on individual framebuilders at the show.
Among the pristine fillet-brazed steel frames, handmade titanium cantilever brakes and custom-carved lugs, he found plenty of off-road bikes to desire including Craig Calfee's bamboo mountain bike and a unique two-niner from Aherne Cycles featuring dual chainstays.
Visit Huang's NAHB day 1, day 2 and day 3 reports for the whole scoop.
Tough Girls MTB Team hits the scene
First the Luna Chix, then the Velo Bella girls, now you can add another all-women's mountain bike team to the domestic scene; The Tough Girls -- pro racer Lisa Matlock (formerly of the Ford pro cycling team) and experts Lynn Bush, Janis Sandlin, and Brittany Walker -- announced their intentions to the mountain-bike world this week.
Fully outfitted in Gary Fisher bikes, Smith optics, Crank Brothers pedals and a custom-painted pink Chevy Astro van, the team, directed and founded by Fisher-sponsored ultra-endurance racer (and soon-to-be Cyclingnews diarist) Nat Ross, will be promoting the sport through racing, riding, clinics, and travel. "This first year the team is small but tough," says Ross. "The girls are well rounded and will be racing everything from cross country, short track, marathons, 24 hour races, super D, downhill and cyclo-cross to road races."
The team's first appearance is scheduled for March 24th at the NOVA Desert Classic in Fountain Hills, Arizona. For more information and to keep up with or support the Tough Girls MTB Team, visit www.toughgirlproductions.com.
Costa Rican Pro MTB team launched
With two World Cup stops in 2006 (Curacao, Dutch Antilles and Balneario Camborio, Brazil), the Pan-Am Games and the growing popularity of the winter MTB classic, La Ruta de Los Conquistadores, participation in mountain biking is on the rise in Central America. So it's no surprise to see the launch of a new pro team from the southern hemisphere.
The full roster for San Jose, Costa Rica based Scotiabank/Toyota/DHL was announced this week. Primarily mountain-bikers, the team's three riders, Marco Pohland, Michael Rugama (teammates in last year's Trans Rockies) and Luis Villanea, will contest the twelve-race Costa Rican National MTB Series and select road races, Sea Otter and a collection of Canadian races during the 2006 season.
"All of these guys have competed internationally in UCI races," says team spokesperson Bob Garcia. "Luis has even competed in World Nature Games in Brazil - back when Rasmussen was still racing mountain bikes; finishing top ten against guys like Sauser and Frischknecht."
For more information, visit www.suspensiones.biz/team. There are plans for an English-language site in the coming months.
Kona Invites You to 'Adopt an AfricaBike'
Along with the efforts of The Kona Bicycle Company, Bicycling Magazine and Britsol-Myers Squibb, the BikeTown Africa project, which is designed to help fight the spread of AIDS and HIV in Botswana by providing health care workers with a means of transportation, is about to get some help from a much needed source: you.
Due to an overwhelming number of inquiries from thoughtful people who have heard about the AfricaBike project and asked, "What can we do to help?," along with a great suggestion from the guys at one of Kona's northern California dealers that we allow people to, "Adopt an AfricaBike," Kona has decided to do just that; for $100, you, your shop, your family… anyone can adopt an AfricaBike.
The idea was born when the team at Hank and Frank's Bicycles in Lafayette , CA , asked us, "How much would it cost to adopt an AfricaBike, that is buy one and donate it to the cause?" Kona thought it was such a great idea, they decided to offer the opportunity to the general public; for every $100 we receive to 'adopt an AfricaBike' will go towards financing future AfricaBike projects and help to stamp out HIV and AIDS in Africa.
Payment can be made either through PayPal account or by mailing a check to one of Kona's international headquarters. Kona will even paste a shop sticker on the donated bike on your behalf and send you a photo of your donation being placed in its new home.
More than 200 of the specially designed bicycles are currently scheduled for delivery to health-care workers in Botswana in April. The research, design, development and delivery of the Kona AfricaBikes is documented at www.konabiketown.com. If you are interested in adopting an AfricaBike, check out www.konaworld.com or contact Mike Geraci, mgeraci@base-camp1.com.
(All rights reserved/Copyright Knapp Communications Pty Limited 2006)