MTB News & racing round-up for June 23, 2006
Edited by Steve Medcroft
Mount Snow wrap up
By Steve Medcroft
Are elbows supposed to look like this?
Photo ©: Trek/VW MTB Team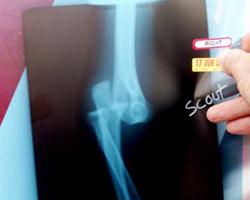 The NORBA circuit shifted north to Mount Snow, Vermont last weekend and was dominated by racers in town ahead of the Mont Saint-Anne in Canada this week.
Mary McConneloug (Kenda/Seven Cycles) and Christoph Sauser (Specialized) took wins in cross country. McConneloug says focused on riding a smooth, efficient race in order to prepare for Mont Sainte Anne. Sauser gushed about his equipment: "Today we got brand new Epic bikes with integrated cranks and the bike is so light again - it's under nine kilos," he said.
In Downhill, World Cup riders Greg Minaar (G-Cross Honda) and Sabrina Jonnier (Monster Energy/Iron Horse) took top honors.
And despite the presence of so many of the world's elite, domestic pros had some fun too. Tara Llanes (Giant) and Rich Houseman (Yeti/Fox) cleaned up in Dual Slalom while Ryan Trebon (Kona Les Gets) and Katerina Nash (Luna Chix) topped the short track podiums.
After pulling out of Saturday's cross-country race, Trbon said that the NORBA short track, his first NORBA victory, was especially sweet. "It's about time," he said. "I mean I've had a bunch of bad luck, you know, and I'm kind of just making up for all the other times I was close but couldn't quite finish it off. It's nice to get the first one out of the way."
To kick off the weekend, organizers moved the Super D to 8am on Saturday. That, in conjunction with a 3pm cross-country start, bolstered the size of the field to almost a hundred racers including winners Sue Haywood (Trek/VW) and Barry Wicks (Kona Les-Gets). Also in the field was retired former US National Downhill Champion Marla Streb (Luna Chix) competing for the first time since giving birth to Nicoya Streb just six weeks ago.
One rider to not make out well at Mount Snow was Lea Davidson (Trek/VW). She slipped on a pipe during the cross country race and dislocated her elbow. Team manager Jonathan Posner sent the picture above and filled us in by email: "The medical response folks said that this is about the most painful injury they ever see at their facility. It was a complete dislocation of the elbow joint. They manipulated it back into place on the second try and she should be OK to race again before the season winds down."
Ouch.
Follow all the action from the Mount Snow NORBA here :
Eatough wins Ultra Series #2
By Steve Medcroft
Chris Eatough won the Lumberjack100
Photo ©: Jack Kunnen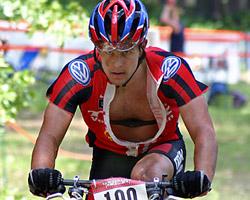 Six-time 24 Hours of Adrenalin Solo World Champion Chris Eatough (Trek/VW) won the second round of the National MTB Ultra Endurance Series at the Lumberjack 100 in Wellston, Michigan on Saturday.
His 7.09.06 finish isn't going to affect the overall series standings though as his preparation for Worlds and other commitments as part of the elite Trek/VW pro mountain-bike squad will prevent him from making the requisite four series races. So Harlan Price (Independent Fabrication), who finished second to Eatough at the Lumberjack but won the series opener at the Mohican 100, will extend his overall competition lead.
Heat ended up being one of the bigger challenges at the Lumberjack. "It was over 90 degrees and humid," Eatough said. "These are the toughest conditions for endurance mountain-bike racing." The 24-hour solo world champion sees adverse conditions in a 100-miler as great preparation for the longer races though. "I love the challenge of 100 milers. They're great preparation for 24-hour races. My average heart rate for these races is only 5 beats less than for a 2 hour XC race, but it's 5 or 6 hours longer! They are also perfect for experimenting with nutrition, pacing, and equipment choices. I can recover from 100 milers in a few days, while it takes me several weeks to recover from 24 Hour Solos, so I can also race more of them. It's very tough to get such good training any other way."
Despite that appreciation for the format, Eatough says he doesn't have the time in his schedule to contend the entire series. "I want to support the Ultra Endurance series as much as I can. My schedule for this season is already pretty full. Next year I hope to make it to the full series."
Singlespeed competitor Dan Jansen (Founders Ales/Alger Racing) and master's category racer John Majors (Giffin Interior & Fixture, Masters) both took their second straight Ultra wins to extended their series leads. And in the women's race, series leader Tricia Stevenson came second to her partner from the 2005 Trans-Rockies (a race they won together), Karen Masson, but retains her series lead on points.
Read the entire Founder's Lumberjack 100 race report, photos and results here. For more information about the National MTB Ultra Endurance Series, check out their Web site at www.ultramtb.com.
Global MTB racing round-up
Australian 24 hour fills up in five days
Last year it took a week; this year Australia's biggest 24-hour mountain bike event has filled up in just five days and two hours. Entries opened for the Scott Australian 24hr mountain bike championships on June 15, and after some initial teething troubles with a rather heavily-loaded server, entries closed today with over 2700 places filled.
However, because the event also hosts the official Australian solo 24-hour national championship, for which men's and women's Australian champion jerseys are awarded, entries will remain open in the solo categories.
British MTB Nats announced
The schedule for this year's official British Cycling National Championships was announced last week. Sponsored by Fat Face, promoters have pulled together four mountain bike disciplines to one weekend for the first time (Downhill, Cross Country, Floodlit 4X and Trials). This festival of British mountain biking will take place at Moelfre in Powys July 14-16.
The venue has a proven high speed downhill track, and challenging 4X course and now has a very challenging cross country course. The newly built XC course has a long steep punishing climb and very technical high speed descent included in it's length.
Entry forms (in jpeg and pdf) and online entry, full timetables and directions are available at dm27.com
IMBA Summit opens in Whistler
The 2006 IMBA Summit/World Mountain Bike Conference opened in Whistler, BC, today with a keynote address by Marion Lay. The two-time Olympian greeted 400 delegates from more than a dozen nations attending the Summit/Conference.
The Summit opened with a plenary session offering analysis of current trends in risk management. IMBA's Pete Webber and Jeff Jackson, of Algonquin College (Petawawa, ON) discussed the specific mountain biking activities that have caused the most injuries, the common lawsuits, and the key defenses to employ when facing a suit.
At the session, Webber announced the upcoming release of a new IMBA book, Managing Mountain Biking IMBA's Guide to Recreation Strategies and Solutions, scheduled for publication in early 2007. Building on IMBA's top-selling Trail Solutions (published in 2004), Managing Mountain Biking will be an essential reference for land managers and bicycle advocates.
Coffs Mountain Marathon set for July 2
On July 2nd, Two Wheel Promotions will stage the inaugural Coffs Mountain Marathon – a challenging test of off-road skill and survival set in the heart of one of Australia's most spectacular and sought after locations.
With just 6 kilometres of bitumen on the entire 100 kilometre journey, the Coffs Mountain Marathon will traverse the coastal hinterland of Northern New South Wales. "This is something we have been wanting to do for a long time," said Course Designer Bill Van Haren. "It's rare to find any location with so many off-road trails linking up – this will be a 'true' mountain bike marathon."
Riders have the choice of competing in the 100 kilometre 'Coffs Hard' or the 50 kilometre 'Plantation Coffs Soft' event
On-line entries and details of the Coffs Mountain Marathon are available at the Two Wheel Promotions web site: www.twowheelpromotions.com.au
Canberra defers 2008 MTB World's bid
After months of negotiation with the UCI, Canberra Off-Road Cyclists (CORC) and APIS Consulting, who form the provisional organising committee for the 2008 UCI World Mountain Bike and Trials Championships bid, have decided to defer the bid to 2009. The ACT Government, Cycling Australia and Mountain Bike Australia have been informed of this decision.
The UCI recently announced that the 2008 UCI Mountain Bike and Trials World Championships would be held between 16-22 June 2008. However, the Canberra bid had always been based on holding the 2008 UCI Mountain Bike and Trials World Championships in early September 2008. This was in line with the dates of every such championship since 2001, though the 2000 world's was held in June to avoid a clash with that year's Olympic Games.
The UCI is concerned about its ability to satisfactorily promote the World Championships in an Olympic year and to allow the riders to effectively peak twice in the year. The June dates chosen by the UCI effectively precludes hosting the event in Canberra, as June is in the in the middle of the Australian winter, which means cold weather and also the shortest days of the year in terms of daylight hours available to competitors.
The venue for the 2008 UCI Mountain Bike and Trials World Championships is likely to be announced in July from the remaining northern hemisphere contenders of Canada, Italy and the Czech Republic.
The UCI has accepted the deferral of the Canberra bid to 2009 at no additional cost to the Australian organisers. A decision for hosting the 2009 UCI Mountain Bike and Trials World Championships will be made at either the September 2006 or January 2007 meetings of the UCI management committee.
The UCI has set the dates for the 2009 UCI Mountain Bike and Trials World Championships as September 1-6, a more suitable time of year for such an event in Canberra.
Lost in the Woods; the Chris Davidson diary
Hi Cyclingnews.com readers, I have returned from five days in the woods of Vermont and I have the insect bites to prove it. I had difficulty getting online at this venue again, so I have summarized the three days of racing with some other tidbits.
Friday
The attacks started
Photo ©: Chris Davidson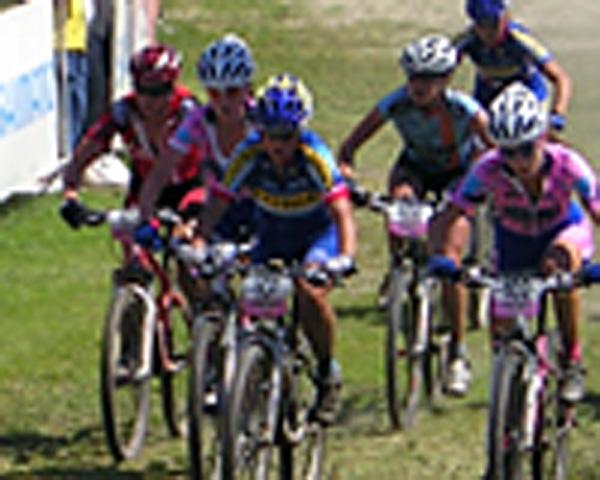 We are pitted in the tech area right next to the big Specialized trailer. I feel a little funny as we have the Genius bikes onboard our trailer - Specialized has the patent on the rear end of the bikes so Scott can't sell them in the US; we end up speaking to them very little anyway. The Specialized European-based team is here in preparation for the WC next week in Canada. Their riders Christophe Sauser and Liam Killen add world cup class to field.
The Specialized bikes were worth noting. Sauser's bike weighs less than 21 pounds, for a dual suspension! There are lots of dual suspension bikes being ridden here as the downhills are rocky and rooty. Kelli Emmett (Ford Cycling) will ride the dual suspension Genius bike tomorrow to see if it would be the best choice for the course.
Liam Killeen and Christoph Sauser (Specialized)
Photo ©: Chris Davidson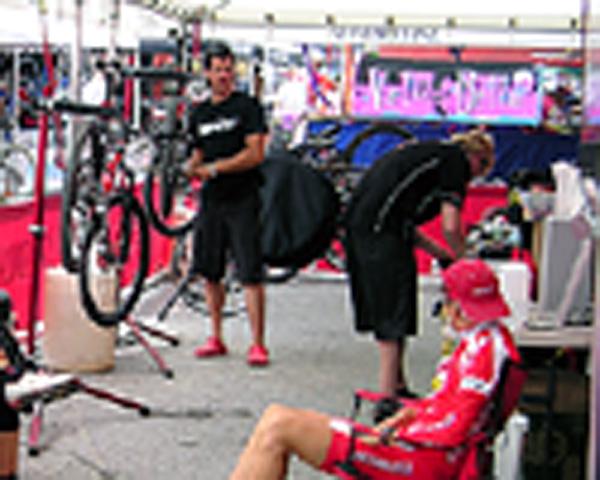 Mike West and Ariel Lindsey (Maverick) blew by me on the downhill during the pre-ride of the XC course over a really rough section. That certainly lent weight to the dual suspension choice. I felt like I was track-standing trying to get safely down some of the sections. By and large the pro riders really like this course; I have heard it described by many of the pro riders as the best on this year's NORBA circuit.
They have changed the start times for the Super D. At the last two events the Super D has been scheduled two hours before the start of the XC, making it all but impossible for the pro XC riders to make both events. Here at Mt Snow, they moved the Super D to 8:00am on Saturday and moved the XC back to 3:00pm, so there were plenty of XC pros trying on the goggles and the six-inch bikes.
Read the entire Chris Davidson diary here.
Training at altitude, racing in mudditude; the Gunn-Rita diary
Fantastic nature, friendly people, a lovely town, supreme training conditions, sun and summer. We are back at Boulder in Colorado where we, as ever, are enjoying ourselves to the max with great conditions for training no matter what we have on the program for the day. This is a very important break from competing for us after the first half of the season which has now passed.
There has been a whole lot of action during the past weeks, both on and off the bike. I've had two new World Cup victories since I last updated my home page. I had a short visit to my home town Stavanger before leaving for USA.
On top of it all I got ill for a few days before my last competition in Scotland and have struggled with a pesky throat infection which plagued me for a whole week. In other words, we were good and tired when we arrived in Boulder almost two weeks ago. Our batteries are, however, on the verge of being fully topped up and we're enjoying every second of our stay over here.
Now I'll make an attempt at a quick update of the past weeks, starting with the World Cup in Spa in Belgium which took place the weekend after Madrid. Kenneth and I travelled directly to Spa the day after the race in Spain and weren't quite prepared for the bucketing rain and seven degrees Centigrade temperatures in Belgium after really warm days in Madrid. It rained and poured all week right until the race day, Sunday morning, and all the riders were prepared for a real mud-bath both on and off their bikes.
Read the entire Gunn-Rita Dahle-Flesjaa diary here.
(All rights reserved/Copyright Knapp Communications Pty Limited 2006)