MTB News & racing round-up for July 21, 2006
Edited by Steve Medcroft
Surprise in Sonoma - US MTB Nats wrap-up
By Steve Medcroft
Ryan Trebon waits for his teammate to complete a Kona 1-2 podium at Nats
Photo ©: Steve Medcroft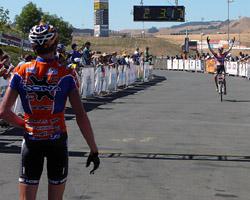 The US National Championships wrapped up last Sunday after more than a hundred Stars and Stripes jerseys were awarded in dozens of race categories.
The event was highlighted by extreme temperatures (in the upper nineties most days) and racecourses unusual for the caliber of a national championship.
The downhill course, for example, was a mere two-minutes long and contained only braking bumps, ruts and five slippery corners to challenge both the US championship field as well as a NORBA Series group that included former world champion Greg Minaar (Team G-Cross/Honda).
The cross country track, 7.7 miles of wide-open singletrack, dirt road and - gasp - pavement, offered only 100 meters of tree-lined shade from wind and sun per lap. Some racers openly criticized the course but you can't fault the promoters; Infineon Raceway was never meant to be the site of a national championship, only a stop on the NORBA circuit. But record snowfalls in winter left the Mammoth Mountain, California ski resort (the originally scheduled venue) with a twenty-foot snow base as late as April and USA Cycling scrambling to relocate the event.
So, given all the facts, the weekend was a success despite its shortcomings - Infineon proved that they are well equipped to host elite-level mountian-bike competitions and the crowds that come with them. And despite the grumbling from competitors, the results of these dusty, wide open and distinctly un-mountain-bike-like terrains was aggressive and interesting racing and surprising results in a number of races; mountain-crosser Tara Llanes took the women's downhill, Barry Wicks won his first-ever NORBA-level race by taking the men's short rack, Sue Haywood taking two championships (super D and short track) after failing to reach the upper steps of the podium in any NORBA's so far this season.
For example (and the biggest surprises of the weekend); the favorites to win the US National cross-country Championships, four-time champion Jeremy Horgan-Kobelski (Subaru/Gary Fisher) and Shonny Vanlandingham (Luna Chix) went home empty handed as Ryan Trebon (Kona/Les Gets) and Georgia Gould (Luna Chix) used tempo pacing on the wide-open Sonoma course to take upset victories.
Trebon made what appeared to be a suicidal attempt to get free in the men's race. A strong chase group including JHK, Jeremiah Bishop (Trek/VW), Todd Wells (Hyundai/GT) and Barry Wicks (Trebon's teammate on the Kona/Les Gets team) worked for four hot laps to pull the six-foot five-inch cyclo-crosser back. But after two hours, Trebon was still in front. He crossed the line with an almost relieved look on his face to earn his first elite cross-country jersey.
Strong solo tempo riding proved the key strategy in the women's race as well. The field splintered into a string of individual riders within fifteen minutes of the start. Heather Irmiger (Subaru/Gary Fisher) pulled into a solo lead until Gould bridged entering the final lap. In only in her third professional mountain-bike season, Gould gapped Irmiger for her first major victory. Her best placing before Friday? Fifth in Deer Valley July 8
Check out all the results, photos and race reports here:
National Ultra Series #3; Breck 100
By Scott Miles of Warriors Cycling
Winner Josh Tostada
Photo ©: Liam Doren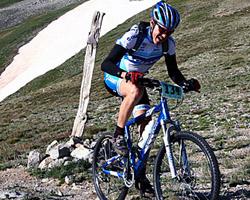 Colorado Native Josh Tostada (Giant) won the second annual Breckenridge 100 on Saturday finishing a full thirty-five minutes ahead of National Ultra MTB Series leader Harlan Price (Independent Fabrication).
Being the first western stop on the inaugural National Ultra Series and the third stop on the Rocky Mountain Ultra Series, the field of about 100 racers was comprised of every caliber of athlete - from elite pro's to aspiring novice endurance riders; including more non-Coloradoans than expected.
Altitude (such as the high point of the course at 13,426') seemed to take it's toll on a few but surprisingly the riders from outside of the state did very well; in fact the top finishers in almost every category were non Coloradoans.
See the entire race report, results and photos for the Breckenridge 100 here.
Premont and Kabush repeat at Canadian Nationals
Marie-Hélène Prémont (Rocky Mountain Business-Objects) and Geoff Kabush (Team Maxxis) repeated as national champions at the Canadian Mountain Bike Cross-country Championships on Saturday, July 15 at Sun Peaks Resort in Kamloops BC.
Held at the Sun Peaks Resort north of Kamloops, the circuit proved to be more demanding than anticipated. The 5.4 kilometre course was similar to that used in the past, with two major climbs and lots of technical, rooty descending. Riders had praise for the course, calling it both physically demanding and technically challenging The women did four laps (plus a start loop), with Prémont and team mate Alison Sydor moving into the lead by the end of the start loop.
Marie had stretched her lead to over 20 seconds when she took a wrong turn, missing a course change. "The course changed a bit after I pre-rode it the day before, so I didn't realize that I was going the wrong way at first. But once I got back on course it was okay, I wasn't too worried." Prémont quickly realized her mistake and rejoined the race in fifth place.
After that initial confusion, Prémont took her predictable place at the front and gradually rode away to a comfortable three minute winning margin. Alison Sydor (Rocky Mountain Business Objects) finished second. Kiara Bisaro (Team RACE.com) finished third.
Geoff Kabush almost lost his iron grip on elite Canadian cross country racing. He crashed in the first lap, coming down hard on one side and suffering, as determined later, a grade one concussion. Kabush shook off the crash and managed to maintain his lead throughout the rest of the race despite a strong push from both Ricky Federau (Team R.A.C.E.) and Seamus McGrath (Felt), who came second and third respectively.
For full results from the Canadian MTB National Championships, click here.
Historic Thirteenth for Irish MTB Champion
By Shane Stokes
Multiple Irish champion Robin Seymour took a thirteenth consecutive national mountain title in Kilruddery estate last Sunday, further extending what is a remarkable winning streak. The Endura Voodoo Singletrack/WORC rider beat closest competitor Niall Davis (IMBRC) by two and a half minutes, with James McCluskey taking bronze in the cross-country race.
Seymour has also won fourteen cross country titles and has undoubtedly one of the best championship records in Irish sport.
In the women's race, Tarja Owens added another gold to her own glittering collection, the WORC rider surviving a fall to finish 45 seconds ahead of second-placed Beth McCluskey. Owens has now taken the last 12 women's championships.
Gunn-Rita on the road
World and Olympic mountain bike champion Gunn-Rita Dahle is making a rare foray onto the road, racing in the women's Tour de Bretagne this week according to Cyclismag.com. "This is the only race I will do on the road this year," he said. "It allows me to find rhythm."
Racing for the Japan Businessman team, she placed fourth in stage 1.
Oregon MTB access bill passed by US Congress
On July 19, 2006, the Mount Hood Stewardship and Legacy Act (H.R. 5025), sponsored by Congressmen Greg Walden (R-OR) and Earl Blumenauer (D-OR), passed unanimously through the House Resources Committee, a significant step towards congressional approval. The full U.S. House of Representatives could vote on the bill as early as next week.
For the past three years, Congressmen Walden and Blumenauer have collaborated with the Oregon Mountain Bike Alliance (ORMBA), the International Mountain Bicycling Association (IMBA), and numerous other stakeholders on this innovative bill.
Included in the House bill is an approximately $800,000 annual infusion for trails and recreation in the Mount Hood area, bicycle-friendly boundary adjustments, terms to convert old roads to singletrack, and a mountain bike representative on the Mount Hood National Forest Recreational Advisory Council. The bill also references the importance of recreation to the local economy.
A Senate version of the bill will likely be released shortly. One improvement IMBA and ORMBA are asking from the Senate version is continued access to the 28-mile Roaring River trail system. IMBA will continue to provide information as this bill passes through Congress.
Race Face Trans Rockies team contest winners announced
The Race Face contest in which online voting determined the riders on it's two fully-funded Trans Rockies teams, is now closed. Team Saguenay captured the majority of votes in round one with 35% of the total votes; edging out Team Tamarack Race Face (31% of votes) from Idaho. Team Saguenay is comprised of Chicoutimi, Quebec's Eric Tremblay and Daniel Dube.
In the second round of voting, Team Bad Idea Racing emerged as clear victors with over 46% of the votes. Their closest competitors, the Mexican Team Miti Batai, only had 30% of the vote. Rich Dillen and Josh Neely are single speed fiends from Charlotte, North Carolina and have made the promise to be the first full team to complete the Trans Rockies riding with one gear.
Team Saguenay and Team Bad Idea Racing will now receive an all-expense paid trip to compete in the 2006 Trans Rockies Challenge, an epic 600 kilometres, seven day mountain bike race through the majestic Canadian Rockies, including more than 12,000 vertical meters of elevation.
A tale of two NORBAs; the Chris Davidson diary
Kelli Emmett (Ford Cycling)
Photo ©: Chris Davidson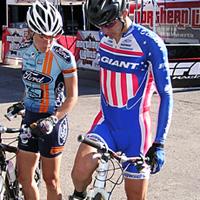 Hi Cyclingnews.com readers, back to back race weekends in searing heat with national champion's jerseys at stake most recently, and I am a little tired. Two very different places, some very different results and some cool stuff along the way. The details go like this:
Similarities: It was hot in both Deer Valley and Sonoma, close to 100 degrees Fahrenheit in both places. There was some challenging racing.
Differences: Everything else. Deer Valley was just above 7000 feet in elevation, Sonoma was about 70 feet. Deer Valley is home to 200+ miles of killer single track trails, Sonoma is home to the Infineon Raceway.
Deer Valley had some killer trails that unfortunately eroded quickly over the course of the weekend. By the time the SuperD was done on Friday the braking bumps going into the 180 turns were developing deep ruts. It was also really green and overgrown in Utah from all the rain they have had this year. The plants and trees were in full effect, making the trail tight and passing difficult.
Sonoma was wide open, very brown and freshly mowed in some spots. Not really very trail-like, but better than the previous NORBA National here in 2004. Getting offline was costly, as loose terrain and potential flats were just inches away on both sides of the course.
Read the entire Chris Davidson diary here.
The first time is always sweet; the Kristin Danielson diary
Here, there, everywhere is the story of my summertime life. No wonder my parents always say 'we can't keep up with you', I can barely keep up with myself!
My latest traveling saga started in Crested Butte, Colorado. I have always had a fascination with this appealing mountain town and it was hosting the 6th annual Wildflower Rush mountain bike race which is a part of the Mountain States Cup series.
I hadn't planned on competing due to the fact that Tom and I had limited time to spend together. Thursday before the race, which was on Saturday, Tom mentioned maybe I should race. Since I often get my training advice from Tom, I couldn't object. I pleaded with Tom to join me on the short outing but since there are really only two roads surrounding Crested Butte he had to turn me down. So off I drove; over Colbank pass, Molas Pass, Red Mountain Pass into the gorgeous ski town of Crested Butte. The course was perfect for me, long high altitude climbs through Aspen trees with easy fire road descents. I felt confident after my pre-ride and was ready for the race.
As the pro women blazed through the wild columbine, lupine and sunflowers I found myself battling for first with a strong woman. She was much stronger than me on the first lap and I kept losing sight of her. It always takes my body a while before my legs start to open up so I felt better on the second lap and was able to pass my mystery competitor and cross the finish line in first place. I was SO excited because this was my first victory as a "professional" racer.
Read the entire Kristin Danielson diary here.
(All rights reserved/Copyright Knapp Communications Pty Limited 2006)