MTB News & racing round-up for July 8, 2006
Edited by Steve Medcroft
Brazil World Cup wrap-up
By Steve Medcroft
Although Jill Kintner and Michael Prokop, who both lead their respective four-cross 2006 World Cup series, are making the results in that discipline almost predictable by winning again, the downhill venue at Balneario Camborio, Brazil showcased a couple of first-time World Cup winners last weekend.
2005 Junior World Champion, 18 year old Rachel Atherton of Wales, won her first ever World Cup Downhill on Sunday after a confidence boosting semi in which she came 1.3 seconds behind series leader Tracey Moseley.
"As I went up in the gondola I just pictured myself beating Sabrina's (Jonnier) time and taking the hot seat," Atherton said after the race. "When Tracy came down I really didn't think I had it, then the clock stopped with her time slower."
Atherton's winning time of 2m 38.25secs was 0.72 ahead of Jonnier and 2.62 ahead of series leader Moseley. She now sits third in the series overall.
Matti Lehikoinen, of Team G-Cross Honda, also won his first ever World Cup Downhill in Brazil. Lehikoinen, who has never been on a World Cup podium, despite many near misses, took to the top step and sang the words of his national anthem in front of a huge and enthusiastic Brazilian crowd.
"I really can't believe this, it's like a dream," he said after. "I had a great run, I really lifted my speed, and I thought I'd done enough to get on the podium. I honestly didn't imagine this, I am so stoked. This is my 31st World Cup and I have been trying for so long... Today it all just came together."
Steve Peat (Santa Cruz Syndicate) came second, just .09 of a second behind. The result, combined with a disappointing result by Greg Minaar (Team G-Cross Honda), was enough to stretch Peat's lead in the World Cup series to 178 points.
For results and race reports from Brazil, click here. For the Deer Valley NORBA main page, click here.
Prokop and Kintner headline Jeep KOM opener
Speaking of World Cup four-cross series leaders Jill Kintner (Seattle, Washington, USA) and Michael Prokop (Czech Republic), the Jeep King of the Mountain series kicks off this weekend in San Luis Obispo, Calif. Prokop and Kintner are defending champions.
Both riders have won four of the first five races of the UCI World Cup season. Prokop also earned the World Championship, European Championship, National Championship and Czech 4X Cup. Kintner is reigning World Champion and US National Champion.
Deer Valley NORBA preview
By Steve Medcroft
The NORBA National Mountain Bike Series returns to Deer Valley Resort in Park City, Utah this weekend (July 6-9). Six total competitions are on tap for the weekend. Besides the already-ran marathon, action picks up again on Friday with Super D and Mountain Cross. Cross Country is featured on Saturday. Downhill and Short Track finish out the weekend on Sunday.
Action opened Thursday with the third event in the four-race marathon series where, after 4,000 feet of climbing for three 17-mile laps, Travis Brown (Trek/VW) and Josie Beggs (Starbucks) took top honors.
Read the full marathon race report and results here. For complete Deer Valley NORBA coverage, click here.
Niels Windfeldt takes Adidas Slopestyle dirt-jump
Niels Windfeldt
Photo ©: Tarek Rasouli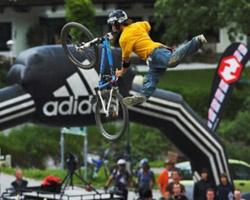 Niels Windfeldt from Norway made his mark at the Adidas Slopestyle (Saalbach, Norway, 16-18). Held the evening hours before the finals of the international contest, Windfeldt impressed the judges at the Goat-King Dirt Jump comp and earned a 750 euros for his trouble.
Presenting Superman tailwhips and huge Superman indians the twenty-year-old KONA rider also won a goat, which now wears a collar bearing his name. "Winning the Best Trick Contest at an event of such international significance as the Adidas Slopestyle is really cool. I didn't expect to win because the other riders were riding like crazy, too! "
Unfortunately, Niels injured himself the next day in the qualifying round of the Adidas Slopestyle, so he was only able to follow the actual Slopestyle contest as a spectator.
Photography
For a thumbnail gallery of these images, click here
12 Hours of Endurance wrap-up
NORBA series racing isn't the only action for mountain bikers in Park City, Utah. On June 24, the 2nd annual 12 Hours of Endurance kicked off the three-race E100 series (which is also the inaugural event for the newly formed Rocky Mountain Ultra Series).
The pace started fast and furious. Twelve hours later, when the dust finally settled, a classic race was revealed; a race that saw a record number of laps in both the men's and women's solo fields, and a husband and wife team ride their 29ers to victory in the very competitive Duo class.
"This year we saw a real demonstration of girl power," said Boris Lyubner, founder and promoter of The E100 series. Co-ed teams won both the duo and four-person categories, and Lynda Wallenfels set a new female course record riding solo.
"I wanted to start fast, then settle into a pace I could keep up all day long," said Lynda. "I kept my pit stops short and focused on being consistent throughout the day." The strategy worked well for her as she rode to her third solo victory of the season.
The men's solo race came down to the wire. After 11 hours the race was still undecided, with Dave Harris and Josh Tostado fighting it out. It took an unprecedented 14th lap for Dave Harris to win the race. Afterward he recalled, " I finished up that lap, totally spent, breathing hard, elated by the effort and the result. One of the hardest earned wins I can recall."
The event raised over $800 for the National Ability Center.
Still to come in the E-100 series are the 50-mile solo race (July 22) and 100 miler (August 26). For race results and information about the series, please visit www.thee100.com.
Aussie national marathon series a reality
The MTBA marathon series around Australia is now a reality. Called the Australian Mountain Bike Marathon Challenge, it will be comprised of up to 12 events in 2007, including the 2007 Australian MTB Marathon Championships, all in some of Australia's most beautiful and stunning locations and regions.
Tony Scott, MTBA's executive officer said, "Each event in the Challenge will be principally focused on participation at all levels of ability. Each event will cater for Elite, as well as Veteran and Master aged men and women. Recreational riders will be catered for and in most cases a half-marathon will be held as well."
Series winners will be determined by a rider's best 4 events and the 2007 marathon championships will be given additional status by accounting for extra points.
MTBA is actively looking for promoters to partner with. Full details for the Australian MTB marathon Challenge can be obtained from MTBA or can be downloaded from the MTBA website - www.mtba.asn.au.
The closing date for event nominations is 2nd October 2006.
Race Face Ultimate Trans Rockies Challenge; round 2
Just like last year, component manufacturer Race Face is looking to the general public to help pick it's sponsored race team members for the 2006 Trans Rockies Challenge.
Readers vote online for which two teams who they would like to see represent Race Face in one of the most grueling marathon mountain bike races in the world – with all expenses paid.
Round one of the competition is now closed. The second round begins Saturday July 8. The new nominees are:
Whistler, BC, based Lesley Clements and Nikki Klassen, Rich Dillen and Josh Neely of North Carolina, Mexico's Guillermo Cuello and Rodrigo Elvira and Carey Lowery and John "Zeke" Lilly, of Athens, Tennessee and Blue Ridge, Georgia.
Online community members will have one week to submit their votes at www.raceface.com. The winning team will be the second of two teams who will represent Race Face at the 2006 TransRockies.
Tech Feature: Trek MTB for 2007
The new Gary Fisher HiFi
Photo ©: James Huang

Trek has spent the better part of the last decade pouring the bulk of its development resources behind the Lance Armstrong machine. Now that the party is over, some much-needed attention has been redirected to its relatively neglected mountain bike lineup. James Huang heads out to Fruita and Crested Butte, CO, to see what the giant from Waterloo has in store for the upcoming months:
For the most part, Trek's mountain bike introduction was staffed by the usual cast of characters: an assortment of product and development crew, public honchos Gary Fisher and Zapata Espinoza, as well as a variety of its professional riders, including regional pros Nick Martin (www.ridewithnickmartin.com) and Ross Schell as well as long-time team member Travis Brown, who is now heavily involved in Trek's own product development process.
However, the most significant figure on hand from Trek was Mr. Trek himself, company president John Burke. Burke's presence at the event sent a clear signal as to how important it is for Trek to regain its position in the mountain bike world. In his own words, "We've grown our business a lot in the last five years in a lot of different areas, and it's elevated Trek in the marketplace. One area of business where we haven't grown is the mountain bike business, especially when you take a look at full-suspension and serious mountain bikes. It hasn't been a big part of what we were about. We've got a really good crew here and a lot of talented people, and we haven't performed to what we think we're capable of. If you take a look at what we're introducing tonight, we've gone out there and we think we're bringing out best-in-class product. This is just the start, but it shows the future direction of the company."
Read the entire Trek 2007 MTB line feature here.
(All rights reserved/Copyright Knapp Communications Pty Limited 2006)