MTB News & racing round-up for April 4, 2006
Edited by Steve Medcroft
The Subaru-Gary Fisher MTB team for 2006
Jeremy Horgan-Kobelski
Photo ©: Subaru-Gary Fisher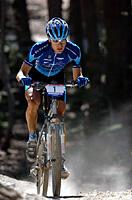 The 2005 season was a big success for Subaru-Gary Fisher. Team members won national championship titles in the USA for men's cross country and men's 24 hour solo categories, and in the UK for women's cross country. 48 podium finishes in 2005 helped Subaru-Gary Fisher end the season as the top ranked team in the NORBA National Mountain Bike Series.
Several core team members return from last season, including Jeremy Horgan-Kobelski, Willow Koerber, Cameron Chambers, Nat Ross, Jenny Copnall and Simon Richardson. There are key additions in Matt Kelly, Heather Irmiger, Ken Onodera, Asa Erlandsson and Dror Pekatch.
Subaru of America returns for their fifth year as title sponsor. SRAM, RockShox, Avid, Bontrager, Crank Brothers, Cane Creek, IRC and Genuine Innovations equip the team. Peak Bar, Endurox and Accelerade fuel the team. Nike Cycling provides all of the team clothing and shoes, 661 provides protective gear. Yakima equips all of the team Subaru's with racks.
The team welcomes several new sponsors for 2006. Tokyo Joe's, a Colorado based restaurant, increases their already strong cycling sponsorship program by joining Subaru-Gary Fisher. Mountain Smith, Stronglight, Light & Motion, Pedros and Brave Soldier also join the team.
The 2006 Subaru-Gary Fisher team has two categories: National Team and Global Team.
The National Team will race largely in North America with a focus on the NORBA NMBS, domestic World Cups, premium domestic events, and select international races.
Jeremy Horgan-Kobelski - JHK is the most prolific American mountain bike racer of the last decade. His 2005 cross country National Championship victory was his forth in a row. His resume also includes three short track National Championships. Before turning pro in 2000 he was 4-time Collegiate National Champion and 2-time Collegiate Cyclist of the Year.
Matt Kelly - Matt Kelly garnered international attention in 1999 when he won the Junior Cyclo-cross World Championship. Matt quickly became one of cycling's brightest stars, earning a factory mountain bike contract when he was eighteen. After his early success Matt opted to take a break from the sport and set off to explore interests as diverse as surfing and organic farming. Now Matt is back, and ready to return to the top of the sport.
Willow Koerber:
Photo ©: Subaru-Gary Fisher

Willow Koerber - Willow is one of the most recognizable professionals on the NORBA circuit. Over her years as a professional she has built a solid fan base because of her refined style, approachability and winning ways. Willow first appeared on the national scene when she won three Collegiate National Championships. As a professional she has won multiple NORBA NMBS races and finished on the podium at the World Cup level.
Heather Irmiger - As winner of the 2005 NORBA NMBS cross country at Brian Head and sixth-place overall finisher in the Series, Heather Irmiger has proven herself as a capable competitor at the top of the sport. The former Collegiate National Champion spent the last two seasons racing for the Gary Fisher sponsored Tokyo Joes Team. She consistently finished on the podium throughout the season despite the fact that she was working a full time job. Now she has a full factory sponsorship and can focus completely on racing.
Cameron Chambers - Cameron surprised the endurance world in 2003 by nearly winning the gruelling 24 Hours of Moab. This breakout performance earned the young Kansas native a grassroots sponsorship with Subaru-Gary Fisher in 2004. Cameron had an ambitious first professional season, competing in a total of eight 24 hour events, winning three, scoring forth at the World Championships and second at Snowshoe. In 2005 he defeated the best riders in the sport to win the U.S. Solo 24-Hour National Championship. For 2006 Cameron has moved to Moab to train consistently on the terrain of his favourite course, the 24 Hours of Moab, which he aims to win this season.
Nat Ross - The longest standing member of the Subaru-Gary Fisher team, Nat Ross has built up one of the most impressive endurance racing resumes in the sport. The 2004 24 Hours of Moab champion and former US National Champion is one of the most consistent podium finishers in the history of 24 hour racing. His outstanding results along with his affable personality have made Nat a crowd favourite wherever he travels. For 2006 the Colorado native focuses on 24 Hour races with his primary goal is to become the 24 Hour Solo World Champion.
Athletes on the Global Team will join the team at select events. Subaru-Gary Fisher strives to work with athletes from around the world as they make their way to the top of the sport.
Jenny Copnall - Jenny returns to Subaru-Gary Fisher for her third season. She is the UK National Champion and is one of Britain 's top female athletes. She has raced bikes since 1996 and has steadily progressed. Jenny will continue to race an aggressive schedule in her native UK and compete in select World Cup events.
Simon Richardson - The 22 year old British native joins Subaru-Gary Fisher for his second season. The 2005 British Espoir National Champion is a fixture at the top of the UK mountain bike scene. He is competing as much internationally as possible in 2006.
Ken Onodera - The 20 year old professional from Japan is two time All Japan National Champion and winner of the All Asia Championship in 2004. Ken has a very easy going attitude which belies his speed and aggression when racing his bike.
Asa Erlandsson - Asa has ridden for Gary Fisher Bicycles for the last three years, competing in cross country and marathon events. The Swedish native joins Subaru-Gary Fisher this season, competing regionally with select international travel.
Dror Pekatch - Dror is one of Israel 's most successful international mountain bike professionals. He has consistently represented Gary Fisher well on the race course, and earned his spot on the Global Team for 2006.
Photography
For a thumbnail gallery of these images, click here
Images by Subaru-Gary Fisher
Australian Idol: AIS on the lookout for talented female MTBers
The Australian Institute of Sport Talent Search Program announced this week that it is conducting an project looking to identify females with persistence and determination to succeed in cross-country mountain biking. The group is seeking a pool of approximately twenty females between 17 and 27 years old (parental consent required if <18 years old) with experience riding a bicycle (road, track, BMX, MTB) and who live in Victoria, NSW or the ACT (ACT residents: if you are willing to travel to Sydney for testing).
The "Dirt Roads to London" initiative aims to identify the most talented females who could potentially represent Australia at the 2012 Olympics Games in London and provide them with the opportunities to become nationally and internationally competitive mountain bikers. The Australian Institute of Sport Talent Search Program will provide coaching from some of the best mountain bike coaches in Australia, training and education camps and assistance with access to competition.
Interested girls should apply by April 17th www.ais.org.au/talent/cycling/ or email Tammie Ebert at tammie.ebert@ausport.gov.au
Chain Reaction backs British NPS Downhill
NACC Events, promoters of the official British Cycling National Downhill Mountain Bike Series have announced that for the first time in four years the series has a title sponsor.
The series will be renamed the after a 5 figure sponsorship deal was signed this week with Europe's largest online bike store. The series which attracts the top riders from all over the country including all the top Elite stars starts over the weekend of April 7th/8th/9th at a new race venue in west Wales near Dolgellau at Upper Corris.
Entries for round 1 of the 5 round series are filling up fast. Spectators are very welcome at all the rounds and can come along and witness all the action of this exciting series free of charge.
Both Chain Reaction Cycles and NACC Events see the deal as a long term relationship destined to make them both not only the biggest but the best in their respective businesses.
"Chain Reaction's considerable investment will allow us to have the best of everything at all our races and this will become more and more noticeable as the season goes on" said NACC Manager Siobhan Fahey.
Details of the series: www.npsdownhill.co.uk
Lots of options in Shimano's new MTB group
By James Huang
Try as Shimano might to keep the lid on details of the upcoming 2007 XTR group, there's only so much pressure that can build up before the top starts to blow. The new group will bear the M970 designation, signifying a total overhaul, and reliable industry sources have confirmed that Shimano has pulled out the stops for the new kit which promises to contain some very interesting new features. We don't have any pictures yet, but these tidbits of information should sufficiently whet your appetite.
Shifters - This is perhaps the most exciting part of the new kit. Although Shimano will continue to offer Dual Control gear changing, the company has clearly devoted a lot of resources toward developing a new trigger shifter in response to widespread demand (and the somewhat lukewarm response to Dual Control). Shimano has already released photos of the 'Dual Release' badging on the new XT shifters, but details as to its meaning were a bit on the fuzzy side.
As some had speculated, the new release trigger will, indeed, be able to shift two gears in one pull for the first time in Shimano's trigger shifter history. However, Dual Release also signifies that the release trigger can be actuated by either pulling it back in traditional fashion or pushing it forward. Two gears can be shifted when moving the trigger in either direction, meaning that you will be able to quickly shift up to four gears in one combined movement. Since Shimano will offer both low-normal (Rapid Rise) and traditional rear derailleurs new XTR group, this means that riders will easily be able to shift multiple gears in either direction, regardless of which rear derailleur configuration they choose.
Read James Huang's entire Shimano XTR feature article here.
New Arrivals; Scott Scale & Genius
Scott Scale Limited

Cyclingnews tech editor John Stevenson has been busy; there are a ton of new arrivals posted on the site; including these two mountain bikes from Scott that Steve Medcroft is currently testing.
The Scale Limited is Scott's off-road equivalent of the CR-1 road bike - a very light, stiff carbon fibre frame designed for one thing and one thing only: going fast. With a full XTR group, Mavic CrossMax SL wheels and an 80mm RockShox Reba World Cup fork, it's a lightweight rig for the cross-country race track.
The Scale frame is a favourite starting point for lightweight enthusiasts building superlight mountain bikes as it's possibly the only frame to tip the scales under 1100g - size L frames are reliably reported to weigh around 1040g. We know of one example that's claimed to weigh 5.878kg - a mountain bike with a suspension fork that's under the UCI limit for road bikes is pretty staggering. And probably pretty staggeringly expensive given the amount of carbon and titanium exotica needed to reach that weight.
Scott Genius MC Limited

The dual suspension Genius MC Limited is more of all-rounder with 125mm of rear wheel travel out back (that can be locked out or switched to a 90mm intermediate setting when you don't need it all) and a Fox TALAS RLC fork that can be adjusted for between 90 and 130mm of travel. However, the carbon fibre frame and XTR group keeps the weight well under control compared to many five-inch travel bikes, making the MC Limited a prime candidate for endurance racing.
Because the MC Genius uses the 'Horst link' rear suspension pivot to which Specialized owns the patent, it's not available in the USA. However, we hear that Canadian Scott dealers do a good trade in Scott suspension bikes to visitors from South of the border…
Check out all the New Arrivals here.
(All rights reserved/Copyright Knapp Communications Pty Limited 2006)