MTB index page for all MTB content
MTB World Cup XC #3 & 4X #2 - CDM - CDM
Houffalize, Belgium, May 2-3, 2009
Main Page Results Previous Race World Cup Standings
Race 6 - May 3: Elite men cross country
Absalon absolutely amazing
By Rob Jones
Julien Absalon (Orbea) takes a 15 second
Photo ©: Rob Jones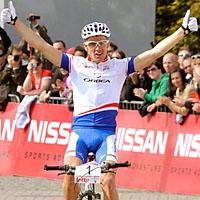 Julien Absalon (Orbea) took his second consecutive victory in the men's cross country World Cup and his second ever win at Houffalize. The Frenchman's win helped pad his lead in the overall World Cup standings.
"This is a country of cycling. They are really crazy about it here, so this makes it the biggest World Cup of the season," said Absalon.
The men's five and a half lap race began with an attack almost immediately from Ralph Näf (Multivan Merida). Only Olympic silver medalist Jean-Christophe Peraud (Massi) was able to respond, and the pair started to build a gap on a chase group containing Absalon, Wolfram Kurschat (Topeak Ergon) and Jose Hermida (Multivan Merida).
"I was trying to go hard, but conserve energy as well," said Näf. "I was with Julien until the final lap, and then I exploded totally, with nothing left."
"He went fast, so I followed. But by the middle of the race it became more difficult for me, and I had to let him [Näf] go," said Peraud. "I was still going pretty good until the last lap when I had a problem with the [last rider] moto. He was in the way, and I went off the course and crashed and dropped my chain; maybe without that problem I would have beaten Burry [Stander for fourth]."
Adam Craig (Giant Mountain Bike Team)
Photo ©: Rob Jones

Absalon decided that it was time to reel in the lead pair on lap three, and quickly bridged up, taking Hermida, and with Kurschat only a few seconds behind. Peraud was suffering and dropped back, and then Hermida flatted, leaving just Absalon and Näf at the front, with Kurschat chasing.
"At least I am back again," said Hermida, referring to the illness last week which forced him to drop out of Offenburg and lose the leader's jersey.
"It wasn't easy, being with Julien when we were going up [to the leaders], but then I flatted just before the start of the last lap. I used the foam I had with me and stopped in the pit for a cartridge, but then I was back with Jean-Christophe and Burry," he added. "Without the flat I think that I would have been on the podium."
Wolfram Kurschat (Topeak Ergon Racing Team) kept his head down
Photo ©: Rob Jones

Näf managed to hang on until halfway through the final lap before his extended time at the front caught up with him and he couldn't respond to the latest attack from Absalon. Näf was also caught by Kurschat, who took his second consecutive second place behind Absalon, but hung on for third place ahead of Under 23 series leader Burry Stander (Specialized) and Peraud.

"It was impossible to keep the wheel of Näf, when he attacked so hard," said Absalon. "But I think that he also made a mistake by going so hard in the beginning, and it caught up with him at the end."

Canada's Geoff Kabush (Maxxis-Rocky Mountain), coming off an eighth place last week, got his front wheel tweeked on one of the bridges and crashed in the opening lap, negating his high start position. Worse, he had to stop into the pit and change wheels, putting him back in the high 60s by the time he got going again.

The top North American for the day was Adam Craig (Giant) in 29th, who put it succinctly, "I was solid but not spectacular."
Photography
For a thumbnail gallery of these images, click here
Images by Rob Jones/www.canadiancyclist.com
Results
1 Julien Absalon (Fra) Orbea                                                   1.51.34
2 Wolfram Kurschat (Ger) Topeak Ergon Racing Team                                 0.15
3 Ralph Näf (Swi) Multivan Merida Biking Team                                     0.52
4 Burry Stander* (RSa) Specialized Factory Racing                                 1.15
5 Jean-Christophe Peraud (Fra) Massi                                              1.26
6 José Antonio Hermida Ramos (Spa) Multivan Merida Biking Team                    1.31
7 Sergio Mantecon Gutierrez (Spa) Cemelorca-Trek-Lorca Taller Del Tiempo          1.54
8 Marco Aurelio Fontana (Ita) Cannondale Factory Racing                           2.16
9 Moritz Milatz (Ger) Multivan Merida Biking Team                                 2.22
10 Roel Paulissen (Bel) Cannondale Factory Racing                                 2.45
11 Christoph Sauser (Swi) Specialized Factory Racing                              3.03
12 Stéphane Tempier (Fra) Tx Active Bianchi                                       3.12
13 Nino Schurter (Swi) Scott-Swisspower Mtb-Racing                                3.22
14 Alexis Vuillermoz* (Fra) Lapierre International                                3.23
15 Manuel Fumic (Ger) Fumic.Brothers.International                                3.36
16 Florian Vogel (Swi) Scott-Swisspower Mtb-Racing                                3.48
17 Hector Leonardo Paez Leon (Col) Tx Active Bianchi                              4.13
18 Cédric Ravanel (Fra) Lapierre International                                    4.46
19 Chris Jongewaard (Aus) Trek-Brentjens Mountainbike Racing Team                 5.02
20 Jochen Kass (Ger) Multivan Merida Biking Team                                  5.21
21 Umberto Corti (Ita) Team CBETecnoimpianti A.S.D.                               5.23
22 Jaroslav Kulhavy (Cze) Rubena-Specialized                                      5.43
23 Martin Gujan (Swi) Cannondale Factory Racing                                   5.51
24 Inaki Lejarreta Errasti (Spa) Orbea                                            5.54
25 Emil Lindgren (Swe) Felt International MTB Team                                6.04
26 Rudi Van Houts (Ned) Multivan Merida Biking Team                               6.43
27 Andrea Tiberi (Ita) Tx Active Bianchi                                          6.46
28 Ivan Alvarez Gutierrez (Spa) Giant Italia Team                                 7.00
29 Adam Craig (USA) Giant Mountain Bike Team GMT                                  7.06
30 Ruben Ruzafa Cueto (Spa) Orbea                                                 7.17
31 Lado Fumic (Ger) Fumic.Brothers.International                                  7.31
32 Jiri Friedl (Cze) Merida Biking Team                                           7.39
33 Filip Eberl (Cze)                                                              7.41
34 Johnny Cattaneo (Ita)                                                          7.52
35 Lukas Flückiger (Swi) Trek World Racing                                        7.55
36 Christof Bischof (Swi) Isd Cycling Team                                        8.00
37 Anders Hovdenes* (Nor) Team Etto Hoydahl                                       8.08
38 Cristian Cominelli* (Ita) Tx Active Bianchi                                    8.09
39 Periklis Ilias (Gre) Isd Cycling Team                                          8.21
40 Bas Peters (Ned)                                                               8.23
41 Thomas Litscher* (Swi) Sks M.I.G. Team                                         8.25
42 Marek Galinski (Pol) Jbg-2 Professional MTB Team                               8.26
43 Derek Zandstra (Can)                                                           8.30
44 Milan Spesny (Cze) Ceska Sporitelna Mtb                                        8.41
45 Geoff Kabush (Can) Team Maxxis-Rocky Mountain Bicycles                         8.45
46 Robert Mennen (Ger)                                                            8.52
47 Pierre Geoffroy Plantet (Fra) Lapierre International                           9.03
48 Sergiy Rusenko (Ukr) Isd Cycling Team                                          9.09
49 Jan Skarnitzl (Cze) Giant Mountain Bike Team GMT                               9.21
50 Paolo Cesar Montoya Cantillo (CRc) Giant Italia Team                           9.28
51 Irjan Luttenberg* (Ned)                                                        9.36
52 Ludovic Dubau (Fra)                                                            9.37
53 Hannes Metzler (Aut)                                                           9.39
54 Kohei Yamamoto (Jpn)                                                           9.42
55 Guillaume Vinit* (Fra) Team Scott Valloire Galibier                            9.46
56 Karl Markt (Aut) Srm Stevens Team                                              9.48
57 Lachlan Norris* (Aus) Discovertasmania.Com                                     9.51
58 Nicolas Vermeulen (Bel) Lingier-Versluys Team                                 10.05
59 Klaus Nielsen (Den)                                                           10.12
60 François Bailly Maitre (Fra) Team Scott Valloire Galibier                     10.22
61 Lukas Kaufmann* (Swi)                                                         10.24
62 Mirko Pirazzoli (Ita) Isd Cycling Team                                        10.26
63 Miguel Martinez (Fra)                                                         10.31
64 Oliver Beckingsale (GBr) Giant Mountain Bike Team GMT                              
65 Connor Mcconvey* (Irl) Felt International MTB Team                            10.33
66 Kristian Hynek (Cze) Scott & Hagget MTB Team                                  10.57
67 Fabian Giger* (Swi) Sks M.I.G. Team                                           11.06
68 Magnus Darvell (Swe)                                                          11.14
69 Patrik Gallati* (Swi) Scott-Swisspower Mtb-Racing                             11.26
70 Juan Pedro Trujillo Hernandez (Spa) Cemelorca-Trek-Lorca Taller Del Tiempo    11.31
71 Jimmy Tielens (Bel) Team Saeco                                                11.34
72 Marcel Wildhaber (Swi) Scott-Swisspower Mtb-Racing                            11.36
73 Igor Bogdan (Ukr)                                                             11.44
74 Peter Sagan* (Svk)                                                            11.51
75 Alejandro Diaz De La Pena Lopez (Spa)                                         12.00
76 Maxime Marotte (Fra) BH-Suntour                                               12.07
77 Niels Wubben* (Ned)                                                           12.13
78 Mattias Wengelin* (Swe)                                                       12.18
79 David Lozano Riba* (Spa) Cemelorca-Trek-Lorca Taller Del Tiempo               12.28
80 Marco Arnold* (Swi)                                                           12.35
81 Fabien Canal* (Fra) Lapierre International                                    12.36
82 Martin Fanger* (Swi) Giant Mountain Bike Team GMT                             12.37
83 Frank Beemer* (Ned) Trek-Brentjens Mountainbike Racing Team                   12.54
84 Filip Meirhaeghe (Bel)                                                        13.03
85 Dario Alejandro Gasco* (Arg) Massi                                            13.08
86 Marc Colom (Fra)                                                              13.19
87 Sebastien Carabin* (Bel) Lingier-Versluys Team                                13.20
88 Bjorn Brems (Bel) Team Saeco                                                  13.23
89 Andras Parti (Hun) Srm Stevens Team                                           13.47
90 Dariusz Batek (Pol)                                                           14.07
91 Jelmer Pietersma (Ned) Trek-Brentjens Mountainbike Racing Team                14.20
92 Cristobal Silva Ibaceta (Chi)                                                 14.25
93 Pascal Meyer* (Swi) Sks M.I.G. Team                                           14.31
94 Giuseppe Lamastra (Ita)                                                       14.35
95 Anthony Grenet* (Fra)                                                         15.04
96 Arnaud Grosjean (Fra)                                                         15.21
97 Ondrej Cink* (Cze) Merida Biking Team                                         15.33
98 Torsten Marx (Ger) DS-Rennsport                                               15.47
99 Frank Schotman (Ned)                                                          15.48
100 Zdenek Stybar (Cze)                                                          15.56
101 Mattias Nilsson (Swe)                                                        16.04
102 Patrick Gaudy* (Bel)                                                         16.12
103 Erik Groen* (Ned) De Brink-Ten Tusscher                                      16.15
104 Joris Massaer (Bel)                                                          16.24
105 Catriel Andres Soto* (Arg) Infotre - Leecougan                               16.29
106 Pascal Schmutz* (Swi)                                                        16.33
107 Julien Saussac* (Fra) BH-Suntour                                             16.34
108 Nicolas Jeantet* (Ita) Team CBETecnoimpianti A.S.D.                          16.49
109 Henk Jaap Moorlag* (Ned) De Brink-Ten Tusscher                               16.50
110 Shlomi Haimy* (Isr)                                                          16.57
111 Jianhua Ji (Chn)                                                             16.59
112 Jérémy Huguenin* (Swi)                                                       17.04
113 Jonathan Galante (Fra)                                                       17.05
114 Tad Elliott* (USA)                                                           17.12
115 Evgeniy Nikolaev* (Rus)                                                      17.16
116 Kevin Van Hoovels (Bel)                                                      17.22
117 Luka Mezgec* (Slo) Mbk Orbea                                                 17.26
118 Robert Gehbauer* (Aut) Multivan Merida Biking Team                           17.32
119 Adam Morka (Can)                                                             17.36
120 Severin Disch (Swi) Giant Mountain Bike Team GMT                             17.42
121 Kornel Osicki (Pol) Jbg-2 Professional MTB Team                              17.45
122 Pascal Hossay* (Bel)                                                         18.00
123 Laurent Mineur* (Bel)                                                        18.09
124 Rene Tann* (Ger)                                                             18.20
125 Luka Kodra (Slo) Mbk Orbea                                                   18.46
126 Alexis Chenevier (Fra) Team Scott Valloire Galibier                          18.54
127 Samuel Schultz* (USA) Subaru-Gary Fisher                                     18.56
128 Rob Vangenechten (Bel) Team Saeco                                            18.57
129 Chun Hing Chan (Hkg)                                                              
130 Olivier Maignan (Fra)                                                        19.05
131 Matous Ulman (Cze) Scott & Hagget MTB Team                                   19.41
132 Andi Weinhold (Ger)                                                          19.53
133 Jonas De Backer (Bel)                                                        19.59
134 Ben Henderson* (Aus)                                                         20.19
135 Zhiqiang Duan (Chn)                                                          20.25
136 Tim Lemmers (Ned) De Brink-Ten Tusscher                                      20.40
137 Evgeniy Pechenin* (Rus) Format-Udmurtia                                      20.55
138 Vivien Legastelois (Fra) BH-Suntour                                          21.27
139 Roan Exelby* (RSa)                                                           21.50
140 Freddy Betremieux (Fra) BH-Suntour                                           21.59
141 Marco Minnaard* (Ned) De Brink-Ten Tusscher                                  22.23

One lap behind

142 Michael Broderick (USA)                                                           
143 Tim Ottens (Ned)                                                                  
144 Anders Ljungberg* (Swe)                                                            
145 Cal Britten (Aus) Torq Performance Nutrition                                      
146 Rob Squire* (USA)                                                                  
147 Thibaut Bellanger* (Fra)                                                           
148 Thomas Lapeyrie* (Fra) Team Scott Valloire Galibier                                
149 Matej Nepustil* (Cze) Ceska Sporitelna MTB                                         
150 Jo Thorson Nordskar* (Nor) Team Etto Hoydahl                                       
151 Sebastian Szraucner* (Ger)                                                         
152 Andrew Blair* (Aus)                                                                
153 Lee Williams (GBr)                                                                
154 Erik Nellen (Ned)                                                                 
155 Romain Gihoul* (Bel)                                                               
156 Nathan Haas* (Aus) Discovertasmania.Com                                            
157 Rafal Hebisz* (Pol)                                                                
158 Samuele Porro (Ita) Team CBETecnoimpianti A.S.D.                                  
159 Bjorn Rondelez* (Bel) Lingier-Versluys Team                                        
160 Tim Wijnants (Bel) Trek-Brentjens Mountainbike Racing Team                        
161 Barry Wicks* (USA) Kona                                                            
162 Raphael Gagne (Can) Team Maxxis-Rocky Mountain Bicycles                           
163 Ethan Gilmour* (USA)                                                               
164 Axel Bult* (Ned) De Brink-Ten Tusscher                                             
165 Jakub Magnusek (Cze) Ceska Sporitelna Mtb                                         
166 Christopher Maletz* (Ger)                                                          

Two laps behind

167 Tom Hoekman (Ned)                                                                 
168 Mikhail Baryshnikov (Rus)                                                         
169 Abdulkadir Kelleci* (Tur)                                                          
170 Henri Ojala (Fin)                                                                 
171 Leon De Jong (Ned)                                                                
172 Jelmer Jubbega (Ned) De Brink-Ten Tusscher                                        
173 Laurent Evrard* (Bel)                                                              
174 Boris Vasilyev* (Rus) Format-Udmurtia                                              
175 Daniel Kaufmann (Swi)                                                             
176 Simon Qvortrup* (Den)                                                              
177 Keiichi Tsujiura* (Jpn)                                                            
178 John Groves (Aus)                                                                 
179 German Dorhmann (Arg) Infotre - Leecougan                                         
180 Abdurrahman Dandal* (Tur)                                                          

Three laps behind

181 Henrique Avancini* (Bra) Isd Cycling Team                                          
DNF Balz Weber (Swi) DS-Rennsport                                                    
DNF Christoph Soukup (Aut) Merida Biking Team                                        
DNF Pierre Lebreton (Fra) BH-Suntour                                                 
DNF Daniel Mcconnell (Aus) Torq Performance Nutrition                                
DNF Yader Zoli (Ita) Torpado-4US                                                     
DNF Carlos Coloma Nicolas (Spa) MSC Bikes                                            
DNF Tony Longo (Ita)                                                                 
DNF Simon Scheiber* (Aut) Sunshine Racers Asv Nals                                    
DNF Jürg Graf (Swi)* Felt International MTB Team                                      
DNF Kris Sneddon (Can) Kona                                                          
DNF Juri Ragnoli (Ita) Felt International MTB Team                                   
DNF Mathias Flückiger* (Swi) Trek World Racing                                        
DNF Nicola Rohrbach (Swi) Central Ghost Pro Team                                     
DNF Josef Kamler* (Cze) Ceska Sporitelna MTB                                          
DNF Oleksandr Kachanov* (Ukr)                                                         
DNF Calle Friberg (Swe)                                                              
DNF Ludovic Mottet (Bel)                                                             
DNF Adrian Brzozka* (Pol) JBG-2 Professional MTB Team                                 
DNF Martin Loo* (Est)                                                                 
DNF Jeremy Horgan-Kobelski (USA) Subaru-Gary Fisher                                 
DNF Kevin Kane* (USA)                                                                 
DNF Todd Wells (USA) Specialized Factory Racing                                      
DNS Dries Govaerts* (Bel) Lingier-Versluys Team    

* Indicates Under 23

Teams

1 Multivan Merida Biking Team                 96 pts
2 Cannondale Factory Racing                   52
3 Specialized Factory Racing                  50
4 Orbea                                       48
5 TX Active Bianchi                           37
6 Topeak Ergon Racing Team                    35
7 Scott-Swisspower MTB-Racing                 33
8 Lapierre International                      30
9 Massi                                       28
10 Cemelorca-Trek-Lorca Taller Del Tiempo     24
11 Fumic.Brothers.International               16
12 Trek-Brentjens Mountainbike Racing Team    12
13 Team CBE Tecnoimpianti A.S.D.              10
14 Felt International MTB Team                 6
15 Giant Italia Team                           3
16 Giant Mountain Bike Team                    2

World Cup Standings after three rounds

Individual

1 Julien Absalon (Fra) Orbea                                                    700 pts
2 Wolfram Kurschat (Ger) Topeak Ergon Racing Team                               540
3 Burry Stander* (RSA) Specialized Factory Racing                               460
4 Jean-Christophe Peraud (Fra) Massi                                            420
5 José Antonio Hermida Ramos (Spa) Multivan Merida Biking Team                  380
6 Roel Paulissen (Bel) Cannondale Factory Racing                                315
7 Nino Schurter (Swi) Scott-Swisspower MTB-Racing                               305
8 Ralph Naef (Swi) Multivan Merida Biking Team                                  300
9 Lukas Flückiger (Swi) Trek World Racing                                       276
10 Stéphane Tempier (Fra) TX Active Bianchi                                     241
11 Christoph Sauser (Swi) Specialized Factory Racing                            240
12 Jaroslav Kulhavy (Cze)                                                       230
13 Marco Aurelio Fontana (Ita) Cannondale Factory Racing                        220
14 Moritz Milatz (Ger) Multivan Merida Biking Team                              216
15 Jochen Kass (Ger) Multivan Merida Biking Team                                210
16 Florian Vogel (Swi) Scott-Swisspower MTB-Racing                              201
17 Cédric Ravanel (Fra) Lapierre International                                  194
18 Martin Gujan (Swi) Cannondale Factory Racing                                 190
19 Hector Leonardo Paez Leon (Col) TX Active Bianchi                            188
20 Alexis Vuillermoz* (Fra) Lapierre International                              186
21 Sergio Mantecon Gutierrez (Spa) Cemelorca-Trek-Lorca Taller Del Tiempo       182
22 Inaki Lejarreta Errasti (Spa) Orbea                                          180
23 Rudi Van Houts (Ned) Multivan Merida Biking Team                             180
24 Ruben Ruzafa Cueto (Spa) Orbea                                               170
25 Geoff Kabush (Can) Team Maxxis-Rocky Mountain Bicycles                       169
26 Manuel Fumic (Ger) Fumic.Brothers.International                              161
27 Mathias Flückiger* (Swi) Trek World Racing                                   159
28 Chris Jongewaard (Aus) Trek-Brentjens Mountainbike Racing Team               148
29 Adam Craig (USA) Giant Mountain Bike Team                                    145
30 Ivan Alvarez Gutierrez (Spa) Giant Italia Team                               139
31 Christoph Soukup (Aut) Merida Biking Team                                    134
32 Umberto Corti (Ita) Team CBE Tecnoimpianti A.S.D.                            123
33 Samuel Schultz (USA) Subaru-Gary Fisher                                      122
34 Pierre Geoffroy Plantet (Fra) Lapierre International                         115
35 Oliver Beckingsale (GBr) Giant Mountain Bike Team                            110
36 Jiri Friedl (Cze) Merida Biking Team                                          96
37 Andrea Tiberi (Ita) TX Active Bianchi                                         94
38 Ludovic Dubau (Fra)                                                           90
39 Milan Spesny (Cze) Ceska Sporitelna MTB                                       85
40 Emil Lindgren (Swe) Felt International MTB Team                               84
41 Carlos Coloma Nicolas (Spa) MSC Bikes                                         84
42 Cristian Cominelli* (Ita) TX Active Bianchi                                   84
43 Sergiy Rusenko (Ukr) ISD Cycling Team                                         75
44 Jürg Graf (Swi) Felt International MTB Team                                   71
45 Liam Killeen (GBr) Trek World Racing                                          66
46 Daniel Mcconnell (Aus) Torq Performance Nutrition                             61
47 Anders Hovdenes* (Nor) Team Etto Hoydahl                                      61
48 Todd Wells (USA) Specialized Factory Racing                                   60
49 Christof Bischof (Swi) ISD Cycling Team                                       59
50 Guillaume Vinit* (Fra) Team Scott Valloire Galibier                           56
51 Lado Fumic (Ger) Fumic.Brothers.International                                 55
52 Filip Eberl (Cze)                                                             55
53 Bas Peters (Ned)                                                              54
54 Hannes Metzler (Aut)                                                          54
55 Robert Mennen (Ger)                                                           52
56 Marc Colom (Fra)                                                              50
57 Karl Markt (Aut) SRM Stevens Team                                             42
58 Derek Zandstra (Can)                                                          39
59 Johnny Cattaneo (Ita)                                                         38
60 Jelmer Pietersma (Ned) Trek-Brentjens Mountainbike Racing Team                38
61 Lachlan Norris* (Aus) Discovertasmania.com                                    37
62 Balz Weber (Swi) DS-Rennsport                                                 36
63 Connor Mcconvey* (Irl) Felt International MTB Team                            34
64 Periklis Ilias (Gre) ISD Cycling Team                                         29
65 Dries Govaerts* (Bel) Lingier-Versluys Team                                   29
66 Silvio Bundi (Swi) Giant Mountain Bike Team                                   29
67 Thomas Litscher* (Swi) SKS M.I.G. Team                                        27
68 Marek Galinski (Pol) JBG-2 Professional MTB Team                              26
69 Yader Zoli (Ita) Torpado-4US                                                  25
70 Maxime Marotte (Fra) BH-Suntour                                               24
71 Lukas Kaufmann* (Swi)                                                         24
72 Jan Skarnitzl (Cze) Giant Mountain Bike Team                                  19
73 François Bailly Maitre (Fra) Team Scott Valloire Galibier                     19
74 Paolo Cesar Montoya Cantillo (CRc) Giant Italia Team                          18
75 Fabian Giger* (Swi) SKS M.I.G. Team                                           18
76 Irjan Luttenberg* (Ned)                                                       17
77 Bjorn Brems (Bel) Team Saeco                                                  17
78 Kohei Yamamoto (Jpn)                                                          14
79 Nicola Rohrbach (Swi) Central Ghost Pro Team                                  14
80 Peter Sagan* (Svk)                                                            13
81 Juan Pedro Trujillo Hernandez (Spa) Cemelorca-Trek-Lorca Taller Del Tiempo    13
82 Roan Exelby (RSA)                                                             12
83 Nicolas Vermeulen (Bel) Lingier-Versluys Team                                 10
84 Jeremy Horgan-Kobelski (USA) Subaru-Gary Fisher                               10
85 Klaus Nielsen (Den)                                                            9
86 Giuseppe Lamastra (Ita)                                                        9
87 Andrew Blair (Aus)                                                             9
88 Severin Disch* (Swi) Giant Mountain Bike Team                                  8

Team

1 Multivan Merida Biking Team                                                   227 pts
2 Orbea                                                                         158
3 Specialized Factory Racing                                                    150
4 Cannondale Factory Racing                                                     142
5 Scott-Swisspower MTB-Racing                                                    99
6 Topeak Ergon Racing Team                                                       98
7 Trek World Racing                                                              91
8 Massi                                                                          84
9 TX Active Bianchi                                                              82
10 Lapierre International                                                        63
11 Fumic.Brothers.International                                                  35
12 Cemelorca-Trek-Lorca Taller Del Tiempo                                        33
13 Giant Mountain Bike Team                                                      30
14 Trek-Brentjens Mountainbike Racing Team                                       30
15 Team Maxxis-Rocky Mountain Bicycles                                           23
16 Merida Biking Team                                                            23
17 Giant Italia Team                                                             17
18 Subaru-Gary Fisher                                                            17
19 Team CBE Tecnoimpianti A.S.D.                                                 10
20 Felt International MTB Team                                                    6
21 MSC Bikes                                                                      4
22 Ceska Sporitelna MTB                                                           1