MTB index page for all MTB content
IXS European Downhill Cup - 2
Verbier, Switzerland, May 30-31, 2009
Results 2008 Results
American Riffle blazes to first
Pugin wins women's race
Duncan Riffle (DRR/Giantnerd) won
Photo ©: Martin Platter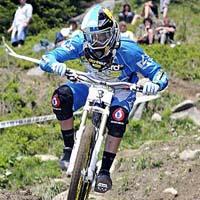 After having qualified as third fastest, America's Duncan Riffle (DRR/Giantnerd) won the iXS European Downhill Cup's first race of the season in Verbier, clearly beating the times of New Zealand's Matthew Scoles (Bike NZ), Ireland's Ben Reid (Just Reid Race Team) and the surprisingly fast German Benny Strasser (Toxoholic/iXS) under completely different conditions than in the seeding run. In the women's race, France's Floriane Pugin (Ironhorse) posted the fastest time, edging out Swiss national champion Emilie Siegenthaler (Scott 11) and Ecuador's Diana Marggraff (Zenith).
For the athletes, it was a tricky weekend. On Friday, the first practice session took place under a clear sky and on a dry track. But on Saturday, the weather changed completely. Strong rain made the course's super steep, World Cup-like final part even more challenging. For Sunday's finals, the sun was shining again. But the course had been shaped by the practice runs of more than 300 participants, so plenty of holes and brakebumps had formed, and roots were sticking out everywhere.
Nevertheless the results in the elite cateogry finals were a lot like the ones in the seeding run - with only mechanicals mixing things up significantly.
"Both the choice of tires and the suspension set-up were not easy given the changing conditions," said men's winner Riffle, who added that he did not take big risks during his run.
Despite three mistakes on his way down, Strasser surprised everyone and even himself by finishing in fourth, thus being the fastest central European rider. "My results in the season's first World Cup races gave some reasons to be optimistic, and posting the second-fastest time in the seeding run was an extra motivation," said Strasser, who just moved into the elite category last season and has already been on the podium in third at the German National Championships.
As he flatted immediately after the start of his race run, fastest men's qualifier Nick Beer (Scott 11) was not the fastest Swiss rider of the day. Instead it was Nick's elder brother Marcel (Ancelotti), who was riding without a chain all weekend.
Elite men's podium
Photo ©: Martin Platter

Without a doubt, Marcel Beer was the biggest surprise of the weekend. Sans chain, he finished in fifth overall and as the fastest Swiss rider of the day. The lack of a chain was caused by a missing derailleur mount on GT's exotic full carbon downhill bike. "I wanted to finish in a time of 3:30," he said. Well, it turned out to be a 3:14, which is rather surprising considering that some non-downward sloping portions of the course forced him to propel himself forward by doing running-like motions on his bike in order not to loose to much speed.
"Just wait until I have got a chain on my bike again," said Beer, teasing his competitors.
Lars Peyer and Dominik Gspan, only separated by six thousandth of a second on the next positions, topped off the strong performances of Swiss riders at their home race, one that featured many strong racers.
Swiss favorite and fasest qualifier Nick Beer finished 61st after his flat. Sam Zbinden suffered a similar fate. He finished fourth in the seeding run, but only finished in 51st in the finals.
2007' junior World Champion Floriane Pugin surprised no one with her win in the women's race. She' already scored podium finishes at World Cup races.
Second place women's finisher Emilie Siegenthaler was happy with her performance. "I have only lost five seconds on Floriane, which shows that I managed to reduce the gap to the world's best riders compared to last seaso. Diana Marggraff of Ecuador was third.
Photography
For a thumbnail gallery of these images, click here
Images by Martin Platter / www.velomedia.ch
Results
Elite men

1 Duncan Riffle (USA) DRR/Giantnerd                          3.06.591
2 Matthew Scoles (NZl)                                       0.01.867
3 Ben Reid (Irl) Just Reid Race Team                         0.02.554
4 Benny Strasser (Ger)                                       0.06.551
5 Marcel Beer (Swi)                                          0.08.143
6 Lars Peyer (Swi)                                           0.08.243
7 Dominik Gspan (Swi)                                        0.08.249
8 Fabien Pedemanaud (Fra) Scott                              0.08.300
9 Will Rischbreth (Aus) Willpower                            0.11.102
10 Loic Delteil (Fra) Hotpoint.ch                            0.11.858
11 Josh Button (Aus) Mongoose                                0.12.985
12 Lee Heyden (NZl)                                          0.13.453
13 Roman Roschi (Swi)                                        0.15.437
14 Patrick Meyer (Swi)                                       0.16.288
15 Martin Frei (Swi)                                         0.16.526
16 Noah Grossman (Ger) E-Unit                                0.16.598
17 Benedict Brad (USA) DRR/Giantnerd                         0.17.213
18 Falco Ruppert (Ger) Cannondale Germany                    0.19.193
19 Billy Caroli (Swi) Vall Cycle                             0.22.932
20 Nils Correvon (Swi)                                       0.23.044
21 Nicolas Gspan (Swi)                                       0.23.078
22 Gernot Ruppert (Ger) Cannondale Germany                   0.25.158
23 Fabrice Tirefort (Swi)                                    0.25.174
24 Ian Schaad (Swi) Nauna Loa/ Friedli Bike Style            0.27.756
25 Samuele Aicardi (Ita)                                     0.29.225
26 Markus Planitzer (Aut) bikestore                          0.29.772
27 Cristian Mazzolini (Ita) Ready2Ride                       0.30.444
28 Joel Gebbie (GBr)                                         0.30.904
29 Jonas Baehler (Swi)                                       0.30.914
30 Andi Schaefer (Swi) iXS Sports Division Yety              0.31.769
31 Randy Van Goubergen (Bel)                                 0.33.465
32 Moritz Kruse (Ger)                                        0.34.040
33 Roland Schwaller (Swi) iXS Sports Division Yety           0.34.343
34 Ravnik (Slo) Grintovec                                    0.34.776
35 Janick Lieberherr (Swi) iXS Sports Division Yety          0.35.279
36 Nicolas Cherik (Swi)                                      0.35.729
37 Doardo Franco (Ita) Oakley - Intense                      0.35.907
38 Rico Putzi (Swi) Freeberg.ch                              0.36.371
39 Peter Felber (Aut) ARBO BangBrothers                      0.36.745
40 Bjoern Aeschlimann (Swi) RC Steffisburg / GS Wuethrich    0.37.555
41 Chris Kilmurray (Irl) Ancillotti                          0.37.669
42 Anssi Koskinen (Fin)                                      0.41.278
43 Johannes Suetter (Ger)                                    0.42.315
44 Martin Viertel (Ger)                                      0.42.453
45 Federico Frulloni (Ita)                                   0.44.438
46 Mario Reinbacher (Aut) Flowmotion                         0.46.058
47 Kevin Schramm (Ger)                                       0.46.063
48 Marc Fischer (Swi)                                        0.47.417
49 Mario Steiner (Ger)                                       0.47.895
50 David Lischka (Ger)                                       0.48.098
51 Samuel Zbinden (Swi)                                      0.48.396
52 Adrian Finger (Swi) RU Ersingen/ One 80 Shop              0.49.618
53 Joachim Schielke (Ger) Last International                 0.50.035
54 Jonathan Debus (Ger) Team Last                            0.50.619
55 Zimmermann Michael (Swi)                                  0.52.984
56 Philipp Fischer (Ger)                                     0.53.361
57 Felix Herdzina (Ger)                                      0.53.933
58 Goel Wirz (Fra) s-vtt                                     0.54.284
59 Andreas Dotzauer (Ger) Alutech Soulrider e.V.             0.55.292
60 Samuel Baumann (Swi) Bandit Bike                          0.55.722
61 Nick Beer (Swi) Scott 11                                  0.56.032
62 Volker Huebner (Ger)                                      0.57.238
63 Jan Marcus (Ger)                                          0.59.308
64 Andre Wackenhut (Ger)                                     1.02.449
65 Peter Ballin (GBr) 2stagebikes.com                        1.04.442
66 Thomas Di Litta (Fra)                                     1.04.541
67 Benjamin Scharfetter (Aut)                                1.06.968
68 Edijs Pauls (Lat)                                         1.07.212
69 Christian Daxner (Aut)                                    1.08.553
70 Christian Vogt (Ger)                                      1.16.449
71 Juergen Steindl (Aut) ARBO BangBrothers                   1.28.326
72 Matthias Weiss (Ger)                                      1.34.856
73 Martin Schelberger (Aut)                                  1.36.999
74 Patrick Schum (Ger)                                       3.12.897
75 Nathan Rankin (NZl) Iron Horse Playbiker                  3.14.124
DNS Alexander Evans (GBr) empirecycles                               
DNS Daniel Rossmann (Ger)                                            
DNS Fabian Bieli (Swi)                                               
DNS Daniel Vogt (Ger)                                                
DNS Vinzenz Guntern (Swi) Suspension Center                          
DNF Christian Greub (Swi)                                            
DNF Seb Muller (Swi)                                                 
DNF David Schmid (Ger) followme/ qu-intwerbeagentur                  

Elite women

1 Floriane Pugin (Fra) Ironhorse-Kenda-Playbiker             3.52.743
2 Emilie Siegenthaler (Swi) Scott 11                         0.04.976
3 Diana Marggraff (Ecu)                                      0.14.823
4 Martina Bruehlmann (Swi) FATWORK                           0.18.989
5 Miriam Ruchti (Swi) Vario Racing Team                      0.59.300
6 Miriam Maurer (Ger)                                        1.31.482
DNS Marion Bast (Ger)                                                

Junior men

1 Brook Macdonald (NZl)                                      3.11.578
2 Shaun O Connor (Aus) Iron Horse Kenda                      0.07.766
3 Aari Barrett (NZl) Scott 11                                0.16.489
4 Robin Van Goubergen (Bel)                                  0.21.509
5 Andy Klaey (Swi)                                           0.22.035
6 Daniele Cosseta (Ita) Ready2Ride                           0.24.520
7 Robin Hagen (Swi) Scott 11                                 0.25.635
8 Julius Fournier (Swi) KEETCH/ScottB,icossclub chabla       0.33.401
9 Basil Weber (Swi) ewz mountainbiketeam loop                0.33.539
10 Timo Pries (Ger) Eight Inch Racing,RC 50                  0.36.002
11 Lucas Meyer (Swi)                                         0.38.169
12 Philipp Buennemann (Ger)                                  0.39.226
13 Max Kruse (Ger)                                           0.39.415
14 Fabian Pfister (Swi)                                      0.39.460
15 Alec Montanier (Swi)                                      0.45.362
16 Martin Buck (Swi) Vario Racing Team                       0.48.965
17 David Bierbaumer (Aut)                                    0.54.086
18 Faessler Christoph (Swi)                                  0.57.874
19 Ziki Fontana (Swi) Wild Horses                            1.02.768
20 Yanick Duske (Ger) BONEBILL Bikes.RC 50 Erlangen          1.03.682
21 Xavier Angelini (Ita) Team Maggi Off Road                 1.06.789
22 Sandro Hess (Swi)                                         1.21.531
23 Lorenzo Baragiola (Swi) Wild Horses                       1.21.711
24 David Hosang (Swi)                                        1.46.965
DNS Kevin Setzer (Ger)                                               
DNS Marius Paccolat (Swi)                                            
DNS Benjamin Oluoch (Ger) EAZE-Bikes                                 
DNS Fabian Fader (Ger)                                               
DNS Riku Laensioe (Fin)                                              
DNS Florian Mueller (Swi) Alutech Co-Factory Team                    
DNF Bernhard Kammel (Ger)                                            

Junior women

1 Leoni Caroline Dickehroff (Ger)                            4.59.975

Master men

1 Markus Bast (Ger)                                          3.31.251
2 Wilfred Van De Haterd (Ned)                                0.00.490
3 Heinz Hostettler (Swi)                                     0.07.900
4 Michael Stammbach (Swi)                                    0.18.054
5 Laurent Castella (Swi)                                     0.18.179
6 Tino Beutel (Ger)                                          0.19.567
7 Samuel Aklin (Swi) Bikegarage DH Team                      0.22.029
8 Denis Imboden (Swi) X-Team / GAB                           0.23.383
9 Marcel Waldmann (Swi)                                      0.25.747
10 Stefan Hubacher (Swi) LogoPrint MTB DH Team               0.25.842
11 Thomas Weber (Swi)                                        0.28.378
12 Urs Stadelmann (Swi)                                      0.30.948
13 Beat Spengler (Swi) Vario Racing Team                     0.52.848
14 Urs Sturzenegger (Swi)                                    1.11.329
DNS Patrick Mueller (Ger)                                            
DNS Olivier Lagger (Swi) Fatwork                                     
DNS Andi Deutschenbauer (Swi) Fox Racing Russenberger Velo S         

Open men

1 Markus Ruchti (Tretlager Factory Racing)                   3.31.514
2 Frederic Rul                                               0.21.585
3 Micael Aellig                                              0.22.352
4 Mathe Huesler (Bikegarage DH Team)                         0.24.035
5 Tobias Lonfat (Downhill Spirit Team)                       0.30.052
6 Torsten Wolf                                               0.30.144
7 Dominik Trost                                              0.30.308
8 Christoph Eichinger                                        0.30.452
9 Matthias Tahlen                                            0.31.946
10 Jeremias Zimmerli (EISS #1)                               0.32.463
11 Daniel Zollinger (Team Anesgo)                            0.33.070
12 Marco Heim                                                0.33.342
13 Dominik Mast (One 80)                                     0.33.946
14 David Pache                                               0.35.966
15 Martin Kaegi (Rahmenspraenger)                            0.36.267
16 Tom Cox                                                   0.36.429
17 Sergio Tschenett (The Bike Patcher)                       0.36.628
18 David Haeuptli (Team Anesgo)                              0.39.622
19 Yanik Lauper (Team Anesgo)                                0.40.866
20 Christian Gauch (Dragon-cycle.ch)                         0.42.429
21 Vito Tschenett (The Bike Patcher)                         0.44.397
22 Nicolas Wolflisberg (EISS #1)                             0.44.769
23 Jan Sponseil                                              0.45.238
24 Florian Nagele                                            0.49.865
25 Stephan Schelling (Dutrefaction)                          0.50.080
26 Alan Turin                                                0.50.553
27 David Egli                                                0.52.062
28 Nico Hunger                                               0.52.331
29 Julien Rossi (Trek Alouette)                              0.53.508
30 Oliver Morier (Sam Bike)                                  0.53.977
31 Alain Grosjean (EISS #1)                                  0.54.592
32 Sebastian Strehl                                          0.55.011
33 Samuel Buetikofer (M-B-Z)                                 0.55.055
34 Nick Etter                                                0.55.201
35 Karol Gall                                                0.55.337
36 Gerold Papp                                               0.56.585
37 Stefan Zieche                                             0.56.680
38 Simon Gerber (EISS #1)                                    0.57.673
39 Simon Longthorn                                           0.58.012
40 Timo Muncke                                               1.00.026
41 Wolfgang Warmuth                                          1.03.984
42 Etienne Jaquier                                           1.05.696
43 Peter Vanhara                                             1.06.309
44 Jan-Phillip Strehl                                        1.11.458
45 Markus Bihler                                             1.12.735
46 Sven Unger (Eightinch Racing)                             1.13.739
47 Christoph Stoeckl                                         1.16.390
48 Giovanni Iannelli                                         1.18.042
49 Fabian Tschueperlin (Solid Bikes Schweiz)                 1.19.559
50 Tobias Wobmann                                            1.21.308
51 Dano Maurer (Bikegarage DH Team)                          1.22.323
52 Esteban Zimmermann                                        1.23.931
53 Johannes Stephan                                          1.24.032
54 Hendrik Schulze                                           1.25.739
55 Ramun Tschenett (The Bike Patcher)                        1.25.796
56 Jeremie Troillet (MagicDownhill-Transition)               1.27.091
57 Colin Darbre (Kona TwoBikes)                              1.28.033
58 Nicola Schraven                                           1.32.296
59 Romain Mosimann (Malley)                                  1.37.480
60 Benedikt Charlier                                         1.39.232
61 Stefan Mattner                                            1.44.828
62 Pascal Partikel (Wheels over Frankfurt)                   1.47.204
63 Rolf Kehrli                                               1.53.240
64 Janto Schmid                                              1.58.462
65 Vincent Crottaz (Crans-Mountain)                          1.58.660
66 Samuel Wicki (Bikegarage DH Team)                         2.06.052
67 Sven Siats                                                4.19.774
DNS Romain Burnier                                                   
DNS Tobias Mueller                                                   
DNS Robin Kopplin                                                    
DNS Vincent Butticaz                                                 
DNS Dirk Ahrendt                                                     
DNF Markus Mueller (Team Anesgo)                                     

Open women

1 Nathalie Daeppen                                           4.58.366
2 Nicole Beege                                               0.10.009
3 Noemi Derron                                               0.31.844
4 Anja Lechthaler                                            1.30.868
5 Caroline Fellay                                            1.35.726
6 Sabrina Morell (Bikegarage DH Team)                        2.06.463

Open junior

1 Freddy Hunziker                                            3.44.558
2 Max Broccard                                               0.10.654
3 Patrik Deuss                                               0.24.768
4 Axel Monnet (Bike n Joy)                                   0.25.587
5 Vincent Bezencon                                           0.31.683
6 Adam Omeroviv                                              0.35.455
7 Antoine Jacot                                              0.36.214
8 David Reber (MagicDownhill-Transition)                     0.36.474
9 Maxime Chapuis                                             0.38.510
10 Colin Favre                                               0.40.730
11 Markus Bucher (Bikegarage DH Team)                        0.45.353
12 Arnuel Monnet                                             0.45.358
13 Julien Corfu                                              0.46.278
14 Ken Zimmermann                                            0.46.354
15 Cedric Hagen (Jumpin Crazy Bike Team / VC Le)             0.49.048
16 Michael Fuhrer                                            0.49.901
17 Sebasstiasn Bylbhn                                        1.04.677
18 Jochen Haeussler                                          1.08.000
19 Jerome Caroli (MagicDownhill-Transition)                  1.14.523
20 Patrik Kuster                                             1.24.966
21 Felix Klee                                                1.37.447
22 Yannick Allemant (twobikes)                               1.38.495
23 Michael Roth                                              1.48.162
24 Kevin Torrent (Black Dragon Downhill Team)                1.49.750
25 Kevin Venthey (Black Dragon Downhill Team)                2.05.917
26 Pascal Von Holzen                                         2.08.435
27 Myles Weber (ewz mountainbiketeam loop)                   2.24.710
28 Michael Gaertner                                          6.12.298
DNS Jerome Biolaz (Bike n Joy)                                       
DNS Stive Giovanda (Nauna Loa/ Friedli Bike Style)                   
DNS Yann Chamot                                                      
DNF Nils Verniol                                                     
DNF Dominique Willemin                                               

Open senior men

1 Roger Beutler (Vario Racing Team)                          4.20.484
2 Raphael Salamin                                            0.00.894
3 Mike Rum                                                   0.01.231
4 Thomas Schaal                                              0.01.840
5 Dirk August                                                0.03.399
6 Maurus Bieri                                               0.06.695
7 Christian Dassi                                            0.10.921
8 Roger Hagen (Jumpin Crazy Bike Team / VC Le)               0.11.796
9 Christian Staudenmann (suspension-center)                  0.14.976
10 Alexandre Heritier                                        0.21.859
11 Oliver Lustenberger                                       0.27.049
12 Sebastien Aymon                                           0.27.423
13 Marcel Schlapbach (Dragon-cycle.ch)                       0.29.349
14 Andreas Grossenbacher                                     0.33.161
15 Alvarez Javier (Vario Racing Team)                        0.38.993
16 Christian Koch (Bikegarage DH Team)                       0.41.743
17 Christian Kunz                                            0.50.703
18 Oliver Pusch                                              0.56.059
19 Toni Galfano                                              0.57.556
DNS Stefan Stadelmann (SchinkenKaeseFrape)                           
DNS Damian Chromik                                                   
DNS Matthieu Lalloz                                                  
DNS Yann Palanchon