MTB index page for all MTB content
Superprestigio Massi - 1
Avilés (Asturias), Spain, March 1, 2009
Fullana and Mantecon win muddy Spanish series opener
Margarita Fullana (Massi)
Photo ©: Sergio Suarez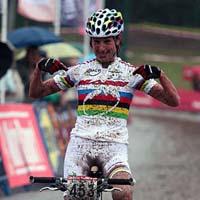 The Asturian town of Aviles opened the Spanish national mountain bike calendar with the first Superprestigio Massi event. It rained on Sunday morning, and the elite women, masters and juniors started in wet conditions that would turn into muddy conditions for the rest of the day.

World champion Marga Fullana won the elite women's race convincingly. "I did not know how I would be physically, but I went better than expected," she said after the race.

"The Avilés circuit is always tough, but today it was even more so. I knew I might run into mechanical trouble by changing gears, so once my position was well established in the lead, I tried to take no risks."

Over the first few kilometers, Fullana distanced herself from her rivals and opened a gap of more than one minute over teammate Anna Villar, who finished a comfortable second place. After the second lap, Villar suffered a mechanical that would force her to drop to fourth place.

Sandra Santanyes (Cemelorca-Trek) finished second at 6:19 while Cristina Mascarreras (Conor- La Siesta) was third at 11:47.

In the men's race, a group of six riders formed as leaders after the first two laps. Sergio Mantecon (Cemelorca-Trek) attacked this group and rode his own rhythm. Carlos Coloma (MSC Bikes) finished second at 32 seconds while Iñaki Lejarreta (Orbea) took third at 56 seconds.
Photography
For a thumbnail gallery of these images, click here
Images by Sergio Suarez
Images by Lejarreta (Team Orbea)
Results

Elite men

1 Sergio Mantecon (Cemelorca-Trek)          1.40.35
2 Carlos Coloma (MSC Bikes)                    0.32
3 Iņaki Lejarreta (Orbea)                      0.56
4 Marc Trayter (Commenįal)                     1.32
5 Ruben Ruzafa (Orbea)                         2.05
6 Israel Nuņez (Massi)                         2.52
7 Fco. Javier Macias (Bicis Aitor)             5.32
8 Juan Pedro Trujillo (Cemelorca-Trek)         6.36
9 Alejandro Diaz De La (Extremadura)           7.05
10 Patxi Cia (Conor-Camping)                   7.45
11 Jose Luis Arce (Stecchino MTB)              8.03
12 Josep Betalu (Progress)                    10.42
13 Boillat Joris (Vc-Franches)                11.38
14 Santiago Garrido (Trans.Chema)             12.14
15 David Escolar (Villarosa C.C)              14.57
16 Pablo Egeda (Pedal Sports)                 16.51
17 Lucas Arcos (Bicis Aitor)                  17.44
18 Xavier Bosch (Bigmat-Juanito)              18.47
19 Jordi Martorell (Biciaccion)               19.11
20 Juan Antoni Ortigosa (Kadus Borrascas)     19.48
21 Isaka De La Fuent (Cmaquina Bike)          20.49
22 Adolfo Crespo (Villaviciosa)               21.10
23 Jesus Bacaicoa (Conor Saltoki)             22.13
24 Daniel Rodriguez (Ribeira Sacra)           24.04

Behind one lap

25 Bruno Prieto (Montecerrao)                      
26 Jordi Sanmartin (Starbike)                      
27 Isidoro Perez (Bikezona.Com)                    
28 Oscar Berral (Basella MC Segre)                 
29 Jordi Benavent (Starbike)                       
30 Xavier Jornet (Biciaccion)                      
31 Antonio Zamudio (Todo Bici)                     
32 Jose Villanueva (Pedro Cuervo)                  
33 Joseba Zumeta (Ciclos Turbina)                  
34 Jonathan Cidon (Lugones C.C.)                   
35 Jose Rodriguez (Lugones C.C.)                   

Behind two laps

36 Javier Gonzalez (Lugones C.C.)                  

Elite women

1 Margarita Fullana (Massi)                 1.34.10
2 Sandra Santanyes (Cemelorca-Trek)            6.19
3 Cristina Mascarreras (Conor- La Siesta)     11.47
4 Anna Villar (Massi)                         14.32
5 Rocio Martin (Semar-Distransa)              18.37
6 Beatriz Gallego (Bicis Monje)               19.23
7 Muriel Bouhet (Lennox Canyon)               20.58

Behind one lap

8 Kate Potter (Cotic Bontrager)                    
9 Mariona Catedra (Cc Palautordera)                
10 Clara Soms (Pedal Sports)                       

Behind two laps

11 Maria Puga (Spol C.C.)   

Under 23 men

1 David Lozano (Cemelorca-Trek)             1.43.33
2 Dario Gasco (Massi)                          2.34
3 Joan Marc Perarnau (Oki-Orbea)              11.35
4 Josep MĒ Puigpinos (Basella MC Segre)       13.45
5 Carlos Portilla (Oki-Orbea)                 16.46

Behind one lap

6 Arnau Planas (Cc Palautordera)                   
7 Pablo Carrera (Caixanova)                        

Under 21 men

1 De Backer Jonas (Rvco Blancs Gilet)       1.50.41
2 Diego Latasa (Conor Saltoki)                 2.39
3 Umbert Almenara (Freebike Ce)                8.03
4 Cristofer Bosque (Ambisist)                 10.23
5 Jairo Alvarez (Danima)                      11.40
6 Guillem Pujols (Ambisist)                   13.10
7 Eduardo Camaron (Cadalso MTB C)             14.07

Behind one lap

8 Juan Jose Martinez (Kadus Borrascas)             
9 Albert Aubet (Basella MC Segre)                  
10 Alvaro Olasolo (Ceramicas Egurza)               
11 Jose Manuel Abalo (A Ponte Vella)               
12 Miguel Perez (Caixanova)                        

Senior men

1 Antonio Fco Quintero (Vadebicis)          2.28.42
2 Jorge Arias (Cdc Leon-Robles)               11.51

Junior men

1 Ricardo Paulo Reis (Selecįao Portugue)    1.28.50
2 Jose Maria Sanchez (Dr. Bike Gran)           1.03
3 Josep Nadal (Cjam)                           2.42
4 Cristian Cofine (Tribike)                    3.32
5 Daniel Guasch (Roleauto/Vila)                4.12
6 Manuel Ramon Rueda (Dr. Bike Gran)           5.16
7 Alberto Pedreira (Bici Verde)                5.26
8 Francesc Zurita (Freebike)                   5.31
9 Ivan Vega (Bicis Aitor)                      5.35
10 Adria Noguera (Ambisist)                    7.53
11 Pablo Bravo (Trans.Chema)                   8.26
12 Carlos Lorente (Kadus Borrascas)            9.07
13 Aitor Tur (Mr.Bike)                        10.04
14 Yago Sardina (Kadus Borrascas)             10.10
15 Alfonso Guirado (Cemelorca-Trek)           10.14
16 Antxon Sarasketa (Undaberri Bike)          12.02
17 Aitor Begino (Lasa-Sagardoy)               13.20
18 Jose Anton Rodriguez (Todo Bici)           15.07
19 Jorge Martin (Cadalso MTB C)               16.33
20 Omar Vazquez (Monforte C.C)                16.35
21 Carlos Gomez (Ceramicas Egurza)            18.52
22 Oriol Domenech (Cc Palautordera)                
23 Brais Chas (Renault Caeiro)                20.47
24 Alejandro Gonzalez (Cadalso MTB)           33.15

Behind one lap

25 Joshua Perez (A Ponte Vella)                    
26 David Gonzalez (Bicimontaņa)                    

Junior women

1 Marta Barroso (Todo Bici)                 1.47.51

Behind one lap

2 Rocio Santana (Cadalso MTB)   

Masters men 30+

1 Raul Serrano (Conor Saltoki)              1.27.54
2 David Rodriguez (Monteferro)                 2.28
3 Jose Luis Iņorbe (P.D.)                      2.55
4 Francesc Xa Carnicer (Massi)                 4.18
5 Salvador Ayala (Cemelorca-Trek)              4.54
6 Enrique Garcia (Salmantica)                  7.17
7 Arnau Rota (Ambisist)                        7.34
8 Fernando Sanchez (Btt Calatayud)             8.02
9 Roberto Alvarez (Cdc Leon-Robles)            8.13
10 Jose Luis Parra (Cemelorca-Trek)            8.17
11 Ruben Rodriguez (Congelados)                9.57
12 Enrique Leblic (Nambroca)                  11.42
13 Ibon Ortiz De (Erandio U C)                12.13
14 Mauricio Jav Torres (Todo Bici)            14.06
15 Alejandro Lopez (Construcciones)           14.13
16 Juan Antoni Revuelta (Microtech)           15.29
17 Jose Manuel Cuanda (Altitud)               16.52
18 Antonio Urbano (C.C. Utebo)                17.04
19 Manuel Angel Sanchez (Monteferro)          17.05
20 Luis Garcia (Bici Verde)                   17.07
21 Fermin Sotres (Microtech)                  17.15
22 Carlos Arca (Bici Verde)                   18.03
23 Alejo Moya (Progress Cycling)              18.48
24 Ezequiel De Con (Lugones C.C.)             22.41
25 Carlos Ortigosa (New Bike Pina)            24.04
26 Miguel Carrizo (Monteferro)                24.11
27 Jose Enciso (Cc Palautordera)              27.16

Behind one lap

28 Ivan Lopez (Pedal Sports)                       
29 Eduardo Leal (Castaņielagos)                    
30 Sergi Comino (Pedal Sports)                     
31 Gerardo Lareu (Bici Verde)                      
32 Ramon Pulido (Monforte C.C)                     
33 Miguel Ang Rodriguez (Castaņielagos)                                 

Cadet men

1 Gerard Alvarez (Obra Nova Bigor)          1.13.51
2 Francisco Ja Abad (Cemelorca-Trek)           0.10
3 Abel Garcia (Patria Hispana)                 2.10
4 Alejandro Alvarez (Todo Bici)                3.47
5 Jose Maria Cristobal (Solociclismo)          4.10
6 Juan Jose Espin (Kadus Borrascas)            4.33
7 Isamel Valdivieso (Cemelorca-Trek)           6.09
8 Javier Rodriguez (Monforte C.C)              6.26
9 Antonio Santos (Team Spirit B)               8.06
10 Guillermo Herranz (Monteferro)              8.40
11 Lluis Cortadellas (Cc Palautordera)         9.53
12 Jose Manuel Cayuela (Cemelorca-Trek)       11.31
13 Adrian Huerga (Lacteas Cobrero)            13.25
14 Ruben Pacios (Cadalso MTB)                 13.46
15 Fco. Manuel De La (Todo Bici)              13.48
16 Pedro Gimenez (Cemelorca-Trek)             14.54
17 Jose Antonio Lopez (Kadus Borrascas)       17.15
18 Pablo Fuentes (Construcciones)             18.41
19 Jesus Angel Arconada (Cadalso MTB)         19.45
20 Tomas Martin (Cadalso MTB)                 34.09

Behind one lap

21 Jorge Guerra (Cadalso MTB)                      


Cadet women

1 Sara Bravo (Cadalso MTB)                  1.44.06

Behind one lap

2 Patricia Garcia (Cadalso MTB)  

Master men 40+

1 Fco.Javier Salamero (Oki-Orbea)           1.11.48
2 Jose Julian Baron (Dr. Bike Gran)            1.58
3 Xavier Marti (Ambisist)                      2.45
4 Joan Antoni Asensio (Ei-Tu Red Bull)         5.49
5 Javier Puente (Cdc Leon-Robles)              6.04
6 Jose Manuel Perez (A Ponte Vella)            9.20
7 Jose Enrique Galgera (Microtech)             9.26
8 Eduardo Blasco (Cc Palautordera)             9.33
9 Fernando Gomes (Treitoiro)                  10.40
10 Rafael-Vicen Roses (Cdauto Sarasq)         11.12
11 Antonio Gutierrez (Solociclismo)           11.38
12 Francesc Julia (Bigmat-Juanito)            12.49
13 Edmundo Jos Esplugas (Vadebicis)           13.02
14 Fco. Javi Hermoso De (Bicicletas)          19.15
15 Antonio Fernandez (Montecerrao)            19.31
16 Ricardo Barros (Castaņielagos)             25.36
17 Guillermo Pla (Lugones C.C.)               28.10
18 Luis Andres Galguera (Microtech)           30.32

Master men 50-60

1 Juan Luis Llamas (Cdc Leon-Robles)        1.20.35
2 Ricardo Vela Del (Santa Eularia)             5.31
3 Carlos Reguera (Confiteria)                  6.18
4 Jose Manue Rodriguez (Caixanova)             7.39
5 Frco. Javier Torre (Microtech)               9.01                                     

Team

1 Cemelorca-Trek-Lorca                          627 pts
2 Massi                                         494
3 CC Palautordera                               189
4 Ambisist                                      181
5 Conor Saltoki-Berriainz                       172
6 Pedal Sports                                  135
7 Dr. Bike Gran                                 131
8 OKI-Orbea                                     120
9 Todo Bici-Jargserigrafia                      109
10 Kadus Borrascas                              108
11 Cadalso MTB                                   59
12 Basella MC Segre                              58
13 Ceramicas Egurza                              36
14 Starbike - Ghost                              32