MTB index page for all MTB content
Sunshine Cup #3 - 1
Amathous-Agios Tychon, Cyprus, March 8, 2009
Different winners top men's and women's podiums
Jaroslav Kulhavy (Rubena / Specialized) wins
Photo ©: Armin Küstenbrück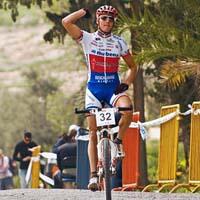 Jaroslav Kulhavy (Rubena-Specialized) and Lene Byberg (Specialized World Team) won the third round of the Cyprus Sunshine Cup.
Kulhavy crossed the finish line at the ruins of ancient Amathous in Agios Tychonas ahead of compatriot Milan Spesny (Ceska Sporitelna) and overall leader Emil Lindgren (Felt International) from Sweden. Although Lindgren took the lead from the start of the race, Kulhavy ended Lindgren's streak of four race wins in a row.
Kulhavy joined Lindgren at the front and on the third of six laps, he came through and took the lead.
For the rest of the race, Kulhavy was alone at the front, extending his lead. He appeared to have no difficulty with the rocky and technically demanding 35.5km course which ran throughout the runs and by the sea.
"These kind of courses suit me and my bike," said Kulhavy. "I'm very happy to got the victory. It was very important to test my shape. My legs were very good."
Elite men's podium
Photo ©: Armin Küstenbrück

After Kulhavy dropped Lindgren, the latter appeared exhausted. Spesny pushed himself to make up a 20 second gap, and he passed Lindgren on lap five to give the Czechs a one-two finish.
"I tried my best but Jaroslav was too strong today," said Lindgren. "With his full suspension bike, he was able to pass through the rocky sections more easily."
"There were no team tactics between us Czechs," said Spesny, "but when Jaroslav told me that Emil looked bad, I pushed myself to pass him. For sure, I'm satisfied with second place."
Behind Lindgren another Czech, Jan Skarnitzl (Giant), finished fourth ahead of Christoph Soukup (Merida), who did not have a good start.
Lindgren retains the overall classification lead for the Sunshine Cup after three rounds. Periklis Ilias (ISD Cycling), who finished eighth on the day, remains in second overall.
"I'm pretty satisfied with these weeks on Cyprus with four victories (three stages at Afxentia) and one third place," said Lindgren. "It couldn't have gone better."
Byberg surprises
Lene Byberg (Specialized World Team)
Photo ©: Armin Küstenbrück

In the women's race, Byberg surprised herself and defeated Tereza Hurikova (Ceska Sporitelna) and Alexandra Engen (Merida).
"It was my first race, and I didn't know what I could expect," said Byberg after her 24.7km race.
In the first lap, Engen, Hurikova and Byberg established themselves as the lead trio. Behind them, Sabine Spitz and Elisabeth Osl (both of Central-Ghost) chased together, but they could not close a gap that soon opened to one minute.
In the second of four laps, Byberg went to the front after Hurikova experienced a problem with her gears.
"I jumped off my bike and tried to manually fix my gears, but then they were gone," said Hurikova. "I found in chasing that I can't quite get my heart rate high enough, but I felt good."
Engen tried to chase, but fell back to 20 seconds - a gap she held steady to the end until near the end of the race.
Alexandra Engen leads Tereza Hurikova (Ceska Sportelna) and Lene Byberg (Specialized World Team)
Photo ©: Armin Küstenbrück

"It was a little bit hard in the first lap, but then I found my rhythm," said Byberg, who nearly came to trouble when she crashed and almost lost her lead on the final lap's steep downhill. At the time she didn't know Engen was suffering her own problems.
"I got a flat tire, losing some air. I decided not to change the tube because the I had lost too much time. So I had to be really careful on the downhills," said Engen of why she did not catch Byberg after her crash and of how she lost second place to Hurikova. "But I don't want to complain, I had a really good day. Lene was fast, but I was only 20 seconds behind her, before I flatted."
"In the lead, I could ride my own speed," said a pleased Byberg. "It was good training on a nice course - quite technical."
Olympic champion Sabine Spitz was in her first race of the season, and she took it easy. "I still haven't done any interval training. Therefore it was clear, that I had no chance to compete with the other girls. But I'm satisfied about how it worked out for me," said Spitz, who finished fourth, directly in front of her new teammate Elisabeth Osl.
Going into the final round, Engen has secured her lead in the Cyprus Sunshine Cup overall, but she plans to stay on the island and compete in the final round.
Photography
For a thumbnail gallery of these images, click here
Images by Armin Küstenbrück
Results

Elite men

1 Jaroslav Kulhavy (Cze) Rubena/Specialized Team     1.51.00
2 Milan Spesny (Cze) Ceska Sporitelna MTB               0.52
3 Emil Lindgren (Swe) Felt International Team           1.03
4 Jan Skarnitzl (Cze)                                   3.05
5 Christoph Soukup (Aut) Merida Biking Team             3.24
6 Sergiy Rusenko (Ukr) ISD Cycling Team                 3.36
7 Mattias Wengelin (Swe) Cykloteket Racing Team         4.00
8 Periklis Ilias (Gre) ISD Cycling Team                 4.25
9 Magnus Darvell (Swe) Kalas CK                         4.30
10 Stefan Sahm (Ger) Team Bulls                         4.49
11 Alban Lakata (Aut) Topeak Ergon Racing Team          5.23
12 Crhistof Bischof (Swi) ISD Cycling Team              5.37
13 Henrique Avancini (Bra)                              5.40
14 Ludovic Dubau (Fra) Team New Cycling                 6.07
15 Josef Kamler (Cze) Ceska Sporitelna MTB              6.47
16 Alexander Wetterhall (Swe)                           7.08
17 Maxim Gogolev (Rus)                                  7.21
18 Thomas Dietsch (Fra) Team Bulls                      7.28
19 Lukas Kaufmann (Swi)                                 7.40
20 Jan Jobanek (Cze) Merida Biking Team                 9.31
21 Ivan Seledkov (Rus)                                  9.32
22 Ondrej Cink (Cze) Merida Biking Team                 9.33
23 Artem Orlov (Rus)                                   11.29
24 Oleksandr Gerashenko (Ukr) ISD Cycling Team         12.17
25 Mattias Nillson (Swe) Team Kalas                    13.09
26 Mirco Pirazzoli (Ita) ISD Cycling Team              13.45
27 Felix Euteneuer (Ger) German National Team          14.04
28 Dmytro Titarenko (Ukr) ISD Cycling Team             14.09
29 Marios Athanasiadis (Cyp)                           14.18
30 Andras Melts (Hun) Corratec World Team              15.19
31 Adrien Pascal (Fra)                                 15.39
32 Ryan Sherlock (Irl)                                 16.24
33 Matej Nepustil (Cze) Ceska Sporitelna MTB           16.47
34 Norland Sondre (Nor) Stavanger SK                   16.51
35 Anton Fomin (Rus)                                   18.55
36 Pavel Pryadein (Rus)                                19.46
37 Alexandr Fedotov (Rus)                              21.01
38 Andrei Revunov (Rus)                                21.43
39 Vasilis Adamou (Cyp)                                21.57

Behind one lap

40 Oscar Ekstam (Swe)                                       
41 Mikhail Baryshenkov (Rus)
42 Sven Pieper (Ger)                                        
                               
43 Vladislav Neroznak (Lat)                                 

Behind two laps

44 Heiko Gutmann (Ger) 
45 Francesco Panza (Ita)                                    
46 Sergey Belykh (Rus)
47 Victor Korchagin (Rus)
48 Evgeniy Nikolaev (Rus)                                   
                               
Behind three laps

51 Kiriakos Papanastasiou (Cyp)                             

Behind four laps

52 Unknown
53 Kirill Sinitsyn (Rus)  
54 Timotheos Skettos (Cyp)                                                                
55 Nicouantreas (Cyp)                                       
DNF Nicola Rohrbach (Swi) Central Ghost Pro Team            
DNF Roman Orlov (Rus)                                       
DNF Anton Gogolev (Rus)                                     
DNF Thum Steffen (Ger)                                      
DNF Jiri Friedl (Cze) Merida Biking Team                    
DNF Dmitry Medvedev (Rus)                                   
DNF Guido Thaler (Aut) Corratec World Team                  
DNF Calle Friberg (Swe)                                     
DNS Karl Platt (Ger) Team Bulls                             
DNS Giorgos Fattas (Cyp)                                    
DNS Alexey Kuzmenko (Rus)                                   
DNS Aleksis Eleutheriadis (Cyp)                             

Elite women

1 Lene Byberg (Nor) Specialized World Team           1.30.05
2 Tereza Hurikova (Cze) Ceska Sporitelna MTB            0.33
3 Alexandra Engen (Swe)                                 2.40
4 Sabine Spitz (Ger) Central Ghost Pro Team             3.40
5 Elisabeth Osl (Aut) Central Ghost Pro Team            4.05
6 Morath Adelheid (Ger) German National Team            5.18
7 Kajsa Snihs (Swe) IK Jarl Rattvik                     6.49
8 Githa Michiels (Bel) Team Saeco Focus 2012            9.06
9 Barbara Benko (Hun)                                  10.49
10 Melanie Spath (Ger)                                 10.49
11 Hanna Klein (Ger)                                   11.59
12 Ksenia Chernikh (Rus)                               15.18
13 Yana Klishina (Rus)                                 20.56
14 Jana Valesova (Cze) Ceska Sporitelna MTB            21.45
15 Jitka Skarnitzlova (Cze)                            24.37

Behind one lap

16 Elena Gogoleva (Rus)                                     

Behind two laps

17 Jelena Petrova (Lat)                                     
DNF Maria Osl (Aut) Fischer BMC