MTB index page for all MTB content
Maremma Cup - 2
Italy, March 7-8, 2009
Main Page Results Overall standings Previous Race
Race 2 - March 8: Cross country
Lechner & Vogel win as many others suffer flats
By Sue George
Florian Vogel on his way to a win for his Scott-Swisspower MTB-Racing team.
Photo ©: Scott-Swisspower MTB-Racing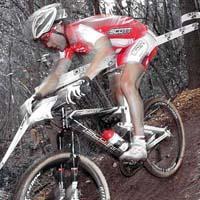 Eva Lechner (Colnago Arreghini Esercito) and Swiss champion Florian Vogel (Scott-Swisspower MTB-Racing) escaped the punctures that slowed many of their competitors on the way to a win in the second of two rounds of the Maremma Cup cross country.
The Swiss triumphed in the men's race with a first, second and third places. Vogel took the lead during the second lap and left his adversaries behind to finish first. Under 23 world champion Nino Schurter (Scott-Swisspower MTB-Racing) had problems with the chain during the initial lap but then he worked his way up from 30th to finish in second place.
Third place went to another Swiss rider after a hard-fought battle between Italian Marco Fontana who punctured during the last lap and Ralph Näf (Multivan Merida Biking Team), who had also punctured while in second place. Näf made a strong recovery after changing his wheel. It was good enough for third place and an all-Swiss podium.
Italian favorite Marco Aurelio Fontana (Cannodale Factory Racing) had to settle for the fourth place, while former world champion Miguel Martinez (Felt International MTB Team) ended in the fifth place.
Florian Vogel and Nino Schurter
Photo ©: Scott-Swisspower MTB-Racing

In the women's race, Lechner defeated Evelin Staffler (Colnago Arreghini Esercito) and Blaza Klemencic (Felt International MTB Team) although both runners up suffered flats during the race. For a few laps, Swiss Nathalie Schneitter (Colnago Cap Arreghini) was second but then she, too, punctured and ended up in fourth.
Gerhard Kerschbaumer (A.S.V. St.Lorenzen Rad) won the junior men's race despite having to run with his bike for over 2km after experiencing problems with the chain. Righettini could not catch him and finished second.
Elena Spadaccia (Grotte Di Castro Scuola MTB) won the junior women's race.
Photography
For a thumbnail gallery of these images, click here
Images by Scott-Swisspower MTB-Racing
Results

Elite / open men

1 Florian Vogel (Swi) Scott-Swisspower MTB-Racing          1.57.11
2 Nino Schurter (Swi) Scott-Swisspower MTB-Racing             1.05
3 Ralph Naef (Swi) Multivan Merida Biking Team                1.19
4 Marco Aurelio Fontana (Ita) Cannodale Factory Racing        1.46
5 Miguel Martinez (Fra) Felt International MTB Team           3.33
6 Jurg Graf (Swi) Felt International MTB Team                 5.02
7 Andreas Kugler (Swi) Felt International MTB Team            5.28
8 Johnny Cattaneo (Ita) Team Full-Dynamix                     6.37
9 Johann Pallhuber (Ita) Team Silmax Amd Merida A.S.D.        6.46
10 Jochen Kass (Ger) Multivan Merida Biking Team              7.17
11 Martino Fruet (Ita) L'Arcobaleno Carraro Team              7.39
12 Tony Longo (Ita) Team Full-Dynamix                         7.42
13 Marcel Wildhaber (Swi) Scott-Swisspower MTB-Racing         8.05
14 Rudi Van Houts (Ned) Multivan Merida Biking Team           8.06
15 Massimo De Bertolis (Ita) Team Full-Dynamix                9.26
16 Mike Felderer (Ita) Sintesi Corse A.S.D.                  10.13
17 Connor Mcconvey (Irl) Felt International MTB Team         10.15
18 Patrik Gallati (Swi) Scott-Swisspower MTB-Racing          11.03
19 Benjamin Sonntag (Ger) Monavie - Cannondale               12.01
20 Oscar Lazzaroni (Ita) Axevo-Alba Orobia Bike ASD          12.09
21 Giuseppe Lamastra (Ita) Hard Rock Frw A.S.D.              12.16
22 Alexander Gehbauer * (Aut) Rc Arbo Asko Klagenfurt        12.30
23 Nicolas Jeantet * (Ita) CBE Merida ASD                    12.43
24 Robert Gehbauer (Aut) Multivan Merida Biking Team         13.41
25 Mirko Celestino (Ita) Axevo-Alba Orobia Bike ASD          14.11
26 Andrea Giupponi (Ita) Axevo-Alba Orobia Bike ASD          15.17
27 Ramon Bianchi (Ita) Scott R.T.A.S.D.                      15.28
28 Juri Ragnoli (Ita) Felt International MTB Team            16.26
29 Pierluigi Bettelli (Ita) Scott R.T.A.S.D.                 16.51
30 Guenther Huber (Ita) Südtirol Rainer-Wurz Team ASV        18.08
31 Johannes Schweiggl (Ita) Team Silmax Amd Merida A.S.D.    18.53
32 Yader Zoli (Ita) Torpado - 4Us                            19.29
33 Walter Costa (Ita) Adv Corratec                           19.48
34 Giovanni Gatti (Ita) A.S. Roma Sez. Ciclismo              19.58
35 Alex Lupato * (Ita) Team Gebi Sistemi                     20.50
36 Fabrizio Melardi (Ita) Giai Team A.S.D.                   21.37
37 Giovanni Riggi * (Ita) Torpado - 4Us                      22.44
38 Mirko Tabacchi * (Ita) L'Arcobaleno Carraro Team          25.42

Behind one lap

39 Matthias Rupp * (Swi) Scott-Swisspower MTB-Racing              
40 Joel Graf (Swi) Felt International MTB Team                    
41 Filippo Lunatici (Ita) Sintesi Corse A.S.D.                    
42 Marti Di Pierdomenico (U21) (Ita) Hard Rock Frw A.S.D.         
43 Davide Finetto (Ita) Infotre-Lee Cougan A.S.D.                 
44 Ivan Degasperi (Ita) Scott R.T.A.S.D.                          
45 Lukas Platzgummer * (Ita) Sunshine Racers ASV Nals             

Behind two laps

46 Samuele Porro (Ita) CBE Merida ASD                             
47 Carlo Corti Umberto (Ita) CBE Merida ASD                       
48 Marco Bianco (Ita) L'Arcobaleno Carraro Team                   
49 Igor Baretto (Ita) Scott R.T.A.S.D.                            
50 Giovanni Dallera (Ita) KTM - Dayco ASD                         
51 Daniele Concordia (Ita) A.S. Roma Sez. Ciclismo                
52 Marc Metzler * (Swi) Multivan Merida Biking Team               
53 Luca Ronchi (Ita) Team Gebi Sistemi                            
54 Mirko Manarin * (Ita) Conegliano Bike Team                     
55 Moreno Giannini (Ita) Gruppo Sportivo Esercito                 
56 Francesco Niccoli * (Ita) Hard Rock Frw A.S.D.                 
57 Filippo Blanc * (Ita) Team Silmax Amd Merida A.S.D.            
58 Stefano Cattaneo (Ita) Scott R.T.A.S.D.                        
59  Unknown (Arg) Infotre - Leecougan                             
60 Stefano Cilemmi * (Ita) Vallerbike Avis Montaione              
61 Alessio Zamuner (Ita) Team Silmax Amd Merida A.S.D.            
62 Mykhaylo Batsutsa * (Ukr) Full-Dynamix-It                      
63 Marco Spadaccia (Ita) A.S. Roma Sez. Ciclismo                  
64 Massimiliano Cossano (Ita) KTM - Dayco ASD                     
65 Federico Mottaran * (Ita) Axevo-Alba Orobia Bike ASD           
66 Vincenzo Persico * (Ita) Axevo-Alba Orobia Bike ASD     

Behind three laps

67 Giuseppe Michieletto * (Ita) Conegliano Bike Team              
68 Giuseppe Zottini * (Ita) Conegliano Bike Team                  
69 Andrea Granzotto (Ita) Conegliano Bike Team                    
70 Daniele Zorzetto * (Ita) Conegliano Bike Team                  
DNF Stefano Boggia (Ita) X-Team Teramo A.S.D.                     
DNF Roberto Crisi (Ita) Hard Rock Frw A.S.D.                      
DNF Lorenzo Martelli (Ita) Torpado - 4Us                          
DNF Daniele Mensi (Ita) Felt International MTB Team               
DNF Franz Hofer (Ita) Scott R.T.A.S.D.                            
DNF Moritz Milatz (Ger) Multivan Merida Biking Team               
DNF Hannes Genze (Ger) Multivan Merida Biking Team                
DNF Elia Silvestri * (Ita) Colnago Arreghini Esercito             
DNF Michele Casagrande (Ita) Adv Corratec                         
DNF Andrea Dei Tos (Ita) Adv Corratec                             
DNF Matteo Fabbri (Ita) Adv Corratec                              
DNF Roberto Bordo * (Ita) Grotte Di Castro Scuola MTB             
DNF Mirco Widmer * (Swi) Multivan Merida Biking Team              
DNF Tommaso Botti * (Ita) Bike Club 2000 Show Running             
DNF Daniele Pollone (Ita) Giai Team A.S.D.                        
DNF Andrea Bravin * (Ita) Team Granzon                            
DNF Luca Montini * (Ita) Macostateam & Fm Bike A.S.D. 

*Under 23 men                   

Elite / open women

1 Eva Lechner (Ita) Colnago Arreghini Esercito             1.54.40
2 Evelyn Staffler (Ita) Colnago Arreghini Esercito            0.58
3 Blaza Klemencic (Slo) Felt International MTB Team           2.38
4 Nathalie Schneitter (Swi) Colnago Cap Arreghini             6.05
5 Judith Pollinger (Ita) Sunshine Racers ASV Nals            10.29
6 Elena Gaddoni (Ita) Promo-Bike                             10.47
7 Claudia Sieder (Ita) Südtirol Rainer-Wurz Team ASV         15.54
8 Martina Giovanniello (Ita) CBE Merida ASD                  16.56
9 Karin Tosato (Ita) Torpado - 4Us                           19.04
10 Serena Calvetti (Ita) Team Gebi Sistemi                   21.15
11 Elisabetta Borgia (Ita) Hard Rock Frw A.S.D.              24.55
12 Catherine Lohri (Swi) Free Mountain Koba                  28.04
13 Sabrina Di Lorenzo (Ita) A.S. Roma Sez. Ciclismo          29.22
DNF Anna Oberparleiter (Ita) Hard Rock Frw A.S.D.                 
DNF Nicole Perruchon (Ita) KTM - Dayco ASD                        

Junior men 17-18

1 Gerhard Kerschbaumer (Ita) A.S.V. St.Lorenzen Rad        1.38.32
2 Andrea Righettini (Ita) L'Arcobaleno Carraro Team           1.05
3 Filippo Giuliani (Ita) Maffioletti Team                     3.53
4 Michael Pesse (Ita) Cicli Lucchini.Com                      6.12
5 Roberto Giacobazzi (Ita) CBE Merida ASD                     6.56
6 Domenico Valerio (Ita) Adv Corratec                         9.22
7 Roger Walder (Swi) Scott-Swisspower MTB-Racing              9.47
8 Andrea Cina (Ita) Cicli Lucchini.Com                       10.57
9 Igor Smarzaro (Ita) L'Arcobaleno Carraro Team              12.04
10 Mattia Penna (Ita) KTM - Dayco ASD                        13.07
11 Domenico Papaleo (Ita) Loco Bikers                        15.23
12 Nicolas Samparisi (Ita) Macostateam & Fm Bike A.S.D.      17.19
13 Lorenzo Pellegrini (Ita) G.S.Cicli Olympia                17.56
14 Lorenzo Gazocchi (Ita) KTM - Dayco ASD                    19.30
15 Roberto Panzeri (Ita) Axevo-Alba Orobia Bike ASD          20.57
16 Davide Cheraz (Ita) A.S.D.V.C. Courmayeur M.B.            20.59
17 Giuseppe Arena (Ita) Axevo-Alba Orobia Bike ASD           24.05
18 Patrick Marcher (Ita) Südtirol Rainer-Wurz Team ASV       25.21
19 Alessandro Bellotto (Ita) Team Gebi Sistemi               26.33
20 Emanuel Simoncini (Ita) Macostateam & Fm Bike A.S.D.      27.23
21 Nicola Manfredi (Ita) Sintesi Corse A.S.D.                30.55

Behind one lap

22 Giacomo Comitti (Ita) CBE Merida ASD                           
23 Andrea Roncarolo (Ita) KTM - Dayco ASD                         
24 Samuele Volpe (Ita) Cerrano Outdoor                            
25 Kevin Morini (Ita) Grotte Di Castro Scuola MTB                 
26 Federico Biondi (Ita) Raven Team A.S.D.                        
27 Salvatore Caso (Ita) Loco Bikers                               
DNF Davide Barro (Ita) Axevo-Alba Orobia Bike ASD                 
DNF Vittorio Oliva (Ita) Infotre-Lee Cougan A.S.D.                
DNF Denny Lupato (Ita) Team Gebi Sistemi                          
DNF Daniel Rocchiccioli (Ita) Sintesi Corse A.S.D.                
DNF Federico Molgora (Ita) Axevo-Alba Orobia Bike ASD             
DNF Marco Metti (Ita) Bike Club 2000 Show Running                 
DNF Evaldo Ceccarini (Ita) Grotte Di Castro Scuola MTB            
DNF Nicolo' Ferrazzo (Ita) Bike Club 2000 Show Running            
DNF Nicholas Pettina' (Ita) Adv Corratec                          
DNF Alessandro Baricchi (Ita) Canossa Merida                      
DNF Michele Sergio (Ita) Canossa Merida                           

Junior women 17-18

1 Elena Spadaccia (Ita) Grotte Di Castro Scuola MTB        1.22.51
2 Marta Pastore (Ita) Team Gebi Sistemi                       0.38
3 Chiara Pastore (Ita) Team Gebi Sistemi                      2.33
DNF Alessandra Bergamin (Ita) L'Arcobaleno Carraro Team           

Junior men 16

1 Edoardo Bonetto (Ita) Team Gebi Sistemi                    30.25
2 Lorenzo Samparisi (Ita) Macostateam & Fm Bike A.S.D.        0.01
3 Davide Aguzzi (Ita) Macostateam & Fm Bike A.S.D.            1.11
4 Matteo Caldi (Ita) Team Gebi Sistemi                        2.06
5 Enrico Borettaz (Ita) Cicli Lucchini.Com                    2.12
6 Matteo Spinetti (Ita) Elba Bike                             2.48
7 Andrea Ostan (Ita) Bike Club 2000 Show Running              3.23
8 Antonio Lavieri (Ita) A.S.D. Val D'agri                     3.42
9 Ivano Billi (Ita) ASD. Nolese Condor Team La                3.58
10 Unknown (Ita) Hard Rock Frw A.S.D.                         4.26
11 Luigi Capasso (Ita) Canossa Merida                         5.56
12 Mohammed El Idrissi (Mar) Canossa Merida                   5.58
13 Arald Garbolino (Ita) A.S.D.V.C. Courmayeur M.B.           6.03
14 Francesco Pisu (Ita) U.C.Anagni Cicli Nereggi A.S.D.       6.35
15 Alberto Motetta (Ita) Team Gebi Sistemi                    7.25
16 Matteo Rossi (Ita) A.S.D. S.C. Ceretolese 1969             7.36
17 Nicolo' Tomasin (Ita) Genoa Bike A.S.D.                    8.51

Junior men 15

1 Denis Fumarola (Ita) KTM - Dayco ASD                       31.10
2 Alessandro Repetti (Ita) Hard Rock Frw A.S.D.               0.53
3 Leonaal1 Di Pierdomenico (Ita) Hard Rock Frw A.S.D.         1.32
4 Jacopo Billi (Ita) ASD. Nolese Condor Team La               1.52
5 Alessandro Lanzanova (Ita) S. C. Brugherio Sportiva ASD     5.06
6 Thierry Montrosset (Ita) A.S.D.V.C. Courmayeur M.B.         5.16
7 Antonio Spagnolo (Ita) Canossa Merida                       5.38
8 Emanuele Crisi (Ita) Hard Rock Frw A.S.D.                   6.16
9 Hanza Tokmic (Ita) Hard Rock Frw A.S.D.                     6.17
10 Martino Crippa (Ita) Elba Bike                             7.17
11 Nicola Stefanelli (Ita) Team Valdinievole A.S.D.           9.18
12 Lorenzo Ruffini (Ita) Team Gebi Sistemi                   10.46

Junior women 15-16
1 Alessia Bulleri (Ita) Elba Bike                            24.01
2 Giulia Gaspardino (Ita) KTM - Dayco ASD                     0.37
3 Alessandra Bianchetta (Ita) KTM - Dayco ASD                 1.11
4 Sara De Leo (Ita) Cicli Lucchini.Com                        1.49
5 Miriam Corti (Ita) Rampi Club Brianza                       2.31
6 Alessia Aimone Secat (Ita) ASD. Nolese Condor Team La       3.51

Junior men 14

1 Matteo Berta (Ita) KTM - Dayco ASD                         21.58
2 Eddy Riggi (Ita) Torpado - 4Us                              0.39
3 Eros Capati (Ita) Grotte Di Castro Scuola MTB               2.11
4 Francesco Campo (Ita) Elba Bike                             5.42
5 Andrea Bonifazi (Ita) Raven Team A.S.D.                     6.52
6 Dario Benassi (Ita) Vallerbike Avis Montaione               9.41
7 Lorenzo Checcucci (Ita) Vallerbike Avis Montaione          18.28

Junior men 13

1 Lorenzo Foletto (Ita) Cicli Lucchini.Com                   24.30
2 Nehuen Truc (Ita) Cicli Lucchini.Com                        0.37
3 Alberto Fornero (Ita) ASD. Nolese Condor Team La            0.42
4 Francesco Berta (Ita) KTM - Dayco ASD                       0.49
5 Gleb Baranov (Est) Grotte Di Castro Scuola MTB              1.46
6 Matteo Maurizi (Ita) Grotte Di Castro Scuola MTB            4.55
7 Silvio Mercantini (Ita) Grotte Di Castro Scuola MTB         5.06
8 Enrico Poponi (Ita) Grotte Di Castro Scuola MTB             7.15
9 Marco Carozzo (Ita) Elba Bike                              19.55

Junior women 13

1 Francesca Costa (Ita) Grotte Di Castro Scuola MTB          20.03
2 Miriana Lo Cascio (Ita) Vallerbike Avis Montaione           1.12