MTB index page for all MTB content
Coupe de France VTT XC - 1
St-Raphael, France, March 28-29, 2009
Main Page Results Previous Race
Race 2 - March 29: Cross country: Elite, U23, Junior, Cadet & Open men
Gutierrez continues winning ways
Ivan Alvarez Gutierrez (Giant Italia)
Photo ©: Team Giant Italia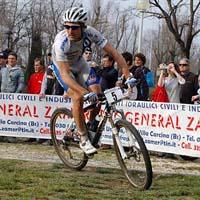 Spaniard Ivan Alvarez Gutierrez (Giant Italia) collected a win at round one of the Coupe de France VTT on Sunday. Gutierrez preceded two Frenchman: Jean-Christophe Péraud (Massi) in second and Alexis Vuillermoz (Lapierre International) in third.
Coming off two victories in Banyoles, Spain, and Montichiari, Italy, in recent weeks Gutierrez was the favourite going into the race even though Julien Absalon, Olympic Champion, was also present.
Orbea's Absalon led the group on the first lap, and he was followed by Gutierrez, Miguel Martinez (Felt Internationa), Cédric Ravanel (Lapierre International) and Vuillermoz. On the second lap, Gutierrez was at the front. His win was a close one, with Peraud just six seconds behind him. Vuillermoz finished not much further back, at 13 seconds.
Weather conditions and the track caused several technical problems, and Absalon was among those who withdrew. He pulled out of the race on the second lap.
Photography
For a thumbnail gallery of these images, click here
Images by Team Giant Italia
Results

Elite & U23 men

1 Ivan Alvarez Gutierrez (Spa) Giant Italia                            1.46.19
2 Jean Christophe Peraud (Fra) Massi                                      0.06
3 Alexis Vuillermoz (Fra) Lapierre International                          0.13
4 Miguel Martinez (Fra) Felt International Mtb Team                       1.21
5 Stephane Tempier (Fra) Tx Active Bianchi                                1.51
6 Cedric Ravanel (Fra) Lapierre International                             2.16
7 François Bailly Maitre (Fra) Scott Valloire Galibier                    3.40
8 Andrea Tibery (Fra) Tx Active Bianchi                                   4.24
9 Guillaume Vinit (Fra) Scott Valloire Galibier                           5.33
10 Ludovic Dubau (Fra) New Cycling                                        5.58
11 Fabien Canal (Fra) Lapierre International                              6.20
12 Kohei Yamamoto (Jpn) La Pomme Marseille Mbk                            6.37
13 Diego Rosa (Ita) Giant Italia                                          7.33
14 Thomas Lapeyrie (Fra) Scott Valloire Galibier                          7.46
15 Marc Colom (Fra) Calvisson Vtt                                         8.46
16 Arnaud Hacquard (Fra) Creuse Oxygene Specialized                       9.50
17 Anthony Grenet (Fra) Master Team Offroad                              10.07
18 Vivien Legastelois (Fra) Bh-Suntour                                   11.24
19 Frédéric Frech (Fra) Scott Valloire Galibier                          11.29
20 Arnaud Grosjean (Fra) Bh-Suntour                                      11.36
21 Ruben Ruzafa Cueto (Fra) Orbea                                        11.42
22 Jonathan Galante (Fra) Creuse Oxygene Specialized                     12.02
23 Freddy Betremieux (Fra) Bh-Suntour                                    12.36
24 Ludovic Mottet (Bel)                                                  13.07
25 Jo Thorson Nordskar (Nor)                                             13.24
26 Benoit Igoulen (Fra) Look Beaumes De Venise                           13.34
27 Sebastien Lefevre (Fra) Sefic Scapin Xtrabike.Com                     14.12
28 Gilles Sarrazin (Fra) Bh-Suntour                                      14.27
29 Anders Hovdenes (Nor)                                                 14.43
30 Paul Remy (Fra) Irwego Commencal                                      15.18
31 Thibaut Bellanger (Fra) Veloroc Lapierre                              15.20
32 Olivier Chauvet (Fra) Aix Vtt Thrifty                                 15.23
33 Pierre Geoffroy Plantet (Fra) Lapierre International                  15.42
34 Julien Lopez (Fra) Culture Velo Nice                                  15.49
35 Amaury Gernez Aurenge (Fra) Keops                                     16.24
36 Connor Mcconvey (Irl)                                                 17.22
37 Dorian Lagier (Fra) Hyperu/Wilier/Gap                                 17.53
38 Jérémy Arnould (Fra) Irwego Commencal                                 18.54
39 Pierre Lebreton (Fra) Bh-Suntour                                      18.58
40 Thomas Janin (Fra) Look Beaumes De Venise                             19.26
41 Thibaud Lhenry (Fra) Master Team Offroad                              19.48
42 Florent Pelizzari (Fra) Egobike                                       20.07
43 Hugo Navarian (Fra) Keops                                             20.53
44 Romain Gihoul (Bel) Belgian Cycling Team Espoir                       20.59
45 Romuald Gillard (Fra) Pro Fermetures Wilier                           21.19
46 Kevin Le Cunff (Fra) Les Bleus De France                              21.22
47 Antoine Lavieu (Fra) Omnium Cycliste Raphaelois                       21.23
48 Rudy Decas (Fra) V.C.La Souterraine                                   21.25
49 Gilles Vigne (Fra) Veloroc Lapierre                                   22.19
50 Pierre Pous (Fra) Calvisson Vtt                                       22.23
51 Loic Ladreyt (Fra) Marseille Vtt Passion Haibike                      22.33
52 Florian Piens (Fra) Veloroc Lapierre                                  23.01
53 Yohann Piguet (Fra) Sefic Scapin Xtrabike.Com                         23.30
54 Thomas Collinet (Fra) Sefic Scapin Xtrabike.Com                       23.45
55 Eddy Lamoureux (Fra) U.V.Aube                                         24.14
56 Octavien Maillard (Fra) Egobike                                       24.31
57 Clément Souvray (Fra) As De Fondettes Vtt                             25.11
58 Thibaud Raymond (Fra) Look Beaumes De Venise                          25.11
59 Miguel Fillaut (Fra) Odalys-Guedard                                   25.20
60 Jacky Le Port (Fra) Pays Des Abers-Gt-Sugoi                           26.24
61 Maxime Folco (Fra) C.A. Peymeinade                                    26.27
62 Damien Piquemal (Fra) Roue D'or Annecy                                26.35
63 Thibault Delpuech (Fra) U. C. Creuzier Le Vieux                       27.04
64 Arnaud Taurelle (Fra) Egobike                                         27.19
65 Yvan Jeannerod (Fra) Vtt Plateau Lizon-Sunn                           27.31
66 Ludovic Benoit (Fra) Egobike                                          27.59
67 Sébastien Hansen (Fra) Bh-Suntour                                     29.09
68 Quentin Netillard (Fra) Egobike                                       29.35
69 Anthony Gauthier (Fra) Velo Sport Combellois                          30.02
70 Christophe Launay (Fra) Pro Fermetures Wilier                         30.22
71 Jérémy Marchal (Fra) La Voge Vtt                                      30.26
72 Laurent Mineur (Fra)                                                  30.39
73 Sebastien Monceaux (Fra) Ca Evron                                     30.54
74 Benoit Beaud (Swi) Bikepark.Ch                                        31.07
75 Julien Ballion (Fra) Vo2                                              31.17
76 Francois Carloni (Fra) Omnium Cycliste Raphaelois                     32.09
77 Nicolas Bouchet Bert Manoz (Fra) Planete 2 Roues - Lozere             32.09
78 Fabrice Leguevaques (Fra) Calvisson Vtt                               32.29
79 Julien Tournebize (Fra) Roue D'or Annecy                              32.34
80 Nicolas Martin (Fra) Us Metro Transports                              32.53
81 Pierre Morque (Fra) Cc Et Vtt Badonviller                             32.59
82 Maxime Ottmann (Fra) Egobike                                          33.19
83 Jonas Buchot (Fra) Clic Chambery Savoie                               33.38
84 Sébastien Le Naour (Fra) Breiz Mountain                               34.24
85 Joris Bagnol (Fra) La Pomme Marseille Mbk                             35.37
86 Emilien Mourier (Fra) Creuse Oxygene Specialized                      36.19
87 Nicolas Cadene (Fra) Aix Vtt Thrifty                                  37.16
88 Steven Garcin (Fra) Bh-Suntour                                        38.07
89 Arnaud Sauvaget (Fra) Vtt Conliege Jura Bassin De L                   41.06
90 Julien Bardin (Fra) O.C.C. Antibes                                    41.32
91 Eric David (Fra) A.S.C. Macot La Plagne                               43.03
92 Christophe Girod (Fra) Roue D'or Annecy                               44.07
93 Clement Martin (Fra) Calvisson Vtt                                    45.11
94 Jean Emmanuel Christol Scalieri (Fra) Planete 2 Roues - Lozere             
95 Paul Gaillard (Fra) Creuse Oxygene Specialized                             
96 Kieran Page (GBr) Culture Velo Nice                                        
97 Eddie Henry (Fra) Velo Club Saint-Lo -Pont-Hebe                            
98 Nicolas Malhouitre (Fra) U.Cycl St Chely D'apcher                          
99 Rudy Venouil (Fra) Marseille Vtt Passion Haibike                           
100 Thibault Sabatier (Fra)                                                   

U23 men

1 Alexis Vuillermoz (Fra) Lapierre International                       1.46.31
2 Guillaume Vinit (Fra) Scott Valloire Galibier                           5.20
3 Fabien Canal (Fra) Lapierre International                               6.08
4 Thomas Lapeyrie (Fra) Scott Valloire Galibier                           7.33
5 Arnaud Hacquard (Fra) Creuse Oxygene Specialized                        9.37
6 Anthony Grenet (Fra) Master Team Offroad                                9.55
7 Vivien Legastelois (Fra) Bh-Suntour                                    11.11
8 Freddy Betremieux (Fra) Bh-Suntour                                     12.23
9 Benoit Igoulen (Fra) Look Beaumes De Venise                            13.21
10 Gilles Sarrazin (Fra) Bh-Suntour                                      14.14
11 Thibaut Bellanger (Fra) Veloroc Lapierre                              15.08
12 Olivier Chauvet (Fra) Aix Vtt Thrifty                                 15.10
13 Julien Lopez (Fra) Culture Velo Nice                                  15.36
14 Amaury Gernez Aurenge (Fra) Keops                                     16.11
15 Dorian Lagier (Fra) Hyperu/Wilier/Gap                                 17.41
16 Jérémy Arnould (Fra) Irwego Commencal                                 18.41
17 Thomas Janin (Fra) Look Beaumes De Venise                             19.14
18 Thibaud Lhenry (Fra) Master Team Offroad                              19.36
19 Florent Pelizzari (Fra) Egobike                                       19.54
20 Hugo Navarian (Fra) Keops                                             20.40
21 Romain Gihoul (Bel) Belgian Cycling Team Espoir                       20.46
22 Kevin Le Cunff (Fra) Les Bleus De France                              21.09
23 Antoine Lavieu (Fra) Omnium Cycliste Raphaelois                       21.11
24 Pierre Pous (Fra) Calvisson Vtt                                       22.11
25 Loic Ladreyt (Fra) Marseille Vtt Passion Haibike                      22.21
26 Florian Piens (Fra) Veloroc Lapierre                                  22.48
27 Thomas Collinet (Fra) Sefic Scapin Xtrabike.Com                       23.32
28 Octavien Maillard (Fra) Egobike                                       24.19
29 Clément Souvray (Fra) As De Fondettes Vtt                             24.58
30 Thibaud Raymond (Fra) Look Beaumes De Venise                          24.58
31 Miguel Fillaut (Fra) Odalys-Guedard                                   25.07
32 Maxime Folco (Fra) C.A. Peymeinade                                    26.15
33 Arnaud Taurelle (Fra) Egobike                                         27.07
34 Yvan Jeannerod (Fra) Vtt Plateau Lizon-Sunn                           27.18
35 Ludovic Benoit (Fra) Egobike                                          27.46
36 Quentin Netillard (Fra) Egobike                                       29.23
37 Jérémy Marchal (Fra) La Voge Vtt                                      30.13
38 Laurent Mineur (Fra)                                                  30.26
39 Sebastien Monceaux (Fra) Ca Evron                                     30.41
40 Benoit Beaud (Swi) Bikepark.Ch                                        30.54
41 Julien Ballion (Fra) Vo2                                              31.05
42 Nicolas Bouchet Manoz (Fra) Planete 2 Roues - Lozere                  31.56
43 Fabrice Leguevaques (Fra) Calvisson Vtt                               32.16
44 Maxime Ottmann (Fra) Egobike                                          33.07
45 Joris Bagnol (Fra) La Pomme Marseille Mbk                             35.25
46 Nicolas Cadene (Fra) Aix Vtt Thrifty                                  37.04
47 Clement Martin (Fra) Calvisson Vtt                                    44.59
48 Paul Gaillard (Fra) Creuse Oxygene Specialized                             
49 Eddie Henry (Fra) Velo Club Saint-Lo -Pont-Hebe                            
50 Rudy Venouil (Fra) Marseille Vtt Passion Haibike                           
51 Thibault Sabatier (Fra)                                                    

U23 open regional men

1 Harold Flandre (Fra) S.S.O.L. Habsheim                               1.40.42
2 Jules Chabanon (Fra) A C Bazancourt Reims                               0.00
3 Guillaume Henry (Fra) Vtt Fun Club                                      0.14
4 Frederic Delarce (Fra) Planete 2 Roues - Lozere                         0.22
5 Basile Monvoisin (Fra) Vtt Fun Club                                     1.05
6 Romain Castelli (Fra) Veloroc Lapierre                                  1.19
7 Fabien Bragagia (Fra) U.S.Giromagny Vtt                                 1.47
8 Pierre Curien (Fra) Vtt Fun Club                                        2.06
9 Thomas Capitaine (Fra) Pays Des Abers-Gt-Sugoi                          2.24
10 Romain Cleret (Fra) Cotes D'Armor                                      2.28
11 Mathieu Ballion (Fra) Vo2                                              2.40
12 Nicolas Vanuxem (Fra) Marseille Vtt Passion Haibike                    3.03
13 David Missud (Fra) Alpes De Haute Provence                             3.05
14 Frederic Gombert (Fra) Uc Aire Barcelonne                              3.12
15 Maxime Le Guen (Fra) Pays Des Abers-Gt-Sugoi                           3.15
16 Jonathan Lecourt (Fra) Gardanne Velo                                   3.19
17 Grégory Maillot (Fra) Association Cycles Passion Reunion               3.22
18 Jimmy Pigache (Fra) Uc Darnetal                                        3.31
19 Thomas Badre (Fra) Roue D'or Annecy                                    4.04
20 Denis Miramond (Fra) Bike Aventure                                     4.06
21 Renan Goude (Fra) Vario Racing                                         4.32
22 Adrien Bruand (Fra) Pro Fermetures Wilier                              4.39
23 Cedric Bex (Fra) Calvisson Vtt                                         4.43
24 Nicolas Bonnieu (Fra) Aveyron Vtt                                      5.40
25 Julien Poquet (Fra) C.C.V.S.A Vtt                                      6.06
26 Jimmy Le Clainche (Fra) 95-Us Domont                                   6.48
27 Robin Defever (Fra) Planete 2 Roues - Lozere                           7.17
28 Alexandre Barberoux (Fra) Master Team Offroad                          7.24
29 Maxime N'guyen (Fra) Union Sportive Melunaise                          7.36
30 Romain Truchot (Fra) Mesvrin Vtt                                       7.42
31 Michael Carbo (Fra) Amicale Cycliste Illoise                           8.13
32 Jonathan Lefevre (Fra) Velo Club Saint-Lo -Pont-Hebe                   8.43
33 Benjamin Bonneuil (Fra) Go-Sport C.V Pernes                            8.58
34 Albert Blot (Fra) Aix Vtt Thrifty                                      9.00
35 Simon Negrignat (Fra) Eco Villeurbannais                               9.13
36 Arthur Lehec (Fra) Qbikes Maule Epone                                  9.16
37 Gregory Frison (Fra) La Motte Servolex Cyclism                         9.22
38 Guillaume Guilbaud (Fra) Vendee Vtt                                    9.26
39 Mathieu Casier (Fra) Esc De Bully                                      9.32
40 Benjamin Breil (Fra) Aveyron Vtt                                      10.19
41 Jonathan Dailliez (Fra) Saint Cyr Okibike Vtt                         10.24
42 Jeremy Lemoine (Fra) Frejus Roc D'azur                                10.29
43 Gwenael Morra (Fra) Alpes De Haute Provence                           11.43
44 Vincent Schmit (Fra) Club Sports Loisirs Chamberet-Chateaun           12.06
45 Alexandre Malzac (Fra) Clic Chambery Savoie                           12.28
46 Boris Favario (Fra) Clic Chambery Savoie                              12.28
47 Benjamin Delattre (Fra) Aix V.T.T. Thrifty                            12.56
48 Thomas Renoux (Fra) Vo2                                               12.58
49 Vincent Ferry (Fra) Uc Aire Barcelonne                                13.05
50 Cedric Debortoli (Fra) La Roue Des Grands Bois                        13.59
51 Sebastien Magne (Fra) Jarnac V.T.T.                                   14.18
52 Romain Gronchi (Fra) Latitude Vtt                                     14.19
53 Thibaud Le Coguic (Fra) V.C. Rumillien                                14.30
54 Aubin Favre Felix (Fra) Roue D'or Annecy                              14.31
55 Erwan Goasguen (Fra) Pays Des Abers-Gt-Sugoi                          14.36
56 Bruno Donnangricchia (Fra) Mtb Ventoux                                14.48
57 Mickael Campourcy (Fra) Accro'velo Massi                              15.08
58 Julien Oberti (Fra) 95-Us Domont                                      15.13
59 Anthony Lefevre (Fra) Velo Club Saint-Lo -Pont-Hebe                   15.14
60 Fabien Peden (Fra) Pays Des Abers-Gt-Sugoi                            15.17
61 Ronan Oppeneau (Fra) Acam Team                                        15.23
62 Kévin Cellier (Fra) Calvisson Vtt                                     15.35
63 Samuel Marie (Fra)                                                    15.37
64 Guillaume Gaubour (Fra) E.S. St Martin D Heres                        16.41
65 Cyril Battiston (Fra) Aix V.T.T. Thrifty                              17.55
66 Arnaud Labbadie (Fra) Vo2                                             19.24
67 Valentin Omnes (Fra) Pays Des Abers-Gt-Sugoi                          19.49
68 Damien Duplessis (Fra) Team 16 Vtt                                    20.23
69 Julian Fontaine (Fra) Team Des Costes Pelissanne                      20.26
70 Nicolas Levasseur (Fra) Es Arques                                     20.37
71 Aurelien Hilaire (Fra) Golene Evasion                                 21.14
72 Victor Humberdot (Fra) Vc Saulceen Elbeuf Les Thuits Vo               21.54
73 Julian Galibert (Fra) Planete 2 Roues - Lozere                        22.06
74 Jean Noel Motot (Fra) Velo Roc Cavaillon                              22.34
75 Théo Pailhe (Fra) Grenade Team Vtt                                    22.57
76 Jerome Poujol (Fra) Planete 2 Roues - Lozere                          23.33
77 Guillaume Bordeau (Fra) Vtt St Amand Les Eaux                         23.46
78 Mickael Da Matha (Fra) Mjc Vtt Du Canton Vert                         24.13
79 Florian Baudinaud (Fra) Team 16 Vtt                                   24.20
80 Yohan Trimoulet (Fra) Accro'velo Massi                                25.21
81 Jean Baptiste Boudot (Fra) Vtt Givry                                  25.23
82 Jean Philippe Mercier (Fra) V.C.C. Morteau Montbenoit                 25.32
83 Thomas William Didier (Fra) Club Cycliste Boulou                      25.35
84 Aurelien Giordanengo (Fra) Aytongiant/Les 2 Alpes/X1 Rac              26.14
85 Arno Faucher (Fra) Aytongiant/Les 2 Alpes/X1 Rac                      26.17
86 Stéphane Hugonnet (Fra) Vtt Massif Jura                               26.41
87 Flavien Grasset (Fra) Latitude Vtt                                    27.19
88 Florian Rosillo (Fra) Roue D'or Annecy                                27.27
89 Damien Rinaudo (Fra) Ramatuelle Mountain Bike                         27.52
90 Mathieu Badier (Fra) Velo Club Gapencais                              29.05
91 Yannick Scofet (Fra) Vtt Saint Maximin                                31.11
92 Elvis Lambert (Fra) Cercle Cycl. Mainsat Expert                       31.31
93 Henri Alex Poirier (Fra) As De Fondettes Vtt                          33.25
94 Aurélien Arizzi (Fra) Ovtt Lillebonne                                 33.55
95 Yoann Jacquemin (Fra) Bicross Speed Racing                            34.23
96 Pierre Rostain (Fra) Golene Evasion                                   35.17
97 Robin Toledo (Fra) Velo Roc Cavaillon                                 36.02
98 Lucas Fouquet (Fra) Al La Chapelle St Ursin                           46.02
99 Valentin Fontaine (Fra) Cc Liffre                                     46.03
100 Thibaut Trezieres (Fra) Qbikes Maule Epone                           46.05
101 Jean Vianney Daubelcour (Fra) Club Cycliste De Die                        
102 Antonin Hudrisier (Fra) Grenade Team Vtt                                  
103 Remy Crappeel (Fra) A.C. Beaumes De Venise                                

Junior men

1 Titouan Perrin Ganier (Fra) Irwego Commencal                         1.30.16
2 Jordan Sarrou (Fra) Creuse Oxygene Specialized                          0.57
3 Hugo Drechou (Fra) Cami Calent Catala                                   2.44
4 Lucien Tournay (Bel) Belgian Cycling Team Junior                        3.42
5 Thibault Marquet (Fra) Cotes D'Armor                                    4.03
6 Bart Devocht (Bel) Belgian Cycling Team Junior                          4.06
7 Alexandre Savoye (Fra) Look Beaumes De Venise                           4.35
8 Julien Trarieux (Fra) Culture Velo Nice                                 5.16
9 Benjamin Boulenc (Fra) Cami Calent Catala                               5.29
10 Christopher Deguelle (Bel) Belgian Cycling Team Junior                 5.57
11 Simon Peyroux (Fra) Qbikes Maule Epone                                 6.36
12 Jeff Luyten (Bel) Belgian Cycling Team Espoir                          7.14
13 Marvin Gruget (Fra) Look Beaumes De Venise                             7.33
14 Arthur Tropardy (Fra) Uc Darnetal                                      7.35
15 Pierre Luc Vaxelaire (Fra) Look Beaumes De Venise                      8.03
16 Alrick Martin (Fra) Egobike                                            8.21
17 Maxime Salmon (Fra) Keops                                              8.26
18 Benjamin Delfino (Fra) Asptt Definitive Gitane                         8.28
19 Lucas Redois (Fra) Master Team Offroad                                 8.38
20 Marius Louvet (Fra) Master Team Offroad                                8.41
21 Matthieu Perrusset (Fra) Master Team Offroad                           8.41
22 Kevin Miquel (Fra) Veloroc Lapierre                                    9.05
23 Sébastien Moya (Fra) Cami Calent Catala                                9.19
24 Aurélien Daniel (Fra) Breiz Mountain                                   9.32
25 David Menut (Fra) Creuse Oxygene Specialized                           9.37
26 Antoine Guiliani (Fra) Culture Velo Nice                              11.25
27 Thomas Decugis (Fra) Aix Vtt Thrifty                                  12.13
28 Thibault Fournier (Fra) Velo Club Vedasien                            12.22
29 Olivier Ferrari (Fra) Vtt Vcco 17                                     12.38
30 Fabrice Mels (Bel) Belgian Cycling Team Junior                        12.51
31 Rémi Laffont (Fra) Look Beaumes De Venise                             12.59
32 Valentin Revaux (Fra) U.C.H.A.V. Pays De L'ain Vtt                    13.02
33 Loic Gautret (Fra) Look Beaumes De Venise                             13.25
34 Quentin Come (Fra) Ca Evron                                           13.37
35 Maxime Laurent (Fra) Veloroc Lapierre                                 13.49
36 Florent Mottet (Fra) Rvco Blancs Gilets                               14.17
37 Nicolas Rossignol (Fra) Vtt Fun Club                                  14.21
38 Quentin Le Dizes (Fra) Keops                                          14.29
39 Thomas Talon (Fra) Omnium Cycliste Raphaelois                         14.59
40 Clément Saint Martin (Fra) Ovtt Lillebonne                            15.00
41 Nicolas Genebrier (Fra) U. C. Creuzier Le Vieux                       15.02
42 Antoine Socquet Juglard (Fra) V.C. Praz Sur Arly                      15.18
43 Emilien Viennet (Fra) Bh-Suntour                                      15.21
44 Guillaume Muller (Fra) Vtt Fun Club                                   15.29
45 Karl Poirier (Fra) Bh-Suntour                                         15.30
46 Romain Damiano (Fra) Saint Cyr Okibike Vtt                            15.42
47 Thomas Fautrero (Fra) Asptt Definitive Gitane                         15.49
48 Axel Richard (Fra) Velo Club Saint-Lo -Pont-Hebe                      16.12
49 Florian Boyer Resses (Fra) Aix Vtt Thrifty                            16.57
50 Bastien Rolland (Fra) A.S.P.T.T. Briancon                             17.01
51 Benjamin Blanc (Fra) Egobike                                          17.11
52 Remi Gueydan (Fra) Roue D'or Annecy                                   17.59
53 Anthony David (Fra) Look Beaumes De Venise                            18.37
54 Remy Bourdon (Fra) R. Vtt                                             18.39
55 François Voitey (Fra) Vtt Conliege Jura Bassin De L                   18.43
56 Thibault Buis (Fra) Gardanne Velo                                     18.47
57 Stephane Consani (Fra) Gardanne Velo                                  19.02
58 Arnaud Fabre (Fra) Mjc Vtt Du Canton Vert                             19.12
59 Julien Bely (Fra) Vendee Vtt                                          19.21
60 Alban Perrono (Fra) Cotes D'Armor                                     19.33
61 Jonathan Altmeyer (Fra) U.S.Giromagny Vtt                             19.44
62 Vincent Gilles (Fra) Look Beaumes De Venise                           19.46
63 Tristan Petit (Fra) V.A.Chatel Guyon Volvic                           19.46
64 Pierre Yves Quehe (Fra) Cotes D'Armor                                 19.52
65 Benoît Clement (Fra) As De Fondettes Vtt                              20.00
66 Mathieu Hun (Fra) Vc Des Cinq Chateaux                                20.05
67 Pierre Dubois Dit Laroy (Fra) U.S.Giromagny Vtt                       20.11
68 Anthony Cheneau (Fra) Vc Lisieux                                      20.12
69 Clément Pelletier (Fra) Vtt Conliege Jura Bassin De L                 20.18
70 Martin Veve (Fra) Veloroc Lapierre                                    20.28
71 Ugo Ferrari (Fra) Clic Chambery Savoie                                20.33
72 Clement Escalier (Fra) Ec Alesienne                                   20.42
73 Quentin Burillard (Fra) Velo Club Dolois                              21.24
74 Loic Gazelle (Fra) Aix Vtt Thrifty                                    21.38
75 Antonin Gourgin (Fra) Clic Chambery Savoie                            21.55
76 Maxime Rouzairol (Fra) Club Sports Loisirs Chamberet-Chateaune        22.14
77 Fabio Knauf (Fra) Veloroc Lapierre                                    22.40
78 Joseph Truffinet (Fra) Creuse Oxygene                                 22.54
79 Maxime Gomme (Fra) Uc Darnetal                                        23.06
80 Romain Philipp (Fra) Asptt Definitive Gitane                          23.31
81 Edouard Bouqueret (Fra) Vc Saulceen Elbeuf Les Thuits Vo              23.35
82 Romain Floch (Fra) Cotes D'Armor                                      23.52
83 Pierre Martin (Fra) Velo Club Dolois                                  24.07
84 Clement Rouget (Fra) Keops                                            24.37
85 Charlelie Cantaloube (Fra) Aveyron Vtt                                24.39
86 Pierre Guigues (Fra) E.C. St Cyrienne                                 24.58
87 Adrien Le Meur (Fra) Pays Des Abers-Gt-Sugoi                          25.12
88 Damien Desuzinge (Fra) Vtt Leman                                      25.34
89 Matthieu Dellac (Fra) Vo2                                             25.47
90 Adrien Carpentier (Fra) Qbikes Maule Epone                            25.55
91 Timoté Gaugry (Fra) Vttclub Gevrey Chambertin                         26.26
92 Corentin Gerault (Fra) Asptt Definitive Gitane                        26.38
93 Pieter Jan Kindermans (Bel) Belgian Cycling Team Espoir               27.19
94 Marvin Mace (Fra) Cotes D'Armor                                       27.30
95 Philippe Weiland (Fra) Thionville Vtt                                 27.30
96 Etienne Fort (Fra) Vendee Vtt                                         27.38
97 Lucas Garbellotto (Fra) Chouet'bike Club                              27.42
98 Julien Eliot (Fra) Cs Gravenchon                                      28.06
99 Benjamin Chaumont (Fra) Uv Louviers                                   28.11
100 Alexandre Gratia (Fra) C.A. Peymeinade                               28.19
101 Arthur Braneyre (Fra) Latitude Vtt                                   28.39
102 Kévin Roux (Fra) Accro'velo Massi                                    30.09
103 Rodolphe Lestievent (Fra) Vtt Conliege Jura Bassin De L              30.50
104 Martin Gortais (Fra) Ekip Magic Armor                                30.59
105 Kevin Rage (Fra) V.C. Brignais                                       32.02
106 Matthieu Seguy (Fra) Velo Club Mende Lozere                          32.42
107 Gaetan Bayard (Fra) Hyperu/Wilier/Gap                                33.31
108 Vincent Fradin (Fra) Energy Cycle Mozac                              33.49
109 Jérôme Formal (Fra) Accro'velo Massi                                 34.51
110 Luca Mapelli (Fra) Alpes De Haute Provence                           37.07
111 Thomas Coussanes (Fra) Ramatuelle Mountain Bike                      37.21
112 Romain Bihel (Fra) Vo2                                               37.30
113 Ludvik Fernandes (Fra) Cycl Seyssinet Seyssins                       38.01
114 Dimitri Bernard Granger (Fra) V.C. Rumillien                         38.09
115 Nicolas Renchet (Fra) Hyperu/Wilier/Gap                              38.51
116 Ludovic Campana (Fra) Mjc Vtt Du Canton Vert                         38.55
117 Ronan Marta (Fra) Qbikes Maule Epone                                 39.12
118 Rodolphe Hilaire (Fra) Planete 2 Roues - Lozere                      39.12
119 Gaëtan Emond (Fra) C.C.V.S.A Vtt                                     39.33
120 Guillaume Le Goudec (Fra) Vc Beaunois                                40.00
121 Guillaume Gauthier (Fra) Vtt Conliege Jura Bassin De L               40.38
122 Xavier Davia (Fra) Bearn Vtt Gave Et Coteaux                         43.41
123 Yael Houillon (Fra) Calvisson Vtt                                    43.46
124 Christopher Jourden (Fra) Cotes D'Armor                              46.08
125 Florian Chauvelin (Fra) Velo Club D'amberieu                         46.50
126 Denis Canciani (Fra) U.C.H.A.V. Pays De L'ain Vtt                    48.39
127 Valentin Noebes Tourres (Fra) Hyperu/Wilier/Gap                      50.10
128 Anthony Grosset (Fra) V.C.La Souterraine                             50.26
129 Florian Gobry (Fra) Team 16 Vtt                                           
130 Jean Baptiste Ghibaudo (Fra) C.A. Peymeinade                              
131 Mathieu Liautaud (Fra) Alpes De Haute Provence                            
132 Remy Mouttet (Fra) Vtt Club Pradetan                                      
133 Hugo Bondoux (Fra) Vtt Conliege Jura Bassin De L                          
134 Alexis Antoine (Fra) Asptt Definitive Gitane                              

Cadet men

1 Thibault Geneste (Fra) Mjc Vtt Du Canton Vert                        1.03.20
2 Maxime Urruty (Fra) Culture Velo Nice                                   1.33
3 Charles Planet (Fra) Remiremont Vtt                                     1.34
4 Quentin Charles (Fra) Cycl Seyssinet Seyssins                           1.35
5 Pieter Geluykens (Fra) Trek                                             2.09
6 Mathieu Begouaussel (Fra) Look Beaumes De Venise                        2.10
7 Kevin Heyrault (Fra) Saint Cyr Okibike Vtt                              2.47
8 Mathieu Chaussepied (Fra) Aix Vtt Thrifty                               3.16
9 Joshua Bednarski (Fra) Clic Chambery Savoie                             4.05
10 Thibault Poussin (Fra) U.C.H.A.V. Pays De L'ain Vtt                    4.19
11 Boris Cara (Bel) Team Wallonie                                         4.22
12 Nicolas Mertz (Bel) Team Wallonie                                      4.26
13 Alexis Noel (Fra) Vc Ruffey Les Echirey                                4.28
14 Fabien Doubey (Fra) S.C.Arinthod Foyer Rural                           4.37
15 Alexandre Cure (Fra) Culture Velo Nice                                 4.45
16 Maxime Lhopiteau (Fra) Creuse Oxygene                                  5.02
17 Aymeric Hazard (Fra) Ambazac Sprinter Club                             5.15
18 Flavian Le Guellec (Fra) Pays Des Abers-Gt-Sugoi                       5.21
19 Amaël Jegu (Fra) Cotes D'Armor                                         5.39
20 Theo Portal (Fra) Aix Vtt Thrifty                                      5.47
21 Justin Mottier (Fra) Ca Evron                                          5.52
22 Loïc Doubey (Fra) S.C.Arinthod Foyer Rural                             6.24
23 Antoine Thibert (Fra) Passe Partout Vtt Macon                          6.25
24 Victor Koretzky (Fra) Velo Sprint Narbonnais                           6.32
25 Benjamin Gelabert (Fra) Vo2                                            7.02
26 Maxime Danon (Fra) Club Viennois D'animat Cy                           7.46
27 Nicolas Le Roy (Fra) Aix Vtt Thrifty                                   7.51
28 Julien Grimbert (Fra) Asptt Definitive Gitane                          7.56
29 Valentin Paugam (Fra) Vtt Vcco 17                                      8.11
30 Eddy Zampatti (Fra) Vc Paceen                                          8.21
31 Antoine Bouqueret (Fra) Vc Saulceen Elbeuf Les Thuits Vo               8.25
32 Paul Mathou (Fra) Creuse Oxygene                                       8.31
33 Maxime Azibert (Fra) La Pomme Marseille Mbk                            8.32
34 Florent Pereira (Fra) Energy Cycle Mozac                               8.53
35 Andy Garcia (Fra) Accro'velo Massi                                     9.09
36 Alexis Poitevin (Fra) Team Vtt Maisse                                  9.10
37 Bryan Allemann (Swi) Bikepark.Ch                                       9.17
38 Arthur Brasseur (Fra) Rvco Blancs Gilets                               9.30
39 Yohann Lebarillier (Fra) Ovtt Lillebonne                               9.30
40 Ulysse Negri (Fra) Clic Chambery Savoie                                9.40
41 Florian Amoretti (Fra) Gardanne Velo                                   9.45
42 Marc Antoine Perez (Fra) Omnium Cycliste Raphaelois                    9.51
43 Quentin Boisseau (Fra) Cso Millau                                     10.14
44 Remi Carlicchi (Fra) Peille Vtt                                       10.26
45 Emilien Chauvetet (Fra) V.C. Rumillien                                10.44
46 Theo Dupras (Fra) Velo Club D'amberieu                                10.49
47 Charly Sibille (Fra) Vtt Conliege Jura Bassin De L                    11.10
48 Nicolas Moraldi (Fra) Marseille Vtt Passion Haibike                   11.18
49 Cyril Grangladen (Swi) Bikepark.Ch                                    11.28
50 Arthur Champagne (Fra) La Pomme Marseille Mbk                         11.38
51 Valentin Fontaine (Fra) Qbikes Maule Epone                            11.39
52 Quentin Massot (Fra) Calvisson Vtt                                    11.41
53 Romain Martinez (Fra) Mjc Vtt Du Canton Vert                          11.43
54 Kevin Lyons (Fra) Natur'bike Pierrevert                               11.45
55 Erwann Morra (Fra) Alpes De Haute Provence                            11.54
56 Florian Trigo (Fra) Superbikers                                       11.58
57 Quentin Loret (Fra) Vtt Vcco 17                                       12.12
58 Pierrick Fournier (Fra) Vendee Vtt                                    12.16
59 Thomas Bussiere (Fra) Energy Cycle Mozac                              12.17
60 Jules Cressend (Fra) Frejus Roc D'azur                                12.20
61 Thomas Griot (Fra) V.C. Rumillien                                     12.21
62 Jean Louis Bourdevaire (Fra) 95-Us Domont                             12.27
63 Maxime Bea (Fra) Amicale Cycliste Illoise                             12.29
64 Enzo Meneghini (Fra) Team 16 Vtt                                      12.33
65 Anthony Turgis (Fra) Us Metro Transports                              12.43
66 Bastien Magnier (Fra) Qbikes Maule Epone                              12.45
67 Cyril Trabichet (Fra) Vtt Leman                                       12.46
68 Mathieu Buatois (Fra) Vtt Conliege Jura Bassin De L                   12.56
69 Alexandre Trehu (Fra) Ca Evron                                        13.03
70 Bastien Putatti (Fra) Abadie Vtt                                      13.22
71 Alexandre Calmes (Fra) Clap'bike                                      13.30
72 Hugo Gandelin (Fra) U.C. Bellevilloise                                13.33
73 Alexandre Albrand (Fra) Asptt Definitive Gitane                       13.34
74 Simon Ferrand (Fra) Clap'bike                                         13.40
75 Denis Delon (Fra) Us Metro Transports                                 13.42
76 Benoit Jehanne (Fra) Uv Louviers                                      13.51
77 Julien Alemany (Fra) A.S. Var Mer Vtt                                 13.56
78 Pierrick Huet (Fra) Vtt Fun Club                                      14.00
79 Mickael Pegourie (Fra) Vtt Club De Thuir                              14.30
80 Nicolas Daniels (Fra) Superbikers                                     14.32
81 Théo Barthelemy (Fra) Vtt Loisirs Chalonnais                          14.47
82 Mickael Maindron (Fra) Mjc Vtt Du Canton Vert                         14.49
83 Joshua Lecointre (Fra) Cs Gravenchon                                  14.53
84 Theo Meuzard (Fra) R-Vtt Morillon                                     15.33
85 Romain Garente (Fra) Mjc Vtt Du Canton Vert                           15.38
86 Guillaume Duplant (Fra) C.C.V.S.A Vtt                                 15.49
87 David Pupetto (Fra) Mjc Vtt Du Canton Vert                            15.54
88 Bastien Fouquet (Fra) Al La Chapelle St Ursin                         16.09
89 Sebastien Salnot (Fra) Mjc Vtt Du Canton Vert                         16.33
90 Nicolas Cambus (Fra) Cap Vert Vtt                                     16.46
91 Florent Balaguer (Fra) Calvisson Vtt                                  16.50
92 Guillaume Souty (Fra) Aix V.T.T. Thrifty                              16.52
93 Grégory Pol (Fra) Horizon Vtt Montlucon                               16.53
94 Antoine Laurent (Fra) Alpes De Haute Provence                         17.02
95 Arnaud Duchazaud (Fra) Cap Vert Vtt                                   17.08
96 Yann Bedu (Fra) Energy Cycle Mozac                                    17.11
97 Alexandre Planchard (Fra) Union Cycliste Sud 53                       17.22
98 Maxence Pinchon (Fra) Cotes D'Armor                                   17.33
99 Enzo Orlando (Fra)                                                    17.33
100 Julien Dernicourt (Bel) C.C.V.S.A Vtt                                18.15
101 Lucas Manent (Fra) Alpes De Haute Provence                           18.39
102 Jules Soyez (Fra) Lourdes Vtt                                        18.44
103 Benjamin Vakanas (Fra) Omnium Cycliste Raphaelois                    18.52
104 Boris Bachelier (Fra) La Pomme Marseille Mbk                         18.53
105 Jeremy Peignot (Fra) Asptt Definitive Gitane                         18.56
106 Fabien Nobili (Fra) Aix Vtt Thrifty                                  19.09
107 Guillaume Hors (Fra) Velo Roc Cavaillon                              19.31
108 Sylvain Fesquet (Fra) Velo Sport31                                   19.41
109 Arnaud Cannau (Fra) Gardanne Velo                                    19.45
110 Joan Martel (Fra) Club Cycliste De Die                               19.49
111 Youri Fetas (Fra) Aix Vtt Thrifty                                    20.02
112 Bastien Grosjean (Fra) U.S.Giromagny Vtt                             20.20
113 Kevin Francois (Fra) E. B. Manosque                                  20.26
114 Victor Saurin (Fra) Velo Sport31                                     21.08
115 Maxime Herold (Fra) Uzes Velo Club                                   21.16
116 David Rakotondralay (Fra) Ec Alesienne                               22.03
117 Germain Prax (Fra) U.S.Giromagny Vtt                                 22.20
118 Sebastien Roux (Fra) Cycl Seyssinet Seyssins                         22.31
119 Thomas Chambellant (Fra) R-Vtt Morillon                              22.48
120 Alexandre Gastine (Fra) U.C.Joinville Vallage                        23.10
121 Guillaume Raimond (Fra) As De Fondettes Vtt                          23.45
122 Maxime Grenier (Fra) Uc Darnetal                                     24.16
123 Corentin Rolland (Fra) V.V. Savignolais                              25.40
124 Valentin Moreau (Fra) Asptt Draguignan                               25.45
125 Dorian Chevenement (Fra) G.O. Costellois 42                          25.52
126 Thomas Garrigos (Fra) R.O. Annecienne                                26.49
127 Theo Charnay (Fra) Gardanne Velo                                     26.51
128 Yolan Sylvestre (Fra) Vo2                                            26.55
129 Mathieu Bouron (Fra) Vendee Vtt                                      27.13
130 Thomas Maffei (Fra) Velo Roc Cavaillon                               27.56
131 Guillaume Ridel (Fra) Uc Darnetal                                    29.13
132 Romaric Lestievent (Fra) Vtt Conliege-Jura-Bassin De Lons Le Sau     29.36
133 Jean Baptiste Marty (Fra) Mjc Vtt Du Canton Vert                     30.05
134 Aurelien Rallet (Fra) Vendee Vtt                                     31.13
135 Paul Chauvetet (Fra) V.C. Rumillien                                  31.56
136 Steeve Ringelstein (Fra)                                             32.46
137 Clément Laine (Fra) Vtt Loisirs Chalonnais                           33.11
138 Antoine Dubois (Fra) Avenir Vtt 19                                   35.29
139 Dorian Suty (Fra) Amsl Frejus Vtt Le Club                            35.59
140 Yvan Laborderie (Fra) Vtt Lescar Evasion                             36.42
141 Jérémy Pigearias (Fra) Cap Vert Vtt                                  37.41
142 Pierre Baptiste Fontaine (Fra) Cc Liffre                             38.06
143 Pierre Julliard (Fra) Amsl Frejus Vtt Le Club                        40.59
144 Mathias Menetrieux (Fra) M.J.C Plan De Cuques                        41.42
145 Roland Versos (Fra) Asptt Draguignan                                 42.35
146 Sylvain Bernard (Fra) Cycl Seyssinet Seyssins                        44.23
147 Didier Merlin (Fra) E. B. Manosque                                   44.43
148 Kevin Abbruzzese (Fra) Aix V.T.T. Thrifty                            45.25
149 Nicolas Bernard (Fra) Cycl Seyssinet Seyssins                        46.16
150 Pierrick Casamatta (Fra) Amsl Frejus Vtt Le Club                     46.47
151 Louis Pech (Fra) Avenir Vtt 19                                       50.11
152 Ludovic Gayvallet (Fra) V.V. Savignolais                             50.43
153 Leo Grill (Fra) Asptt Draguignan                                     53.56
154 Paul Apertet (Fra) Omnium Cycliste Raphaelois                      1.14.44
155 Nicolas Chrysostome (Fra) Natur'bike Pierrevert                    1.18.37
156 Irwin Greghi (Fra) Avenir Vtt 19                                          

Scratch open regional men

1 Julien Farnier (Fra) V.C. Saillans                                   1.38.39
2 Thomas Legros (Fra) Les Bleus De France                                 0.49
3 Frédéric Le Marrec (Fra) Cotes D'Armor                                  1.35
4 Pierrot Denais (Fra) Odalys-Guedard                                     1.45
5 Frédéric Blondet (Fra) Cercle Cycl. Mainsat Expert                      1.59
6 Harold Flandre (Fra) S.S.O.L. Habsheim                                  2.03
7 Jules Chabanon (Fra) A C Bazancourt Reims                               2.03
8 Guillaume Henry (Fra) Vtt Fun Club                                      2.16
9 Frederic Delarce (Fra) Planete 2 Roues - Lozere                         2.24
10 Basile Monvoisin (Fra) Vtt Fun Club                                    3.08
11 Damien Guillemet (Fra) Uc Darnetal                                     3.16
12 Thomas Brunet (Fra) Vcs Bettonnais                                     3.22
13 Romain Castelli (Fra) Veloroc Lapierre                                 3.22
14 Gwen Fouche (Fra) Irwego Commencal                                     3.32
15 Fabien Bragagia (Fra) U.S.Giromagny Vtt                                3.49
16 Pierre Curien (Fra) Vtt Fun Club                                       4.08
17 Stephen Robin (Fra) V.C. Bourgoin Jallieu                              4.15
18 Adrien Pascal (Fra) A C Bazancourt Reims                               4.22
19 Thomas Capitaine (Fra) Pays Des Abers-Gt-Sugoi                         4.26
20 Romain Cleret (Fra) Cotes D'Armor                                      4.31
21 Mathieu Ballion (Fra) Vo2                                              4.42
22 Jesse Cabon (Fra) E.S. Seynod                                          4.48
23 Gilles Rubio (Fra) Egobike                                             4.50
24 Frédéric Ischard (Fra) Velo Club Saint-Lo -Pont-Hebe                   5.02
25 Nicolas Vanuxem (Fra) Marseille Vtt Passion Haibike                    5.06
26 David Missud (Fra) Alpes De Haute Provence                             5.07
27 Frederic Gombert (Fra) Uc Aire Barcelonne                              5.15
28 Maxime Le Geun (Fra) Pays Des Abers-Gt-Sugoi                           5.18
29 Jonathan Lecourt (Fra) Gardanne Velo                                   5.21
30 Grégory Maillot (Fra) Association Cycles Passion Reunion               5.24
31 Jimmy Pigache (Fra) Uc Darnetal                                        5.34
32 Julien Seidel (Fra) Master Team Offroad                                6.00
33 Thomas Badre (Fra) Roue D'or Annecy                                    6.07
34 Denis Miramond (Fra) Bike Aventure                                     6.09
35 Yoni Beauquis (Fra) Velo Club Valreas                                  6.21
36 Renan Goude (Fra) Vario Racing                                         6.35
37 Adrien Bruand (Fra) Pro Fermetures Wilier                              6.42
38 Cedric Bex (Fra) Calvisson Vtt                                         6.46
39 Olivier Poupin (Fra) Velo Club Valreas                                 7.14
40 Nicolas Bonnieu (Fra) Aveyron Vtt                                      7.42
41 Steve Lecourt (Fra) Gardanne Velo                                      7.44
42 Fabien Rodier (Fra) Calvisson Vtt                                      7.53
43 Sebastien Davoust (Fra) Ca Evron                                       8.02
44 Julien Poquet (Fra) C.C.V.S.A Vtt                                      8.08
45 Jean François Bossler (Fra) Master Team Offroad                        8.22
46 Sylvain Martin (Fra) U.S.Giromagny Vtt                                 8.35
47 Gilles Tresserre (Fra) O.C. Albertville                                8.37
48 Jimmy Le Clainche (Fra) 95-Us Domont                                   8.50
49 Sylvain Gastineau (Fra) Mtb Ventoux                                    8.55
50 Damien Demangel (Fra) Irwego Commencal                                 9.02
51 Benoit Rogier (Fra) La Pomme Marseille Mbk                             9.08
52 Robin Defever (Fra) Planete 2 Roues - Lozere                           9.19
53 Alexandre Barberoux (Fra) Master Team Offroad                          9.26
54 Maxime N'guyen (Fra) Union Sportive Melunaise                          9.39
55 Richard Lemonnier (Fra) Velo Club Saint-Lo -Pont-Hebe                  9.42
56 Romain Truchot (Fra) Mesvrin Vtt                                       9.44
57 Michael Carbo (Fra) Amicale Cycliste Illoise                          10.16
58 Jonathan Lefevre (Fra) Velo Club Saint-Lo -Pont-Hebe                  10.45
59 Benjamin Bonneuil (Fra) Go-Sport C.V Pernes                           11.01
60 Albert Blot (Fra) Aix Vtt Thrifty                                     11.02
61 Franck Van Der Walle (Fra) Team Atc 26 Donzere                        11.07
62 Fabien Bourly (Fra) Sefic Scapin Xtrabike.Com                         11.11
63 Cedric Drouet (Fra) Us St Herblain                                    11.12
64 Simon Negrignat (Fra) Eco Villeurbannais                              11.15
65 Arthur Lehec (Fra) Qbikes Maule Epone                                 11.19
66 Gregory Frison (Fra) La Motte Servolex Cyclism                        11.25
67 Guillaume Guilbaud (Fra) Vendee Vtt                                   11.28
68 Mathieu Casier (Fra) Esc De Bully                                     11.34
69 Pierre Fuseau (Fra) Keops                                             11.54
70 Romain Collot (Fra) Energy Cycle Mozac                                11.56
71 Claude Goudeau (Fra) Omnium Cycliste Raphaelois                       12.09
72 Benjamin Breil (Fra) Aveyron Vtt                                      12.21
73 Jonathan Dailliez (Fra) Saint Cyr Okibike Vtt                         12.26
74 Jeremy Lemoine (Fra) Frejus Roc D'azur                                12.31
75 Vincent Thomas (Fra) Calvisson Vtt                                    13.12
76 Jérémy Dumoulin (Fra) Qbikes Maule Epone                              13.24
77 Gwenael Morra (Fra) Alpes De Haute Provence                           13.46
78 Cyril Granier (Fra) Aveyron Vtt                                       13.53
79 Vincent Schmit (Fra) Club Sports Loisirs Chamberet-Chateaun           14.08
80 Alexandre Malzac (Fra) Clic Chambery Savoie                           14.30
81 Boris Favario (Fra) Clic Chambery Savoie                              14.30
82 Benjamin Delattre (Fra) Aix V.T.T. Thrifty                            14.59
83 Thomas Renoux (Fra) Vo2                                               15.00
84 Frederic Masselis (Fra) Omnium Cycliste Raphaelois                    15.06
85 Vincent Ferry (Fra) Uc Aire Barcelonne                                15.08
86 Antoine Riffaud (Fra) Aix Vtt Thrifty                                 15.17
87 Cedric Debortoli (Fra) La Roue Des Grands Bois                        16.01
88 Nicolas Suzanne (Fra) Club 14 Mountain Bike Caen                      16.17
89 Sebastien Magne (Fra) Jarnac V.T.T.                                   16.20
90 Romain Gronchi (Fra) Latitude Vtt                                     16.22
91 Thibaud Le Coguic (Fra) V.C. Rumillien                                16.33
92 Aubin Favre Felix (Fra) Roue D'or Annecy                              16.33
93 Erwan Goasguen (Fra) Pays Des Abers-Gt-Sugoi                          16.39
94 Bruno Donnangricchia (Fra) Mtb Ventoux                                16.51
95 Christophe Robinet Dietsch (Fra) U.C. Monaco                          16.55
96 Jérémy Hamon (Fra) Cocs Sourdeval                                     17.02
97 Gaetan Mougeot (Fra) Egobike                                          17.06
98 Mickael Campourcy (Fra) Accro'velo Massi                              17.10
99 Julien Oberti (Fra) 95-Us Domont                                      17.16
100 Anthony Lefevre (Fra) Velo Club Saint-Lo -Pont-Hebe                  17.16
101 Fabien Peden (Fra) Pays Des Abers-Gt-Sugoi                           17.20
102 Ronan Oppeneau (Fra) Acam Team                                       17.25
103 Kévin Cellier (Fra) Calvisson Vtt                                    17.37
104 Samuel Marie (Fra)                                                   17.40
105 Jérôme Freminet (Fra) Union Sportive Melunaise                       17.46
106 Ronan Bellec (Fra) Pro Fermetures Wilier                             17.58
107 Sylvain Bremond (Fra) Vendee Vtt                                     18.32
108 Guillaume Gaubour (Fra) E.S. St Martin D Heres                       18.43
109 Guillaume Fernandez (Fra) Aix V.T.T. Thrifty                         19.29
110 Gautier Bourguin (Fra) Sefic Scapin Xtrabike.Com                     19.31
111 Sebastien Jorry (Fra) Lunel Egobike                                  19.41
112 David Contant (Fra) Velovert Magazine                                19.46
113 Cyril Battiston (Fra) Aix V.T.T. Thrifty                             19.57
114 Joris Grelat (Fra) Uv Louviers                                       20.23
115 Sébastien Escuain (Fra) Les Koyotes                                  20.37
116 Arnaud Labbadie (Fra) Vo2                                            21.27
117 Valentin Omnes (Fra) Pays Des Abers-Gt-Sugoi                         21.52
118 Thomas Ederle (Fra) Master Team Offroad                              22.00
119 Fabien Ruf (Fra) Club Viennois D'animat Cy                           22.18
120 Damien Duplessis (Fra) Team 16 Vtt                                   22.25
121 Julian Fontaine (Fra) Team Des Costes Pelissanne                     22.28
122 Nicolas Levasseur (Fra) Es Arques                                    22.40
123 Antonio Lozano Chaves (Spa) Planete 2 Roues - Lozere                 22.46
124 Gerald Toe (Fra) V.C. Bourgoin Jallieu                               22.55
125 Aurelien Hilaire (Fra) Golene Evasion                                23.16
126 Victor Humberdot (Fra) Vc Saulceen Elbeuf Les Thuits Vo              23.56
127 Julian Galibert (Fra) Planete 2 Roues - Lozere                       24.09
128 Jean Noel Motot (Fra) Velo Roc Cavaillon                             24.37
129 Théo Pailhe (Fra) Grenade Team Vtt                                   25.00
130 Pierre Prevost (Fra) Club Sports Loisirs Chamberet-Chateaune         25.14
131 Jerome Poujol (Fra) Planete 2 Roues - Lozere                         25.36
132 Guillaume Bordeau (Fra) Vtt St Amand Les Eaux                        25.49
133 Mickael Da Matha Sant'anna (Fra) Mjc Vtt Du Canton Vert              26.15
134 Florian Baudinaud (Fra) Team 16 Vtt                                  26.22
135 Antoine Caron (Fra) Cl Barlin                                        26.58
136 Olivier Giry (Fra) Team Atc 26 Donzere                               27.06
137 Yohan Trimoulet (Fra) Accro'velo Massi                               27.23
138 Jean Baptiste Boudot (Fra) Vtt Givry                                 27.26
139 Jean Phillipe Mercier (Fra) V.C.C. Morteau Montbenoit                27.34
140 Thomas William Didier (Fra) Club Cycliste Boulou                     27.38
141 Alexandre Balusseaud (Fra) Jarnac V.T.T.                             27.41
142 Noël Clement (Fra) As De Fondettes Vtt                               27.54
143 Aurelien Giordanengo (Fra) Aytongiant/Les 2 Alpes/X1 Rac             28.16
144 Arno Faucher (Fra) Aytongiant/Les 2 Alpes/X1 Rac                     28.19
145 Stéphane Hugonnet (Fra) Vtt Massif Jura                              28.44
146 Karim Lombion (Fra) Vo2                                              29.20
147 Flavien Grasset (Fra) Latitude Vtt                                   29.22
148 Florian Rosillo (Fra) Roue D'or Annecy                               29.29
149 Christophe Fournier (Fra) Vtt Conliege Jura Bassin De L              29.39
150 Damien Rinaudo (Fra) Ramatuelle Mountain Bike                        29.55
151 David Louineau (Fra) Vendee Vtt                                      30.03
152 Guillaume Jobard (Fra) Avenir Vtt 19                                 30.08
153 Michel Jurkiewicz (Fra) La Roue Des Grands Bois                      30.54
154 Mathieu Badier (Fra) Velo Club Gapencais                             31.07
155 Damien Beal (Fra) La Roue Des Grands Bois                            32.23
156 Thibaut Ruamps (Fra) Pro Fermetures Wilier                           32.52
157 Yannick Scofet (Fra) Vtt Saint Maximin                               33.13
158 Elvis Lambert (Fra) Cercle Cycl. Mainsat Expert                      33.33
159 Laurent Germain (Fra) Team 16 Vtt                                    33.50
160 Thierry Bebin (Fra) Clic Chambery Savoie                             34.54
161 Simon Guichet (Fra) Vtt Vcco 17                                      35.10
162 Henri Alex Poirier (Fra) As De Fondettes Vtt                         35.28
163 Pascal Mir (Fra) Vtt Club De Thuir                                   35.45
164 Aurélien Arizzi (Fra) Ovtt Lillebonne                                35.57
165 Yoann Jacquemin (Fra) Bicross Speed Racing                           36.26
166 Pierre Rostain (Fra) Golene Evasion                                  37.20
167 Erwan Lefaut (Fra) Union Sportive Melunaise                          38.04
168 Robin Toledo (Fra) Velo Roc Cavaillon                                38.04
169 Lucas Fouquet (Fra) Al La Chapelle St Ursin                          48.05
170 Cyril Jamet (Fra) Us Melunaise                                       48.05
171 Valentin Fontaine (Fra) Cc Liffre                                    48.05
172 Olivier Vieville (Fra) Vtt St Amand Les Eaux                         48.06
173 Thibaut Trezieres (Fra) Qbikes Maule Epone                           48.07