MTB index page for all MTB content
6th Cape Epic - SHC
South Africa, March 21-28, 2009
Main Page Results Overall standings Next Stage
Prologue - March 21: Capetown - Capetown, 19km
Prologue sets seeding for stage 1
Stander and Sauser win the prologue
Photo ©: Sportzpics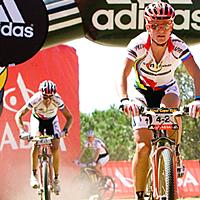 Christoph Sauser and Burry Stander (Team songo-info) won the men's Cape Epic prologue, a format used only for the second time in its history. Sauser/Stander (40:58) beat 2008 prologue winners Kevin Evans and David George (MTN Energade) by the slim margin of five seconds. Hannes Genze and Jochen Kaess (Multivan Merida) came in third (41:45).
In the women's race Hanlie Booyens and Sharon Laws (Absa Ladies) won in a time of 56:26, ahead of Sarah Koch and Daniela Hartmann (2 Swiss Epic Girls) (01:02:30) and Robyn Adendorff and Sarah van Heerden (WSP – Jeep Girls) in third place (01:08:01).
For the first time in the history of the race, the 16.5km prologue circuit took place on the slopes of World Heritage site Table Mountain. The 1,200 teams raced for the honours of wearing the yellow and leader jerseys out of Gordon's Bay for the 112km stage race between Gordon's Bay and Villiersdorp.
Men's Category
The Men's Category during the Prologue was very competitive with what some labelled as "a slightly surprising result" and some of the favourites not making it to the podium.
Sauser is the reigning Cross Country World Champion and double World Cup Overall Champion with 16 World Cup wins behind his name. He has been racing professionally since 1993 and won the 2006 Absa Cape Epic with fellow Swiss rider Silvio Bundi. It is the second year in a row that he races with twenty-one year old Stander as team Songo.info. Stander is the current South African Under 23 Cross-Country mountain biking champion - a title he has won six times in different age groups. He also finished second in the Under 23 World Championship, second overall in the World Cup Andorra, fifth overall in the World Cup Series and 15th at the Beijing Olympic Games.
Multivan Merida Hannes Genze and Jochen Kaess
Photo ©: Sportzpics

Sauser said "We hit the gas from the word go and actually deemed Karl Platt and Stefan Sahm to be faster than what they were in the end. We had a brief look at the route yesterday, got lost a few times, but finally had the key sections imprinted in our minds. So we could go fast."
Stander added "Today I felt that the prologue didn't go as well as it did last year, so it was a big surprise to me that we won. This is testimony that we're in good shape and takes the pressure off us."
According to David George, his advantage is rather the physical fitness than the technical strength. "Let's face it, I'm racing against the best technical rider in the world, Christoph Sauser, and I've actually been a roadie until last year. Considering all of this, my performance was not so bad."
Hannes Genze of Team Multivan Merida says they are very happy with their result because Kaess was ill last week. "Jochen only recovered in the last two days. I didn't think we could actually pull it off in the Prologue and Jochen was riding at his limit. Making it onto the podium was a sweet reward and a great way to start this year's race."
Ladies' Category
Hanalie Booyens and Sharon Laws win the women's race
Photo ©: Sportzpics
Booyens and Laws won the Absa Cape Epic Ladies division in 2004. They also raced together at La Ruta in Costa Rica the same year. In 2006 they raced the TransAlps and it was their last race as a team until now. Booyens said "It was very easy for us to connect again – we're good friends. Today was an absolutely stunning ride - I didn't even notice the burnt veld. We kicked off as the sun was rising and the whole of Table Mountain was glowing - it was marvellous.
"Of course we were a bit worried about today, but it went far beyond our expectations. I was surprised at Sharon's strength – she has been doing a lot of road biking to strengthen her legs and the results are definitely there. We were going fast today, but definitely not overdoing it and are quite surprised at how well it went." Laws added "The next few days will be interesting – my longest ride prior to the Absa Cape Epic was a 200km road training run with only 56 km of climbing."
Mixed Category
The perfect draft...
Photo ©: Sportzpics

Top riders Alison Sydor and Nico Pfitzenmaier (Adidas Big Tree) won the Mixed Category in a time of 49:03,5 minutes, followed by Ivonne Kraft and Lukas Kubis (Haibike-VMT) in second place (50:02,5). Third place went to Yolande Speedy and Paul Cordes (IMC/Momentum GT/Activeworx) in a time of 51:49,1 minutes.
Mountain biking legend Sydor and her racing partner Pfitzenmaier took a wrong turn at the start of the race, but quickly realised their mistake and turned around. According to Sydor, they have high expectations of the race this year. "We're riding for charity organisation Big Tree and would really like to do well. We feel very motivated. Today's course was great, but it was a bit looser than yesterday and we were blinded by the sun, which made it slightly difficult as we needed to focus on the technical terrain. We're satisfied that it went so well as we've not trained together at all. We communicated mostly via Skype, so our team capabilities were put to the test for the first time today."
Pfitzenmaier won the Mixed last year with then team mate Ivonne Kraft. He says riding with Alison went perfectly. "We both have good intuition and didn't need to speak in order to communicate. We're professional and experienced riders and could see each other's strengths, build on that and attack on the hills."
Ivonne Kraft, who finished in second place with team mate Lukas Kubis, says: "Winning last year with Nico was the top achievement for us as a team. We both felt we needed to change the dynamics of our racing and therefore entered with different team mates this year." After the race. Kraft, Yolande Speedy and Inbar Ronen will be going to Pietermaritzburg for a 'girl's camp' prior to the start of the World Cup which takes place from 9 to 12 April this year.
Masters Category
Masters Winners Shane Wilson and Andrew MacLean
Photo ©: Sportzpics

The Masters Category was won by Shan Wilson and Andrew Mclean (Cycle Lab Toyota) in a winning time of 47:18,2 minutes. They were closely followed by last year's overall winners in this category, Doug Brown and Bärti Bucher (Absa Masters) at 47:22,5. In third place was Corrie Muller and Robert Sim (Van Loveren/SAND) in a time of 50:19,2 minutes.
This will be Shan Wilson's sixth Absa Cape Epic. He was placed 3rd in the inaugural Absa Cape Epic and 5th in 2005 in the Men's category. Last year was his first year in the Masters category and he finished in second place overall with team mate Walter Platzgummer. Besides winning quite a number of stages in the previous Absa Cape Epic races, he is particularly known for his winning streaks in the Greyton area which has been part of the race twice. Wilson is by far the strongest Master rider in South Africa and his challenge is always to find an equally strong partner such as Platzgummer who is one of the best Masters riders in Europe. Platzgummer took a very bad fall last year and they therefore could not fulfil their dream of wearing the victory crown.
This year Wilson is racing with Andrew Mclean who won the Masters category with Damian Booth in 2007. Said Wilson: "The Prologue sets the tone and gives you a very good idea of how fit and strong you are. Although we only won by four seconds, the pressure is now on the other teams to challenge us. It's mentally a very good thing to start the first stage wearing the Blue Leader Jersey – it gives you a bit of extra confidence."
Gordon's Bay, the small, idyllic seaside town on the Eastern edge of False Bay sees the start of Stage 1, taking riders over 112km and 2 769m of climbing to Villiersdorp. The first stage of the Absa Cape Epic has never been easy and will be no exception this year. The early steep ascents will stretch out the field, just in time for some rocky single-track. Then riders cross under the N2 and into the Grabouw plantations towards Nuweberg. Still to come is a familiar highlight of the Absa Cape Epic - Groenlandberg. The 5km climb starts off at about 8%. The surface is loose and difficult to maintain momentum, but the gradient eases up near the top. Riders need to take care on the very treacherous downhill, and halfway along the flat 10km gravel section there is a hot spot sprint. Riders need to save something for the last 15km – with several sharp rises on farm roads and dual track - it could take a while to get to Villiersdorp, where riders will settle in for two nights.
Photography
For a thumbnail gallery of these images, click here
Images by Sportzpics / www.sportzpics.net
Results
Men

1 Christoph Sauser / Burry Stander (Swi / RSA) songo.info                                     40.58
2 Kevin Evans / David George (RSA / RSA) MTN Energade                                          0.06
3 Hannes Genze / Jochen Kaess (Ger / Ger) Multivan Merida                                      0.47
4 Emil Lindgren / Andreas Kugler (RSA / Swi) Felt Factory 2                                    0.53
5 Lukas Flückiger / Mathias Flückiger (Spa / Spa) Trek                                         1.13
6 Bart Brentjens / Chris Jongewaard (Ned / Aus) Trek-Brentjens                                 1.27
7 Jose Hermida / Moritz Milatz (Spa / Ger) Multivan Merida 2                                   1.34
8 Mannie Heymans / Marc Bassingthwaigthe (Nam / Nam) adidas Garmin                             1.45
9 Karl Platt / Stefan Sahm (Ger / Ger) Bulls                                                   1.53
10 Kashi Leuchs / Paolo Alberati (Fra / Ita) Felt                                              2.36
11 Tim Boehme / Thomas Dietsch (Ger / Fra) Bulls 2                                             2.47
12 Alban Lakata / Thomas Nicke (Aus / Ger) Topeak-Ergon                                        3.21
13 Carsten Bresser / Udo Boelts (Ger / Ger) Cube/Craft-Rocky Mountain                          3.45
14 Kristian Torgersen / Martin Bratland (Nor / Nor) Show Courage                               3.58
15 Thomas Zahnd / Urs Huber (Swi / Swi) Stoeckli-Craft                                         4.14
16 Geddan Ruddock / David Njau Kinjah (RSA / Ken) Absa Trans Africa                            4.35
17 Roan Exelby / David Leiman (RSA / RSA) FULLIMPUT CLOTHING TWO                               4.50
18 Francois Theron / Philip Buys (RSA / USA) Garmin adidas powered by Felt                     4.51
19 Johnny Kritzinger / Tinker Juarez (Zam / Rwa) DCM MonaVie-Cannondale                        5.32
20 Jupiter Nameembo / Adrien Niyonshuti (Ned / Ned) MTN Energade 2                             6.05
21 Niels Boon / Axel Bult (RSA / RSA) Vredestein Racing                                        6.07
22 Brandon Stewart / Max Knox (RSA / RSA) DCM Chrome                                           6.36
23 Shaun Mackenzie / Jock Green (Aut / Aut) Garmin-Adidas                                      7.42
24 Ingmar Brichenfrid / Jürgen Kaindl (Bel / Bel) Doka-Africa                                  8.53
25 Niek Lingier / Bart van Hecke (Spa / Spa) Lingier-Versluys                                  9.38
26 Ballobar Santiago Prat / Carné Carcas Mauro (RSA / RSA) privalia.com                       10.23
27 Riaan Boshoff / Booyens Loubser Bunyan (RSA / RSA) Guardian Peak Wines                     10.35
28 Simon Lamond / Nic Lamond (Zam / Rwa) Songo.info Lamond Bros                               10.44
29 Trust Munangandu / Nathan Byukusenge (Fra / Fra) African Continental Centre                10.47
30 Yann Rivard / Thomas Degoulet (RSA / RSA) Club14-Caen-Argentan                             10.56
31 Bruce Anderson / Stuart Anderson (Nor / Nor) Twin - bioNICfund.com-MOTOREX                 11.03
32 Rune Hoydahl / Stabell Christian Eriksen (Ned / Ned) Show Courage 2                        11.12
33 Danny Bens / John van De Wouw (RSA / RSA) Acket-Merida                                     11.23
34 Heine Lategan / Pieter Lategan (Ger / Aut) LA 'D' DA LODGE KIMBERLEY                       11.25
35 Faris Al Sultan / Werner Leitner (RSA / RSA) Storck                                        11.47
36 Iniel Hattingh / Hein Botes (Mri / Mri) Mal Moere                                          12.05
37 Thomas Desvaux / Yannick Lincoln (RSA / RSA) Mauritius MTB                                 12.08
38 Hannes Hanekom / Sakkie Hanekom (RSA / RSA) Ceres Tru-Cape                                 12.18
39 Marco Pulvirenti / Guy Schroeder (RSA / RSA) FULLIMPUT CLOTHING THREE                      12.23
40 Shane Thomson / Graham Daniel (RSA / RSA) FULLIMPUT CLOTHING FIVE                          12.37
41 Donovan Jackson / Delaney Impey (Rwa / Rwa) Tread Magazine                                      
42 Nyandwi Uwase / Abraham Ruhumuriza (Isr / Isr) Rwanda                                      12.46
43 Ilan Edelson / Gal Tsachor (Bra / Bra) C.C.C Israel                                        12.49
44 Eduardo Rocha / Michel Bögli (Swi / Swi) ESPORTE CRIANCA.ORG.BR / SCOTT                    12.55
45 Thomas Oberli / Benjamin Morf (RSA / RSA) bike2help.ch                                     13.04
46 Marcel Deacon / Jason Eldrige (Rwa / USA) Susan Deacon Properties                          13.25
47 Rafiki Uwimana / Tom Ritchey (Bel / Bel) Rwanda B                                          13.30
48 Dieter Roman / Stijn Verhaegen (RSA / RSA) 02 Bikers                                       13.37
49 Jason Peach / Alex Naude (RSA / RSA) CDR/SISONKE POWER PROJECTS                            13.39
50 Wayne Collin / Jeremy Thomson (RSA / RSA) FULLIMPUT CLOTHING FOUR                          13.44
51 Kobus Barnard / Neil van Tonder (Can / Can) ABSA Sangomas                                  13.47
52 Greg Stevenson / Jeff Neilson (RSA / RSA) Bow-Scape                                        14.07
53 Nico van Zyl / Jaco De Villiers (RSA / RSA) Adidas Bemer                                   14.22
54 Nicholas Mulder / Clinton Mackintosh (Isr / Isr) Cyanosis                                  14.25
55 Noam Straschnow / Shai Shtub (RSA / RSA) Gas Dog                                           14.26
56 Chris Roux / Grey Tonder van Hendrik (RSA / Ned) Dokkie en Grys                            14.37
57 Nick Coyne / Gregory Crookes (Swi / Swi) Stingray                                          14.41
58 Marc Bearman / Philippe Weingartner (Spa / Spa) Rocket Boyz                                     
59 Vilà Albert Castellar / Alex Claraso (RSA / RSA) Solo Bici Mule Bar                        14.42
60 Corne Erasmus / Leon Erasmus (RSA / RSA) Millennium Flooring Boeties                       14.49
61 Johann Le Roux / Jaco Vorster (Swi / Swi) Trippie en Tollie                                14.51
62 Daniel Schmid / Dany Gehrig (RSA / RSA) bikerausch                                         14.52
63 Dusty Day / Stefanus van Den Heever (RSA / RSA) Vat Hom Vas                                14.53
64 Justin Dowdle / Michael Abendanon (Spa / Spa) Dimension Data                               14.58
65 Marcel Batlle / Pau Milla (RSA / RSA) HED.                                                 14.59
66 Henk Ackermann / Riccardo Stermin (RSA / RSA) TEAM CAPE TOWN DAIKIN/GU                     15.05
67 Bruce Diesel / Deon Cilliers (RSA / Can) Cyclelab Toyota 8 Day Wonders                     15.19
68 Rouan van der Leek / Werner Folscher (RSA / RSA) Gasdocs                                        
69 Paul Winter / Michael Talbot (RSA / GBr) intermet tow and blow                             15.22
70 Ian Bester / Franco van Schalkwyk (RSA / RSA) Stofstreep                                   15.25
71 Etienne Jordaan / Cillie Hamman (Mri / Mri) Lefty and Fox                                  15.28
72 Hacques Sebastien / Gerard Christophe (Bel / Bel) OFFROAD Mauritius                             
73 Diederik Libbrecht / Pieter Vuylsteke (RSA / RSA) Pedal to the metal                       15.36
74 Pierre Conradie / Wayne Graham (Nor / Nor) Atlantic Hedge                                  15.38
75 Sjaastad Karlsen Dagfinn / Lars Granberg (RSA / RSA) Norsemen                              15.45
76 Robert Kaiser / Christopher Steinbach (RSA / RSA) Stein and Whine                          16.06
77 Andrew Grobler / Peter Garth Sinclair (Bra / Bra) ABSA Corporate and Business Ba           16.21
78 Marcelo Sampaio / Jayme Filho Alves (RSA / RSA) Os Mantiqueira/Adriana Nascime                  
79 Christiaan De Vries / Johan Wentzel (RSA / RSA) W design                                   16.22
80 Greeff Moolman / Greeff Moolman (RSA / RSA) FLANDRIA-FATHER & SON                          16.26
81 Dylan Chilcott / Aidan Brown (RSA / RSA) Dunkeld Cycles                                    16.30
82 Jan Lamberts / Alexander Lamberts (GBr / GBr) PLANT-CARE                                   16.35
83 Ryan Morawski / Matthew Bertram Connell (RSA / RSA) Snowmen                                16.39
84 Louis van der Berg / Jan van der Berg (RSA / RSA) Explore 2                                16.43
85 Hillegert Wilcocks / Adriaan Buys (Swi / Swi) Colgate                                      16.46
86 Tobias Richli / Roger Brudermann (RSA / RSA) Sherpa Tensing-Pedros Bikeshop                     
87 David Harding / Bruce Turvey (RSA / RSA) GREENHOUSE                                        16.57
88 Adrian Wainwright / Rowan Grobler (RSA / RSA) Unlimited Potential (by Micros               17.03
89 Ludwig Swanepoel / Hannes Neethling (GBr / GBr) Dryland Rockpedal                          17.08
90 Jonathan Stenson / Peter Turnbull (Swi / Swi) Gateway/Cycle Studio RT                      17.16
91 Andreas Studhalter / Stefan Wolfisberg (RSA / RSA) Baumeler                                17.24
92 Brent Russell / Greg Horsburgh (Ger / Ger) Viglietti                                            
93 Patrick Schleinkofer / Edwin Koch (RSA / RSA) Silentbreeze International                   17.38
94 Willie Roux / Riaan Joubert (RSA / RSA) Umzanzi                                            17.42
95 Guy Veysey / Rohan Kennedy (RSA / RSA) Fairbairn Private Bank                              17.48
95 Peter Roux / Michael Ward (RSA / RSA) ASPEN                                                18.00
97 Dane Walsh / Craig Edwards (RSA / RSA) Spot on Bevan                                       18.06
98 Neel Saayman / Mark Cryans (RSA / RSA) Strandloper                                              
99 John Gale / Riaan Meintjes (RSA / RSA) Fat Bob                                             18.08
100 Cornel Botha / Martin Nel (RSA / RSA) first Descent                                            
101 Melt Loubser / Dylan Victor (Spa / RSA) SuperSport 1                                      18.09
102 Garcia Jose Ezequiel / Rob Mcintosh (RSA / RSA) VALBUENA TEAM 1                           18.11
103 Warren Barber / Graeme van der Nest (RSA / RSA) Ready Fresh                               18.13
104 Kevin Taljaard / Richard Chesterton (GBr / GBr) MAXXIS                                    18.26
105 Green Groenewald / Werner van der Merwe (RSA / RSA) Danger Weasel                         18.30
105 Wilhelm Nauta / Andrew Rankin (RSA / RSA) Rock #n Roll InfraDEV Dunkeld                   18.32
107 Cecil Munch / Christiaan van Zyl (RSA / RSA) Newbridge                                    18.40
108 Jaco Kamfer / Steve van der Merwe (RSA / RSA) Bio Anabolics                               18.44
109 Dylan Ross-Kent / Warren Schwartz (RSA / RSA) ROSSBURG                                    18.45
110 Erik Smuts / Heinrich Richter (P / P) FPC/Ellsworth                                       18.46
111 Joao Elvas / Nuno Duarte (RSA / RSA) 4PET Portugal                                        18.47
112 Sirk Loots / Maarten van Dalsen (RSA / RSA) YO-YO                                         18.48
113 Ben van Niekerk / Jacques Bedeker Niekerk (RSA / RSA) Big Fat Bastards                    18.59
114 Jeffrey Kriel / Henrico Erasmus (Aus / Aus) AR Controls                                   19.01
115 Richard Enthoven / Orion Riggs (RSA / RSA) Velosure/Hollard                               19.07
116 Tony Wright / Craig Woods (RSA / RSA) First Ascent Third Epic                             19.08
117 Duke Erlank / Matthys Fourie (Bel / Bel) Testo Twins                                      19.13
118 Tom Cuylaerts / Danny Smets (RSA / RSA) KRAFT                                                  
119 Mark Thijs / Ivan Kruger (RSA / RSA) schwaba                                              19.33
120 Brent Dickson / Nicholas Dickson (RSA / RSA) Brothers Dickson                             19.40
121 Maartin van Rensburg / Alex Rensburg van (Spa / Spa) Pinky and the Brain                  19.48
122 Lucas Carné / Ignacio Sopesens (RSA / RSA) Privalia                                       19.57
123 Francois Ebersohn / Albe Geldenhuys (USA / RSA) USN                                       20.01
124 Francois Millard / Pieter Smith (RSA / RSA) Firefly                                       20.04
125 Christo Wentzel / Gert Harmse (RSA / RSA) Ooploop                                         20.07
126 Darryl Grobbelaar / Dave Winter (RSA / RSA) D & D                                              
127 Gustavo Garcia / Andrew Westaway (GBr / GBr) BigEpicNutters                               20.15
128 Justin Steil / Ian Coop (RSA / RSA) Toxic Rockets                                         20.17
129 Wayne Booysen / Nicolas Gaudard (GBr / GBr) Goodguys                                      20.21
130 Damian Sell / Nick Coley (RSA / RSA) MuleBar Strudel                                           
131 Ivor Potgieter / Erik Saayman (RSA / RSA) Visual                                               
132 David Labuschagne / Koos Klopper (RSA / Zam) Cycle Lab Brothers                           20.45
133 Jean-Pierre van Zyl / Zyl Jesper Lublinkhof (Nor / Nor) ZAMBUK                            20.48
134 Thomas Berglund / Steinar Eidem (Cro / Cro) Show Courage 3                                20.55
135 Ivo Rubinic / Milivoj Miljkovic (USA / USA) Croatia                                       20.56
136 Nick Hodge / Wayne Baker (RSA / Spa) Independent Fabrication                              21.00
137 Mike Nixon / Billy Stelling (Den / RSA) First Ascent RBS                                  21.05
138 Laurent Sillon / Christophe Desimpeleare (RSA / RSA) La Santa power by Saxo Bank          21.11
139 Richard Muller / Jc Faure (RSA / RSA) NMMU Saasveld                                       21.12
140 Jean Hubert / Lyle Baldwin (RSA / RSA) Jelly Beans                                        21.21
141 Jannie Visser / William Keith (Bra / Bra) Oak Valley Wines                                21.34
142 Lood Bouwer / Pietro Petzer (RSA / RSA) Big Tree Foundation 1                             21.41
143 Jair Pinheiro / Abitante Aurélio Marcos (Aus / Aut) Os Mantiqueira                             
144 Louis Ferreira / Noel Droomer (RSA / RSA) PaarlMTB.com                                    21.44
145 Andreas Zörweg / Jürgen Unterberger (Den / Den) Merida                                    21.46
146 Johann Seyffert / Pieter Seyffert (RSA / RSA) Figlio e Padre                              21.58
147 Renè Hinnum / Steen Hinnum (Cze / Ger) Hinnum Brothers                                    21.59
148 Nicky van Blerk / Henry Blerk Riaan Derks (RSA / RSA) Flexi                               22.01
149 Tomas Pribyl / Markus Dahmen (RSA / RSA) Ceska sporitelna MTB                             22.02
150 Craig Jones / Andrew Kenny (Bel / Bel) Fullimput-Mr P                                     22.08
151 Graeme Brien / Craig Arenhold (RSA / RSA) Risk Benefit Solutions - RBS                    22.21
152 Peter Verkest / Bob Malfliet (RSA / RSA) 2ManyBikersB                                     22.26
153 Rob Hibbert / Mark Flanagan (Swi / USA) Club Cappuccino                                   22.28
154 Benjamin Meyer / Erich Meintjies (Bra / Arg) Bruce Reyneke Cycles 4                       22.30
155 Alexander Philipp / James Phillips van Lynwood (RSA / RSA) Iron Will                      22.31
156 Flavio Dos Santos / Pablo Santos Rodriguez (Ger / Ger) Tango & Samba                      22.32
157 Hein De Villiers / David Villiers Porrill (RSA / RSA) My Office Furniture/Golf Data       22.34
158 Stephan Wagner / Dietmar Henschke (RSA / GBr) www.bike-psteam.de                          22.38
159 Ralph Mills / Chris Sochanski (RSA / RSA) CHOC R&Cing                                     22.43
160 Rudolf Zuidema / Chris Steele (Bra / Bra) Coventry Cycles Testmules                       22.50
161 Roelof van Huyssteen / Daniel Huyssteen Prinsloo (RSA / RSA) ISSUES                       22.54
162 Juliano Simoes / Donga Rodrigues (Ned / Ned) Pedala Brasil                                23.20
163 Jaco Erasmus / Emiel van Vuuren (RSA / Aus) Aquiline                                      23.24
164 Stephan Coppelmans / John Spapens (RSA / USA) BraBikers                                   23.28
165 Ray Oehley / Jayson Connacher (RSA / RSA) Lost Amigos                                          
166 Jacques Jansevan Rensburg / Rensburg Benjamin Sonntag (RSA / RSA) DCM Chrome MonaVie      23.31
167 David Retief / Jazz Kuschke (RSA / RSA) Men's Health                                      23.35
168 Gert Muller / Derek Ross (RSA / RSA) In Da Bush                                           23.40
169 Eugene Botha / Blaine Robson (RSA / RSA) Aspen and Etana Insurance                        23.49
170 Hannes Botha / Sw Jacobsz (Ned / Ned) GijimaAst                                                
171 Cavin Noah / Glen Goddard (RSA / RSA) Cavin & Glen                                        23.50
172 Jonathan Wallace / Willem van Heerdt (RSA / RSA) Kaptein                                       
173 Chris Uniacke / Russell Bell (RSA / RSA) Coming Soon 2009                                 23.56
174 John Mohaud / Brett Hess (RSA / RSA) At Last                                              24.04
175 Richard Stone / Michael Charlewood (RSA / RSA) Randcivils / Olive Tree Farms                   
176 Greg Reilly / Barry Ross (RSA / Spa) pinnacle cars                                        24.08
177 Roy Mcgladdery / Graham Taylor (Ned / Ned) Villento                                       24.20
178 Benedikt Schneider / Joaquin Valverde (RSA / RSA) Valverde                                24.23
179 Erwin Kuunders / Joris van Oort (RSA / RSA) Vanderlande Industries                        24.24
180 Craig Metherell / Andrew Marsh (RSA / RSA) Blazing Butts                                       
181 De Groenewald Villiers / Villiers Max Pelser (RSA / RSA) Epic Masochists                  24.31
182 Erwil van der Merwe / Werner Merwe Du Preez (RSA / RSA) smokie                            24.32
183 Louis Maritz / Coillard Ford (Ger / RSA) Savuti                                           24.34
184 Greg Morris / Eldon Beinart (RSA / RSA) Molash Machines                                   24.35
185 Gregg Thorne / Nicholas Percival (Bra / Bra) Constant Motion                              24.38
186 Chiel Ruiter / Christopher Chorley (RSA / RSA) Vox                                        24.44
187 Niro Rafael Alves / Filipe Xavier (RSA / RSA) Brazil Recycling                            24.46
188 Albert Coetzee / Robert van Staden (RSA / RSA) Albertos Racing                            24.55
189 Braam Straaten van / Corné Klem (RSA / RSA) PRAGMA/JAG Living Ball                        24.58
190 Andrew Mclagan / John Versfeld (Maw / Maw) Equinox                                        25.05
191 Alan Rensburg van / Pieter-Jan Alberts (Mri / Mri) APT                                    25.07
192 John Cashman / Paul Harnettt (RSA / RSA) Beit-CURE International Hospit                   25.08
193 Mathieu Rivet / Phillippe Jean Tyack (RSA / RSA) Island Riders                            25.16
194 Gerrit Preez Du / Douw Du Preez (RSA / Uae) ADOJET                                        25.17
195 Etienne Roux / Pieter Lategan (RSA / RSA) EASY                                            25.29
196 Walter Wehner / Paul De Klerk (Ger / Ger) Dubai Desert Rats                               25.38
197 Dewyk Clercq De / Stephan Venter (RSA / RSA) Difflock                                     25.40
198 Frank Regge / Christian Orlowski (Ber / RSA) RIDE-FOCUS                                   25.44
199 Jason Bailey / John Andrew (RSA / RSA) New Balance                                             
200 Frederick Phillips / Paul Slabber (RSA / RSA) Flying Dutchmen                             25.52
201 Stamatis Kapsimalis / Dean Kennedy (RSA / RSA) John Dory's                                25.57
202 Tjaart Nieuwenhuizen van / Rossouw Grobbelaar (USA / USA) INTEL                           26.05
203 Marc Copeland / Martin Mccabe (RSA / RSA) VESPA BOYZ                                      26.14
204 Alan Bub / Gary Bub (RSA / RSA) LaGrange                                                  26.15
205 Dewald Scholtz / Pieter Venter (RSA / RSA) Kees & Bees                                    26.20
205 James Hagen / Graeme Rate (RSA / RSA) Prime Administration                                     
207 Peter Scheelke / Sandy Rae (RSA / RSA) Last chance                                        26.24
208 Freddie van der Colff / Colff Michael Prinsloo (RSA / RSA) Swarries                       26.35
209 Johan Stumpf / Louis De Villiers (GBr / GBr) 2XU Addo                                          
210 Rich Beddow / Richard Quin (USA / Aus) To Infinity and Beyond..                           26.53
211 Julian Jordan / Nigel Foskett (RSA / H) Mulebar - Pies 'n' Thighs                         27.02
212 Dj Brooks / Tom Landon-Smith (GBr / RSA) DJ & Tom Looking for Kudu                        27.04
213 Coenie Thomas / Attila Bardi (RSA / RSA) Wait 4 ME!                                       27.07
214 Martin Venn Bain / Martin Muller (Ger / Ger) MMK BIG RIG                                  27.08
215 Werner Kannemeyer / Francois Olivier (RSA / RSA) FELCO                                    27.16
216 Andi Regel / Oliver Locke (Nam / Nam) Steppenwolf                                         27.28
217 Cedric Peens / Roland Peens (RSA / RSA) Good Genes                                             
218 Org van Rensburg / Rensburg Michael Curtis (RSA / RSA) YNot                               27.29
219 Mervyn Dinkelman / Leigh Durham (RSA / RSA) Leigh Cycle Centre                            27.33
220 Travis Krause / Andrew King (RSA / RSA) Immediately Toyota                                27.35
221 Barend Du Plessis / Hendri Du Plessis (RSA / RSA) Dup's Cycles                            27.38
222 Johannes Strydom / Christiaan Bezuidenhout (GBr / GBr) Newbridge Two                      27.45
223 Francois Swanepoel / Carel Bosman (RSA / RSA) Hoe Ver Nog                                 27.52
224 Tom Starr / Jeremy Smith (RSA / RSA) Fat Face                                             28.00
225 Carl Crous / Hennie Storm (RSA / RSA) C&C Crushers                                        28.04
226 Viktor Tesar / Brent Cairns (Bra / Bra) Bald Bastards                                     28.05
227 Darryl Irvine / Justin Hornsby (RSA / RSA) 4 Wheels a Worm and HornDogg                        
228 Fabiano Nyenhuis / Felipe Pais Miranda (RSA / RSA) Infanti Brasil                         28.21
229 Mark Dankworth / Anton Maybery (RSA / RSA) SplashOut                                      28.23
230 Alton van Putten / Rick van Putten (Spa / Spa) The Chinas                                 28.24
231 Dave Linder / Scott Fraser (RSA / RSA) Reloaded                                           28.30
232 Pablo Segura / Toni Amat (USA / RSA) Roca Bikes                                           28.37
233 Michiel Scharrighuisen / Willem Potgieter (RSA / RSA) G-FLOW                              28.43
234 Graeme Mellet / Kevin Campbell (Can / Can) Grumpy Caveman                                 28.44
235 Neil Derksen / Jannie Durand (RSA / RSA) ABSA reds                                        28.59
236 Faizan Dhanani / Paul Robertson (RSA / RSA) Murderous Velocity                            29.02
237 Schalk Fourie / Thedo Visser (Ger / Ger) King Pie                                         29.10
238 Richard Harris / Andrew Drummond (RSA / RSA) ThinkPeople.co.za                            29.26
239 Andrej Zupanic / Raimund Welte (Bel / Bel) Blue                                           29.31
240 Deon Meyer / Kokkie Terblanche (RSA / RSA) Mud Monkeys                                         
241 Dietbrand van Durme / Durme Giovanni Bauwens (RSA / RSA) 2manybikers                      29.35
242 Clive Chowles / Jp van Tonder (RSA / RSA) FELT/HELIVAC                                    29.38
243 Robert Leyland / Pieter Wessels (Can / Can) Die Suid-Koreanse Berg Otters                 29.41
244 Craig Jessop / Gordon Johnstone (RSA / RSA) Group Five                                    29.57
245 Wynand Viljoen / Michael Elvidge (RSA / RSA) Terranauts                                   30.00
246 Fritz van Heerden / Heerden John Wolfaardt (RSA / RSA) Fritz & John                       30.01
247 Carey Bloch / Peter Scoufes (RSA / RSA) Zeal                                              30.15
248 Rodney Goosen / Sean Gallick (Can / Can) SMS DEMAG                                        30.19
249 Michael Jeffrey / Mark Fuller (RSA / RSA) What were we thinking?                          30.21
250 Blaine Monaghan / Grant Prenevost (RSA / RSA) Red Road                                    30.28
251 Songo Fipaza / Ndiphe Ngubane (RSA / RSA) Songo.info 2                                         
252 Michael Williams / Craig Cloete (RSA / RSA) Cemcrete                                           
253 Colin Sindle / Michael Toop (RSA / RSA) Vox BizCall                                       30.31
254 Dean Finnie / Paul Hartmann (Bot / Bot) Bizweni Bundu Bashers                             30.33
255 Duncan Palmer / Emile Rossouw (RSA / RSA) Renewable and Sustainable                       30.44
256 Gavin Briggs / Sean Mccormick (RSA / Ned) W.T.F?                                          30.46
257 Dewald Du Toit / Toit Kobus Dippenaar (RSA / RSA) SWARTLAND MTB                                
258 Petr Samanek / Dennis Buurman (RSA / RSA) Bio-Rad                                         30.59
259 Brendan Williams / Gavin Williams (RSA / RSA) Terason Tigers                              31.04
260 Vince Boulle / Mike Wilmot (GBr / GBr) BoE Market Beaters                                 31.15
261 Sias Le Roux / Jaco Roux Du Plessis (NZl / NZl) Yamaha                                    31.22
262 Tom Fry / Andrew Lanyi (RSA / RSA) Epically English                                       31.24
263 Brian Lewer / Andrew Kennedy-Smith (RSA / RSA) Lewer                                      31.26
264 Deon Pretorius / Nico Groenewald (P / RSA) Sallyport                                           
265 Gordon Brown / Carl Reynolds (RSA / RSA) Ride 4 life                                      31.30
266 Paulo Marques / Grant Bullock (Rus / Rus) Kalahari                                        31.31
267 Igsaan Noordien / Dawood Osman (RSA / RSA) Rocca Racing                                   31.42
268 Boris Kubintsev / Dmitriy Surovtsev (RSA / RSA) redBike                                   31.47
269 Linus van Onselen / Onselen Breyton Paulse (RSA / RSA) ABSA/JAG Pocket Rockets            31.56
270 George Cloete / Stiffie Du Toit (RSA / RSA) Everest                                       31.57
271 Jean De Jager / Jager Danie Viljoen (RSA / RSA) Giant and the GT                               
272 Waleed Baker / Zaid Ahmed Mahomed (RSA / RSA) Pitstop                                     32.03
273 Robert van Dijk / Dijk Greg Judin (RSA / RSA) Zambezi                                     32.04
274 Frans Nel / Bernard Bronkhorst (RSA / RSA) Salticrax                                      32.16
275 Johan Coetzee / Jaco Nieman (RSA / RSA) HAJO                                              32.22
276 Ryall Daniells / Barry van Blerk (GBr / GBr) 60Degrees                                    32.25
277 Dallas Fenthum / Ronnie Purnell (RSA / RSA) The Racing Snakes                                  
278 Stephen Pettifer / Jimmy Docherty (Ger / Ger) MuleBar                                          
279 Adriano Bertoncello / Natale De Candia (RSA / RSA) Fratelli                               32.30
280 Stephan Grau / Heiko Glinitzki (RSA / RSA) bescha#a towa                                  32.39
281 Chris Herbst / Joseph van der Merwe (RSA / RSA) Wimpy Badgers                             32.46
282 Bennie Vermaak / Herman Pieterse (RSA / RSA) MAPEI                                             
283 Andrew Steytler / Wayne Baker (USA / RSA) Men of Thirst                                   32.50
284 Owen Hannie / Mark Fish (RSA / RSA) ABSA/JAG Vuvuzelas                                    32.53
285 Robert Scott / Andrew Steer (Swi / Swi) NewspaperDirect SA                                33.06
286 Willem Louw Schalk / Schalk Louis Groenewald (RSA / RSA) Contego & Hermitage              33.08
287 Alexander Wyss / Andi Brack (RSA / RSA) Rockstars                                         33.11
288 Johan De Kock / Kock Jaco Rheeder (Ger / Ger) Kanaal Ape                                  33.25
289 Chester Foster / Anthony Church (Sin / Sin) Land Rover Gear                               33.32
290 Jens Schleicher / Markus Hoenn (RSA / RSA) nofriendsonpowderdays                          33.37
291 Mark Moore / Erdem Ozgul (GBr / RSA) Singapore                                            33.39
292 Dave Rooney / Wimpie Le Roux (Svk /Pol) Google                                            33.55
293 Ray Hince / Evert Kleynhans (RSA / RSA) ABSA LIONS                                        34.09
294 Roman Petr / Slawomir Michalak (RSA / RSA) TATRA                                          34.17
295 Henco Rademeyer / Villiers De Viljoen (RSA / RSA) Karoo VI                                34.18
296 Theo Barnard / Robert De Rooy (RSA / RSA) Allegro Non Troppo                              34.21
297 Dale Wait / Michael Cantor (RSA / RSA) hurry up and wait / Kragga kam                     34.32
298 Frederik Rademan / Gary Leeuw (RSA / RSA) Aspen 1                                         34.35
299 Marnitz Nienaber / Gavin Jacobs (Ned / RSA) PG Quattro                                    34.40
300 Derek Du Plessis / Plessis Clifford Chaney (RSA / RSA) Etana Adventurers                  34.41
301 Poovasen Chetty / Dayalan Chetty (GBr / GBr) Chetty                                       34.47
302 Albertus Potgieter / Johan Venter (RSA / RSA) Container Agents                            34.49
303 Bradley Hunt / Chris Wardrop (RSA / RSA) Jamada                                           34.54
304 Simon Marland / Colin Anderson (RSA / RSA) DYNAMIC DUO                                    34.58
305 Barto Du Plessis / Plessis Allen Liversage (RSA / RSA) TwoBar                             35.05
306 Scott Corry / Johan Fourie (Bra / Bra) Adventures of Pinky & 'Die                              
307 Dawie Keyser / David Keyser (RSA / RSA) Father & Son                                           
308 Gregory Polakiewicz / Cristiano Samara (RSA / RSA) Fran's Cafe                            35.26
309 Jonathan Clark / Rob Rogan (GBr / RSA) Polé Polé                                          35.31
310 Pieter Pieterse / Kowus Pelser (GBr / GBr) Tri-Pod                                        35.36
311 Myburgh van Aswegen / Aswegen Johan Koekemoer (RSA / RSA) Team IT2                        35.46
312 Ion Hobbs / Robert Macdonald (RSA / RSA) The Crankers FF2                                 35.50
313 Adrian Swabey / Koot Mare (RSA / RSA) Psycle Maniac's Pure Pain                           36.14
314 Dane Wilson / Koos Du Plessis (Bel / Bel) Great Basin Gold                                36.26
315 Wj Theron / Francois Theron (RSA / RSA) Theron                                            36.52
316 Johan Albrecht / Jan Servranckx (RSA / RSA) albrecht-servranckx                           37.02
317 Benedict Mabudafhasi / Rory Leisegang (RSA / RSA) Join AMA RIDER                          37.17
318 Anton Apps / Richard Wijnberg (RSA / RSA) Eye of Africa                                   37.19
319 Jaco Du Toit / Toit Riaan Koegelenberg (GBr / GBr) NaviG8                                 37.22
320 Jonathan Stockwell / Graham Girdwood (RSA / RSA) Werksmans Attorneys                      37.30
321 Peter Glover / Nicholas Sedgwick (Bra / Bra) NSPG                                         37.35
322 Howard Kelly / Gary Green (RSA / Ber) Soutpiel Express II                                 37.36
323 Luiz Alves Joao / Joao Fabiano Oliveira (RSA / RSA) Clube Campolarguense de               37.38
324 Eugene Long / Deon Graham (RSA / RSA) Red Bulls and Vodka                                 37.50
325 Sean Brimacombe / James Crawford (RSA / RSA) BUILD-IT                                     37.53
326 Kevin Strydom / Barend van Tonder (RSA / RSA) GAGE Roadhogs                               38.02
327 Mark Pienaar / John Mcmahon (Spa / Spa) Big Ring Action                                   38.22
328 Gerhard Oberholster / Wimpie Spangenberg (RSA / RSA) Frigopol                             38.48
329 Juan Castillo Inga / Inga Moreno Javier Guerrero (RSA / RSA) VALBUENA 2                   38.53
330 Attie Koekemoer / Marc Slabbert (RSA / RSA) Ride Magazine Swarries                        39.05
331 Roderick Westwood / Oelrich Du Toit (Ned / Ned) Speck Pumps                               39.16
332 Ben Mwanje / Lebohang Monaheng (RSA / Aus) Cycle Lab Toyota Development                   39.27
333 Jan Oomen / Toine Govers (RSA / RSA) ZZPR.NL-DESTIL                                       39.48
334 David Pienaar / Schalk Pienaar (RSA / RSA) Porquepine                                     40.25
335 Steven Evans / Leon van der van Nest (RSA / GBr) MiX Telematics                           40.31
336 Weylin Ludick / Keane Ludick (RSA / RSA) super bra's                                      40.33
337 Grant Bain / Zach De Beer (RSA / RSA) Jessica's Dream                                     40.58
338 Paul van Dyk / Dyk Jakkie Liebenberg (RSA / RSA) Millinium Flooring/New Balance           41.12
339 Theo Papadakos / Andrew Grimanis (RSA / RSA) MAD GREEK'S                                  41.13
340 Danny Sabbagh / Michael Sabbagh (RSA / RSA) LEBS ON WHEELS                                41.16
340 Jason Nichol / Chris Harburn (RSA / RSA) GIBA GORGE                                       41.34
342 Shane Bridger / Stephen Thompson (RSA / RSA) Yho Yho                                      41.39
343 John Slade / Kem Slade (RSA / RSA) Durban Powder Coaters                                  41.41
344 Christiaan Schutte / Marius Hurter Hofmeyr (Bra / Bra) CycleLab/JAG WARRIORS              42.51
345 Rick Afonso / Marius Venter (RSA / RSA) Old MTB Toppies                                   42.56
346 Ricardo Garcia / Vinícius Cruz (RSA / RSA) Rede BWA - OCE                                 43.06
347 David Louw / Christie Botha (RSA / RSA) Pofadders                                         43.15
348 Martin Beytell / Lucas Burger (GBr / GBr) Die Onfikse 2                                   43.20
349 Vic Gentis / Mark Lansdell (RSA / RSA) Pimp-My-Ride                                       43.26
350 Ian Jones / Andrew Clayton (RSA / RSA) George and the Dragon                              43.54
351 Adriaan De Nysschen / Andre De Nysschen (RSA / RSA) Ride - He aint heavy..                44.50
352 Les Rose-Innes / Johnny Eagleton (RSA / RSA) double barrel                                45.15
353 Elias Smit Wynand / Wynand Mark Cerfonteyn (RSA / RSA) J van der Sluys                    46.08
354 Wynand van der Berg / Berg Reynier Boersma (RSA / RSA) Extreme Cause                      46.15
355 Paulo Lario / Daniel Hanson (RSA / RSA) Best Name Ever                                    47.05
356 James Delaport / Arno Els (RSA / Can) Performplus                                         47.37
357 Brennan van Heerden / Heerden Andre Harington (RSA / RSA) TSB                             47.45
358 Koos Pretorius / Isaac Pretorius (RSA / RSA) Brothers Grimm                               50.55
359 Colin Scholtz / Christiaan Boshoff (RSA / RSA) Deux Camarade                              51.06
360 Danie van Tonder / Tonder Loot Steyn (RSA / RSA) WIZARDS                                  52.26
361 Robert Pace / Jacques Pace (RSA / RSA) Torque-IT                                          53.56
362 Johan Huyser / Danie De Beer (RSA / RSA) MTB Nuts                                         57.39
363 Francois Viljoen / Ulendo Roode (RSA / RSA) IDC                                           57.55
364 Clinton Alley / Clive Poultney (RSA / RSA) Medshield                                    1.06.35
365 Mark De Swardt / Swardt Andrew Hanger (RSA / RSA) Wild Riders                           1.26.38
 
Masters
 
1 Shan Wilson / Andrew Mclean (RSA / RSA) Cycle Lab Toyota                                    47.18
2 Doug Brown / Bärti Bucher (RSA / Swi) ABSA Masters                                           0.04
3 Corrie Muller / Robert Sim (RSA / RSA) Van Loveren / SAND                                    3.01
4 Eduardo Soares / Daniel Aliperti (Bra / Bra) Epic Brazil                                     4.01
5 Doug Andrews / Rich Bartlett (USA / USA) Block / GeoLadders.com                              4.05
6 Martin Hornegger / Andreas Kienast (Aut / Aut) adidas kuota mauna loa                        5.15
7 M.C. Franken / Lieb Loots (RSA / RSA) Pragma Masters                                         5.28
8 Martin Altermatt / Andreas Graf (Swi / Swi) Move on                                          6.04
9 Dirk Rossignol / Ronny Roelandt (Bel / Bel) 2XtremeMasters                                   7.08
10 Henrik Jappe / Franck Anders Rasmussen (Den / Den) Cykel Motion Danmark                     7.53
11 Brian Gelling / Keith Milner (RSA / RSA) Atlantic Forwarding                                8.17
12 Izak Visagie / Stephan Gous (RSA / RSA) Anderson Transport                                  8.41
13 Steven Strickler / Jonathan Williams (USA / USA) Strickytours.com                           8.58
14 Petrus Senekal / Arie Olivier (RSA / RSA) Big Tree Foundation II                                
15 Trever Bushnell / Mike Thiele (USA / USA) Thieles Automotive                                9.04
16 Greg Anderson / Glenn Williams (RSA / RSA) Energade Masterclass                             9.07
17 Cedric Jakobsen / Derek Morgan (RSA / RSA) Eleven Wise Monkeys                             10.36
18 Mark Haarhoff / Greg Goodwin (RSA / RSA) Visy                                              10.43
19 Mario Roma / Russell De Jager (Bra / RSA) BRASIL SOUL MTB                                  11.06
20 Willem De Vos / Vos Johan Engelbrecht (RSA / RSA) Vodacom                                  11.18
21 Paul Keet / Johan Cilliers (RSA / RSA) DHL LOGISTICS                                       11.37
22 Ruud Poels / Eugene Kusters (Ned / Ned) Clayre & Eef                                       11.38
23 Andrew Currie / Richard Lombard (RSA / RSA) Cyclelab Cradle Quest                          11.39
24 Jeff Wilcocks / Willem van der Merwe (RSA / RSA) Millies                                   11.56
25 Sakkie van Wyk / Wyk Garry Mcnaughton (RSA / RSA) Gage                                     11.58
26 William Simpson / Neil Warren (RSA / RSA) Adidas William Simpson                           12.13
27 Ennis Venter / Andrew Cillie (RSA / RSA) Atlantic                                          12.18
28 Hendrik Lemmer / Richard Antwerpen van (RSA / RSA) Chill Zone Champs                       12.29
29 Bruce Reyneke / Brian Bontekoning (RSA / RSA) Bruce Reyneke Cycles Jaguar                  12.35
30 Cecil Baker / Temlett Hockey (RSA / RSA) LITESPEED SA                                      13.30
31 Coenraad De Bruin / Bruin Paul Steyn (RSA / RSA) Purina Proplan                            13.43
32 Marc Wiederkehr / Gus Klohn (RSA / RSA) InfraDEV Dunkeld Cycles                            14.08
33 Henning Blaauw / Pea Blaauw (RSA / RSA) Millennium Flooring Company                        14.09
34 Sven Riedesel / Axel Schienbein (Ger / Ger) Adidas Campana                                 14.14
35 Neville Ackermann / Willie Esterhuyzen (RSA / RSA) Rooiberg Masters                        14.17
36 Henry Fagan / Anthony Walker (RSA / RSA) Henry Fagan & Partners                            14.53
37 Patrick Gaertner / William Ferris (RSA / RSA) SUPERWATT                                    15.12
38 John Thomson / Duncan Bowman (RSA / RSA) Toyota Mates                                      15.33
39 George Hardisty / Matthew Hillhouse (Can / Can) Alberta Clippers                           15.44
40 Daniel Smit / Kobie Pruis (RSA / RSA) Toyota                                               15.56
41 Chris Whitfield / Douglas Retief (RSA / RSA) Cape Argus                                    15.57
42 Freek Coetzee / Tim Blewett (RSA / RSA) ABSA2day2morrow2gether                             16.01
43 Stephen Wells / Hennie van Rooyen (RSA / RSA) Cape Epoxy Flooring and                      16.09
44 Sean Quinn / Gary Quinn (RSA / RSA) Cycle Lab Toyota Quinns                                16.21
45 James Stopforth / Bernie Stopforth (RSA / RSA) TwoStop                                     16.24
46 Jos Kerkhofs / Daniel Evrard (Bel / Bel) Joven Belgian MTB                                 16.26
47 George Evans / John Croasdale (RSA / RSA) SportsCore                                       16.28
48 Roelant Horree / James Stevenson (Ned / Sin) HRG                                           16.47
49 Patrick Leary / Reginald Jager (RSA / RSA) Dust or Bust                                    16.52
50 Steve van Eck / Eck Marius Fourie (RSA / RSA) Biltong & Yster                              17.11
51 Piet Viljoen / Charles Stander (RSA / RSA) Deep South 83                                   17.17
52 Brent Williamson / Gavin Harry Reynolds (Zim / RSA) Brent & Harry                          17.43
53 Johan Bezuidenhout / Hilton Foster (RSA / RSA) Buzz                                        17.58
54 Chris Rabie / Lood Rabie (RSA / RSA) Lyngrove                                              18.15
55 Michael Potgieter / Roy Cackett (RSA / RSA) CHEP -Timone and Pumba                              
56 Ricus Nel / Jaco Swanepoel (RSA / RSA) Momentum Specialised Insurance                      18.26
57 Johan van Splunter / Jan Pieter Paarlberg Splunter (Ned / Ned) www.beukersbikecentre.nl    18.49
58 Rory Mapstone / Bo Szalek (RSA / RSA) Robo                                                 19.04
59 Pieter Lategan / Neels Nel (RSA / RSA) SAC TRUCKS                                          19.15
60 Andy Mcpherson / Trevor Distin (RSA / RSA) captain morgan                                  19.25
61 Frans Hansen / Carl Mare (RSA / RSA) Kimberly-Clark                                        19.36
62 Andrew Roy / Michael Patchitt (RSA / RSA) SILVERSPOONS                                     19.38
63 Brett Olsen / Johan Groenewald (RSA / RSA) Earthbound                                      19.42
64 Erhardt Du Toit / Vos Du Toit (RSA / RSA) OVERBERG WATER NO 2                              19.44
65 Appel van Zyl / Gerhard Zyl De Bruyn (RSA / RSA) DeBruyneAppel                             19.54
66 Andries Gous / James Michael Thomson (RSA / RSA) United                                    20.00
67 Jacques Botha Andre / Andre Dirk Fyfe (RSA / RSA) Rock 'n Roll                             20.08
68 Adriaan De Bruyn / Bruyn Chris Olivier (RSA / RSA) Sintrex                                 20.12
69 Anthony Priday / Bruce Dickson (RSA / RSA) Superwatt Masters                               20.22
70 Mike Sherman / Peter Simon (RSA / RSA) epic junkies                                        20.23
71 Markus Hunziker / Matthaeus Meier (Swi / Swi) MMM Suisse                                   20.28
72 Herman van Den Borre / Borre Freddy Verdoodt (Bel / Bel) MIE KATOEN Belgium                20.51
73 John Hayes / Henry Hayes (RSA / RSA) Hayes                                                 20.53
74 Tim Watson / Chris Drummond (RSA / RSA) Sympathighs                                        21.03
75 Frederik Grobler Eward / Andre Eward van der Merwe (RSA / RSA) CEGELA                           
76 Kabous Marra / Pierre Loubser (RSA / RSA) Absa Retail                                      21.04
77 Steve De Kock / Kock Stephan Grobler (RSA / RSA) Tenacious                                      
78 Fanus Vorster / Guillaume Olivier (RSA / RSA) Vierster                                     21.13
79 Roberto Gnudi / Enzo Antoniazzi (RSA / RSA) BRUCE RYNEKE CYCLES/PANDA                      21.20
80 Hennie van der Merwe / Merwe Wickaum Smith (RSA / RSA) JOWLS BEETRUSH                      21.28
81 David Macready / Graham Hindle (RSA / RSA) Nedbank Private Bank                            21.33
82 Brian Meacher / Richard Hawkins (RSA / RSA) Ocean Basket                                   21.44
83 Frans De Beer / Bill Beer van Den Berg (RSA / RSA) Bike Junkies                            22.12
84 Gerrie Steyn / Malan van Rensburg (RSA / RSA) Intel Masters                                22.14
85 Jan Kuiper / John Kirkland Peter (RSA / RSA) Jewel Africa                                  22.20
86 Mike Bayly / John Swanepoel (RSA / RSA) PRAGMA/JAG 200kg of Racing Sna                     22.52
87 Jim Farara / William Farara (RSA / GBr) Scuderia Farara                                    22.56
88 Marius Visser / Jaco van Dyke (RSA / RSA) BaieSikkel-GijimaAst                             23.20
89 Hayden Wroughton / Oene Los (RSA / RSA) Cataract                                           23.21
90 Simon Hough / James Thornhill-Fisher (RSA / RSA) Afripex Tygirs                            23.22
91 James Arthur / Rod Cairns (RSA / RSA) 2 OLD DOGS                                           23.39
92 Andrew Kirby / Kevin Kirby (RSA / RSA) Toyota Everything better keep                       23.49
93 Andrew Bradley / Gavin Attenborough (RSA / RSA) Discovery                                  24.06
94 Steve Lovemore / John Soper (RSA / RSA) Pap Snoek                                          24.07
95 Francois Strauss / Adriaan Strauss (RSA / RSA) Rockspiders                                 24.12
95 Mario Firmani / Andrew Paterson (RSA / RSA) Mondipak                                       24.14
97 Ron van Westrenen / Westrenen Marcel Schouten (Ned / Ned) FACD for design                  24.48
98 Etienne Espag / Chris Oosthuizen (RSA / RSA) Fortysomethings                               25.12
99 Mark Lawn / Dave Featherstone (GBr / GBr) Epic4Joe                                         25.18
100 Andres Juan Rodriguez / Alejandro Gonzalez (Ven / Ven) VENEZUELA ELITE                    25.32
101 Niel Du Toit / Toit Jan Schutte (RSA / RSA) Terason Old Toppies (TOT's)                   25.40
102 Vaughan Archer / Mark Kleynhans (RSA / RSA) Fat Old Men                                   26.01
103 Sander Silvis / Frits Eloff (RSA / RSA) Mythbusters                                       26.32
104 Glen Fouche / Albie Heigers (RSA / RSA) Diesel                                            26.36
105 Graham Diesel / Dave Mitchell (RSA / RSA) DIMENSION DATA 3 ARMED                          27.00
105 Robert De La Motte / Motte Ian Sandover (Aus / Aus) Perth Squirts                         27.24
107 Neels Du Plessis / Philip Plessis Le Roux (RSA / RSA) scalpel+saw                         27.30
108 Dieter von Staden / Staden Marthinus Muller (RSA / RSA) Aurigae                           27.37
109 Kim Odland / Drew Bell (Can / Can) Kimo and The Gator                                     28.07
110 Mike Du Toit / Andries Du Toit (RSA / RSA) LOOP & VAL                                     28.30
111 Dirk Pauling / Silvan Meier (Swi / Swi) Triclub Baden                                     28.36
112 Wynand Du Toit / Toit Petrus Erasmus (RSA / RSA) OVERBERG WATER                           28.40
113 Paul Sanders / Dennis Rink (GBr / GBr) Times Boardman Halfords Bike H                     29.10
114 Philip Hourquebie / Jack Stroucken (RSA / RSA) ABSAlute masters                           29.12
115 Mark Eltringham / Richard Baker (RSA / RSA) Orthomech                                     29.29
116 Kevin Aron / Craigh Chidrawi (RSA / RSA) Medscheme Health                                 29.37
117 Peter De Vaal / Vaal Rinie Essenstam (Ned / Ned) TransFair                                29.39
118 Stephen Drew / Henry Verhoeven (RSA / RSA) Just4Fun                                       29.49
119 Paulo Carvalho Silva / Silva Paulo Brandao (Bra / Bra) Ceará-Brasil                       30.33
120 Edmond Menzies / Johann Botha (Uae / Aus) Dubai Pirates                                   30.37
121 Lake Arapakis / Dan Wray (Oma / Can) Hades                                                31.37
122 Albert van Zyl / Zyl Francois Burger (RSA / RSA) Ou Manne                                 32.07
123 Reynier Ter Haar / Haar Johan Eloff (Maw / RSA) quantum kwadraat                          32.20
124 Pieter Erasmus / Roy Du Toit (RSA / RSA) hexkoel                                          32.24
125 Gavin Robinson / Henry Angove (RSA / RSA) TUFF NUTS                                       32.34
126 Christopher Newby-Fraser / Mark Mcgarrity (RSA / RSA) Fattyre & Haggis                    32.56
127 Wayne Schonegevel / Donald Corns (RSA / RSA) Volvo                                        33.14
128 Eduardo Esquivel / Sergio Esquivel (Mex / USA) E-Bros                                     33.27
129 Gerhard Kotze / Michael Brian Papas (RSA / RSA) LEFTIES                                   33.31
130 Jeffrey Whiteley / Ricky Bucceri (RSA / RSA) MUTT & JEFF                                  33.46
131 Jan-Rikus Bogenhofer / Jacobus Frederik Meintjes (RSA / RSA) Laurel and Hardy             34.35
132 Sicken Andreas / Stefan Zimmermann (Ger / Ger) BikeSportNews-Pirate                       35.59
133 Monty Erasmus / Wouter Mare (RSA / RSA) Psycle Maniacs Indestructible                     36.15
134 Louis Du Toit / Meyer Jordaan Toit (RSA / RSA) Glasfit                                    37.07
135 Antonio Villar / Alfredo Montenegro (USA / Bra) Brasil Ceara                              37.18
136 Ian Campbell / James Deutschmann (Moz / RSA) Rose & Bok                                   37.49
137 Willie Steenkamp / Etienne Le Roux (RSA / RSA) OVERBERG SUIWEL                            38.19
138 John Roosen / Koen van Looy (Bel / Bel) mopani                                            39.51
139 Willie Esterhuizen / Collin Stroberg (RSA / RSA) Danny's Boy's                            40.06
140 Julius Oosthuizen / Johan Henn (RSA / RSA) Novare Alpha Maniacs                           41.02
141 Doug Reed / Gerry Capatos (RSA / RSA) Great Expectations                                  41.36
142 Gerrit Pretorius / Hennie De Clercq (RSA / RSA) Flippen Mal                               43.01
143 Gerson Doll / Mario Petrelli (Bra / Bra) FENIX                                            43.35
144 Janine Brown / Sharon Allen (RSA / RSA) CURVES x 2                                        44.42
145 Derek Pieterse / Lynn Morris (RSA / RSA) Pondoland Boys                                   44.47
146 Melius Weideman / Louis Brand (RSA / RSA) Grapetek-Liquigro                               44.58
 
Mixed
 
1 Nico Pfitzenmaier / Alison Sydor (RSA / Can) Adidas Big Tree                                49.03
2 Ivonne Kraft / Lukas Kubis (Ger / Ger) Haibike-VMT                                           0.59
3 Yolande Speedy / Paul Cordes (RSA / RSA) IMC/Momentum GT/Activeworx                          2.46
4 Rebecca Rusch / Matthew Weatherley-White (USA / USA) Specialized / Red Bull                  4.05
5 Esther Süss / Marcel Bartholet (Swi / Swi) WHEELER - iXS Pro                                 4.07
6 Johan Labuschagne / Yolandè De Villiers (RSA / RSA) Cycle Lab Toyota Mixed                   4.47
7 Kenji Takeya / Rie Katayama (J / J) SPECIALIZED JAPAN                                        6.38
8 Inbar Ronen / Gali Ronen (Isr / Isr) ctc/ELAL                                                6.39
9 Markus Pielenz / Sandra Sumerauer (Ger / Ger) adidas medsport checker pig                    7.37
10 Ingrid Rolles / Scott Rolles (USA / USA) chucks hawaii                                      7.38
11 Hannele Steyn-Kotze / Fourie Kotze (RSA / RSA) Afripex Mixed                                8.02
12 Willie Engelbrecht / Erica Green (RSA / RSA) ABSA/JAG Legends                               8.14
13 Claudio Pellegrini / Lorenza Menapace (Ita / Ita) Luna                                      8.31
14 Naomi Hansen / Andrew Davison (Aus / Aus) American Crew                                     8.46
15 Ischen Stopforth / Peter Stopforth (RSA / RSA) Marsilio Projects Mixed                     10.34
16 Richard Mountstephens / Katrin van der Spiegel (Aus / Aus) VanDerMountSpiegelStephens      11.32
17 Yolandi Du Toit / Toit Renier Bellingan (RSA / RSA) Team DCM Chrome                        11.57
18 Anton Smal / Sanet Smal (RSA / RSA) Cycle House Eggbert Eggs                                    
19 Fjord Jordaan / Michelle Schlebusch (RSA / RSA) MUDSUCKERS                                 12.03
20 Ann Harrison / Rodger Browne (RSA / RSA) Mokambo                                           12.13
21 Felix Breske / Anke Dannowski (Ger / Ger) mtb-orienteering & bo-racing                     12.14
22 Leydy Garcia / Julio Monrroy (Ven / Ven) Autana                                            12.39
23 Andre Boshoff / Elmien Stander (RSA / RSA) Merlin                                          12.53
24 Craig Beech / Liz Ward (RSA / RSA) Life's a Beech                                          13.38
25 Stuart Mcconnachie / Natascha Petersmann (RSA / RSA) Audi Centre Cape Town                 14.40
26 Anka Martin / Dan Forsythe (USA / RSA) Hansgrohe/Santa Cruz                                14.45
27 Fabien Halbwachs / Aurelie Halbwachs (Mri / Mri) Villas Valriche                           14.46
28 Alana Heise / Steve Walsh (Can / Can) SchmoeScape                                          16.09
29 Ronel Booysen / Hennie Dreyer (RSA / RSA) Direct Transact                                  16.15
30 Elsabe Hofmeyr / Jan-Hendrik Hofmeyr (RSA / RSA) Generaal en sy vrou                       16.16
31 Hanna Winberg / Björn Völcker (Swe / Swe) Stockholm Multisport                             16.55
32 Kevin Record / Petruschka Constancon (RSA / RSA) Pom & The Con                             17.08
33 Bonny Swanepoel / Martin Buck (RSA / RSA) ADIDAS MIXED                                     17.22
34 Todd Israel / Belinda Brooks (Aus / Aus) WARD CYCLES AVANTI PLUS                           17.55
35 Julia Skea / Mark Oliver (RSA / RSA) Bad Idea Bears                                        18.34
36 Dorethe Selten / Erno Dongen (Ned / Ned) Acket EDO                                         19.35
37 Ursula Morris / Paul Potter (RSA / RSA) MTN Downhill Junkies 2                             19.40
38 Stef Plas / Tinneke van de Voorde (Bel / Bel) FIZIK BIKE TRIBE                             20.26
39 Edmund Du Toit / Toit Miriam Stronkhorst (RSA / RSA) WASABI                                21.01
40 Colleen Jacobs / Johan Jacobs (RSA / RSA) JACOBS DREAM                                     21.19
41 Joyce Benade / John Swaine (RSA / RSA) Kwambo Dirt Trackers                                21.23
42 Ray Farrenkothen / Caren Henschel (RSA / RSA) Hout Bay Harriers                                 
43 Peggy Kuipers / Chretienne van Hoesel (Ned / Ned) Peter Dahmen Cycling                     21.33
44 Wayne Denissen / Rentia Denissen (RSA / RSA) double d                                      22.20
45 Koos Pieterse / Madeleine Pieterse (RSA / RSA) Castle Lager                                23.21
46 Sabrina Hofer / David Egli (Swi / Swi) Swissteam                                           23.22
47 Hanneke Boon / Andre van der Spoel (Ned / Ned) Bike2Build Mixed                            23.55
48 Hendrik van Huyssteen / Laurike van Huyssteen (RSA / RSA) Energas                          25.12
49 Jeremy Sanders / Louise Sanders (RSA / RSA) CamelToe and HungryBum                         25.18
50 Christophe van Lierde / Lierde Patricia Vandendriessche (Bel / Bel) NomaDesk.com           25.25
51 Martine Nel / Donald Mackenzie (Bot / RSA) Key Adventures                                  25.46
52 Bruce Mager / Gillian Mager (RSA / RSA) MAGERS                                             25.51
53 Tristan Hahn / Michelle Harris (RSA / RSA) Investec                                        25.57
54 Caroline Halvorsen / Alex Szlanina (RSA / RSA) Ruff 'n Tuff                                26.15
55 Pieter van der Merwe / Marliese van der Merwe (RSA / RSA) Bloudraad                        26.38
56 Marcel Bachmann / Bettina Baumgartner (Swi / Swi) BaBa                                          
57 Pieter Fourie / Linda Fourie (RSA / RSA) Baltimore                                         26.56
58 Carl van Maanen / Maanen Mandy Proost (RSA / RSA) Nunc aut Nunquam                         27.49
59 Nina Hind / Sean Hanekom (GBr / RSA) Tachyon                                               28.03
60 Diane Nightingale / Paul Melville (RSA / RSA) Pinkie & The Brain                           28.06
61 Coen Bezuidenhout / Lize Theron (RSA / RSA) Skot n Rokkie                                  28.31
62 Brenda- Robertson / Eric Marshall (RSA / RSA) Millenium Flooring New Balance               28.42
63 Albert Du Toit / Philda Toit De Jager (RSA / RSA) Nautilus                                 30.01
64 Paula Hardy / Gary Gorton (RSA / RSA) EXTREME                                              30.11
65 Ilse Kroener / Ulrich Wuensch (Ger / Ger) Lalung La                                        30.50
66 Dan Cronje / Annelie Cloete (RSA / RSA) Phambili                                           31.12
67 Tom Janas / Gerli Herberich (Ger / Ger) sportograf.com                                     31.54
68 Raul Alonso / Isanete Alves (Spa / Spa) 15th Anniversary                                   32.26
69 Peter Haines / Dawn Gale (GBr / GBr) Newbies                                               33.53
70 Felicia Kloet / Lance Morel (RSA / RSA) DIRTRIDERS                                         35.51
71 Stephan Wank / Annette van der Merwe (RSA / RSA) Coimbra                                   36.29
72 Diana Tanner / Bruce Tanner (RSA / RSA) Tata Ma Chance                                     40.57
73 Ruan Lamprecht / Dianie Lamprecht (RSA / RSA) Boggom en Voetsek                            41.26
74 Nerissa Tong / Matthew Laight (HKg / HKg) Only Fools and Horses                            48.50
75 Chris Cronje / Michelle Cronje (RSA / RSA) PLANET SHAKERS                                  50.38
76 José Castillo / Luisa Sanchez (Ven / Ven) WARAIRAREPANO                                    56.50
 
Women
 
1 Sharon Laws / Hanlie Booyens (GBr / RSA) ABSA LADIES                                         0.56
2 Sarah Koch / Daniela Hartmann (Swi / Swi) 2 swiss epic girls                                 0.06
3 Robyn Adendorff / Sarah van Heerden (RSA / RSA) WSP - JEEP GIRLS                             0.12
4 Nolene Saunders / Sarah Wielopolska (RSA / RSA) TREAD Magazine Ladies                        0.12
5 Anthea Gould / Andrea von Holdt (RSA / RSA) Coega Ladies                                     0.13
6 Heike Jakins / Nikki Haywood (RSA / RSA) Woman on top                                        0.14
7 Angelique Tostee / Ingrid Serritslev (RSA / RSA) Dust Busters                                0.14
8 Mylene Loumeau / Carla Barton (RSA / RSA) Mountain Biker Magazine                            0.15
9 Irene Rueesch / Nicole Braun (Swi / Swi) qloom                                               0.21
10 Petro Labuschagne / Laetitia Botha (RSA / RSA) Cycle Lab Toyota Ladies                      0.25
11 Luciana Cox / Adriana Boccia Dalman (Bra / Bra) Flower People                               0.29