MTB index page for all MTB content
MTB World Cup DH & 4X #4 - CDM
Fort William, Scotland, Great Britain, June 5-7, 2009
Main Page Results Previous Race Next Race World Cup Standings
Race 5 - June 7: Elite women downhill
Jonnier wins third consecutive World Cup
French women dominate in Scotland
By Rob Jones in Fort William
Sabrina Jonnier (Team Maxxis-Rocky Mountain Bicycles)
Photo ©: Gary Perkin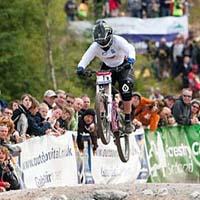 Sabrina Jonnier's domination of the women's World Cup downhill circuit continued when the Team Maxxis-Rocky Mountain Bicycles rider took her third consecutive victory and led a French sweep of the top five places in Fort William, Scotland. Jonnier retained her World Cup leader's jersey, with the season now half finished.
"It's great to finally win a World Cup in Fort William, one of the best tracks on the circuit - especially after waking up to sunshine!" said Jonnier.
The good weather remained from the previous night of four cross racing, leaving the track fast and loose. Canada's Micayla Gatto was the first to set a sub-six minute time, and her 5:42.72 ride was fast enough to put her into the Hot Seat for nearly half of the race. Her compatriot Claire Buchar (Chain Reaction/Intense) finally knocked a slim three-hundredths off the lead time.
Buchar lasted on top for three riders, until Myriam Nicole put in the first of what would prove to be a series of very strong French rides, knocking ten seconds off the best time. However, Nicole's time in the lead lasted exactly one rider before Floriane Pugin (Iron Horse-Kenda) replaced her. Pugin, in turn, was replaced immediately by Celine Gros (Morzine-Avoriaz 74).
Scenic Fort William
Photo ©: Gary Perkin

Next up was Tracy Moseley (Trek World Racing), the home favourite. Moseley went off to a good start, posting the fastest time at the first intermediate time check, but then crashed lower on the course, falling out of contention.
There were just two riders left, both French - Emmeline Ragot (Suspension Center) and Jonnier. Both were clearly a step above the rest of the field, with Ragot knocking four seconds off of Gros' time, and then Jonnier completely demolishing Ragot's run by over nine seconds, to claim her third consecutive World Cup win.
Jonnier's win has extended her over Moseley, with 892 points to the British riders 750. Moseley is also being chased from behind, as Ragot has moved to within 25 points.
"It was awesome to be part of an all-French girl podium," said Jonnier, who credited her new Rocky Mountain Flatline WC as a key to her success. "I made the right choice with my front and rear [tires] today, too."
Photography
For a thumbnail gallery of these images, click here
Images by Gary Perkin
Results
1 Sabrina Jonnier (Fra) Team Maxxis-Rocky Mountain Bicycles    5.17.65
2 Emmeline Ragot (Fra) Suspension Center                       0.09.02
3 Céline Gros (Fra) Morzine-Avoriaz 74                         0.12.95
4 Floriane Pugin (Fra) Iron Horse-Kenda-Playbiker              0.13.70
5 Myriam Nicole (Fra)                                          0.14.10
6 Mio Suemasa (Jpn)                                            0.15.19
7 Tracy Moseley (GBr) Trek World Racing                        0.15.51
8 Claire Buchar (Can) Chain Reaction Cycles/Intense            0.25.04
9 Micayla Gatto (Can)                                          0.25.07
10 Emilie Siegenthaler (Swi) Scott 11                          0.25.37
11 Melissa Buhl (USA)                                          0.27.54
12 Fionn Griffiths (GBr) Norco World Team                      0.31.63
13 Anita Molcik (Aut)                                          0.32.88
14 Katy Curd (GBr)                                             0.33.93
15 Miriam Ruchti (Swi) Team Vario Racing                       0.38.04
16 Joanna Petterson (RSA)                                      0.39.35
17 Harriet Rucknagel (Ger)                                     0.45.94
18 Sarah Newman (GBr)                                          0.48.18
19 Sophie Borderes (Fra)                                       0.48.27
20 Jessica Stone (GBr) 2Stagefactory                           0.52.16

Teams

1 Santa Cruz Syndicate                        90 pts
2 Yeti Fox Shox Factory Race Team             54
3 GT Bicycles                                 49
4 Scott 11                                    49
5 Team Maxxis-Rocky Mountain Bicycles         47
6 Monster Energy / Specialized / Mad Catz     44
7 Trek World Racing                           44
8 MS Evil Racing                              42
9 Chain Reaction Cycles/Intense               40
10 Suspension Center                          35
11 Morzine-Avoriaz 74                         32
12 Animal Commencal                           30
13 Iron Horse-Kenda-Playbiker                 30
14 Lapierre Powered By Saab Salomon           21
15 Norco World Team                           19
16 Massi                                      18
17 Subaru Mountain Bike Pro Team              16
18 Team Vario Racing                          16
19 Duncan Riffle Racing                       12
20 2Stagefactory                              11
21 Ancillotti Doganaccia Racing Team           6
22 Dytech DH                                   4
23 Kona                                        2

World Cup standings after four rounds

1 Sabrina Jonnier (Fra) Team Maxxis-Rocky Mountain Bicycles        892 pts
2 Tracy Moseley (GBr) Trek World Racing                            750
3 Emmeline Ragot (Fra) Suspension Center                           725
4 Myriam Nicole (Fra)                                              496
5 Floriane Pugin (Fra) Iron Horse-Kenda-Playbiker                  439
6 Céline Gros (Fra) Morzine-Avoriaz 74                             421
7 Mio Suemasa (Jpn)                                                375
8 Fionn Griffiths (GBr) Norco World Team                           355
9 Melissa Buhl (USA)                                               284
10 Emilie Siegenthaler (Swi) Scott 11                              242
11 Claire Buchar (Can) Chain Reaction Cycles/Intense               235
12 Joanna Petterson (RSA)                                          135
13 Micayla Gatto (Can)                                             110
14 Petra Bernhard (Aut) Ancillotti Doganaccia Racing Team           97
15 Katy Curd (GBr)                                                  92
16 Helen Gaskell (GBr)                                              80
17 Anita Molcik (Aut)                                               80
18 Miriam Ruchti (Swi) Team Vario Racing                            75
19 Anais ° Pajot (Fra) Team Sunn                                    60
20 Sarah Newman (GBr)                                               60
21 Diana Marggraff (Ecu)                                            60
22 Anka Martin (RSA)                                                40
23 Jessica Stone (GBr) 2Stagefactory                                40
24 Helene Valerie Fruhwirth (Aut)                                   35
25 Miranda Miller (Can)                                             30
26 Elisa Canepa (Ita) Iron Horse-Kenda-Playbiker                    30
27 Risa Suseanty (Ina)                                              25
28 Harriet Rucknagel (Ger)                                          20
29 Victoria Phillips (RSA)                                          20
30 Antje Kramer (Ger)                                               15
31 Sophie Borderes (Fra)                                            10
32 Fanny ° Lombard (Fra)                                             5
33 Caroline Sax (Fra)                                                5

Teams

1 Santa Cruz Syndicate                       329 pts
2 Trek World Racing                          269
3 GT Bicycles                                191
4 Team Maxxis-Rocky Mountain Bicycles        185
5 Yeti Fox Shox Factory Race Team            164
6 Monster Energy / Specialized / Mad Catz    163
7 Scott 11                                   152
8 Chain Reaction Cycles/Intense              145
9 Animal Commencal                           139
10 MS Evil Racing                            133
11 Suspension Center                         133
12 Iron Horse-Kenda-Playbiker                118
13 Norco World Team                           95
14 Morzine-Avoriaz 74                         88
15 Massi                                      67
16 Lapierre Powered By Saab Salomon           62
17 2Stagefactory                              47
18 Ancillotti Doganaccia Racing Team          45
19 Kenda Morewood                             43
20 Duncan Riffle Racing                       36
21 Team Vario Racing                          35
22 Specialized Team America                   34
23 MSC Bikes                                  32
24 Subaru Mountain Bike Pro Team              30
25 Team Sunn                                  22
26 Ghost A.T.G. Pro Team                       9
27 XMS-Devinci World Cup Team                  6
28 Dytech DH                                   4
29 Kona                                        2