MTB index page for all MTB content
North Island Downhill Cup #3 - NE
Levin, New Zealand, January 24-25, 2009
Blenkinsop brings New Zealand back to the top of the podium
Harper unchallenged in women's event
Brook McDonald
Photo ©: Bike NZ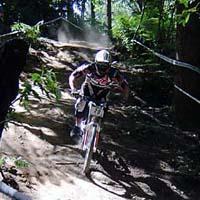 Levin hosted the third and final North Island round of the Raboplus MTB Cups. World Cup round winner and world-ranked number seven Sam Blenkinsop won the elite men's race, making him the first New Zealander to be at the top of the podium during this series after Scottish rider Ben Cathro had won rounds one and two.
James Dodds made a welcome return to the podium in second with Edward Masters also ending a long dry spell by claiming third. Cathro, who has been thoroughly enjoying a summer of high-quality racing in New Zealand, had an unfortunate crash in the top section of the course after being the top qualifier. Despite his crash, he said optimistically, "It was loose and the jumps were radical. I am looking forward to the South Island series." There is he expected to make more trips to the podium.
Harriet Harper headed the elite women's category with little competition. Her fellow racers were either injured or did not finish their run. North Island Downhill Cup leader and Frenchwoman Emmeline Ragot, who won rounds one and two, was not at Levin as she was racing in Canberra at the Australian National Championships this weekend.
Event Organiser Luke de Jager, who is also a downhill racer and President of the Levin Mountain Bike Club, was thrilled with the weekend of racing with perfect conditions in the Kohitere Forest. de Jager said, "The riders were loving the track because it is super fast and there are lots of challenging jumps."
The track, which featured several steep chutes with plenty of exposed roots, also boasted several man-ade features such as step-ups , step-downs and gap jumps of up to 50 feet with bypass routes for the less daring. Derek Winwood, who placed first in the highly competitive Mens 30+ category, said, "The track was amazing, I loved the jumps and stayed on my bike with a good run."
Local rider Kurt Lancaster had a solid home track advantage as well as being one of the course builders and won first place in the Senior Men's category while another local rider Evan Thomas placed second.
This was the final race in the series of three for the North Island. NZ Cup Competitors will cross the Cook Strait for the NZCT South Island Cup with three downhill races in Dunedin, Queenstown and Blenheim as well as three cross country races in Dunedin, Queenstown and Timaru.
To finish off the summer racing series will be the highlight of the domestic competitive season – the New Zealand National Mountain Bike Championships being held in Nelson February 26 to March 1.
Photography
For a thumbnail gallery of these images, click here
Images by Bike NZ
Brook McDonald negotiates a challenging track during the elite men's race.
Results
Elite men

1 Sam Blenkinsop                3.01.72
2 James Dodds                   0.00.89
3 Edward Masters                0.04.51
4 Hayden Lee                    0.06.60
5 Matt Scoles                   0.06.64
6 Aari Barrett                  0.07.12
7 Wyn Masters                   0.07.54
8 Kieran Bennett                0.08.26
9 Scott Bedford                 0.08.65
10 Gary Forrest                 0.08.86
11 Daniel Meilink               0.09.52
12 Ben Cathro                   0.11.80
13 Daniel Sims                  0.11.82
14 Reuben Miller                0.12.66
15 Hayden McGregor              0.12.80
16 Sam Reed                     0.13.32
17 Craig Pattle                 0.13.81
18 James Rennie                 0.14.14
19 Brook MacDonald              0.14.84
20 Des Curry                    0.17.37
21 Dan Lynch                    0.19.59
22 Mich Langford                0.24.74
23 Michael Davis                3.30.78
DNS Daniel Aitkin                      
DNS Joe Barnes                         
DNS Tim Mackersy                       
DNS Tom Rodgers                        
DNS Matthew Walker                     
DNS Mads Weidemann                     
 
Elite women

1 Harriet Harper                3.34.51
DNF Rita Langley                       
DNS Sheryl MacLeod                     
DNS Gabrielle Molloy                   
 
Under 19 men

1 Richard Leacock               3.06.49
2 George Brannigan              0.05.13
3 Rupert Chapman                0.06.49
4 Bryn Dickerson                0.09.13
5 Chris Scott                   0.11.68
6 Campbell Robertson            0.11.78
7 Ethan Helliwell               0.12.03
8 Tom Matthews                  0.12.92
9 Daniel Heads                  0.14.64
10 Nick Mead                    0.14.71
11 Dominic Stulen               0.14.79
12 Freddie King                 0.15.01
13 Michael Dodds                0.17.46
14 Daniel Kamp                  0.19.53
15 Thomas Humphries             0.21.01
16 Liam Moynihan                0.21.43
17 Josh Miller                  0.22.03
18 Cam Johnson                  0.24.13
19 Jake Davis                   0.24.79
20 Ryan Lewis                   0.26.29
21 Brandon Lumsden              0.27.08
22 Ben Tyas                     0.27.79
23 Nick McConachie              0.28.07
24 Tyler Perrin                 0.29.67
25 Keegan Stewart               0.29.96
26 Tom Beaton                   0.30.71
27 Rhys Dunn                    0.32.98
28 Jamie Eagle                  0.33.22
29 Henry D'Arth                 0.37.23
30 James Robbins                0.42.74
31 Nick Taylor                  0.49.04
32 Dayne Scott                  0.52.89
33 Jake Dikstaal                0.52.90
34 James Morpeth                0.54.57
35 Dylan Bennett                0.59.14
36 Paul Hammer                  1.15.71
37 James Thurston               1.30.72
DNF Lucas Jackson                      
DNS Edmund Hall                        
DNS Olly Le Maitre                     
DNS Sam Baker                          
DNS Vaughan Woolhouse                  
DNS Adin Johnson                       
DNS James Thomas                       
DNS Jared Quinn                        
DNS Jamie Dylan Lyall                  
DNS Asher Ellery                       
 
Under 17 men

1 Jay Barrett                   3.11.97
2 Louis Hamilton                0.01.78
3 Ricky Hamilton                0.05.27
4 Daniel Franks                 0.10.10
5 Adam Lynskey                  0.10.44
6 Jake Robinson                 0.10.87
7 Simon Barratt                 0.11.37
8 Brandon Ransfield             0.15.21
9 Nick Bygate                   0.16.23
10 Daniel Matthews              0.17.86
11 Kirk Fisher                  0.19.48
12 Kurt McDonald                0.20.29
13 Corey Penney                 0.21.04
14 Tom Rose                     0.21.90
15 Tyler Kirk                   0.27.26
16 Daniel Jolly                 0.29.80
17 Rory Shephard                0.34.09
18 Jordan Bunyan-Kenny          0.35.42
19 Bevan Mody                   0.36.78
20 Austin Chambers              0.38.72
21 Jackson Hine                 0.39.50
22 Jarrod Anderson              0.44.64
23 James Coutts                 0.47.02
24 Mitch Thomas                 0.48.16
25 Campbell Mercer              0.48.61
26 Nathan Sheppard              0.50.06
27 Riley Jones                  0.50.42
28 Rogan Young                  0.51.50
29 Ryan Hunt                    0.53.42
30 Blake Neil                   0.53.47
31 Karl Van Der                 0.57.59
32 Sam Croft                    1.11.78
33 Sam Green                    1.49.74
34 Brendan Falvey               2.15.71
35 Jordan Leighbridge           4.31.46
DNF Matt Redmond                       
DNF Tyler Caplan                       
DNS James Irwin                        
DNS David Robbins                      
DNS Kotahi Paranihi                    
DNS Desmond Jones                      
DNS Luke Weston                        
 
Senior men

1 Kurt Lancaster                3.08.74
2 Evan Thomas                   0.03.71
3 James McConachie              0.06.13
4 Oliver Knight                 0.08.31
5 Antony Snodgrass              0.13.09
6 Shanan Whitlock               0.15.64
7 Chris Vanderkolk              0.16.35
8 Jeremy Jones                  0.16.62
9 Jayden Harris                 0.17.67
10 Andrew Sherratt              0.21.18
11 Benjamin Kemp                0.21.36
12 Steven Pattle                0.23.63
13 Jason Gunn                   0.25.96
14 Boyd Grinstead               0.32.30
15 Jeff Hunter                  1.06.43
DNF Jarrod Bang                        
DNS Jeremy Rothery                     
DNS Jono Tonkin                        
DNS Luke De Jager                      
DNS Michael Scott                      
DNS Ben Rodgers                        
DNS David Sibley                       
 
Master 1 men

1 Derek Winwood                 3.15.71
2 Ewan Baron                    0.23.48
3 David English                 0.23.59
4 Kevin English                 0.31.03
5 Zach Paulin                   0.40.12
6 Cameron Bissett               0.45.51
7 Jason Naran                   0.56.49
8 Rich Seaton                   1.05.89
9 Shaun Hodges                  1.18.40
10 Anaru Waa                    1.18.95
 
Master 2 men

1 Dave Hamilton                 3.29.12
2 Luke Simmons                  0.19.16
3 Graeme Hunt                   0.39.32
4 Dave Rose                     0.48.86
5 Vince Langford                1.47.49
 
Hardtail men

1 Tim Adams                     3.53.83
2 Russell Grant-How             0.07.20
3 Leo Calcasola                 0.12.21
4 Cameron Kay                   0.13.44
5 Luke Brindle                  0.38.98
6 Ricky Cliff                   1.37.17
7 Matthew Lawton                2.19.92
DNS Regan Bang                         
 
Open women

1 Madeline Taylor               4.06.62
2 Sophie Tyas                   0.06.43
3 Sophiemarie Bethell           0.09.07
4 Veronique Sandler             0.19.81
5 Kaytee Campbell               0.29.54
6 Sarah Atkin                   0.45.47
7 Baylee Jackson                0.52.04
DNS Alice Kevern                       
 
Under 15 men

1 Leo Sandler                   3.34.85
2 Lawrence Cawte                0.06.16
3 Jacques Vosloo                0.08.40
4 Connor Hamilton               0.16.69
5 Callum Lynskey                0.20.81
6 Cam Barrett                   0.24.82
7 Morgan Taylor                 0.31.62
8 Jack Arnopp                   0.35.36
9 Michael Franks                0.40.07
10 Peter Gardner                0.43.58
11 Daniel Lawton                0.44.08
12 Marcus Slack                 1.01.88
13 Michael Melles               1.03.47
14 Aled Dunn                    1.08.64
15 Hugh Chesterman              1.17.75
16 Tom Brian                    1.18.12
DNF Kurt Summerfield                   
DNS Sam Eagle                          
 
Sweeper

1 Luke de Jager                 4.02.44
 
Fastest men's runs

1 Sam Blenkinsop (Elite)        3.01.72
2 James Dodds (Elite)           0.00.89
3 Ben Cathro (Elite)            0.02.26
4 Edward Masters (Elite)        0.04.51
5 Hayden Lee (Elite)            0.04.65
6 Richard Leacock (Under 19)    0.04.77
7 Gary Forrest (Elite)          0.06.17
8 Matt Scoles (Elite)           0.06.64
 
Fastest women's runs

1 Harriet Harper (Elite)        3.34.41
2 Madeline Taylor (Open)        0.31.62
3 Sophie Tyas (Open)            0.38.64