MTB index page for all MTB content
South African National Marathon Series - NE
Barberton, South Africa, January 24, 2009
2008 Results Results
Knox & De Villiers win tough season-opener
Max Knox conserved his energy early on,
Photo ©: MTN National Marathon Series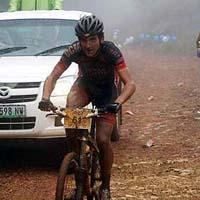 Max Knox, 21, proved he's maturing into one of South Africa's new endurance sport stars when he won the tough first round of the MTN National Marathon Mountain Bike Series in Barberton on Saturday.
Clocking a time of five hours, 11minutes and 28 seconds for the gruelling 120km race, which included almost 4,000 metres of ascent, Knox (DCM Chrome) led his team in a top-three sweep across the finish line with Jacques Janse van Rensburg finishing second and Brandon Stewart in third.
However, Stewart was later disqualified for an incident involving South African marathon champion Kevin Evans (MTN Energade) out on the course. Evans crossed the finish line fourth, but was promoted to third following Stewart's removal from the results with David George (MTN Energade) claiming fourth place and Francois Theron (Garmin adidias) rounding out the top five.
"It was a pretty brutal race today but a good one to win. We had quite a fast pace early on so it ended up being a matter of who had the most left at The end. My teammates were strong today. Any one of us could have won. I just happened to be the least tired at the end," said a typically modest Knox.
Knox, Stewart and Janse van Rensburg were in the small select lead group that formed early on along with defending champion Burry Stander (Mr Price Specialized) and 2007 winner, Evans. Stander, the current Under 23 World Cup cross-country champion, crashed in the muddy conditions just before halfway, sustaining a knee injury. For fear of aggravating the injury, Stander opted to withdraw, leaving Evans to contend with the DCM Chrome trio on his own.
Brandon Stewart, who was later disqualified, leads the front group
Photo ©: MTN National Marathon Series

"With three of us against Kevin (Evans) we did what any team would do in that situation and worked him over a bit with repeated attacks forcing him to chase which wore him down," explained Knox. "There was some heated interaction between him and Brandon (Stewart) which resulted in Brandon almost crashing and Kevin actually crashing. We waited for him to rejoin us before continuing to race."
But a weary Evans eventually dropped out of podium contention with 35km remaining, leaving the three DCM Chrome riders to decide the final positions among themselves. Evans lodged a protest against Stewart at the finish, which resulted in officials disqualifying Stewart.
In the women's 75km event, Yolande de Villiers (Cycle Lab Supercycling Toyota) made a triumphant return to racing following a disappointing 2008, most of which saw her sidelined by a lengthy recovery from shoulder surgery.
The 35-year-old former national marathon champion took an early lead and finished in a respectable time of three hours, 43 minutes and 20 seconds, almost 20 minutes ahead of runner-up Ischen Stopforth, who ran her bike across the finish line as a result of a mechanical problem late in the race. Chrissie Viljoen (MTN Energade) completed the podium places.
Yolande de Villiers had reason to smile
Photo ©: MTN National Marathon Series

'I was a bit apprehensive for the long, fast downhill so I pushed hard at the start to try and build up as much of a lead as I could. That way I could be a bit cautious on the downhill," said an elated De Villiers, who was virtually unchallenged throughout the race.
"There were a lot of river crossings late in the race and by the end, my arm and hand had gone numb. But it was a case of putting mind over matter since I was very motivated to defend my title. I am so happy to win my first big race back!"
In the men's 75km marathon, Sub-veteran, Paul Cordes (IMC Racing) captured the win ahead of rising Junior star, Shaun-Nick Bester and Veteran, Andrew McLean (both of Cycle Lab Supercycling Toyota).
More than 1,800 riders started the traditional big-race season opener, competing in the 120km and 75km National Marathon events and the 45km National Half-marathon. Conditions were cloudy and ranged from humid and sticky in the valleys to cold and misty at the top of the big climbs, while mud, stones and sand created a good variety of surfaces over what was a balanced, new race route.
The next event in the MTN National Marathon series, Chandelier, will take place in Oudtshoorn on Sunday, April 26.
Photography
For a thumbnail gallery of these images, click here
Images by MTN National Marathon Series
Results
Elite men (120km)

1 Max Knox (DCM Chrome)                           5.11.28  (23,5  km/h)
2 Jacques Janse van Rensbrg (DCM Chrome)             0.33
3 Kevin Evans (MTN Raleigh)                         17.49
4 David George (MTN Raleigh)                        27.04
5 Francois Theron (Garmin Adidas)                   29.10
6 Johnny Kritzinger                                 31.10
7 Graham Diesel                                     32.00
8 David Mitchell                                    32.00
9 Peter Smith                                       33.13
10 Renier Bellingan                                 33.50
11 Adrien Niyonshuti (MTN Raleigh)                  35.00
12 Jock Green (Garmin)                              38.48
13 Marc Bassingthwaigthe (Garmin)                   38.50
14 Mannie Heymans (Garmin)                          38.50
15                                                  41.49
16 Nico Bell                                        41.51
17 Jupiter Nameembo (MTN Raleigh)                   50.15
18 Erik Kleinhans                                   53.39
19 petrus malherbe                                  54.21
20 Shaun MacKenzie (Garmin)                       1.03.39
21 Renato Albrecht                                1.07.11
22 Nathan Byukusenge (MTN Raleigh)                1.07.53
23 Gerard Dirks                                   1.19.30
24 Dion Gerhard Froneman                          1.19.31
25 Justice Makhale (DCM Chrome)                   1.19.50
26 Anton Smal                                     1.20.18
27 Iniel Hattingh                                 1.41.24
28 Trust Mumangandu                               1.41.26
29 Nicolas Goddard                                1.56.30
30 Gordon Radey                                   1.57.31
31 Wilhelm Nauta                                  2.02.28
32 Erik Smuts                                     2.24.38
33 Wayne Booysen                                  2.25.00
34 Ferdie Potgieter                               2.46.23
DNF Brett Dickson
DNF Jaques Rossouw
DNF Bruce Anderson
DNF Dion Guy
DNF Andreas Strydom
DQ Greeff Moolman
DQ Spiros Koutromanos
DQ Gavin Robinson
DQ Andre Cordes
DQ Andrew Rankin
DQ Brandon Stewart
DQ Anthis Maouris
DQ Hannes Botha
DQ Henri Meyer
DQ Wayne Plit
DQ Mark Kleynhans
DQ Renay Groustra
DQ Burry Stander
DQ Craig Paul
DQ De Villiers Groenewald
DQ Gideon Van Der Berg
DQ Peter Scoufes
DQ Carey Bloch
DQ Schalk Jacobsz
DQ Heinric Richter
DQ Mauritz Meyer
DQ Max Pelser
DQ Dylan Chilcott
DQ Jan-Hendrik Stander
 
Elite women (75km)

1 Yolande de Villiers (Cycle Lab Supercycling Toyota)    3.43.20
2 Ischen Stopforth                                         19.40
3 Chrissie Viljoen (MTN Energade)                          20.45
4 Heletje Van Staden                                       21.59
5 Marissa Van Der Merwe                                    23.12
6 Samantha Oosthuizen                                      26.36
7 Woudie Saaiman                                           33.29
8 Yolandi Du Toit                                          38.19
9 Adele Drake                                              45.53
10 August Zerwick                                          49.06
11 Christine Jansen Van Rensburg                           58.39
12 Beatrice Hogan                                        1.00.18
13 Elsabe Jacobs                                         1.04.09
14 Sarah Wielopolska                                     1.05.09
15 Petruschka Constancon                                 1.05.38
16 Genee Steyn                                           1.10.43
17 Nolene Saunders                                       1.21.42
18 Piet Du Toit                                          1.23.29
19 Mylene Loumeau                                        1.24.45
20 Lisa Blatch                                           1.29.11
21 Kelly Pennington                                      1.51.42
22 Elinda Human                                          1.57.02
23 Cindy Rebello                                         2.01.44
24 Michelle Muller                                       2.09.09
25 Sarie Van Wyk                                         2.09.11
26 Phulda De Jager                                       2.14.55
27 Sally Mawson                                          2.15.30
28 Vanessa Record                                        2.28.25
29 Michelle Harris                                       2.43.34
30 Bev Corser                                            3.24.26
31 Liz Blumenthal                                        3.43.06
32                                                       4.00.04