MTB index page for all MTB content
South Island Cross Country Cup #3- NE
Coronet Peak, New Zealand, February 15, 2009
Northcott and Sheppard win South Island series final round
Mike Northcott
Photo ©: Shanine Hermsen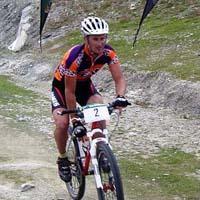 Mike Northcott and Samara Sheppard won the third and final round of the New Zealand South Island Cross Country Cup at Coronet Peak ski field. The race was run on a 5.3km lap with stunning views over the Lake Wakatipu area. However, riders had no time to enjoy the scenery while completing between three and seven laps per category.
Top place-getter Mike Northcott led from the start of the seven-lap elite men's race with Brendon Sharratt passing him during lap five to lead briefly. Sharratt faded slightly in lap six, finally finishing third with Marcus Roy taking second place.
"It was a good battle with Brendon for most of the race," said Northcott. "Marcus was looking strong on the last lap, so I lifted the tempo, and the others surely made me work for it but I am pleased with my win in the end."
Dirk Peters placed fourth in his first race in the elite men's category - his first race with the elites after being invited to race the category following impressive results in previous rounds racing the Under 19 junior men.
"It was a great opportunity to race in elite [field]," said Peters. "It was tough, but it made me really push myself and I am pleased with my result."
In the elite women's category, Samara Sheppard made a strong comeback after less successful racing at rounds one and two. Sheppard was all smiles as she crossed the finish line.
"It was an awesome course, and Jeannette kept it challenging," said Sheppard. Jeannette Gerrie placed second with Katherine O'Neill battling it out for third.
BikeNZ Chief Executive Kieran Turner also participated in the race, placing fifth in the Masters men 30-40 category. Turner was impressed with the level of racing and particularly pleased with the venue.
Riders will now look forward to the New Zealand National Mountain Bike Championships, which are being held in Nelson February 26 to March 1.
Photography
For a thumbnail gallery of these images, click here
Images by Shanine Hermsen
Mike Northcott puts his water bottle back in its cage while racing on his way to a win in round three of the South Island XC series in Queenstown.
Results

Elite men

1 Mike Northcott                 2.06.33
2 Marcus Roy                        0.29
3 Brendon Sharratt                  1.24
4 Dirk Peters                       1.47
5 Ash Hough                         3.00
6 George Bennett                    3.02
7 Craig Tolson                      7.16
8 Jon Richardson                    8.05
9 Connor Power                      8.45
10 Carl Jones                      10.21
11 Gavin McCarthy                  10.55
12 Mark Williams                   11.51
13 Oliver Whalley                  12.13
14 Scott Green                     13.05

Lapped

15 Brad Tilby                           
16 Tim Madgwick                         
17 Jeremy Inglis                        
DNF Mickey Fan                          
DNF Tony Hogg                           

Elite women

1 Samara Sheppard                1.48.15
2 Jeanette Gerrie                   0.48
3 Katherine O'Neill                 3.40
4 Cathy Hamer                       4.46
5 Sarah Taylor                      4.48
6 Erin Greene                       8.03
7 Karen Collins                    14.12
DNF Sara Macdonald                      

Under 19 men

1 Logan Horn                     1.53.10
2 Locky McArthur                    0.37
3 Richard Anderson                  0.40
4 Bradley Hudson                    0.59
5 Adrian Retief                     2.10
6 Ethan Glover                      2.21
7 Samuel Shaw                       7.33
8 Conor Corbett                    12.17
9 Jeff Notman                      14.34

Lapped

10 Cameron McHardy                      
11 Edward Jackson                       
DNF Jamie Hawke                         
DNF Kieran Hambrook                     
DNF Joshua Wight                        
DNF William Bowman                      
DNF James Gilmour                       

Under 19 women

1 Sarah McDonald                 1.13.57
2 Rachel Richards                   4.30

Under 15 men

1 Craig Oliver                   1.05.58
2 Fabian Wybrow                    12.09

Under 17 men

1 Anton Cooper                   1.12.47
2 Joel MacMillan                    8.18
3 Jake Glover                      10.02
4 Sean Hambrook                    12.49
5 Tayla Harrison                   13.31
6 Connor Jenkins                   31.04
DNS Oli Austin                          
DNS Jed Findlay                         

Senior men

1 David Clark                    1.18.11
2 Andrew Wong                       1.50
3 Kurt Lancaster                    3.49
4 Mark Richards                     5.06
5 Kadin Morse                      10.42
6 Sam Thompson                     11.50
DNF Stephen Blissett                    
DNF Tom Klibby                          

Senior women

1 Amy Laird                      1.12.48
2 Sam Yeo                           6.25
3 Celia Lie                        12.20

Masters 30+ men

1 Kyle Wood                      1.16.31
2 Nick Emery                        2.46
3 Paul Kelly                       11.31
4 Ben Phillips                     12.54
5 Kieran Turner                    20.42
6 Richard Mackley                  23.24
DNF Josh Findlay                        
DNS Andrew Ballantyne                   

Masters 30+ women

1 Hannah Thorne                  1.08.23
2 Bridget McMillan                 18.22

Masters 40+ men

1 Wayne Park                     1.26.15
2 Bruce Jenkins                     1.25
3 Steven Sawyers                    1.51
4 Tony Middendorf                   3.48
5 Martin MacDonald                  6.47
DNF Brendan Cook                        
DNS Ian McDonald                        
DNS Karl Ratahi                         

Masters 50+ men

1 Geoffry Hunt                   1.41.58

Fastest men's laps

1 Mike Northcott (Pro men)       0.18.05
2 Marcus Roy (Pro men)              0.04
3 Anton Cooper (Under 17 men)       0.07
4 Brendon Sharratt (Pro men)        0.12
5 Dirk Peters (Pro men)             0.15
6 Ash Hough (Pro men)               0.25
7 George Bennett (Pro men)          0.26
8 Logan Horn (Under 19 men)         0.47

Fastest women's laps

1 Samara Sheppard (Pro women)    0.21.39
2 Jeanette Gerrie (Pro women)       0.10
3 Katherine O'Neill (Pro women)     0.44