MTB index page for all MTB content
South Island Downhill Cup #2- NE
Coronet Peak, New Zealand, February 13-14, 2009
Ruecknagel and Hart top international field at round two
Coronet Peak Ski Area hosted round two
Photo ©: Shanine Hermsen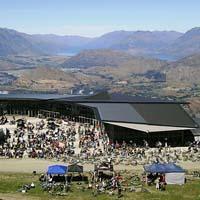 German Harriet Ruecknagel and Brit Danny Hart defeated a talented, international field to win the second round of the New Zealand South Island Downhill Cup at Coronet Peak, near Queenstown.
The elite women saw a larger than usual field, which Ruecknagel topped ahead of New Zealand's Harriet Harper, who defended her spot on the podium from Dunedin two weeks ago. After arriving in New Zealand this week for a month of riding and racing, Canadian Katrina Strand finished in third place.
New Zealander's Olivia Johnston and Gabrielle Molloy placed fourth and fifth respectively. Molloy, who raced today after a break in the series due to injury was glad to be back on her bike racing.
"It is lots of fun racing with the girls and it's great to see so many riders in the open women's category too," said Molloy. "The track was fast and made for close competition."
Danny Hart won the elite men's race ahead of France's Fabien Pedemanaud and Great Britain's Ben Cathro. Just milliseconds separated the top five placings, and the crowd went wild as competitors' times were posted on the scoreboard.
Justin Leov, in fourth place, clocked New Zealand's best finish. Just behind him was Cameron Cole in fifth. Leov was unhappy with his morning's eighth placed seeding run, but picked up the pace for his race run, cutting over four seconds off his time. With such a tight race, that improvement made a big difference.
"The course was good fun, nothing too technical which is what made it such a tight race," said Leov.
"It was great to have so many international riders compete - not only does it make us race harder, but it makes sense for them to come to the Southern Hemisphere to continue their riding while it is cold back home."
The senior men's race proved to be a busy category with 50 riders competing. Team Blueshark rider Jimmy Pollard took the win, crossing the line in 3:11.07. Pollard, who was racing the track for the third year running was very happy with his first win of the New Zealand Cup.
"I was stoked to hold together a good clean run," said Pollard. "It was so much fun but it was very stiff competition and the course was forever changing so it was a good challenge."
The race was held under perfectly sunny conditions with no wind - a huge contrast to the conditions on practise day which caused delays during the morning due to freezing temperatures of minus five and 5cm of snowfall up the peak of the mountain.
The final of three rounds in the downhill series will be held in Blenheim next weekend. The New Zealand National Championships then move to Nelson from February 26 to March 1.
Photography
For a thumbnail gallery of these images, click here
Images by Shanine Hermsen
Results

Elite men

1 Danny Hart (GBr)              0.03.01.57
2 Fabien Pedemanaud (Fra)          0.00.52
3 Ben Cathro (GBr)                 0.00.56
4 Justin Leov (NZl)                0.00.87
5 Matt Scoles (NZl)                0.00.91
6 Cameron Cole (NZl)               0.01.12
7 David Vazquez (NZl)              0.01.47
8 Brook MacDonald (NZl)            0.01.62
9 Wyn Masters (NZl)                0.03.49
10 Edward Masters (NZl)            0.03.71
11 Kieran Bennett (NZl)            0.03.98
12 Fergus Lamb (GBr)               0.04.83
13 Scott Bradford (NZl)            0.05.00
14 Joe Barnes (GBr)                0.05.12
15 Rick Balbierer (Ger)            0.07.70
16 James Rennie (NZl)              0.07.74
17 James Dodds (NZl)               0.07.91
18 Gary Forrest (GBr)              0.08.09
19 Tim Mackersy (NZl)              0.09.50
20 Benjamin Herold (Ger)           0.10.28
21 Reuben Miller (NZl)             0.10.54
22 Troy Murdoch (NZl)              0.11.26
23 Mike Skinner (NZl)              0.11.55
24 Blair Christmas (NZl)           0.12.75
25 Dan Sims (NZl)                  0.13.93
26 Nathon Sharratt (NZl)           0.15.55
27 Dan Lynch (NZl)                 0.22.23
28 Joe Allen (NZl)                 0.25.21
DNS Mads Weidemann (Den)                  
DNS Joe Barnes (GBr)                      
DNS Tom Rodgers (GBr)                     
DNS Hayden Lee (NZl)                      
DNS Hayden McGregor (NZl)                 
DNS Daniel Aitken (NZl)                   

Elite women

1 Harriet Ruecknagel (Ger)      0.03.33.02
2 Harriet Harper (NZl)             0.03.12
3 Katrina Strand (Can)             0.09.05
4 Olivia Johnston (NZl)            0.13.68
5 Gabrielle Molloy (NZl)           0.28.79
6 Dawn Daley-Coers (NZl)           0.30.55
7 Rita Langley (NZl)               0.31.01
DNS Sabrina Jonnier (Fra)                 
DNS Amy Laird (NZl)                       

Under 19 men

1 Richard Leacock (NZl)         0.03.06.72
2 Jimmy Wilson (NZl)               0.02.62
3 George Brannigan (NZl)           0.02.94
4 Ethan Helliwell (NZl)            0.05.54
5 Rupert Chapman (NZl)             0.05.77
6 Cam Johnson (NZl)                0.05.91
7 Leighton Kirk (NZl)              0.06.94
8 Freddie King (NZl)               0.08.91
9 Senn William Steel (NZl)         0.09.57
10 Jamie Dylan Lyall (NZl)         0.11.58
11 Dominic Stulen (NZl)            0.12.15
12 Ash Sergeant (NZl)              0.12.36
13 Nick McConachie (NZl)           0.12.40
14 Liam Moynihan (GBr)             0.12.52
15 Daniel Heads (NZl)              0.13.09
16 Andy Sergeant (NZl)             0.14.16
17 Ben Tyas (NZl)                  0.15.52
18 Tom Matthews (NZl)              0.16.84
19 Alex Grogan (NZl)               0.18.21
20 Lawrence McBreen-Smith (NZl)    0.18.76
21 Lachlan Cruickshank (NZl)       0.20.12
22 James Hoggan (NZl)              0.20.22
23 James Friend (NZl)              0.20.36
24 Kieran Thompson (NZl)           0.21.66
25 Oscar Tatom (NZl)               0.22.17
26 Will Kemp (NZl)                 0.22.59
27 Angus Mckenzie (NZl)            0.22.98
28 Nick Palmer (NZl)               0.25.00
29 Michael McKee (NZl)             0.26.83
30 Dylan Bennett (NZl)             0.32.61
31 Max Carter-Smith (NZl)          0.33.56
32 Nick Taylor (NZl)               0.34.69
33 Josh Barnard (NZl)              0.34.97
34 Dan Trewern (NZl)               0.38.78
35 Oliver Radford (NZl)            0.43.16
36 Campbell Robertson (NZl)        0.46.13
37 Mike Wells (NZl)                1.15.32
DNS Kurt Batty (NZl)                      
DNS Sam Baker (NZl)                       
DNS Vaughan Woolhouse (NZl)               
DNS Josh Miller (NZl)                     
DNS Jed Rooney (NZl)                      

Under 17 men

1 Troy Stewart (NZl)            0.03.13.89
2 Reuben Olorenshaw (NZl)          0.03.25
3 Rasmus Tonder (NZl)              0.07.76
4 Hunter Jenkinson (NZl)           0.08.57
5 Jake Robinson (NZl)              0.09.45
6 Simon Barratt (NZl)              0.10.12
7 Taylor Hamilton (NZl)            0.10.38
8 Brandon Ransfield (NZl)          0.12.61
9 Joseph Tane (NZl)                0.13.79
10 Warrick Trompetter (NZl)        0.14.55
11 Nick Bygate (NZl)               0.14.68
12 Richard Wilson (NZl)            0.15.63
13 Owen Ripley (NZl)               0.16.53
14 Cody Rees (NZl)                 0.16.71
15 Mitchell Scammell (NZl)         0.18.15
16 Louis Donnithorne (NZl)         0.22.52
17 William Parata (NZl)            0.22.97
18 Dan McCombie (NZl)              0.24.40
19 Cory Prutton (NZl)              0.26.48
20 Jack Rouse (NZl)                0.26.80
21 Kurt McAlevey (NZl)             0.27.09
22 Aaron Ruddle (NZl)              0.27.58
23 Mitchell Stringer (NZl)         0.30.63
24 Daniel Mcnab (NZl)              0.31.06
25 Richard Scott (NZl)             0.35.88
26 Tim Hill (NZl)                  0.55.87
27 Jeffrey Breading (NZl)          1.01.23
28 Oliver Thomson (NZl)            1.19.70
29 Mat Prior (NZl)                 2.11.02
DNF Harry Ness (NZl)                      
DNF Jackson Carter-Smith (NZl)            

Senior men

1 Jimmy Pollard (NZl)              3.11.07
2 James McConachie (NZl)           0.01.93
3 Braedan Trompetter (NZl)         0.02.52
4 Joseph Nation (NZl)              0.03.70
5 Samuel Perry (NZl)               0.06.16
6 Jason Gunn (NZl)                 0.06.47
7 Jeff Hunter (Can)                0.06.71
8 Simon Smith (NZl)                0.06.87
9 Oliver Knight (NZl)              0.07.00
10 Kurt Lancaster (NZl)            0.07.32
11 David du Plessis (NZl)          0.08.74
12 Antony Jackson (NZl)            0.09.40
13 Adrian Loo (NZl)                0.09.52
14 Graeme Adriaens (NZl)           0.10.18
15 Dan McMullan (NZl)              0.10.34
16 Pete Miller (NZl)               0.10.55
17 Hayden McKay (NZl)              0.11.00
18 Russell Horne (NZl)             0.11.98
19 Jarrod Bang (NZl)               0.13.89
20 James Fagan (NZl)               0.13.92
21 David Sibley (GBr)              0.14.68
22 Hadley Mackay (NZl)             0.14.89
23 Robert Davis (NZl)              0.15.11
24 Sean Kennedy (NZl)              0.15.75
25 Steven Pattle (NZl)             0.16.37
26 Farryn Goodman (NZl)            0.17.73
27 Jeremy Jones (NZl)              0.18.29
28 Mathew McGovern (NZl)           0.19.58
29 Kai Crow (NZl)                  0.20.28
30 William Mathieson (NZl)         0.20.73
31 Daniel Alvarez (NZl)            0.21.72
32 Hayden Bell (NZl)               0.22.77
33 Luke de Jager (NZl)             0.24.10
34 Tim Spackman (NZl)              0.25.29
35 Kevin Warner (NZl)              0.25.70
36 Matthew Wood (NZl)              0.25.87
37 Luke Murdoch (NZl)              0.26.20
38 Andrew Peck (NZl)               0.27.47
39 Tim Warner (NZl)                0.32.42
40 Phillip Walsh (NZl)             0.33.19
41 Neil Ellerbrook (NZl)           0.34.62
42 Nick Middleton (NZl)            0.39.02
43 Mark Johns (NZl)                0.40.74
44 Peter Campbell (NZl)            0.45.17
45 Jimmy Carling (NZl)             0.46.38
46 Jonathan Skinner (NZl)          1.07.22
47 Dean McKay (NZl)                1.15.92
DNF Antony Snodgrass (NZl)                
DNS Tony Nutsford (NZl)                   
DNS Cameron Argyle-Robinson (NZl)         
DNS Boyd Grinstead (NZl)                  

Master 1 men

1 Stefan Bennett (NZl)          0.03.17.35
2 Christian Meuli (NZl)            0.00.73
3 Ryan O'Connell (NZl)             0.02.70
4 Nicholas Sutcliffe (NZl)         0.04.17
5 Tim Ceci (NZl)                   0.04.89
6 Scott Couzins (NZl)              0.08.05
7 Aaron Fernandez (NZl)            0.08.52
8 Bruce Pomeroy (NZl)              0.09.29
9 Cameron Bisset (NZl)             0.11.28
10 Phil Walter (NZl)               0.11.33
11 Jeremy Forlong (NZl)            0.13.61
12 Julian Thompson (NZl)           0.14.95
13 Benjamin Rafferty (NZl)         0.15.16
14 Nathan Baldwin (NZl)            0.18.51
15 Roland Alderton (NZl)           0.18.67
16 Steven Walker (NZl)             0.19.32
17 Eddie Cuthers (NZl)             0.19.71
18 Teruaki Takahashi (NZl)         0.22.13
19 Daniel Haydon (NZl)             0.23.10
20 Kevin English (NZl)             0.27.36
21 Dave English (GBr)              0.31.21
22 Kurt Wilson (NZl)               0.35.01
23 Andrew Bayley (NZl)             0.42.59

Master 2 men

1 Tony Moore (NZl)              0.03.34.63
2 Eddie Spearing (NZl)             0.18.76
3 Michael Stylianou (NZl)          0.40.64
DNS Tony Thompson (NZl)                   

Hardtail men

1 Cameron Kay (NZl)             0.03.25.06
2 Tim Adams (NZl)                  0.16.38
3 Adam Smith (NZl)                 0.21.46
4 Leonardo Calcasola (NZl)         0.26.59
5 George Tilson (NZl)              0.51.43
6 Chris Davis (NZl)                0.51.84
DNS Thomas Ramage (NZl)                   

Open women

1 Emma Akerlind (NZl)           0.03.53.56
2 Georgia Wight (NZl)              0.02.45
3 Naomi Wilson (NZl)               0.04.11
4 Dominique Doyan (Can)            0.05.32
5 Sophie Tyas (NZl)                0.06.50
6 Madeline Taylor (NZl)            0.08.44
7 Veronique Sandler (NZl)          0.17.74
8 Amanda Pearce (NZl)              0.21.20
9 Nancy Rehrer (NZl)               0.36.01
10 Baylee Jackson (NZl)            0.53.54
11 Phoebe Coers (NZl)              1.53.87
DNS Shannan Miller (NZl)                  

Under 15 men

1 Tom Burns (NZl)               0.03.26.43
2 Jacques Vosloo (NZl)             0.01.35
3 Harry Chapman (NZl)              0.17.30
4 Andy Wilson (NZl)                0.18.90
5 Joshua McCombie (NZl)            0.19.28
6 Nick Elliott (NZl)               0.21.58
7 Morgan Taylor (NZl)              0.23.27
8 Connor Gambles (NZl)             0.24.33
9 Logan Ness (NZl)                 0.31.73
10 Michael Franks (NZl)            0.34.42
DNS Leo Sandler (NZl)                     

Sweeper

1 Kelly McGarry (NZl)           0.03.21.03

Men's fastest eight runs

1 Danny Hart (GBr)              0.03.01.57
2 Fabien Pedemanaud (Fra)          0.00.52
3 Ben Cathro (GBr)                 0.00.56
4 Justin Leov (NZl)                0.00.87
5 Matt Scoles (NZl)                0.00.91
6 Cameron Cole (NZl)               0.01.12
7 David Vazquez (NZl)              0.01.47
8 Brook MacDonald (NZl)            0.01.62

Women's fastest three runs

1 Harriet Ruecknagel (Ger)      0.03.32.78
2 Harriet Harper (NZl)             0.03.36
3 Amy Laird (NZl)                  0.07.53