MTB index page for all MTB content
MTB World Cup XC, DH & 4X #1 - CDM
Pietermaritzburg, South Africa, April 10-12, 2009
Main Page Results Previous Race World Cup standings
Race 10 - April 12: Elite men downhill
Minnaar maximises home soil advantage
By Rob Jones in Pietermaritzburg
Greg Minnaar (Santa Cruz Syndicate) proudly
Photo ©: Rob Jones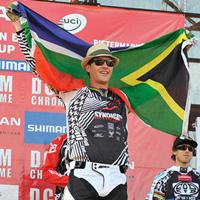 The opening round of the 2009 Nissan UCI Mountain Bike World Cup concluded on Sunday with a storybook ending that couldn't have been scripted any better, as local hero Greg Minnaar (Santa Cruz Syndicate) won the downhill in front of family and friends in Pietermaritzburg, South Africa.
"It is a huge, huge win for me," said Minnaar. "With my family here, and all the people supporting and cheering for me it was very special to win here. In some ways it was nice that Mick [Hannah] qualified first, because that took a little pressure off. My run was very good, quite clean, with only little mistakes. I'm very happy that I was able to get this win and keep the leader's jersey."
The three-kilometre course favoured fitness as much as technical prowess, with long sections of pedalling interspersed with sharp drop-offs and jumps. Spectators came out in droves to cheer on Minnaar, pushing total attendance beyond 16,000, which far exceeded organizer's expectations.
The men's race was expected to be a real battle, and that is what happened. In qualifying, the top 10 riders went under four minutes, but in the final there were 28 who cracked that barrier.
Michael Hannah (GT Bicycles)
Photo ©: Rob Jones

Great Britain's Ruaridh Cunningham (Chain Reaction-Intense) was the first to do so at 3:59.12, and his time stood up until American Aaron Holmes Gwin (Yeti Fox Shox Factory) knocked three seconds off. After this riders starting chipping away steadily at the lead until Cameron Cole (Maxxis-Rocky Mountain), the 53rd rider to start, took the best time down to 3:53.20 . Cole's time stood until former world and World Cup champion Sam Hill (Specialized Factory) brought it down to 3:50.18 with seven riders remaining.
Hill's time stood up through three riders, before the legendary Steve Peat (Santa Cruz Syndicate) was the first to go under 3:50, recording 3:49.25. Australian Chris Kovarik (Chain Reaction-Intense), winner on this course the previous week was next, but crashed in a rocky section near the top, knocking him out of contention.
Then it was the turn of Minnaar, whose run was so smooth it looked almost effortless, as he sailed over the jumps and pedaled furiously through the flatter sections. The noise from the partisan crowd was almost deafening, and when Minnaar crossed the finish line, knocking almost six seconds off his teammate Peat's time, the cheers could be heard back up to the start line.
However there was still one rider to go - Australian Mick Hannah (GT Bicycles), who had qualified first. The spectators were quiet as Hannah came past, respectful of his skill, but quietly hoping for a South African victory. Their hopes were answered when Hannah posted a time of 3:45.69 - fast enough for second, but not fast enough to displace Minnaar.
Photography
For a thumbnail gallery of these images, click here
Images by Rob Jones/www.canadiancyclist.com
Results
1 Greg Minnaar (RSA) Santa Cruz Syndicate                              3.43.44
2 Michael Hannah (Aus) GT Bicycles                                     0.02.25
3 Steve Peat (GBr) Santa Cruz Syndicate                                0.05.81
4 Samuel Hill (Aus) Monster Energy / Specialized / Mad Catz            0.06.74
5 Gee Atherton (GBr) Animal Commencal                                  0.08.57
6 Cameron Cole (NZl) Team Maxxis-Rocky Mountain Bicycles               0.09.76
7 Justin Leov (NZl) Trek World Racing                                  0.10.57
8 Jared Graves (Aus) Yeti Fox Shox Factory Race Team                   0.10.88
9 Marc Beaumont (GBr) GT Bicycles                                      0.11.39
10 Julien Camellini (Fra) Chain Reaction Cycles/Intense                0.11.51
11 Nathan Rennie (Aus) Kenda Morewood                                  0.11.58
12 Duncan Riffle (USA) Duncan Riffle Racing                            0.11.85
13 Dan Atherton (GBr) Animal Commencal                                 0.12.07
14 Andrew Neethling (RSA) Trek World Racing                            0.12.24
15 Ivan Oulego Moreno (Spa) Massi                                      0.12.31
16 Aurélien Giordanengo (Fra)                                          0.12.72
17 Aaron Holmes Gwin (USA) Yeti Fox Shox Factory Race Team             0.12.84
18 Bernat Guardia Pascual (Spa) Massi                                  0.13.10
19 David Vazquez Lopez (Spa) Lapierre Powered By Saab Salomon          0.13.20
20 Steve Smith (Can) MS Evil Racing                                    0.13.76
21 Florent Payet (Fra) Subaru Mountain Bike Pro Team                   0.14.10
22 Fabien Cousinie (Fra)                                               0.14.17
23 Mickael Pascal (Fra) MSC Bikes                                      0.14.34
24 Cédric Gracia (Fra)                                                 0.15.35
25 Pasqual Canals Flix (Spa) XMS-Devinci World Cup Team                0.15.49
26 Ruaridh Cunningham (GBr) Chain Reaction Cycles/Intense              0.15.68
27 Damien Spagnolo (Fra) Subaru Mountain Bike Pro Team                 0.15.70
28 Samuel Blenkinsop (NZl) Yeti Fox Shox Factory Race Team             0.16.16
29 Wyn Masters (NZl) Ancillotti Doganaccia Racing Team                 0.16.75
30 Jonty Neethling (RSA)                                               0.16.80
31 Nick Beer (Swi) Scott 11                                            0.17.64
32 Brendan Fairclough (GBr) Monster Energy / Specialized / Mad Catz    0.17.76
33 Joris Bigoni (Fra)                                                  0.17.83
34 Thibaut Ruffin (Fra)                                                0.18.18
35 Bradley Benedict (USA) Duncan Riffle Racing                         0.18.28
36 Thomas Braithwaite (GBr)                                            0.18.72
37 Filip Polc (Svk) MS Evil Racing                                     0.18.75
38 Pierre Charles Georges (Fra) Solid Aclass Factory Team              0.19.02
39 Josh Bryceland (GBr) Santa Cruz Syndicate                           0.19.04
40 Sam Dale (GBr)                                                      0.19.09
41 Aari Barrett* (NZl) Scott 11                                        0.19.49
42 Robin Wallner (Swe)                                                 0.19.83
43 Johann Potgieter (RSA)                                              0.19.99
44 Rémi Thirion (Fra) Team Sunn                                        0.20.13
45 Mitchell Delfs (Aus) Kenda Morewood                                 0.20.32
46 Will Rischbieth (Aus)                                               0.20.83
47 Jared Rando (Aus) Giant Mountain Bike Team                          0.21.01
48 Dennis Dertell (Swe)                                                0.21.09
49 Nicolas Ortiz (Fra)                                                 0.21.19
50 Joseph Smith (GBr) Kona                                             0.21.57
51 Matthew Simmonds (GBr) Chain Reaction Cycles/Intense                0.21.74
52 Neil Donoghue (GBr)                                                 0.21.80
53 Rowan Sorrell (GBr)                                                 0.22.01
54 Dan Stanbridge (GBr)                                                0.22.46
55 Marco Bugnone (Ita) Argentina Bike Gravity Team                     0.22.53
56 Claudio Cozzi (Ita) Dytech DH                                       0.22.81
57 Tom Deacon (GBr) 2Stagefactory                                      0.22.85
58 Danny Hart* (GBr) Lapierre Powered By Saab Salomon                  0.23.10
59 Dominik Gspan (Swi)                                                 0.23.17
60 Adam Brayton (GBr) Just Reid Race Team                              0.23.36
61 Ryan Condrashoff (USA) X-Fusion-Intense                             0.24.17
62 Joshua Button (Aus)                                                 0.25.28
63 Luke Strobel (USA) Team Maxxis-Rocky Mountain Bicycles              0.25.41
64 Marco Milivinti (Ita) Dytech DH                                     0.25.62
65 Lorenzo Suding (Ita) Dytech DH                                      0.26.57
66 Pierre ° Van Der Merwe (RSA)                                        0.26.62
67 Timothy Bentley* (RSA)                                              0.26.78
68 Scott Mears (GBr)                                                   0.26.92
69 Louis-Bresler Knipe (RSA)                                           0.27.00
70 Laurie Dinham* (Aus)                                                0.27.23
71 Gary Barnard (RSA)                                                  0.28.72
72 Darryn Stow (RSA)                                                   0.29.01
73 Hayden Brown (RSA)                                                  0.30.29
74 James Hughes (GBr)                                                  0.30.57
75 Antonio Ferreiro Pajuelo (Spa) XMS-Devinci World Cup Team           0.31.39
76 Emyr Davies (GBr)                                                   0.31.80
77 Simon Dinkelman* (RSA)                                              0.33.23
78 Daniel Critchlow (GBr) Chain Reaction Cycles/Intense                0.39.08
79 Kevin Aiello* (USA) GT Bicycles                                     0.46.45
80 Kieran Bennett (NZl) X-Fusion-Intense                               0.48.03
81 Matti Lehikoinen (Fin) MS Evil Racing                               0.48.19
82 Chris Kovarik (Aus) Chain Reaction Cycles/Intense                   2.46.70

* indicates junior riders

Teams

1 Trek World Racing                           81 pts
2 Santa Cruz Syndicate                        72
3 Team Maxxis-Rocky Mountain Bicycles         58
4 GT Bicycles                                 57
5 Chain Reaction Cycles/Intense               54
6 Animal Commencal                            46
7 Iron Horse-Kenda-Playbiker                  42
8 Yeti Fox Shox Factory Race Team             40
9 Suspension Center                           35
10 Norco World Team                           30
11 Monster Energy / Specialized / Mad Catz    30
12 Massi                                      29
13 Scott 11                                   21
14 Kenda Morewood                             20
15 Duncan Riffle Racing                       19
16 Subaru Mountain Bike Pro Team              14
17 Lapierre Powered By Saab Salomon           12
18 MS Evil Racing                             11
19 MSC Bikes                                   8
20 XMS-Devinci World Cup Team                  6
21 Ancillotti Doganaccia Racing Team           2

World Cup standings after one round

Individual

1 Greg Minnaar (RSA) Santa Cruz Syndicate                                       240 pts
2 Michael Hannah (Aus) GT Bicycles                                              210
3 Steve Peat (GBr) Santa Cruz Syndicate                                         165
4 Samuel Hill (Aus) Monster Energy / Specialized / Mad Catz                     142
5 Gee Atherton (GBr) Animal Commencal                                           132
6 Justin Leov (NZl) Trek World Racing                                           110
7 Jared Graves (Aus) Yeti Fox Shox Factory Race Team                             97
8 Cameron Cole (NZl) Team Maxxis-Rocky Mountain Bicycles                         95
9 Marc Beaumont (GBr) GT Bicycles                                                94
10 Julien Camellini (Fra) Chain Reaction Cycles/Intense                          91
11 Andrew Neethling (RSA) Trek World Racing                                      82
12 Nathan Rennie (Aus) Kenda Morewood                                            81
13 Duncan Riffle (USA) Duncan Riffle Racing                                      79
14 Dan Atherton (GBr) Animal Commencal                                           76
15 Aurélien Giordanengo (Fra)                                                    74
16 Fabien Cousinie (Fra)                                                         72
17 Ivan Oulego Moreno (Spa) Massi                                                66
18 Florent Payet (Fra) Subaru Mountain Bike Pro Team                             66
19 Aaron Holmes Gwin (USA) Yeti Fox Shox Factory Race Team                       64
20 Bernat Guardia Pascual (Spa) Massi                                            63
21 David Vazquez Lopez (Spa) Lapierre Powered By Saab Salomon                    62
22 Cédric Gracia (Fra)                                                           62
23 Filip Polc (Svk) MS Evil Racing                                               62
24 Steve Smith (Can) MS Evil Racing                                              61
25 Samuel Blenkinsop (NZl) Yeti Fox Shox Factory Race Team                       60
26 Mickael Pascal (Fra) MSC Bikes                                                58
27 Pasqual Canals Flix (Spa) XMS-Devinci World Cup Team                          56
28 Ruaridh Cunningham (GBr) Chain Reaction Cycles/Intense                        55
29 Damien Spagnolo (Fra) Subaru Mountain Bike Pro Team                           54
30 Wyn Masters (NZl) Ancillotti Doganaccia Racing Team                           52
31 Jonty Neethling (RSA)                                                         51
32 Nick Beer (Swi) Scott 11                                                      50
33 Brendan Fairclough (GBr) Monster Energy / Specialized / Mad Catz              49
34 Joris Bigoni (Fra)                                                            48
35 Thibaut Ruffin (Fra)                                                          47
36 Bradley Benedict (USA) Duncan Riffle Racing                                   46
37 Thomas Braithwaite (GBr)                                                      45
38 Pierre Charles Georges (Fra) Solid Aclass Factory Team                        43
39 Josh Bryceland (GBr) Santa Cruz Syndicate                                     42
40 Sam Dale (GBr)                                                                41
41 Aari Barrett* (NZl) Scott 11                                                  40
42 Robin Wallner (Swe)                                                           39
43 Johann Potgieter (RSA)                                                        38
44 Rémi Thirion (Fra) Team Sunn                                                  37
45 Mitchell Delfs (Aus) Kenda Morewood                                           36
46 Will Rischbieth (Aus)                                                         35
47 Jared Rando (Aus) Giant Mountain Bike Team                                    34
48 Dennis Dertell (Swe)                                                          33
49 Nicolas Ortiz (Fra)                                                           32
50 Joseph Smith (GBr) Kona                                                       31
51 Matthew Simmonds (GBr) Chain Reaction Cycles/Intense                          30
52 Chris Kovarik (Aus) Chain Reaction Cycles/Intense                             30
53 Neil Donoghue (GBr)                                                           29
54 Rowan Sorrell (GBr)                                                           28
55 Dan Stanbridge (GBr)                                                          27
56 Marco Bugnone (Ita) Argentina Bike Gravity Team                               26
57 Claudio Cozzi (Ita) Dytech DH                                                 25
58 Tom Deacon (GBr) 2Stagefactory                                                24
59 Danny Hart* (GBr) Lapierre Powered By Saab Salomon                            23
60 Dominik Gspan (Swi)                                                           22
61 Adam Brayton (GBr) Just Reid Race Team                                        21
62 Ryan Condrashoff (USA) X-Fusion-Intense                                       20
63 Joshua Button (Aus)                                                           19
64 Luke Strobel (USA) Team Maxxis-Rocky Mountain Bicycles                        18
65 Marco Milivinti (Ita) Dytech DH                                               17
66 Lorenzo Suding (Ita) Dytech DH                                                16
67 Pierre Van Der Merwe* (RSA)                                                   15
68 Timothy Bentley* (RSA)                                                        14
69 Scott Mears (GBr)                                                             13
70 Louis-Bresler Knipe (RSA)                                                     12
71 Laurie Dinham* (Aus)                                                          11
72 Gary Barnard (RSA)                                                            10
73 Darryn Stow (RSA)                                                              9
74 Hayden Brown (RSA)                                                             8
75 James Hughes (GBr)                                                             7
76 Antonio Ferreiro Pajuelo (Spa) XMS-Devinci World Cup Team                      6
77 Emyr Davies (GBr)                                                              5
78 Simon Dinkelman* (RSA)                                                         4
79 Daniel Critchlow (GBr) Chain Reaction Cycles/Intense                           3
80 Kevin Aiello* (USA) GT Bicycles                                                2
81 Kieran Bennett (NZl) X-Fusion-Intense                                          1

Team

1 Trek World Racing                           81 pts
2 Santa Cruz Syndicate                        72
3 Team Maxxis-Rocky Mountain Bicycles         58
4 GT Bicycles                                 57
5 Chain Reaction Cycles/Intense               54
6 Animal Commencal                            46
7 Iron Horse-Kenda-Playbiker                  42
8 Yeti Fox Shox Factory Race Team             40
9 Suspension Center                           35
10 Norco World Team                           30
11 Monster Energy / Specialized / Mad Catz    30
12 Massi                                      29
13 Scott 11                                   21
14 Kenda Morewood                             20
15 Duncan Riffle Racing                       19
16 Subaru Mountain Bike Pro Team              14
17 Lapierre Powered By Saab Salomon           12
18 MS Evil Racing                             11
19 MSC Bikes                                   8
20 XMS-Devinci World Cup Team                  6
21 Ancillotti Doganaccia Racing Team           2