Recently on Cyclingnews.com
MTB index page for all MTB content
MTB World Cup XC, DH & 4X #1 - CDM
Pietermaritzburg, South Africa, April 10-12, 2009
Race 1 - April 10: Downhill qualifying
Tracy Moseley
Photo ©: Rob Jones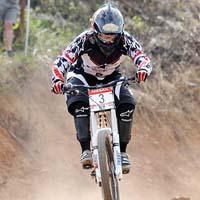 Tracy Moseley (Trek) won the first round, in qualifying on Friday, with Sabrina Jonnier (Animal Commencal) well back in eighth place. Jonnier crashed heavily in training, which may have slowed her down in qualifying. Former junior champion Emmeline Ragot (Suspension Center) took second to Moseley in qualifying, over nine seconds back, while Canada's Claire Buchar (Chain Reaction-Intense) finished third in qualifying.
In the men's qualifying, Greg Minnaar (Santa Cruz Syndicate) made it clear that he is here to win - first out of the gate, he delivered a stunning 3:50.31, six seconds faster than Chris Kovarik's (Chain Reaction - Intense) winning time the week before. Kovarik was the only one among the top contenders to come close to Minnaar at 3:53.49, with Steve Peat (Santa Cruz) at 3:56.09. It appeared that Minnaar had qualifying all sewn up, until Mick Hannah (GT) took over a second and a half off of Minnaar's time. Hannah is a former top contender, but took the previous season off. Clearly, it has not hurt his form.
Canada's Steve Smith (Evil) qualified 39th, after going off course part way through his run. "It was a spot where I had hit a pointed rock in two training runs, flatting both times. So I think I was focussed too much on missing the rock, and ended up off the course."
Photography
For a thumbnail gallery of these images, click here
Images by Rob Jones /www.canadiancyclist.com
Images by Gary Perkin
Images by Sven Martin
Results
Elite women                 

1 Tracy Moseley (GBr) Trek World Racing                             4.29.34
2 Emmeline Ragot (Fra) Suspension Center                            0.09.10
3 Claire Buchar (Can) Chain Reaction Cycles/Intense                 0.12.81
4 Fionn Griffiths (GBr) Norco World Team                            0.15.17
5 Floriane Pugin (Fra) Iron Horse-Kenda-Playbiker                   0.15.84
6 Myriam Nicole (Fra)                                               0.16.49
7 Melissa Buhl (USA)                                                0.20.76
8 Sabrina Jonnier (Fra) Team Maxxis-Rocky Mountain Bicycles         0.22.03
9 Joanna Petterson (RSA)                                            0.25.03
10 Emilie Siegenthaler (Swi) Scott                                  0.25.07
11 Anka Martin (RSA)                                                0.43.20
12 Helen Gaskell (GBr)                                              0.47.01
13 Elisa Canepa (Ita) Iron Horse-Kenda-Playbiker                    0.49.96
14 Sarah Newman (GBr)                                               0.52.58
15 Helene Valerie Fruhwirth (Aut)                                   0.52.89
16 Risa Suseanty (Ina)                                              1.06.87
17 Maria Michalogiannaki (Gre)                                      1.17.51
18 Victoria Phillips (RSA)                                          3.17.27
DNS Silja Stadler (Swi) Argentina Bike Gravity Team    

Elite men

1 Michael Hannah (Aus) GT Bicycles                                  3.48.78
2 Greg Minnaar (RSA) Santa Cruz Syndicate                           0.01.53
3 Chris Kovarik (Aus) Chain Reaction Cycles/Intense                 0.04.71
4 Steve Peat (GBr) Santa Cruz Syndicate                             0.07.31
5 Gee Atherton (GBr) Animal Commencal                               0.08.32
6 Justin Leov (NZl) Trek World Racing                               0.08.67
7 Filip Polc (Svk) MS Evil Racing                                   0.09.05
8 Samuel Hill (Aus) Monster Energy / Iron Horse                     0.09.30
9 Julien Camellini (Fra) Chain Reaction Cycles/Intense              0.09.33
10 Andrew Neethling (RSA) Trek World Racing                         0.09.83
11 Marc Beaumont (GBr) GT Bicycles                                  0.11.74
12 Fabien Cousinie (Fra)                                            0.11.77
13 Jared Graves (Aus) Yeti Fox Shox Factory Race Team               0.13.37
14 Nathan Rennie (Aus) Kenda Morewood                               0.13.48
15 Duncan Riffle (USA) Duncan Riffle Racing                         0.13.51
16 Aurélien Giordanengo (Fra)                                       0.13.78
17 Dan Atherton (GBr) Animal Commencal                              0.14.13
18 Samuel Blenkinsop (NZl) Yeti Fox Shox Factory Race Team          0.14.98
19 Florent Payet (Fra) Subaru Mountain Bike Pro Team                0.15.02
20 Cédric Gracia (Fra)                                              0.15.26
21 David Vazquez Lopez (Spa) Lapierre Dh Powered By Saab Salomon    0.15.41
22 Ivan Oulego Moreno (Spa) Massi                                   0.15.48
23 Mickael Pascal (Fra) MSC Bikes                                   0.15.57
24 Pierre Charles Georges (Fra) Solid Aclass Factory Team           0.16.04
25 Bernat Guardia Pascual (Spa) Massi                               0.16.54
26 Cameron Cole (NZl) Team Maxxis-Rocky Mountain Bicycles           0.16.56
27 Damien Spagnolo (Fra) Subaru Mountain Bike Pro Team              0.16.79
28 Matti Lehikoinen (Fin) MS Evil Racing                            0.16.94
29 Jonty Neethling (RSA)                                            0.17.02
30 Wyn Masters (NZl) Ancillotti Doganaccia Racing Team              0.17.22
31 Matthew Simmonds (GBr) Chain Reaction Cycles/Intense             0.17.44
32 Pasqual Canals Flix (Spa) XMS-Devinci World Cup Team             0.17.62
33 Bradley Benedict (USA) Duncan Riffle Racing                      0.17.65
34 Will Rischbieth (Aus)                                            0.18.00
35 Robin Wallner (Swe)                                              0.18.16
36 Jared Rando (Aus) Giant Mountain Bike Team                       0.18.23
37 Dominik Gspan (Swi)                                              0.18.57
38 Joris Bigoni (Fra)                                               0.18.75
39 Steve Smith (Can) MS Evil Racing                                 0.18.77
40 Danny Hart* (GBr) Lapierre Dh Powered By Saab Salomon            0.18.90
41 Lorenzo Suding (Ita) Dytech DH                                   0.20.06
42 Thomas Braithwaite (GBr)                                         0.20.08
43 Mitchell Delfs (Aus) Kenda Morewood                              0.20.21
44 Josh Bryceland (GBr) Santa Cruz Syndicate                        0.20.35
45 Sam Dale (GBr)                                                   0.20.52
46 Brendan Fairclough (GBr) Monster Energy / Iron Horse             0.20.82
47 Aaron Holmes Gwin (USA) Yeti Fox Shox Factory Race Team          0.21.08
48 Thibaut Ruffin (Fra)                                             0.21.48
49 Joshua Button (Aus)                                              0.21.56
50 Johann Potgieter (RSA)                                           0.21.63
51 Dan Stanbridge (GBr)                                             0.21.70
52 Rémi Thirion (Fra) Team Sunn                                     0.22.03
53 Ryan Condrashoff (USA) X-Fusion-Intense                          0.22.19
54 Nick Beer (Swi) Scott 11                                         0.23.02
55 Kevin Aiello* (USA) GT Bicycles                                  0.23.49
56 Claudio Cozzi (Ita) Dytech DH                                    0.24.56
57 Pierre Van Der Merwe* (RSA)                                      0.24.64
58 Joseph Smith (GBr) Kona                                          0.24.75
59 Tom Deacon (GBr) 2Stagefactory                                   0.25.09
60 Marco Bugnone (Ita) Argentina Bike Gravity Team                  0.25.25
61 Louis-Bresler Knipe (RSA)                                        0.26.07
62 Gary Barnard (RSA)                                               0.26.43
63 Ruaridh Cunningham (GBr) Chain Reaction Cycles/Intense           0.26.56
64 Nicolas Ortiz (Fra)                                              0.28.32
65 Marco Milivinti (Ita) Dytech DH                                  0.28.34
66 Darryn Stow (RSA)                                                0.28.51
67 Luke Strobel (USA) Team Maxxis-Rocky Mountain Bicycles           0.28.78
68 Kieran Bennett (NZl) X-Fusion-Intense                            0.28.91
69 Neil Donoghue (GBr)                                              0.29.14
70 Adam Brayton (GBr) Just Reid Race Team                           0.29.67
71 Scott Mears (GBr)                                                0.29.75
72 Daniel Critchlow (GBr) Chain Reaction Cycles/Intense             0.30.20
73 Rowan Sorrell (GBr)                                              0.30.47
74 James Hughes (GBr)                                               0.31.11
75 Timothy Bentley* (RSA)                                           0.31.16
76 Laurie Dinham* (Aus)                                             0.31.32
77 Simon Dinkelman* (RSA)                                           0.32.37
78 Hayden Brown (RSA)                                               0.32.81
79 Antonio Ferreiro Pajuelo (Spa) XMS-Devinci World Cup Team        0.33.01
80 Emyr Davies (GBr)                                                0.33.39
81 Aari Barrett* (NZl) Scott 11                                     0.44.22
82 Dennis Dertell (Swe)                                             1.26.23
83 Dirk Van Schalkwyk (RSA)                                         0.34.34
84 Bernard Kerr* (GBr)                                              0.34.70
85 Scott Laughland (Irl)                                            0.35.51
86 Kelvin Purchase (RSA)                                            0.38.22
87 Marcus Klausmann (Ger) Team Ghost International                  0.38.40
88 Shaun O'Connor* (Aus) Iron Horse-Kenda-Playbiker                 0.40.61
89 Nicolas Gspan (Swi)                                              0.40.69
90 Dan Doron (Isr)                                                  0.41.98
92 Joseph Horton (GBr)                                              0.44.00
93 Andréa Gamenara* (Ita) Argentina Bike Gravity Team               0.45.05
94 Marco Fernandez Garcia* (Spa) Motril-Sierra Nevada Bike Park     0.46.23
95 Hong Chun Tan (Sin)                                              1.00.05
96 Christo Venter* (RSA)                                            1.02.70
97 Gerald Walsh* (RSA)                                              1.03.50
99 Alex Powell* (GBr) 2Stagefactory                                 2.44.68
100 Stuart Jenkinson (GBr)                                          3.56.86
101 Fredrik Hansson (Swe)                                           4.31.14
DNF Andries Van Schalkwyk* (RSA)                                           
DNS Lars Peyer (Swi) Suspension Center                                     
DNS Myles Kelsey (RSA)                                                                      

* indicates junior riders