MTB index page for all MTB content
Cohutta 100, NUE #1 - NE
Ocoee, Tennessee, USA, April 25, 2009
Schalk and Lowery win at National Ultra Endurance series opener
Heat comes to Tennessee
By Barry Kunkle
Eventual winner Jeff Schalk
Photo ©: Bluebasinphoto.com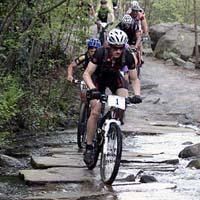 The highest temperatures of the year for Tennessee welcomed the National Ultra Endurance (NUE) series racers to the start of a new season at the Ocoee White Water Center, home of the 1996 Olympic white water courses. Unfamiliar heat in the high 80s (degrees Fahrenheit) caught a lot of northern riders by surprise and turned the day into a tactical race from one water stop to the next.
Jeff Schalk (Trek Racing Co-Op) etched his name in stone as an international powerhouse by setting a blistering course record of 6:23:06, easily the fastest 100 miler time on record. In the process, the world got to see the one-on-one match up for which they have been waiting - between Schalk and 2008 Marathon and Short Track National Champion Jeremiah Bishop (MonaVie Cannondale). In 2008, the two had set up for the anticipated duel twice, only to have mechanicals and crashes mar the final results.
This time a clean race from start to finish was won with strong legs and good tactics, with aid station transitions playing a major role in the success or demise of riders. At aid station two, Schalk made his traditional move of blowing through while the rest of the early front pack of Bishop, Chris Eatough (Trek Racing Co-Op), Chris Beck (Gary Fisher/ Subaru), Michael Simonson (Gary Fisher 29er Crew), Sam Koerber (Gary Fisher 29er Crew) and Christian Tanguy (Team Fraser) had to stop to refill. By carrying enough water to get to station three, Schalk was able to create a gap that only Bishop could bridge. The effort might have cost him later in the race when Schalk countered a mini-attack from Bishop on the last climb and immediately managed to put time on the Monavie Cannondale rider.
The favorites on the starting line
Photo ©: Bluebasinphoto.com

"When I saw he (Bishop) wasn't able to respond, I just kept attacking, thinking he was maybe cramping, " said Schalk. "I thought that if Jeremiah got into the singletrack first, I'd be in trouble, so I attacked there." In the end, Schalk had a slim cushion of 2:20.
Coming in third was Subaru/ Gary Fisher rider Chris Beck, who had one of the best races of his career by edging out his training partner and friend Chris Eatough (Trek Racing Co-Op). Again aid stations played an important role in race tactics. After getting a slight gap on Eatough, Beck and Simonson blew through station three to maintain an advantage.
Still Eatough managed to catch the two riders at Station four as they were filling up bottles. The three rode together until aid station five where Eatough started cramping while Beck was able to blow through and eventually drop Simonson. In the end, Eatough recovered enough to take back fourth while Simonson held strong to keep a fifth place spot.
Lowery shakes the curse
The peloton rolls out
Photo ©: Bluebasinphoto.com
Carey Lowery (Outdoor Store) shook the second place curse and kept the winner's trophy for the locals.
"It feels great after four years to win in my backyard!" she said. After two second place finishes, Lowery was finally able to stand on top of the podium at her local 100 miler. "This year was different than others since there were four of us together to about the 25-mile mark.
Past winner Daniel Musto (Kenda/Tomac/Hayes) made the first move of the day with a plan to stay in the front with the men's group for as long as possible. That move saw her into the singletrack first, and she was able to hold an early lead until the beginning of the climbing dual track sections. As the day heated up Musto's Michigan blood, she was caught by a pack of charging women, which included Lowery, Betsy Shogren (Cannondale Factory Racing) and Paula Burks (Vantaggio Specialized).
Women's podium
Photo ©: Bluebasinphoto.com

From there, the women see-sawed from one aid station to another. Shogren would get away on the climbs while Lowery would lead the charge overtaking Musto and catching Shogren on the descents. Having a home course advantage gave Lowery a key advantage for bombing down the hills.
"It was so impressive watching Carey go downhill, while pedaling!" was Musto's reaction to the excellent riding of Lowery.
An early flat from Burks, another local, gave her the advantage of being able to ride her own race back into the top of the field, eventually taking the second place position. After she had caught Shogren, the two passed Musto at aid station four where her bike was in the stand with some mechanical issues. Musto managed to get back on pace and catch Shogren pretty quickly, but was never able to take back the void separating Burks from her front wheel. Despite some major cramping, Musto was able to hold on to third position for the day while fourth went to Shogren and Emily Brock (Faster Mustache) snagged fifth place.
Pflug gives up gears and goes with just one
Singlespeed men's podium
Photo ©: Bluebasinphoto.com

In an unexpected shift, Gerald Pflug (Speedgoat/SPK/Salsa) showed up to the start line this year with a bike lighter by 26 gears. A perennial top ten finisher in the geared class for the past few years, Pflug decided he liked the one gear mantra after a winter of singlespeed training. An element to his success for the day might be granted to a minor psyche-out of the other racers after he got away on the first climb of the day.
Second place finisher Matt Ferrari (Freeze Thaw) said when he saw Pflug go up the road "Everyone thought he had the wrong gear and would be coming back." Pflug explained that he was running a slightly easier gear than the rest and though it was trouble on the opening flat sections, "when I hit the climbs and was feeling good I just kept the legs spinning."
For most of the race Ferrari was able to maintain a one to five minute gap and could catch sight of Pflug on the sections with the longest sight line. "I had planned to attack on the last 20 mile section, but when I reached back for gels I knew I had I couldn't find them in my pocket." That put Ferrari into reserve mode and gave took away any chance he had of trying to bridge back to Pflug. Maybe the heat and racing had taken its toll on Ferrari, because when he got back to the car and unloaded his pockets he had three gels mysteriously reappear.
Third on the day was Roger Masse (Trek Racing Co-Op), who over came an early crash, and battled his way through the field to within four minutes of Ferrari. Jason Morgan (Industry Nine) and Russell Henderson (NCCX) pulled in fourth and fifth positions.
Photography
For a thumbnail gallery of these images, click here
Images by www.Bluebasinphoto.com
Results

Men

1 Jeff Schalk (Trek Racing Co-Op)                     6.23.06
2 Jeremiah Bishop (Monavie Cannondale)                   2.20
3 Christopher Beck (Subaru / Gary Fisher)               13.49
4 Chris Eatough (Trek Racing Co-Op)                     19.24
5 Michael Simonson (Gary Fisher 29er Crew)              25.57
6 Josh Tostado (Bach Builders)                          26.19
7 Samuel Koerber (Gary Fisher 29er Crew)                26.21
8 Rob Lichtenwalner (Visitpa.Com)                       33.09
9 Christian Tanguy (Team Fraser)                        33.26
10 Greg Kuhn (Team Fraser)                              38.39
11 Aaron Oakes (Bulldog/Cyclecraft)                     41.41
12 Jason Murrell (Waste Services/Motor)                 45.13
13 Chris Peariso (Adventure 212/Specialized)            46.47
14 Ernest Marenchin (Asylum Cycles)                     49.03
15 Cameron Cogburn (Chriscookies)                       50.45
16 Andy Applegate (CCN / Cannondale)                    51.05
17 Andrew Gorski (Speedgoat / SPK / Sals)               57.10
18 Shey Lindner (Tarrapin Racing)                       57.13
19 Chris Strout (Wbr-Siren Bicycles)                    59.46
20 Travis Mullen (29er Crew)                          1.03.12
21 Morgan Olsson (Greensboro Velo Club)               1.04.49
22 Garth Prosser (Cannondale)                         1.06.21
23 Sloane Anderson (Pureenergy-Proair/Hfa)            1.10.41
24 Richard Wiegert (Global Services Corp.)            1.15.01
25 Blair Saunders (Henrys)                            1.28.48
26 Laberge Claude (Team Marty's)                      1.29.36
27 Rich Oneil (Freeze Thaw/Giant)                     1.34.58
28 Justin Farmer (JF2R)                               1.35.47
29 Matt Thourot (Bicilibre)                           1.35.50
30 Rich Straub (Freeze Thaw Cycles)                   1.36.37
31 Andy Mills                                         1.38.58
32 Brad Majors (WBR-Siren Bicycles)                   1.42.42
33 Todd Henne                                         1.44.09
34 Ronnie Dean (2Wheelcoach / Wobble)                 1.49.31
35 Dan Larocque (Endorphin Fitness)                   1.56.04
36 Leonardo Cardona (Marty'/S Reliable Cycle)         1.58.03
37 Mike Schultz (Dirty Harrys/ Highland T)            2.02.48
38 Anthony Hergert (Reality Bikes Racing)             2.12.42
39 Michael Moriarty                                   2.18.26
40 Andrew Parry (Louis Garneau)                       2.21.06
41 John Dove                                          2.21.41
42 David Parsons (Pula)                               2.35.06
43 Ryan Heerschap (Team Bulldog/Campmore)             2.35.09
44 John Millon (John Millon)                          2.36.34
45 Kris Karwisch (Biowheels/Reece)                    2.37.03
46 Brent Lester (29er Crew)                           2.38.32
47 Tab Tollet (Motor Mile Racing)                     2.40.00
48 Tyler Vanrensselae (Endorphin Fitness)             2.42.49
49 James Hurst (Motor Mile Racing)                    2.43.35
50 Shawn Tevendale (Bike Factory Racing)              2.43.39
51 Lee Simril (Krystal/SCV)                           2.47.40
52 Justin Mace (Motor Mile Racing)                    2.48.27
53 Eddie O'Dea (Topeak-Ergon)                         2.50.21
54 Travis Goodman                                     2.50.24
55 Dariusz Maciag (Paulmilleraudi/Mart)               2.56.14
56 Taylor Sullivan (Cowbell)                          2.56.44
57 Richard Lengyel (Paa / Re-Max)                     2.58.44
58 Nathan Mirus (Biowheels Cincinnati)                2.59.46
59 Wade Newell                                        3.00.19
60 Andy Klumb (Bicilibre)                             3.01.01
61 Christian Baks (Pawling Cycles)                    3.05.45
62 Glenn Sapsford (Guy's Racing)                      3.08.51
63 Marcin Gembicki (Marty's)                          3.09.19
64 Roger Dunn (Atlantatrek)                           3.09.40
65 Lance Pope                                         3.15.49
66 Tim Abbott                                         3.15.52
67 Martin Kozera                                      3.16.28
68 Jon Rittling                                       3.16.58
69 Jeff Plassman                                      3.34.42
70 Ivan Wademan                                       3.35.24
71 Ken Clark (Team Marty's)                           3.36.28
72 Brent Bell (Team 19)                               3.37.19
73 Jay Cullen (Endorphin Fitness)                     3.44.06
74 Edilson Cremonese (Paradofobia/Active)             3.47.48
75 Brett Davis (Solon Bicycle)                        3.49.54
76 Jamie Kent                                         3.57.12
77 Mark Duffus (Addictive Cycles)                     4.11.35
78 Vince Schultz                                      4.11.40
79 Ed Garrison (Stanky Creek Cycling)                 4.12.03
80 Tim Check                                          4.14.37
81 Jesse Teague                                       4.19.24
82 Steve Wingo                                        4.20.21
83 Timothy Koch (Gripped Racing)                      4.22.10
84 Rob Ern                                            4.23.29
85 Ralph Oppermann (Team AFD)                         4.26.07
86 David Vance (Reality Bikes)                        4.26.44
87 Marcus Furlong                                     4.30.18
88 John Griffiths (NYCMTB-Peak Bikes)                 4.38.23
89 Robert Wray                                        4.45.28
90 Kelly Vancanon (Motor Mile Racing)                 4.51.11
91 Stephen Huddle                                     4.57.35
92 Dan Searle                                         5.05.02
93 Robert Woolf                                       5.10.54
94 Josh Green (Lovesexy 2000)                         5.13.00
95 Aaron Hawkins (Chrysalis Ventures)                 6.08.06
96 David Duke                                         6.23.08
97 Philip Loverde                                     6.35.08
98 Ron Brna                                           6.35.29
99 Michael Delang                                     6.52.23
100 Peter Rajcani (Torc)                              7.06.13
101 David Doyle                                       5.11.47

Women

1 Carey Lowery (Outdoor Store)                        8.06.47
2 Paula Burks (Vantaggio Specialized)                   18.02
3 Danielle Musto (Kenda/Tomac/Hayes)                    26.46
4 Betsy Shogren (Cannondale Factory Ra)                 43.07
5 Emily Brock (Faster Mustache)                         57.49
6 Brenda Simril (Krystal/ Scv)                        1.03.56
7 Laureen Coffelt (Rb's Cyclery)                      1.21.57
8 Denelle Grant (Bike Factory Racing / G)             1.36.31
9 Vicki Barclay (Freeze Thaw)                         1.42.49
10 Kimberly Murrell (Waste Services/Scotts)           2.16.20
11 Jennifer Moos (Paradofobia/Downtown)               2.23.26
12 Annette Lamberson                                  2.26.42
13 Elie McCalley (Bike Zoo)                           3.02.16
14 Laura White (Roanoke Cycling Organ)                3.30.54
15 Susan Williams (Memphis Velo/ Smith A)             3.49.24
16 Tracy Lewis                                        3.27.34

Singlespeed

1 Gerald Pflug (Speedgoat/Spk/Salsa)                  7.20.50
2 Matthew Ferrari (Freeze Thaw)                          7.39
3 Roger Masse (Tiek Racing Coop)                        13.00
4 Jason Morgan (I9)                                     23.36
5 Russel Henderson (NCCX)                               24.01
6 Chris Mcgill (Cannondale Factory Ra)                  28.31
7 William Alcorn (Speedgoat/Moots)                      30.47
8 Dave Holmes (Gary Fisher 29er Crew)                   31.06
9 Mark Tressler (Rad Racing)                            35.21
10 Nathan Kraxberger (Sid's-Cannondale)                 36.36
11 Mark Elsasser (Independent Fabrication)              37.00
12 Bendan Gibbs (Cahaba Cycle)                          38.35
13 Jonathan Robbins (Gary Fisher 29'Er Crew)            48.57
14 Ronald Sanborn (Mclain Cycle & Fitness)              53.55
15 Doug Frederick (Bookoo)                            1.09.27
16 Gunner Shogren (Cannondale Factory Racing)         1.09.28
17 Gary Chambers (Team Ed)                            1.21.00
18 Jason Pruitt (Rotten Robbies/Hodson)               1.31.08
19 Scott Mcconnell (Moots/Swiftwick/Yazoo)            1.37.39
20 Michael Tressler (Rad Racing)                      1.40.53
21 Jim Almgren                                        1.50.05
22 Nicholas White (Marty's)                           1.51.22
23 Chad Hungerford (Scared Shiftless)                 1.53.04
24 Jimmy Bean                                         2.03.55
25 Jeff Bushong (Rotten Robbies)                      2.08.35
26 Greg Leister                                       2.10.21
27 Keith Schaper (Moots/Swiftwick/Yazoo)              2.28.09
28 Geoffrey Lenat                                     2.38.43
29 Eddie Velasquez (Team Marty's)                     2.38.44
30 Jesse Epstein (Team Marty's)                       2.39.01
31 Tony Angevine                                      2.51.25
32 J.D. Powers (Bull City Cycling)                    3.06.54
33 Buddy Briggs (The_Sht/Twin Six/White)              3.07.22
34 Christopher Steffens                               3.31.36
35 Joseph Queen (Moots/Swiftwick/Yazoo)               3.34.36
36 Chris Coulter                                      3.45.47
37 Kyle O'dell (Lbld Racing)                          4.19.52

Men 50+

1 Greg Turner (RBM)                                   7.43.20
2 Randy Kerr                                            15.31
3 John Williams (Bike Line)                             51.13
4 David Kelnberger (Fisher29er Crew)                    53.39
5 David Grauer (Orthopro)                             1.06.05
6 James Wilson (Human Zoom)                           1.18.04
7 Ed Mccalley (Bike Zoo)                              1.35.27
8 Scott Summey (Open Road Bicycles)                   1.56.51
9 John Wyrick                                         2.19.54
10 Mathew Davies                                      2.21.22
11 Chris Baker (Carolina Bicycle Compa)               2.23.47
12 Eric Bannan (Torc)                                 3.51.37

Big Frog 65 - Men

1 Tom Bender (Adventure212/Specialized)               4.40.36
2 Patrick Mosler (Rhoenraketen-Fulda, Germa)             6.54
3 James Wiant (Atlanta Pro Bikes)                       19.48
4 Ross Clark (Solon Bike)                               24.31
5 Derik George (Ascent Cycling)                         37.29
6 Bill Crank (Pedal The Planet / CES)                   45.30
7 Paul Ruhling (Dwc)                                    45.32
8 Talbott Ingram (Bio Wheels)                           59.03
9 Steven Wells (Memphis Ripper Clan)                    59.06
10 David Simpson                                        59.09
11 Mark Hayes (Central Carolina Racing)               1.01.02
12 Josh Bateman                                       1.05.30
13 Mike Brown (Sorba-Omba)                            1.07.19
14 Monte Hewett                                       1.13.12
15 Steve Twining (Solon Bicycle)                      1.13.54
16 Jon Stang (19 Paws Racing)                         1.18.04
17 Dennis Kuntz                                       1.23.06
18 Bo Glenn (Inland Construction)                     1.24.40
19 Hank Campbell (Team Athens)                        1.27.52
20 Ali Aslam (Bull City / 2Nd Empire)                 1.28.06
21 Brett Goldenberg (Outspoken/Strenflex)             1.29.14
22 David Cook (Sycamore Cycles)                       1.36.27
23 Richard Tillman                                    1.41.07
24 Hart Robinson (Memphis Ripper Clan)                1.43.57
25 Robert Mingus (Racer X)                            1.44.16
26 Jamie Ingalls (Lovebird Racing)                    1.46.09
27 Hal Royer                                          1.48.03
28 Greg Brannon                                       1.51.23
29 Steve Seaborn                                      1.52.52
30 Grant Blankenship                                  1.56.05
31 William Matlin (0)                                 1.57.48
32 Mike Pace (Pace's Cog Farm)                        2.03.38
33 Matt Rouse                                         2.12.07
34 Jonathon Laroy (Extreme Tomato)                    2.15.19
35 Jeff Boyd                                          2.15.42
36 Ron Philley                                        2.15.56
37 Jeff Papenfus (GLR)                                2.17.48
38 Stephen Janes                                      2.18.52
39 Christopher Wiederhold (Maumee Valley Wheelmen)    2.20.44
40 Greg Mazzaferro (Los Locos Triathlon Team)         2.23.41
41 John Umberger                                      2.31.57
42 Steve Carter (Fleet Feet Sports)                   2.32.43
43 Michael O'grady                                    2.37.18
44 Mike Smith (Jo Mamma)                              2.40.39
45 Tom Proctor                                        2.41.03
46 John Gillpatrick (Team Paul's Cycling)             2.42.27
47 David Johnson (Maumee Valley Wheelmen)             2.42.48
48 William Copeland                                   2.44.24
49 Bradley Touchstone (Team Yl)                       2.45.23
50 Jason Pilato                                       2.50.36
51 Russ Stevenson                                     3.04.48
52 Rick Moran (T3 Cycling)                            3.09.43
53 Steve Bateman                                      3.23.03
54 Craig Benoit                                       3.32.53
55 David George                                       3.39.18
56 Matt Linderman                                     3.44.42
57 Derek Wrathell (Rochester Bike Shop Cycling)       3.52.39
58 John Ball (Arqiva)                                 3.53.22
59 Scott Pierce                                       3.59.31
60 David Williams                                     4.14.49
61 James Stone (Cartecay Bike Shop)                   4.18.43
62 Dustin Gaddis (Sorba-CSRA)                         4.23.15
63 David Gomez (Atacteam)                             4.26.51
64 Tom Spetalnick (Ridin' Dirty)                      5.25.48
65 Christopher Averett (Trek Store Of Cincinnati)     6.09.58

Big Frog 65 - Women

1 Gina Tolbert (Vantaggio/Specialized)                5.50.37
2 Marcelle Vanore (Gary Fisher - 29er Crew)              5.35
3 Ellen Serruto (Mtbnj.Com)                              8.47
4 Norma Rainwater (Sorella Cycling)                      9.31
5 Lisa Randall (Outspoken/Strenflex)                    14.45
6 Jenn Rinderle (Checkpoint Zero)                       18.34
7 Star Affolter (Vantaggio/Specialized)                 23.47
8 Linda Demma (Sorella / Bvm Engineer)                  29.16
9 Jessica Ingram (Velosports)                           33.34
10 Lisa Thompson (Vantaggio/ Specialized)               44.28
11 Cathi Cannon (Rock Creek Outfitters /)               44.53
12 Amy Mace (Velo Vixens/Motor Mile)                    56.05
13 Maureen Jende (Team Marty's)                       1.04.05
14 Brenda Herrington                                  1.21.03
15 Paula Johnson                                      1.21.06
16 Christin Goodman                                   1.34.13
17 Diane Reynolds                                     1.44.08
18 Patty Simpson (Sorella)                            1.50.51
19 Laura Vedral                                       2.00.13
20 Kristi Hawken (Scv/Krystal Chiks)                  2.28.02
21 Lorna Mcgee                                        2.39.34
22 Anne Ledbetter (Sorella Cycling P/B Bvm)           2.50.12
23 Jennifer Barden (Team Martys)                      2.55.15
24 Katie O'grady                                      3.12.41
25 Mary Craighead (Chrysalis Ventures)                3.19.17
26 Miriam Kornitzer (International Bicycle)           3.51.57
27 Eunika Rogers                                      4.45.22

Big Frog 65 Singlespeed

1 Zdenek Fiebinger (Gary Fisher - 29er Crew)          4.55.26
2 Jeff Pendlebury (Groovy Cycleworks)                    1.05
3 Hardwick Gregg                                        27.16
4 Zachary Broussard (Wednesday Night Drink)             29.04
5 Brett Wyckoff                                         49.58
6 David Hawkins                                         58.28
7 Jeff Scott (Moots/Swiftwick)                        1.16.44
8 William Hartley (Motor Mile Racing)                 1.24.12
9 Jason Rodwell                                       1.28.42
10 Jimmy Hall (Birmingham Bicycle)                    1.31.01
11 Johan Nel (Blackbeancycles)                        1.31.33
12 Matt Kicklighter                                   1.36.48
13 Eric Glidewell (Birmingham Bicycle)                1.41.31
14 Nicholas Salerno (Iro Cycle)                       1.53.31
15 James Sarks (Saturn Of Toledo / Shell)             2.06.40
16 Jason Barksdale (Birmingham Bicycles)              4.00.37

Big Frog 65 Master Men 50+

1 Dwight Wyatt (Carolina Fatz)                        5.29.58
2 Doyce Johnson                                          8.00
3 Bob Wilcox                                          1.09.58
4 Lonnie Vogan                                        2.14.09
5 Stephen Mcauley (Team Moab)                         2.32.25
6 Webb Sledge (Team Toccoa)                           3.04.04
7 Gary Gesualdi (Afforcdable Botox)                   3.05.30
8 Jim Kelleher (Team Glr Lost In The Forest)          3.18.50

Big Frog 65 Master Women 50+

1 Linda Sledge (Team Toccoa)                          8.26.44