MTB index page for all MTB content
British Cross County Series - Sherwood Pines - 2
Nottinghamshire, Great Britain, April 5, 2009
2008 Results Results
Joseph and Crawforth win tough battles at British cross country opener
By Joolze Dymond
Jody Crawforth
Photo ©: Joolze Dymond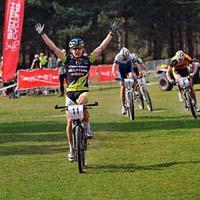 As opening rounds go, round one of the British cross country mountain bike series seemed to have it all; sunshine, 7km of tight twisty dusty trails and races full to bursting with riders keen to get the 2009 season underway. In fact well over 600 riders from all over the UK and a few international competitors, including masses of female riders, converged on Sherwood Pines on the weekend to take part in the UK's premier cross country race series to compete in 11 categories. With Martyn Salt and his experienced team, firmly back in the driving seat raising the bar once again, first signs are encouraging that after a lacklustre 2008, cross country racing is back on track.
The venue chosen to kick off the new series, Sherwood Pines, is a firm favourite for many riders, awash with fast flowing trails, dry loamy berms but with no real hills, it is one certainly not for the climber, more suited to the strong rider hopefully with a killer sprint. As the day unfolded it was soon apparent that each race was very nearly always going to be fought right down to the wire, which would provide a day full of thrilling action for spectators.
Elite women
The elite women's race started the proceedings and had a true international flavour, with New Zealander Rosara Joseph mixing it with Australian Kate Potter and German Mel Spath alongside home grown talent including national cross country champion Jenny Copnall, first-year elites Annie Last and Lilly Matthews to name but a few of the talented field that blasted off on the sound of the whistle.
A slight tussle on the second row saw a few riders left behind as the fast train to victory left abruptly without them, headed by World Cup regular Joseph. As the five-lap race unfolded, it was soon clear that this was not going to be a clear-cut race as everyone thought. While the front rider Joseph remained unchallenged, the race behind was a constant turmoil of chopping and changing as the women fought their way through the course and the backmarkers, hunting for the sweet spot on Joseph wheel.
Spath had a bizarre off at the feed station, going over the bars as she reached for a bottle; however despite leaving her angry and well off the pace, she quickly worked her anger into adrenalin and got back to the group, to only find herself taking a wrong turn, followed by Copnall. This time both riders pushed extra hard to get back into the race, meanwhile Joseph was narrowing for the finish line with fellow Kiwi Jen O'Connor stuck to her wheel. Joseph smoothly accelerated to take the win leaving no room for O'Connor to respond. Seconds later, three riders burst into the arena, each one eager to pick up the remaining podium. After a quick burst of speed over the remaining 50 meters Spath outsprinted Potter and Copnall for that honour.
Despite finishing fifth Copnall was delighted to finish as best finishing Brit in a highly competitive field. Annie Last rode a strong race, stepping up from junior ranks to elite racing to take a fine sixth, while teammates Lilly Matthews and Sharon Laws picked up seventh and eighth respectively.
"That was really exciting. I was really impressed with the quality of the field," said Joseph. "On this sort of course and with the quality riders that I was up against, the race is so fast and although I tried over the first couple of laps to get away, I couldn't shake them off my tail. I wanted to make this a really good workout for me, I haven't done a lot of racing so far this year but I'm looking to do the World Cups, which kick off in a few weeks. I could have just sat in the group but I prefer to work hard."
Elite Men
Soon it was time for the big hitters of the men's elite race to get going. This time, 46 riders were up for the challenge, including Olympian Oli Beckingsale, local prodigy Dave Fletcher, along with Jody Crawforth, 2008 series winner Gareth Montgomerie and Ireland's Robin Seymour. As the whistle blew the riders led by Seymour hurtled down the opening straight, clouds of dust billowing out behind as they disappeared on the first of a hard and fast seven-lap contest.
With the fast and unrelenting nature of this course coupled with no killer hills, it was clear this would be yet another race right that would be played to the very end. It was anyone's guess who would be top dog with plenty of contenders.
For some riders a tangle of handlebars at the very beginning very nearly ended their race before it had even begun left one rider crumpled on the floor and others looking for new wheels and trying to get back on the fast moving train that had just left without them. At the business end of the race, a huge group of 20 riders swooped in formation through the tightly packed trees, as the relentless pace pulsated on.
Lap after lap the lead was constantly changing with rider after rider trying hard to make or break the group. Beckingsale dug a few times in the closing laps and saw the huge group whittled down to a manageable five riders.
Despite his efforts Beckingsale still couldn't shake the remaining riders consisting of Crawforth, Paul Oldham, Adrian Lansley and Fletcher and as he told us later he knew a win here would be nigh on impossible: "I put in a few digs to try and whittle the group down, but realised you can't get away on a course like this and was wasting my time, so decided to save it for the end. I realised that I was unlikely to win it if there were too many riders coming through to the end, so one was always hanging on behind me, it's hard to split it up especially when you're a little guy like me! I gave it half a lap and split the group by which time everyone was swinging but Jody and Fletcher were still on my wheel and both jumped me at the finish."
Fletcher was playing the waiting game, using his head as well as his legs to try and give him that all important advantage, however as the closing stages of the race unfolded, it was Jody Crawforth who appeared first in the arena and with a handful of seconds and a furious group sprint behind cruised to the line for the first win of the season. The remaining podium spots were decided by a fierce sprint and Fletcher was the man that took second narrowly ahead of Beckingsale and Oldham whilst an exhausted Lansley came in seconds later to take fifth.
"That was a tough race, with so many of us in contention," said Crawforth after the podium presentation. "After the first lap there were about 20 of us battling it out, I felt comfortable out there but went to the front a few times just to keep the pace high. It was hard to get away it was pretty windy out there, so I just sat there, but towards the end I started getting cramps, but fortunately it went away and the last two laps I settled down and felt great. It was difficult to keep tabs on how many laps you'd done, but it was a good course, good race and of course happy to win! I'm pleased with my form, seeing how I haven't done any top end training yet, so I'm surprised to win, but I'm happy to take it home."
Round two will head for a new venue, one that is currently looking for World Cup status - Dalby Forest.
Photography
For a thumbnail gallery of these images, click here
Images by Joolze Dymond
Jody Crawforth won the men's race at the British cross country national series opener.
Results

Elite women

1 Rosara Joseph           1.49.35
2 Jenn O'Connor              0.01
3 Melanie Spath              0.45
4 Kate Potter                    
5 Jenny Copnall              0.48
6 Annie Last                 1.51
7 Lily Matthews              1.58
8 Sharon Laws                2.21
9 Sue Clarke                 3.23
10 Maddie Horton             3.49
11 Meggie Bichard            7.27
12 Gemma Collins             8.34
13 Melanie Alexander         9.47
14 Nadine Spearing          12.45
15 Lesley Ingram            14.57
16 Nicola Duggan            16.31

Lapped

17 Annabel Simpson               

Elite men

1 Jody Crawforth          2.13.57
2 David Fletcher             0.01
3 Oli Beckingsale            0.02
4 Paul Oldham                    
5 Adrian Lansley             0.09
6 Stuart Bowers              0.22
7 Christopher Minter         1.12
8 Gareth Montgomerie         2.43
9 Robin Seymour              2.44
10 Dan Booth                 3.32
11 Billy-Joe Whenman             
12 Ross Adams                3.33
13 Robert Friel              3.57
14 Lee Williams              5.02
15 Andrew Cockburn           5.06
16 Duncan Jamieson               
17 Simon Ernest              5.13
18 Nigel Martin              5.14
19 Oliver Holmes             5.27
20 Carl Sturgeon             6.04
21 Ross Creber               6.05
22 Tim Dunford               6.47
23 Stuart Wearmouth          7.01
24 Jonathan Pugh             7.33
25 Calum Chamberlain         7.55
26 Nic Smith                 8.39
27 Dave Henderson            8.44
28 Sebastian Batchelor       9.38
29 Dave Collins              9.46
30 Ryan Sherlock             9.48
31 Paul Robertson            9.54
32 Hamish Batchelor         10.01
33 Peter Hawkins            15.44
34 Llewellyn Holmes         18.37
35 Matt Loake               19.26
36 Anthony O`Boyle          20.18
37 Matthew Weston           24.55
38 Andrew Howett            27.40

Lapped

39 Patrick Cobb                  
40 Ben Simmons                   
41 Nick Collins                  
42 Chris Andrews                 
43 John Whittington              
44 Paul Smith Sandy              
45 Allan Clark Sandy             
46 Richie Felle                  

Expert women

1 Emma Smith              1.36.06
2 Jessie Roberts             0.34
3 Rachel Fenton              3.41
4 Katie Collins              4.04
5 Anna Buick                 4.27
6 Fran Mundy                 5.56
7 Ruth Owen-Evans            9.52
8 Lucy Marshall             16.27
9 Lydia Gould               31.33

Lapped

10 Jasmine Adams                 
11 Sarah Holmes                  

Expert men

1 Scott Thwaites          1.40.13
2 Sion O`Boyle               2.38
3 George Budd                    
4 Jon Pybus                  2.39
5 Ryan Bevis                 3.09
6 Graham Martin              3.11
7 Mike Blewitt               3.40
8 Giles Drake                3.48
9 Douglas Shearer            4.13
10 Simon Allard              4.19
11 Greig Walker              4.20
12 Joe Richards              4.34
13 Gary Record               4.45
14 Niall Frost               4.46
15 Charlie Evans             4.51
16 Phil Lenney               5.26
17 Steve Halsall             5.41
18 Nick Evans                6.09
19 Chris Lane                6.13
20 Eric Pettett              6.23
21 Warren Bates              6.33
22 Jack Richards             6.45
23 Paul Wilkinson            7.03
24 Peter Goode               8.59
25 Matt Stevens              9.33
26 Joe Andrews               9.45
27 Scott Chappell            9.55
28 Chris Pedder              9.56
29 James Hampshire           9.58
30 Pete Humphreys           10.36
31 Gareth Whittall          11.32
32 Christopher Bell         13.18
33 James Dalton             13.30
34 Scott O`Neill            13.59
35 James Williams           14.15
36 Christian Aucote         16.00
37 Mark Goodman             16.33
38 Daniel Shoreman          21.32

Lapped

39 Ben Roach                     
40 Jason Hucklesby               
41 Joel Shotton                  
42 Henry Turgoose                
43 Michael Coward                
44 Chris Dobson                  
45 Sean Frost                    

Grand veteran women

1 Debbie Burton           1.12.49
2 Hilary Bloor               9.18
3 jane batchelor            23.25

Grand veteran men

1 Ian Wright              1.23.32
2 Kevin Townsend             2.33
3 Roy Hunt                   3.03
4 Pete Wilkin                4.14
5 Grant                      4.45
6 Bruce Rollinson            5.17
7 Martin Eadon               5.36
8 John Galway                6.05
9 Philip Buick               6.18
10 Adge Last                 6.32
11 Tim Stowe                 7.25
12 Garrett Hill              9.00
13 Duncan Stuart             9.48
14 Peter Harris              9.55
15 Greg Fitzpatrick         11.41
16 Kim Burrows              12.44
17 Steve Whitehouse         12.54
18 Steve Kettlewell         15.49
19 FJ McGhee                17.11
20 Trevor Patey             17.20
21 Raymond Hallam           18.38
22 John Newport             23.35
23 Ian Bradford             24.57
24 Paul Warner              28.14

Lapped

25 David McLean                  
26 Bob Dixon                     

Junior women

1 Ruby Miller             1.09.44
2 Carla Haines               6.37
3 Danielle Rider            15.58

Junior men

1 Steve James             1.17.48
2 Kenta Gallagher            3.02
3 Luke Gray                  4.29
4 Robert Hassan              4.59
5 Ross Brinson               5.01
6 Lewis Burke                5.17
7 Nat Jarvis                 6.23
8 Joe Peake                  6.59
9 Matthew Jones              8.29
10 Oliver Watson             8.37
11 Max Filleul               8.47
12 Jamie Maxwell             8.56
13 Aron Marshall             8.57
14 Hamish Fletcher-Cooney    9.32
15 Oliver Webster           12.49
16 Bruce Dalton             12.58
17 Peter Robinson           14.41
18 Rob Nelson               16.39
19 Ian Lee                  16.43
20 Josh Senior              16.50
21 Mike Garrett             18.17
22 Ciaran O`Grady           18.22
23 John Matthews            18.41
24 Gregory McCullum         19.30
25 Sam Sayers               21.39
26 James Harman             22.26
27 John MacKellar           31.20
28 Adam Smith               36.23

Lapped

29 Will Verney                   

Juvenile women

1 Alice Barnes              52.13
2 Imogen Buick               1.07
3 Jenna Fenwick              2.29
4 Getel Warner               4.31
5 Charlotte Broughton        4.47
6 Grace Garner              11.41
7 Sarah Lomas                    
8 Rosie Crumpton            12.00
9 Heather Sharp             17.37
10 Paige Coope              41.39

Juvenile men

1 Stuart Wilcox             45.11
2 Ross Wilcox                0.02
3 Harry Franklin             0.30
4 Matt                       1.01
5 Kieron Tennyson            1.02
6 Harvey Lowe                1.39
7 Joe Kirkham                2.20
8 Sam Beckingsale            2.33
9 Elliott Philips            2.57
10 Bryn Davies               3.16
11 Arthur Green              5.13
12 Josh Parkin               5.28
13 Jack Ravenscroft          5.31
14 Liam Keynes               5.33
15 Liam Cowell               6.10
16 Geraint Manley            8.29
17 Noah Phillips             9.30
18 Chris Oakley              9.31
19 Danny Fox                11.00
20 Stephen Lee              13.10
21 Max Clarke               14.04
22 Joshua Wells-Walling     16.48
23 Alistair McMaster        19.09
24 Henry Barnes             22.45
25 Owen Monaghan            32.12
26 Ben Pygott               36.13
 
 
 
Master women
 
1 Ruth Mordaunt           1.35.18
2 Nina Davies                1.31
3 Kim Hurst                  3.43
4 Emma Bradley               4.50
5 Caroline Goward            6.01
6 Hannah Reynolds            7.05
7 Malin Tindberg             9.23
8 Kellie Towl               15.29
9 Sara Randle               22.18

Lapped

10 Verity Appleyard              

Master men

1 Matt Barrett            1.39.43
2 Stephen James              0.01
3 John Veness                0.02
4 Rob Enslin                 0.03
5 Mark Hutt                  0.08
6 Andy Plewes                2.22
7 Dan Lewis                      
8 Paul Hopkins               2.30
9 Lloyd Bettles              2.35
10 Neal Crampton             2.40
11 Christopher Rathbone      2.41
12 Nick Onslow               2.42
13 Robert Oakes              2.51
14 Scott Rose                3.04
15 Matthew Dennis            3.31
16 Dave Griffiths            3.33
17 Phil Morris               4.13
18 Stuart King               4.25
19 Luke Moseley              4.49
20 Tom Smith                 5.05
21 Mark Allen                5.11
22 Jay Horton                5.32
23 Geoffrey Beetham          6.10
24 Damian Baker              7.00
25 Paul Davies               7.02
26 Matt Lewis                7.08
27 Anthony Morris            7.11
28 Jamie Norfolk             7.19
29 Hugo Hocknell             7.26
30 Hywel Silvester           7.29
31 Danny Goode               7.39
32 Darren Alexander          7.40
33 Gerald Tudor              7.50
34 Neil Richardson           7.56
35 Pete Dawe                 8.09
36 James McCluskey           8.57
37 Myles Gerrard             9.51
38 Jon Bowie                10.18
39 Paul O`Brien             11.27
40 Alistair Lovell          11.37
41 Lee Goodman              11.49
42 Simon Maudsley           11.57
43 James Gleave             12.31
44 Sean Scott               12.36
45 Richard Samuel           12.42
46 Brian Harrison           12.54
47 Jamie Wightman           13.00
48 Stefano Detomaso         13.57
49 Jason Smith              14.10
50 Neil Johnson             15.11
51 Jon Pendrill             15.35
52 Scott Willson            16.39
53 Darren Ryden             16.48
54 Patrick O`Donovan        17.04
55 Simon Smith              17.45
56 Simon Lesser             18.23
57 Paul Bennett             18.51
58 Brian Macpherson         20.32
59 Peter Steed              20.47
60 Martin Reed              21.51
61 Alan Sanders             23.09
62 Ben Underwood            23.21
63 Andrew Gillott           27.57
64 Jonathan Cousins         27.59
65 Chris Glass              29.45
66 Nik Kershaw              29.57
67 Shane Lawton             31.20
68 Nigel Whelan             32.22
Lapped
69 Chris Sheppard                
70 Mark Stodgell                 
71 Bryan Hill                    
72 Martin Tyler                  
73 Ronnie Ogilby                 
74 Aaron Wills                   
75 Paul Elderkin                 
76 Richard Lister                
77 Matt Williams                 
78 Mark Spratt                   
79 Richard Fiander               
80 Richard Lang                  

Open women

1 Natalia Wase            1.13.52
2 Emma Cound                13.00
3 Jody Harris               13.15
4 Wendy Murdoch             14.17
5 Helen White               33.00
6 Jessica Walling           48.55

Lapped

7 Yasmin Needham                 

Open men

1 Shaun Newbitt           1.31.00
2 Jake Elliott               0.10
3 Stephen Tebbett            1.41
4 Charles Dennison           2.43
5 Rik Thompson               2.58
6 Jake Lewis                 3.58
7 Peter Baptista             4.08
8 Andy Moore                 4.51
9 Lee Eaton                  5.18
10 Chris Nightingale         6.05
11 Andy Howard               7.15
12 Andy Murrell              7.40
13 Sean Connock              7.58
14 Andrew Barnard            7.59
15 Steve Bowers              8.14
16 Carl Hancock              8.27
17 Phillip Davies            8.30
18 James Cooley              8.54
19 Jon Barnbrook            10.24
20 Tom Wright               12.36
21 Neil Taylor              13.49
22 Robert Stephens          15.06
23 Paolo Ditale             16.47
24 Alex Martin              16.48
25 Mike Barrie              18.20
26 Stefan Goodwin           18.32
27 Adrian Metcalfe          21.33
28 Nick Powell              22.19
29 Martyn Ledger            22.25
30 Anton Fries              22.40
31 Nick Cammell             23.11
32 Tom Locke                25.02
33 Jamie Green              29.37
34 Ewan Mackie              29.39
35 Stuart Filby             31.24
36 Chris Rider              36.59
37 Aaron Smedley            42.06
38 Christopher              42.21
39 Ged Doyle                49.30

Lapped

40 Lee Hopkinson                 
41 Richard Hodgson               
42 James Milnes                  
43 Simon Beeching                
44 Dean Radford                  

Sport women

1 Maxine Filby            1.13.28
2 Kelly Moore                5.46
3 Lucy Scott                 8.42
4 Faith Addison              8.44

Sport men

1 Darrell Upton           1.22.41
2 Martin Delves              0.22
3 Serge Hunt                 0.56
4 Matt Page                  1.13
5 Ashley Brown                   
6 Luke Eggar                 1.26
7 Ben Turgoose               1.50
8 Oliver Young               1.52
9 Graham Wadsworth           2.20
10 Edward Kerly              2.40
11 Trevor Allen              3.13
12 Neil Hayward              3.14
13 Russell Turner            4.18
14 Edward Roberts            4.33
15 Matthew Taylor            4.35
16 Charles Newton-Mason      5.57
17 James Tucker              6.41
18 Daniel Giffin             6.51
19 Adam Morris               7.06
20 Stuart Harvey             7.07
21 Dave Lawton               7.21
22 Mark Allen                7.35
23 E??Elliott                7.39
24 Adam Robinson             8.15
25 Martin Lenney             8.20
26 James Shaw                8.25
27 Chris Edwards             8.27
28 David Van Lopik           8.28
29 James Dymond              8.36
30 James Farnaby             8.39
31 David Winter              8.49
32 Mark Shepherd             9.02
33 Greg Smith                9.10
34 Matthew Greensill         9.12
35 David White               9.31
36 James Poole               9.34
37 Matthew Robinson          9.41
38 Lee Mallen               10.16
39 Mark Field               10.43
40 David Bough              10.59
41 Richard Barrett          11.22
42 Nathan Perkins           11.28
43 Tom Ward                 11.29
44 William Turner           12.03
45 Benjamin Plowman         12.58
46 Lloyd Stevens            13.09
47 Rob McKenzie             14.04
48 Norbert Bajorek          14.08
49 Tim Buckley              14.09
50 David Woodhead           14.15
51 Andy Simpson             14.26
52 Tim Skinner              15.08
53 Hugh Lloyd               16.11
54 Colin Pendlebury         17.05
55 James Hynam              18.24
56 Damien Corrigan          19.58
57 Damon Manning            20.02
58 Kris Lyon                21.14
59 Ray Honour               21.33
60 Dan Small                21.36
61 Andy Shenton             21.39
62 Adam Cross               21.54
63 Andy Faulknall           22.08
64 Andrew Dolphin           24.34
65 Chris White              24.40
66 Ged White                26.51
67 Trevor Hulton            28.11
68 Darren Clarke            28.31

Lapped

69 Mark Cotton                   
70 Stu Garner                    
71 Steve Wood                    
72 Neil Macleod                  
73 Ewan Irvine                   
74 Morgan Williams               
75 Patrick Heron                 
76 Luke Morey                    
77 Andrew Nixon                  
78 Jonathan dexter               
79 Matt Baddeley                 
80 Mark Nicholson                

Superveteran men

1 Victor Barnett          1.08.38
2 John Lloyd                 2.21
3 Steve Collen              10.48
4 Graham Faulkner           12.02
5 Stuart Hocknell           14.52
6 Gary Sutton               17.28

Veteran women

1 Nicky Hughes            1.10.41
2 Anne Murray                5.00
3 Kate Wheeler               7.01
4 Lynne Coldray              7.39
5 Jo Cardwell                8.13
6 Gaynor Lea                 8.29
7 Julie Barrett              9.39
8 Sara Flatt                 9.51
9 Sarah Bayliss             11.09
10 Lorna Rider              14.24
11 Carol Tilley             16.24
12 Karen Howard             20.39

Lapped

13 No James                      
Veteran men

1 Mark Chadbourne         1.21.12
2 Richard John               0.45
3 Darren Shepherd            1.02
4 Lewis King                 1.39
5 John Fettis                1.51
6 Gavin Rumbles              1.52
7 Geoff Giddings                 
8 Paul Ashby                 1.53
9 Noel Clough                2.00
10 Roland Tilley             3.28
11 Mike Jones                3.55
12 Keith Sheridan            4.08
13 Michael Powell            4.15
14 Mark James                4.21
15 Robin Smith               4.28
16 Philip Roach              4.30
17 Keith sperry              4.46
18 Paul Hudson               4.48
19 Andy Weaving              5.10
20 Adrian Timmic             5.15
21 Steve Jones               5.48
22 Tyrone Fletcher           6.08
23 Paul Hinton               6.16
24 Andy Cracknell            6.24
25 Ian Newby                 6.31
26 Ian Potter                6.36
27 Stewart Coates            7.01
28 Paul Drinkwater           7.13
29 Vincent Halpern           7.44
30 John Shaw                 8.00
31 Dennis Dix                8.26
32 Joseph Heywood            8.27
33 Ross Porter               8.28
34 Patrick Stokes            8.29
35 Gary Andrews              8.47
36 Dean Morgan               9.02
37 Ian Charlton              9.03
38 Paul Gibbons              9.12
39 Jonathan Marshall         9.24
40 Harry Levann              9.29
41 Mike Radburn              9.37
42 Tony Goldstraw            9.38
43 Stephen Brazier           9.42
44 andrew parsons            9.48
45 Matt Denby               10.35
46 David Flint              10.39
47 Anthony Roberts          10.56
48 Lee King Beeline              
49 John Wilkinson           11.38
50 Peter Bromwich           12.26
51 Robert Barker            12.41
52 Stephen Moore            13.02
53 Stephen Mcgrath          13.06
54 Mark Cope                13.08
55 Nick Walling             13.48
56 Ian Cooke                14.39
57 Gaz Strickland           15.04
58 Colin Davies             15.35
59 Andy Robinson            15.39
60 Dean Smith               15.47
61 Gary Kondor              15.52
62 Robert Allen             15.56
63 Andrew Hilton            15.57
64 Paul Facer               16.11
65 Ashley Roles             17.11
66 Paul Dalton              17.40
67 Mervyn Dudley            17.42
68 Nick Bates               17.58
69 Craig Turner             18.41
70 James Knibbs             19.20
71 David Kent               20.10
72 Mike Rizan               23.52
73 Steve Sears              24.44
74 John Williams            25.23
75 Carlton Holmes           25.44
76 Keith Rusling            26.27
77 James Oxby               28.09

lapped

78 Garry Townsend                
79 Steve Moors                   
80 Eddie Knights                 
81 Jack Peterson                 

Youth - Female

1 Bethany Crumpton          47.03
2 Lucy Garner                2.22
3 Hannah Barnes              2.25
4 Hollie Bettles             2.42
5 Hannah Ferguson            3.14
6 Hannah Shenton             4.55
7 Katy Winton                6.10
8 Hannah Layland             9.14
9 Claire Oakley              9.58
10 Rosie Blount             13.04
11 Aimee Ogilby             16.57
12 Katherine Sharp          18.43

Youth - Male

1 Grant Ferguson          1.00.01
2 Hugo Humphreys             0.40
3 Max Sykes Artic            3.01
4 Joe Home K Home            3.20
5 Alec Briggs                3.45
6 Martin Turton              4.21
7 Taylor Johnstone De Ver    4.22
8 Edward McParland           4.40
9 Matt Sumpton               4.50
10 Ryan Fenwick              4.58
11 Lewis Kirkwood            6.01
12 Alex Baker                6.02
13 Luke Grivell-Mellor       7.04
14 Scott Woodhead            7.32
15 Ryan Keynes               8.14
16 Jack Humphreys            8.22
17 Oliver Futrell            8.41
18 John Lomas                8.54
19 Ross Green                8.59
20 Jack Taylor               9.08
21 Jack Clarkson            10.14
22 Dan Whelan               10.33
23 Jacob James              11.03
24 Richard Scales           11.27
25 George Moore                  
26 Aaron Sayers             11.28
27 Ben Sumner               11.49
28 Dan Akam                 14.58
29 David Longbottom         15.08
30 Sam Broughton            16.04
31 Elliot Harrison          18.37
32 Jake Ledger              23.27
33 Alex Minting             28.48
34 Kai Pampus               33.13
35 Jacob Blakemore          38.25