MTB index page for all MTB content
German Marathon (Singen Bike) National Championship- CN
Germany, September 28, 2008
2007 Results Results
Platt earns title at last
Brandau surprises
Men's winner Karl Platt
Photo ©: Armin Kuestenbrueck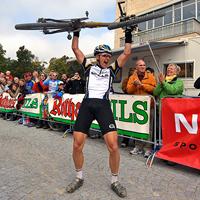 Karl Platt and Elisabeth Brandau won the German national marathon titles. In Singen, near Lake Constance, Platt won his first national title ahead of his Bulls Racing teammate Stefan Sahm and of two-time champion Hannes Genze. In the women's competition Brandau earned the title by beating Adelheid Morath and Anja Gradl. Olympic champion Sabine Spitz left the race after 40 km.
Karl Platt (Bulls Racing) waited a long time for a medal in a championship. For many years he was named a co-favorite but the medals always were dedicated to the others. So after crossing the finish line, he was full of euphoric. One minute and 35 seconds later, his team-mate, friend and Cape-Epic companion Stefan Sahm (Bulls Racing) earned the silver medal ahead of Hannes Genze (Alb-Gold).
Platt went with an attack that formed a 30-man lead group after 30km. Eventually, only five men remained and at 70km, while racing through the beautiful Hegau landscape, title defender Jochen Kaess (Alb-Gold) couldn't follow and dropped off the pace. A short time later Moritz Milatz (Multivan-Merida) also dropped. With about 20 kilometers to go, Platt launched the next attack.Sahm hesitated a moment too long and then decided to stay with Alb-Gold biker Hannes Genze to secure the gap of Platt, who at 30 years-old, went on to a solo win.
Stefan Sahm and Jochen Käß
Photo ©: Armin Kuestenbrueck

"It's unbelievable, a dream come true. I felt really well, and before the last attack, I thought, 'okay boy, you are strong, you can do it'," said Platt.
Ten kilometers later, Sahm left Genze to go on for second.
"Today it was essential to read the race situation and to take the right decisions. Karl deserves the win," said Sahm. "I'm happy for him and also with my silver medal."
"I was not at hundred percent today and at least I had to accept that Karl and Stefan were stronger," said Genze.
Morath crashed after chasing hard
Elisabeth Brandau
Photo ©: Armin Kuestenbrueck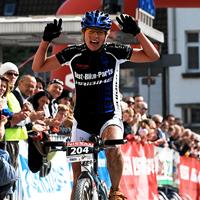 The women's competition unfolded ina strange way. Some minutes after the licenced women, the male hobby category racers started. Soon the best of them caught the women. When they moved to the front of women's bunch, Elisabeth Brandau (Team Haibike best parts), decided to go with them, while Sabine Spitz (Central Ghost) and all the other women decided to do their own race. So Brandau got benefit of slipstream from the men and soon had 40 seconds' lead.
Spitz followed solo but had no chance to close the gap without slipstream. "This kind of race was frustrating, it was not fair. I lost my motivation and decided to stop," Spitz said after quitting the race while in second position, about 1'30" behind Brandau.
Meanwhile Adelheid Morath (Rothaus-Cube) and Anja Gradl (Central-Ghost) worked together but at one time they had a five-minute deficit on Brandau.
After 60 kilometers Gradl was struggling and Morath was chasing alone. With 10 kilometers to go, she only had 30 seconds to Brandau but then Morath crashed badly and lost the chance to get her first national title.
22 year-ld Brandau, a former junior road racer for the German national team, was suffering in the last part of the race. When she passed the finish line, she was completely exhausted. "The last 20 kilometers I had to fight really hard. I never expected to win the title. When I went with the men, I was surprised that the other women didn't do the same," Brandau said.
Morath was angry about her crash herself. "I felt really good and I'm annoyed about my crash. I don't know why these things are happen to me," she said.
On the other hand Gradl was very happy with bronze, "I never expected a medal because I don't like marathons at all. So this way it's a big surprise."
Photography
For a thumbnail gallery of these images, click here
Images by Armin Kuestenbrueck
Results
Elite men

1 Karl Platt (Team Bulls)                            3.47.35
2 Stefan Sahm (Team Bulls)                              1.32
3 Hannes Genze (Team ALB-Gold Mountainbike)             2.48
4 Jochen Käß (Team ALB-Gold Mountainbike)               6.02
5 Wolfram Kurschat (Topeak Ergon Racing Team)           7.32
6 Roland Golderer (Team TEXPA Simplon)                  8.18
7 Patrick Uhlig (RV Concordia Reute)                   10.00
8 Torsten Marx (Team ALB-Gold Mountainbike)            10.02
9 Moritz Milatz (Multivan Merida Biking Te)            10.50
10 Björn Papstein (Team Idworx-Offtraxx)               10.50
11 Markus Kaufmann (Team VAUDE-Simplon)                13.10
12 Uwe Hardter (Rothaus-Cube MTB Team)                 13.44
13 Christian Schneidawind (TEXPA-Simplon/RVC Trieb)    13.45
14 Sascha Heinke (Team AS Group / ergomo)              15.12
15 Thomas Nicke (Team FIAT-Rotwild)                    15.13
16 Dirk Müller (Team Sparkasse)                        15.28
17 Lukas Kubis (Best-Bike-Parts/Haibike)               15.41
18 Christian Eckart (Team Zwillingscraft)              17.32
19 Wilko Rochow (Team MayerArbeitsbühnen)              17.34
20 Steffen Thum (Team MayerArbeitsbühnen)              19.38
21 Matthias Leisling (RSV Garching)                    20.42
22 Rene Tann (Fuji Bike Europ/1. Suhler)               20.54
23 Benjamin Schmieg (Team Vaude-Simplon)               21.32
24 Daniel Gathof (Team Rocky Mountain)                 23.04
25 Alexander Pscheidl (Theilheim)                      25.04
26 Ulrich Rose (RSC 90 Burghaun)                       28.42
27 Sebastian Stark (TSV 54 Venusberg e.V.)             29.35
28 Benjamin Brochhagen (Topeak Ergon Racing Team)      29.36
29 Jochen Coconcelli (Team Zwillingscraft)             29.39
30 Marcel Reiser (Vaude-Simplon-Team)                  30.40
31 Janusch Laule (KT Stegcomputer)                     30.56
32 Olaf Rochow (Team Fuji-Bikes Europe)                32.28
33 Sönke Wegner (FXX Mountain Cycling Team)            32.29
34 Guido Aßmann (Team Stein-Bikes//HRV Che)            32.36
35 Stefan Fußstetter (Chiemgau Biking)                 33.09
36 Stefan Seel (Bike-Aid Racing + RSF Rie)             37.26
37 Jörg Scherle (Best-Bike-Parts/HAIBIKE)              37.26
38 Carsten Linke (Chemnitz)                            39.35
39 Sascha Schwindling (Endorfin-Solvis / RSCST I)      41.19
40 Steffen Greger (Multivan-Merrida-Road-Team)         41.24
41 Timo Link-Fritsche (RV Empfingen)                   42.20
42 Yves Kellogg (Endorfin-Solvis)                      43.36
43 Jens Böhme (Best-Bike-Parts / Haibike)              45.18
44 Michael Fischer (www.team-woba.com)                 46.29
45 Daniel Graf (HMC-Singen)                            49.06
46 Markus Ziegler (SC Hausach/ Neumayer-Tekf)          50.49
47 Kai Bodmer (SC Villingen)                           53.03
48 Marcel Broghammer (RSPV Schwenningen)               55.13
49 Florian Eitel (Rhein-Neckar-Racing)                 55.57
49 Hans-Joachim Kleine (Bergamont - RSV Hochschwa)          
51 Alexander Kumpf (AC Weinheim/Team Bergstra)         58.22
52 Christian Keppel (Ebener Race Team / Cannon)      1.00.43
53 Sebastian Zels (HMC Singen)                       1.01.45
54 Matthias Schmid (Team Magura/TSV Dettingen)       1.07.41
55 Bastian Wauschkuhn (TBR Factory Racing Team)      1.07.47
56 Slim Gamh-Drid (HMC / Craft and Friends)          1.14.58
57 Hannes Hiersekorn (RSC Schönaich)                 1.36.02

Lapped

58 Heiko Gutmann (Rothaus-Cube MTB Team)                    
59 Sebastian Szraucher (Team Fuji-Bikes Europe)             
60 Christian Kreuchler (Marathon-Bikes-Racing)              
61 Sascha Knöpfle (Rothaus-Cube MTB Team)                   
62 Christian Wenzler (TB Neuffen)                           
63 Stefan Schairer (RSG Zollernalb Gonso/Rawo)              
64 Simon Dörner (Team TEXPA - Simplon)                      
65 Marcus Wilmes (Team Stemper / Physiodom)                 
66 Dirk König (Team Fire Bike)                              
67 Sebastian Geimecke (MTB-Club Beinhart/Team We)           
68 Christoph Leisling (Mehring)                             
69 David Voll (Team TEXPA-Simplon)                          
70 Benjamin Rudiger (Rothaus-Cube MTB Team)                 
 
Elite women

1 Elisabeth Brandau (best-bike-parts/haibike)        4.35.37
2 Adelheid Morath (Rothaus-Cube MTB Team)               1.12
3 Anja Gradl (Team Central Ghost)                       4.54
4 Katrin Schwing (Dolphin Trek / RSC Neusta)            7.30
5 Birgit Söllner (Team Baier Landshut e.V.)             9.01
6 Barbara Kaltenhauser (Stevens Team)                  10.11
7 Gabriele Stanger (Team ALB-Gold Mountainbik)         14.58
8 Charline Merklin (SV Kirchzarten / team-wei)         24.19
9 Silja Vetter (SC Hausach Neumayer Tekfo)             30.58
10 Heike Hundertmark (Rothaus-Cube MTB Team)           32.13
11 Sandra Summerauer (Adidas Medsport Checkerpi)       36.06
12 Silke Keinath (Univega Pro Cycling Team)            37.38
13 Susanne Lisa Förschner (Votec Racing Team)          39.17

Lapped

14 Tatjana Dold (Fuji-Bikes Europe / RIG F)                 
15 Katharina Haase (TSV Böhringen Team BERGAM)              
16 Mirjam Leibfritz-Schairer (GHOST Racing Team/SC Truc)    
17 Alexa Hüni (VAUDE Simplon Team)                          
18 Sabine Spitz (Central Ghost Pro Team)                    
 
Master 1

1 Max Friedrich (Best-Bike-Parts/Haibike)            4.01.20
2 Steffen Schaal (roescharacing.de/ MTBfreu)            9.20
3 Thorsten Pott (Lexxi Teamtrikot24.de / R)            10.48
4 Marco Pfeiffer (GHOST Racingteam/berggott)           14.44
5 Robert Gorgos (Redheads Team/RSV Traunst)            15.49
6 Christian Süß (Ski und Bike Deggendorf)              19.55
7 Richard Glatz (Bikeattackoberberg/TV Hül)            26.28
8 Zoran Radosavljevic (Radwelt Hawner / Focus)         28.41
9 Dominique Linz (Scott Team Heilenmann)               31.32
10 Michael Kochendörfler (Team AS-Group-ergomo)        37.08
11 Juergen Scholtes (ORBA-MTB-SPORT)                   37.15
12 Thomas Mohr (Kona Nissan National/Ranc)             44.46
13 Marcus Müller (RV ADLER LÜTTRINGHAUSEN)             45.23
14 Thomas Fischer (Kona Nissan National/Ranc)          48.50
15 Martin Krieg (Megabike Stuttgart)                   59.07
16 Markus Kneissl (AMC Rodheim-Bieber)               1.28.42
17 Uwe Schneider (Team RADWEG-MTB Teck)              1.48.05

Lapped

18 Uli Brucker (SC Hausach e.V.)                            
19 Sebastian Lutz (Votec Racing)                            
20 Markus Granacher (RSC 88 Regensburg)                     
21 Samuel Faruhn (Bionicon Pro Team)                        
22 Stefan Knopf (Team Firebike)                             
23 Meinhard Mussler (TSG Leutkirch/Team Radweg)             
 
Master 2

1 Siggi Tröndle (Radsport Fischer & Wagner)          4.03.18
2 Ulrich Rottler (Team Pedal-Scott)                    12.47
3 Günter Reitz (Team Firebike)                         18.02
4 Stefan Mosch (Orbea MTB Sport)                       19.23
5 Bernd Weinhold (RC Schloßbike Greiz)                 23.48
6 Ralf Kropp                                           26.33
7 Ralf Böhm (Scott Team Heilenmann)                    29.35
8 Markus Pielenz (Adidas Medsport Checker P)           32.29
9 Wolf-Thorsten Witt (Mr. Bike / RSC Komet)            33.31
10 Paulo Magalhaes (RSV.Bike-ARGE st.Märgen e)         40.46
11 Horst Laslop (RFC Roßbach/Team Voitl)               40.53
12 Lang Matthias (RSC Schönaich)                       44.21
13 Michael Lella (HMC Singen)                          47.35
14 Andreas Meier (Adidas Medsport Checkerpi)           48.51
15 Karlheinz Volkmann (VFL VFL Bad Kreuznach)        1.04.24
16 Thomas Seyferle (TSV Weilheim Scott Heilem)       1.11.39
17 Roland Dzieia (RSG Zollern Alb '82)               1.27.50
18 Karl Scheib (RSV Unterweissach)                   1.29.18
19 Eugen Rottler (RSG Zollernalb Gonso Rawo)         1.29.29
20 Thomas Brodeufel (TVH/Bikeattackoberberg.de)      1.42.48

Lapped

21 Georg Suessmann (RSC Götting-Bruckmühl e.V)              
22 Silvester Weinmeyer (G'ant /SC Vöhrringen 1893)