MTB index page for all MTB content
Cactus Cup Stage Race - SR
Las Vegas, Nevada, USA, September 19-21, 2008
Main Page Results Overall standings Previous Stage Next Stage
Stage 3 - September 20: Fat Tire criterium
Emmett and Taberlay take Cactus Cup Fat Tire Criterium
By Dave McElwaine in Las Vegas
Elite Men
Sid Taberlay (Team Shoair) wins the Fat Tire Criterium
Photo ©: Jon Devich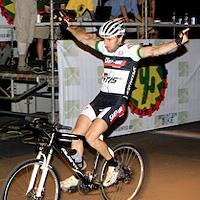 The Men's race on the 3/8-mile tight oval at Mountain's Edge Community was extremely fast and tactical. Sid Taberlay (Team Shoair) avoided a crash on the last turn to take the victory. Carl Decker (Giant) who had looked strong the entire race finished second, and Andreas Hestler (Rocky Mountain) was third.
The men's race saw great diversity in tire choices. About one third of the field rode semi-slick full width mountain bike tires, one third rode 1.25-inch tires with reverse tread, and the remainder had complete slicks.
The crowd was excited to see World Mountain Biking Champion Christophe Sauser (Specialized) in the race. He did not disappoint his fans as he attacked a couple times and was responsible for the initial selection.
Sam Jurekovic (U-23 National Team) was one of those riding full width mountain bike tires, yet he seemed to have little problem keeping pace with the leaders and attacking on more than one occasion. Unfortunately he went down in the final corner but had felt good about his chances up until that point.
Tablerlay commented after the race, "I had a teammate Manuel Prado from Shoair off the front for the last six or seven laps... so I could sit in and all the other guys had to work to chase him." He added, "come the last lap, I knew whoever was going to be in that bottom corner first would win."
Carl Decker said, "I felt I was pretty strong and I was on Sauser with a lap and a half to go and I felt like I could match him, which surprised me. That last corner has some pain in it and all sorts of guys on all sorts of tires... Sam J went down when I was fourth wheel... then Sid got his gap and that was it."
How it unfolded
On lap three Rotem Ishai (Kona Spider) made the first of two attacks and opened a small gap. A half lap later, Christophe Sauser attacked hard and split the field for good. Carl Decker and Sam Jurekovic were close behind.
Five minutes into the race a prime was called and Taberlay, Sauser and Jurekovic got away briefly. A half lap later, Decker counter-attacked but Sauser and Jurekovic were hot on his wheels.
Seven minutes into the race the leaders sat up and a new group of about twenty formed on the front, lead by Carl Decker. A minute later, Adreas Hestler attacked and there was no response. He opened a 100-foot lead back to Andy Schultz and Carl Decker.
Nine minutes into the race, Jurekovic attempted to bridge over to Hestler but towed the entire group back. When they reached Hestler, everyone sat up again. Taberly briefly took the lead but Rotan attacked again. Ben Sontag (Fort Lewis) chased down Rotan with Sauser right on his wheel.
When the catch was made, Sauser counter-attacked and immediately brought the lead group down to seven riders. When the steam went out of Sauser's attack, Decker laid down what appeared to be the most serious attack of the race. Jurekovic and Taberlay did most of the work to keep the group in contact with Decker.
At 18:30 into the race, Manny Prado (Team Shoair) attacked and opened a large lead. With four laps to go, it had grown to 200 feet. Cody Peterson went to the front of the chase group and began to whittle away at Prado's lead. With three laps to go, the lead was down to 100 feet.
Andreas Hestler took a turn and brought Prado's lead down to 50 feet with two laps to go. He was followed by Taberlay and Decker. With one lap to go, Prado was caught and Sauser immediately went to the front followed by Taberlay.
In the final turn, chaos struck as two riders including Jurekovic crashed. Taberlay avoided the problem and went clear for the win, followed by Decker and Hestler.
The Elite Men will have less than 12 hours to rest before Sunday's 30-mile cross country race. All eyes will be on World Champion Christophe Sauser.
Elite Women
Kelli Emmett (Giant) arrives at the finish under the lights at Mountain's Edge Community to win the Fat Tire Criterium
Photo ©: Jon Devich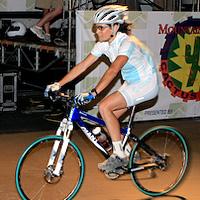 Kelli Emmett (Giant) had little trouble dispatching her competition to win the Fat Tire Criterium under the lights at Mountain's Edge Community. Maureen Kunz (Lost Coast Brewery) finished second, while Michelle Bliss (Rocky Mountain) took third.
Emmett attacked early in the race which immediately made the selection for the podium. Maureen Kunz commented after the race "We were just cruising along, taking turns and then there was a prime lap... and just before that she [Emmett) must have know there was going to be a prime and she just took off."
When asked if her attack was in response to the prime, Emmett responded, "They really didn't call it until I had already attacked... I knew I wanted to go with around five minutes to go and they just happened to call the prime lap."
Emmett will take about a three-minute lead into tomorrow's cross-country race in Cottonwood Valley. Today the women got to preview much of tomorrow's course, as some of it will be the same as today's Super D event. Barring a mishap, Emmett will be the overwhelming favourite to win.
How it unfolded
On lap two a lead group of four was lead by Julie Conner (McGhies). However, a lap later, Kelli Emmett attacked and Conner was dropped from the group. At this point Emmett, Bliss, and Kunz began trading pulls.
With seven minutes to go, the racers started looking at each other as it appeared than nobody wanted to lead. Emmett went to the front and rode tempo for the next lap and a half.
With five and a half minutes to go Maureen Kunz moved to the lead followed by Emmett and Bliss. Two minutes later, just as a prime was announced, Emmett threw down a vicious attack that completely left her competitors unable to respond.
With three laps to go Emmett was 100 feet clear of Kunz and Bliss was another 100 feet back. With two laps to go, Emmett's lead grew to 100 yards, and by the finish it was up to a quarter of a lap.
Photography
For a thumbnail gallery of these images, click here
Images by Jonathan Devich/

Results

Elite men

1 Sid Taberlay (Team Shoair)                                              
2 Carl Decker  (Giant)                                               
3 Andreas Hestler (Rocky Mountain)                                            
4 Manuel Prado (Team Shoair)                                       
5 Christoph Sauser (Specialized)                                       
6 Rotem Ishai                                                 
7 Nick Stevens                                                
8 Blake Zumbrunnen                                            
9 Sean Donovan                                                
10 Tim Allen                                                  
11 Andy Shultze                                               
12 Fabio Dias                                                 
13 Alex Grant                                                 
14 Cody Peterson                                              
15 Eric Salstrand                                             
16 Sam Jurejovic                                              
17 Ben Sonntag                                                
18 Yuki Saito                                                 
19 Dave Harrison                                              
20 Adam Snyder 

Elite Women
 
1 Kelli Emmett (Giant)                 
2 Maureen Kunz (Lost Coast Brewery)    
3 Michelle Bliss (Rocky Mountain)                                                 
 
Semi-pro men

1 Rich Weis                                                   
2 Andy Rigel                                                  
3 Leonardo Cocholice                                                    
 
Expert Men

1 Mike Pastore                                                
2 Bruce Balch                                                 
3 Brandon Cunningham                                          
4 Bob Mccall                                                  
5 Mike Hileman  

Sport Men

1 Jeffrey Johnson                                             
2 Tony Gonzales                                               
3 John Horenziak                                              
4 Eric Neuhaus                                                
5 Robert Stanley                                              
6 John Langton                                                
7 Nando Ateho                                                 
8 Harold Uttke   

Sport Women  
                                           
1 Michele Bliss                                               
2 Julie Conner                                                
3 Heather Fisher                                              
4 Jeanne Starling   

Beginner Men

1 Tim Moody                                                   
2 Thomas Pissillo                                             
3 Doug Murphy                                                 
4 Jeff Zebarth                                              
 
Clydesdales

1 Ryan Pretner                                                
2 Vic Miera                                                   

General classification after stage 3

Elite men

1 Sid Taberlay            
2 Sam Jurekovic           
3 Christop Sauser         
4 Tim Allen               
5 Rotem Ishai             
6 Andreas Hestler         
7 Benjamin Sonntag        
8 Manuel Prado            
9 Adam Snyder             
10 Alex Grant             
11 Sean Donovan           
12 Andy Schultz           
13 Drew Edsall            
14 Nicholas Stevens       
15 Eric Salstrand         
16 Cody Peterson          
17 Carl Decker            
18 Yuki Saito             
19 Blake Zumbrunn         
20 Dave Harrison          
21 Fabio Dias             
 
Elite women

1 Kelli Emmett            
2 Maureen Kunz            
 
Semi-pro men

1 Rich Weis               
2 Brandon Firth           
3 Andy Rigel   

Expert men

1 Mike Hileman         164 pts
2 Brandon Cunningha    162
3 Bob McCall           139
4 Todd Sims             66
5 Jared Fischer         52
6 Mark Jackson          50
7 Mark Roberts          40           
              
Sport men

1 Jeffrey Johnson      197 pts
2 Tony Gonzalez        158
3 Nando Ateho          112
4 John Langton         102
5 Jon Horenziak        100
6 Eric Neuhaus          94
7 Shawn Tyrone          82
8 Robert Stanley        82
9 Harold Uttke          52
10 Kason Smith          26
11 Kason Smith          26
 
Sport women

1 Julie Conner         188 pts
2 Michele Bliss        183
3 Heather Fischer      150
4 Jeanne Starling      122

Beginner men

1 Tim Moody            176 pts
2 Thomas Pisillo       162
3 Doug Murphy           86
4 Jeff Zebarth          76

Clydesdale

1 Pretner Ryan         200 pts

Singlespeed 1

1 Dejay Birtch            
2 John Mylne              
3 Hauswal Yuri            
 
Singlespeed 2

1 Marshall Evans          
2 Jason Landberg          
3 John Day