MTB index page for all MTB content
Bundesliga Bad Salzdetfurth - 1
Bad Salzdetfurth, Germany, September 21, 2008
2007 Results Results Final standings Past winners
Spitz and Milatz take German victories
By Erhard Goller
Sabine Spitz (Central Ghost Pro Team) won
Photo ©: Armin Kuestenbrueck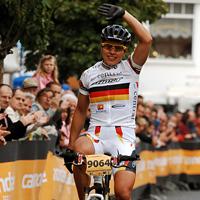 Olympic gold medalist Sabine Spitz took the win at German Bundesliga finals. At Bad Salzdetfurth, Spitz finished ahead of Elisabeth Osl and Anja Gradl, while Sabrina Enaux was celebrated as overall winner. The men's race was dominated by Moritz Milatz. The rest of the bunch was controlled by his Multivan- Merida teammate Jose Antonio Hemida. Third place went to Wolfram Kurschat. With his victory Milatz grabbed the overall title ahead of last year's series champion Kurschat and Klaus Nielsen.
Sabine Spitz arrived late saturday evening after winning St. Wendel marathon (106 km). So it was no surprise that the Olympic champion in the first of five laps suffered just hanging on the wheel of Elisabeth Osl. But with the beginning of the second lap, Spitz looked better, and in lap three, she escaped off the front alone.
"I wondered if I could do that well. The first lap was hard for me, and I was happy when the legs went better and better. I hat a lot of fun on the course and the atmosphere in Bad Salzdetfurth is wonderful. I enjoyed the race," said Spitz.
Elisabeth Osl was satisfied with second place, the same as in 2007, and also happy to follow Spitz for a while. "She is one of my idols, and I can see a lot to learn when I'm on her wheel," said the Austrian Osl.
Moritz Milatz (Multivan Merida) on his way to a win
Photo ©: Armin Kuestenbrueck

With 22 year-old Anja Gradl, who stayed with Osl and Spitz in the beginning, the third place on the podium was also occupied by a Ghost rider. Gradl is member of Spitz's own team central-Ghost. "I'm happy to make the Bundesliga podium for the first time. I lost most of the time in the downhill parts," Gradl said.
Sabrina Enaux was able to keep her lead in the overall by finishing on fifth position. "It was my last race this season and my legs were bad. But I'm now happy to get the overall in Germany as well as I got the overall in French cup before. The Bundesliga races are highly competitive, and they are organized very well. I'm still searching for a new team because Lapierre is adopting a new structure."
In men's race, a large crowd saw a Multivan-Merida show. It was a strange situation to see Moritz Milatz alone in the lead after just three kilometers. After the start the course led the riders into an uphill, shortly followed by another climb. Some riders, like Milatz set a high pace, but no one could follow the German who had gained 30m by the top.
"I thought okay I won't wait," said Milatz, who from that point on, rode solo to his second Bundesliga win this year - also the second of his career.
The chasing group was controlled by Milatz's teammate Jose Hermida. The Spaniard was laughing after crossing the finish line. "I think my attendance in the group made them calmer," he said with a smile. Hermida had an easy day and even a short technical problem didn't put him in any trouble. He closed the 15 second gap quickly and was able to beat Wolfram Kurschat and Fabian Giger by doing the last as the fastest lap of the whole race.
"Congratulation to Moritz, he was strong today," said Hermida. "I felt pretty good, and I could enjoy the race in this super atmosphere. This was my last race for this season. Now I will go for holidays with my family."
Milatz, who confirmed his sixth place at World Cup finals in Schladming last weekend, exulted about his race and about his first overall series Bundesliga win. "Today it was perfect, I never had to go over my limit and when I realized that Jose is in the chasing group, I knew that I could win. It's a really nice gift to the end of the season."
Kurschat was also satisfied. "I had no troubles, except in the last lap, when we started to attack in the chasing group. I felt good."
Photography
For a thumbnail gallery of these images, click here
Images by Armin Kuestenbrueck
Results

Elite women

1 Sabine Spitz (Ger) Central Ghost Pro Team                      1.15.23
2 Elisabeth Osl (Aut) Team Ghost International                      0.52
3 Anja Gradl (Ger) Central Ghost Team                               3.08
4 Adelheid Morath (Ger) Rothaus-Cube MTB Team                       3.55
5 Sabrina Enaux (Fra) Team Lapierre International                   3.57
6 Ivonne Kraft (Ger) Joybike MBC Bochum                             4.42
7 Silke Schmidt (Ger) Fuji Bikes Europe                             5.21
8 Claudia Seidel (Ger) RSV Neustadt/ Orla Team Focus                6.56
9 Nina Kunz (Ger) Merida Deutschland                                8.58
10 Elisabeth Brandau (Ger) Best-Bike-Parts/Haibike                  9.11
11 Katharina Haase (Ger) Bergamont                                  9.58
12 Hanna Klein (Ger) Rothaus-Cube MTB Team                         10.55
13 Silja Vetter (Ger) SC Hausach Neumayer Tekfor                   14.51

Elite men

1 Moritz Milatz (Ger) Multivan Merida Biking Team                1.43.47
2 Jose Hermida (Spa) Multivan Merida Biking Team                    0.27
3 Wolfram Kurschat (Ger) Topeak Ergon Racing Team                   0.59
4 Fabian Giger (Swi) SKS M.I.G. Team                                1.18
5 Jochen Käß (Ger) Team ALB-Gold Mountainbike                       2.08
6 Anders Hovdenes (Nor) Team Etto Hoydahl                           2.14
7 Klaus Nielsen (Den) Team ALB-Gold Mountainbike                    3.26
8 Stefan Sahm (Ger) Team Bulls                                      3.47
9 Rene Tann (Ger) Fuji Bike Europe                                  4.25
10 Torsten Marx (Ger) Team ALB-Gold Mountainbike                    5.08
11 Robert Mennen (Ger) Team Fuji-Bikes                              5.37
12 Sebastian Szraucner (Ger) Team Fuji-Bikes Europe                 5.51
13 Karl Platt (Ger) Team Bulls                                      6.34
14 Anders Ljungberg (Swe) IK Hakarpspojkarna Sweden                 6.58
15 Steffen Thum (Ger) Team Mayer Arbeitsbühnen / STEV               7.27
16 Thomas Nicke (Ger) Team Fiat-Rotwild                             7.31
17 Andi Weinhold (Ger) Team SRM Stevens                             7.37
18 Heiko Gutmann (Ger) Rothaus-Cube MTB Team                        8.34
19 Fabian Brzezinski (Ger) Fabosport.de                             9.12
20 Wilko Rochow (Ger) Team Mayer Arbeitsbühnen / STEV              10.10
21 Ola Kjoeren (Nor) Norwegian National Team                       10.33
22 Florian Schön (Ger) Scott Genius Generation                     11.11
23 Simon Gegenheimer (Ger) Team Mayer Arbeitsbühnen / STEV         11.36
24 Rumen Voigt (Ger) VSC Klingenthal/SKS M.i.G.                    11.49
25 Andy Eyring (Ger) Team XLC Haibike                              11.55
26 Marco Schätzing (Ger) Zwillings-Craft/SSV Mounty Alten          12.00
27 Pascal Ketterer (Ger) Bergamont Renn-Team                       12.08
28 Andy Römhild (Ger) FUJI Bikes Europe/1.MTB-Club S               12.31
29 Sebastian Mordmüller (Ger) Cannondale Bad Salzdetfurth ra       13.23
30 Benjamin Brochhagen (Ger) Topeak-Ergon                          13.43
31 Markus Bauer (Ger) Haibike                                      14.48
32 Steffen Greger (Ger) Multivan Merida Road-Team                  15.46
33 Felix Euteneuer (Ger) Rothaus-Cube MTB Team                     2 laps
34 Christian Eckart (Ger) Team Zwillingscraft-Ideal
35 David Hofmann (Ger) Lexware Racing Team SV Kirchza
36 Robert Kircher (Aut) Team Radsport Kärnten Arbö Ask
37 Christopher Maletz (Ger) Zweirad Riese Racingteam
38 Sebastian Lehr (Ger) SKS Made in Germany Team                   3 laps
39 Oliver Vonhausen (Ger) Team speed max
40 Sebastian Weigel (Ger) Zweirad Riese Racingteam
41 Sascha Schwindling (Ger) Endorfin-Solvis / RSC St. Ingb
42 Jochen Coconcelli (Ger) Team Zwillingscraft / Ideal
43 Michael Wießner (Ger) URC Wals-Siezenheim
44 Tommy Galle (Ger) Zweirad riese Racingteam
45 Julian Schwendemann (Ger) Endorfin Solvis
46 Maarten Kemperman (Ned) Jan Terpstra                            4 laps
47 Tom Ettlich (Ger) White Rock                                    5 laps
DNF Nicola Rohrbach (Ger) central Ghost Pro Team
DNF Olaf Rochow (Ger) Team Fuji-Bikes Europe
DNF Calle Friberg (Swe) Team SRM Stevens
DNF Michael Stieglbauer (Ger) Sportivo St.Englmar
DNF Robert Gehbauer (Aut) Multivan Merida Biking Team
DNF Sebastian Stark (Ger) TBR Factory Racing/RSV 54 Venu
DNF Robert Michaelis (Ger) Cannondale - Bad Salzdetfurth r

Final series standings

Elite women

1 Sabrina Enaux (Fra) Team Lapierre Internation                           185 pts
2 Ivonne Kraft (Ger) Joybike MBC Bochum                                   160
3 Silke Schmidt (Ger) Fuji Bikes Europe                                   126
4 Sabine Spitz (Ger) central Ghost Pro Team                               120
5 Hanna Klein (Ger) Rothaus-Cube MTB Team                                 105
6 Rosara Joseph (GBr) Ghost International                                 100
7 Elisabeth Osl (Aut) Ghost International                                  85
8 Nina Kunz (Ger) Merida Deutschland                                       84
9 Anja Gradl (Ger) Central- Ghost- Team                                    75
10 Silja Vetter (Ger) SC Hausach Neumayer Tekfo                            68
11 Katharina Haase (Ger) Bergamont                                         66
12 Adelheid Morath (Ger) Rothaus-Cube MTB Team                             62
13 Claudia Seidel (Ger) RSV Neustdt/ Orla; Team F                          61
14 Agnes Naumann (Ger) Rothaus-Cube MTB Team                               60
15 Tatjana Dold (Ger) Fuji-Bikes Europe                                    54
16 Ines Thoma (Ger) SKS M.I.G. Team                                        52
17 Stefanie Andris (Ger) Rothaus-Cube-Junior-Team                          48
18 Irina Kalentyeva (Ger) Topeak Ergon Racing Team                         45
19 Julie Krasniak (Fra) Time Lapierre Internation                          40
20 Laura Turpijn (Ned) herbalife-merida                                    35
21 Nicole Lechl (Ger) Team XLC Haibike                                     29
22 Nina Wrobel (Ger) Multivan Merida Biking Team                           28
23 Elisabeth Brandau (Ger) best-bike-patrs/haibike                         27
23 Cora Paulukat (Ger) SV Steele 11/biketeam2008                           27
23 Nadine Rieder (Ger) FBI racingteam.youngstars                           27
26 Blaza Klemencic (Slo) Giant Italia Team                                 26
27 Lene Byberg (Nor) Specialized Factory racin                             24
27 Almut Grieb (Ger) www.team-woba.de                                      24
29 Sandra Börner (Ger) SG rheinfelden/ Sabine Sp                           19
30 Karen Brouwer (Ned) Scott Continental                                   17
30 Katrin Schwing (Ger) Dolphin Trek                                       17
32 Sandra Gockert (Ger) Harvestehuder RSV Stevens                          16
32 Heike Hundertmark (Ger) Rothaus-Cube MTB Team                           16
34 Kim Vrielink (Ned) Zwiep Mountainbiketeam                               15
35 Mandy Platzdasch (Ger) RV Germania Rockenberg                           13
36 Marcela Baum (Ger) 2-Danger / www.boc24.de F                            12
37 Ilke Dejongh (Bel) Belgian Cycling Federatio                            11
38 Sandra Dolcerocca (Den) DMK                                             10
39 Maaike Polspoel (Bel) Belgian Cycling Federatio                          6
40 Kirsten Hauerbach Kronborg (Den) Cycling Nord                            4
41 Marie Kunst (Den) DMK-Rotwild                                            3
42 Helle Qvortrup T. Bachmann (Den) Aarhus 1900 MTB                         2
43 Birgit Söllner (Ger) Team Corratec World                                 1

Elite men

1 Moritz Milatz (Ger) Multivan Merida Biking Team                         237 pts
2 Wolfram Kurschat (Ger) Topeak Ergon Racing Team                         185
3 Klaus Nielsen (Den) Team ALB-Gold Mountainbike                          140
4 Fabian Giger (Swi) SKS M.I.G. Team                                      136
5 Christoph Soukup (Swi) Team FUJI-BIKES                                  132
5 Steffen Thum (Ger) Team Mayer Arbeitsbühnen /                           132
7 Jose Antonio Hermida (Spa) Multivan Merida Biking Team                  118
8 Jochen Käß (Ger) Team ALB-Gold Mountainbike                             111
9 Heiko Gutmann (Ger) Rothaus-Cube MTB Team                                87
10 Robert Mennen (Ger) Team FUJI-Bikes                                     84
11 Felix Euteneuer (Ger) Rothaus-Cube MTB Team                             74
11 Andy Eyring (Ger) Team XLC Haibike                                      74
13 Marco Schätzing (Ger) Zwillings-Craft/SSVMounty                         70
14 Ralf Naef (Swi) Multivan Merida Biking Team                             65
15 Marek Galinski (Pol) JBG2-APC Presmet                                   60
16 Rene Tann (Ger) Fuji Bike Europe                                        55
17 Tim Böhme (Ger) Team ALB-Gold Mountainbike                              54
17 Peter Riis Andersen (Den) Team ALB-Gold Mountainbike                    54
19 Markus Bauer (Ger) Haibike                                              50
19 Torsten Marx (Ger) Team ALB-Gold Mountainbike                           50
21 Wilko Rochow (Ger) Team Mayer Arbeitsbühnen                             49
22 Simon Gegenheimer (Ger) Team Mayer Arbeitsbühnen                        47
23 Karl Markt (Aut) Team SRM Stevens                                       46
24 Julien Absalon (Fra) ORBEA                                              45
25 Sebastian Szraucner (Ger) Team Fuji-Bikes Europe                        41
26 Vero Lüscher (Ger) Team Mayer Arbeitsbühnen                             39
27 Nicola Rohrbach (Swi) central Ghost Pro Team                            37
28 Olaf Rochow (Ger) Team Fuji-Bikes Europe                                34
29 Benjamin Rudiger (Ger) Rothaus-Cube MTB Team                            33
30 Sebastian Bergmann (Ger) Ghost Racing Team                              31
31 Anders Hovdenes (Nor) Team ETTO Hoydahl                                 30
32 Bas Peters (Ned) herbalife-merida                                       28
33 Calle Friberg (Swe) Team SRM Stevens                                    26
33 Stefan Sahm (Ger) Team Bulls                                            26
35 Piotr Brzozka (Pol) JBG2-APC Presmet                                    25
35 Michael Stieglbauer (Ger) Sportivo St.Englmar                           25
37 Christopher Maletz (Ger) Zweirad Riese Racingteam                       24
38 Thomas Nicke (Ger) Team Fiat-Rotwild                                    23
39 Jochen Coconcelli (Ger) Team Zwillingscraft / Ide                       22
40 Florian Schön (Ger) Scott Genius Generation                             21
41 Hannes Genze (Ger) Team ALB-Gold Mountainbike                           18
41 Karl Platt (Ger) Team Bulls                                             18
43 Robert Gehbauer (Aut) Multivan Merida Biking Team                       17
43 Barry Hayes (Ger) Prisma-Ferring / TrengaDE                             17
43 Anders Ljungberg (Swe) IK Hakarpspojkarna Sweden                        17
43 Irjan Luttenberg (Ned) Stappenbelt-BMC                                  17
43 Andi Weinhold (Ger) Team SRM Stevens                                    17
48 Matthias Pfrommer (Ger) Team Radax / Aktin                              16
49 Nathan Haas (Aus) orbea australia                                       14
50 Tim Lemmers (Ned) De Brink - Ten Tusscher                               13
51 Fabian Brzezinski (Ger) Fabosport.de                                    12
51 Rick Evers (Ned) BeOne Chainreaktion Cyles                              12
53 Sebastian Mordmüller (Ger) Cannondale Bad Salzdetfur                    11
53 Evgeny Pechenin (Rus) Format-Udmurtiya Team                             11
53 Rumen Voigt (Ger) VSC Klingenthal/SKS M.i.G                             11
56 Bjorn Brems (Bel) Team Dolphin                                          10
56 Ola Kjoeren (Nor) Norwegian National Team                               10
56 Thomas Pfrommer (Ger) Team Radax / Aktin                                10
56 Benjamin Sonntag (Ger) Fuji Bikes Europe                                10
60 Pascal Ketterer (Ger) Bergamont Renn-Team                                9
61 Sascha Knöpfle (Ger) Rothaus-Cube MTB Team                               8
62 Michael Rieder (Ger) Ghost Racing Team                                   7
62 Markus Trost (Ger) Team Schneiderhan-Cube                                7
64 Max Friedrich (Ger) Best-Bike-Parts / Haibike                            6
64 Sebastian Lehr (Ger) SKS Made in Germany Team                            6
64 Michel Luginbühl (Swi) Team SRM Stevens                                  6
64 Lukas Schmitz (Ger) Bergamont                                            6
68 Frank Lehmann (Ger) Rothaus-Cube MTB Team                                5
68 Andy Römhild (Ger) FUJI Bikes Europe/1.MTB-C                             5
70 Stefan Danowski (Ger) Trenga DE                                          4
70 Steffen Greger (Ger) Multivan Merida Road-Team                           4
72 Robert Michaelis (Ger) Cannondale- Bad Salzdetfu                         3
72 Julian Schwendemann (Ger) Endorfin Solvis                                3
72 Tim Wijnants (Bel) Team Dolphin Trek                                     3
75 David Hofmann (Ger) Lexware Racing Team SV Ki                            2
75 Fredrik Kessiakoff (Swe) Full-Dynamix                                    2
75 Sebastian Mordmüller (Ger) Cannondale Bad Salzdetfur                     2
79 Benjamin Brochhagen (Ger) Topeak-Ergon                                   1
79 Markus Kaufmann (Ger) Vaude-Simplon Team                                 1
79 Pascal Ketterer (Ger) Bergamont Renn-Team                                1
79 Florian Kremmaier (Aut) RC-Arbö-ANF Mazda Eder Wa                        1
79 Danny Neumann (Ger) NRW Landeskader / Radon R                            1