MTB index page for all MTB content
Scott Australian 24Hr Mountain Bike Championships - NE
Mt Stromlo, ACT, October 13 - 14, 2007
English, Douglas & Team GU Sram Nite Riders win at Mt. Stromlo
Chris Jongewaard
Photo ©: Scott 24 Hour Race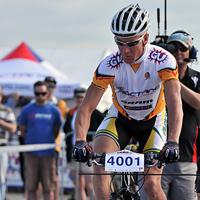 Jason English was crowned "solo king of the hill" after winning the 2008 Scott 24 hour Mountain Bike race with 28 laps in 23:58:06. Last year's champion, Andrew Bell took second with 27 laps in 24: 21: 08, and current European 24 hour champion, Zdenek Kriz of the Czech Republic, finished third with 26 laps in 24: 27: 28.
It's been a good year for the 27 year-old English, who also won the 24 hour Australian solo championships in March.
"The race plan from the start was to keep an eye on everyone but to ride my own race," said bleary eyed English after the event. "The quality of the riders at the moment is amazing and Australia continues to produce some of the best 24 hour mountain bike riders in the world."
Commenting on the course design, English said, "The hour glass course worked especially for the amount of riders on the track and as the courses are shorter it enabled crew contact more often, which really helps when you're out there by yourself."
Canberra will host the 2008 UCI mountain bike World Championships, but English said he would like to see the 24 hour World Championship there sometime, too.
In the women's solo division, Jessica Douglas claimed victory completing 21 laps in 23:05:03, with Phillipa Rostin finishing 19 laps in 24:08:11 and Penny Dustow of Casuarina completing 18 laps in 23:19:24
"A 24 hour solo is like giving birth - really super painful and you know there is a reward at the end of it but there is no way you would turn around and do it again straight away," said an elated Douglas.
Riding at night
Photo ©: Scott 24 Hour Race

In the elite team's category, the master combination of Chris Jongewaard, Sid Taberlay, Brent Miller and Perren Delacour racing for "Team GU Sram Nite Riders", won in style crossing the finish line in first, completing 37 laps of the course in 24:16:42, ten minutes ahead of World Champion, James Williamson's team, "Swell Spank" who also completed 27 laps in 24:25:42.Team Merida Flight Centre finished in third place with 32 laps in 22:20:16.
The GU team was down a member for the morning hours after its Chris Jongewaard jumped on a plane to race the Herald Sun Criterium in Melbourne in the afternoon.
"It was the toughest 24 hour I have done in quite a few years and we had to move away from our usual race plan with Chris flying out to Melbourne this morning," said Canberra's Brent Miller.
"With only three men remaining the night life became pretty hectic for all of us, but hey, now our gang is finished and Chris is still riding this afternoon."
Tasmania's own international star Sid Taberley made up the remaining GU team alongside Perren Delacour. "I thought I had laid off a bit in yesterday's prologues but in hindsight I may have gone out to hard too early but then I did take out some of the fastest laps in the 24 as well, so all is good," said Taberley.
Perfect weather conditions were seen right throughout the championships with a spectator crowd reaching over 6,000 to cheer on over 2,200 endurance riders across the course of the weekend.
Photography
For a thumbnail gallery of these images, click here
Images by Scott 24 Hour Race
Results
	
Solo elite men
	
1 Jason English (Jet Black Products)               28   23:58:06
2 Andrew Bell                                      27	24:21:08
3 Zdenek Kriz                                      26	24:11:48
4 Shane Taylor                                     25	23:49:20
5 Riding True (True Swain)                         24	23:18:17
6 Sean Bekkers                                     22	23:38:12
7 Damian Gillard                                   22	24:35:21
8 Arran Pearson                                    21	23:09:52
9 Francis Le Brun                                  21	23:10:59
10 Toby Wallace                                    21	23:22:02
11 Adam Kelsall                                    21	23:56:21
12 Kevin Wells                                     20	23:43:55
13 Chris Maher                                     20	23:57:18
14 Dan Felton (C N C Feltron)                      20	23:58:19
15 Steve Onyabikeson Mair (Steven Mair)            20	24:32:33
16 Chris Hellman                                   20	24:33:19
17 Trev Fairhurst (Trevor Fairhurst)               20	25:23:28
18 Darius Everett                                  19	23:41:45
19 Michael Hernan ADA                              19	24:09:00
20 Jonathan Donnelly (Jonno)                       19	24:09:03
21 Dion Blair                                      18	23:26:42
22 Michael Eyb ADA (Mick and the Dancing Doona)    18	23:40:50
23 Ed Hood                                         18	23:58:08
24 Andrew Armstrong (Stretcharmo)                  18	25:10:07
25 Nick Clark                                      17	23:35:38
26 Ben McDuff                                      17	24:08:23
27 Robbie Morris (The gibbon)                      17	24:11:30
28 Steven McDonald                                 16	23:06:24
29 Yoshihiro Morisaki                              16	23:13:38
30 Michael Crummy                                  16	23:33:22
31 Peter Hamilton                                  16	23:52:04
32 Julian Emsley                                   16	24:17:20
33 Benjamin Gooley ADN                             15	23:27:22
34 Joe Szpytko (smokey joe and the deep voices)    15	23:53:06
35 Matt Riordan                                    14	23:47:32
36 Richard Giddings                                14	24:00:33
37 Chris Huet                                      14	24:44:08
38 Shayne Bellato                                  13	23:38:03
39 Martin Wisata (Rocky Trail Entertainment 1)     13	24:08:42
40 Mike Bonnitcha                                  13	24:22:46
41 Geoff Mattes (Crazy Talk)                       12	23:50:36
42 Mike Brennan                                    12	24:44:11
43 Nick Cornish                                    12	24:51:35
44 Jason Dreggs (The Good Doctor)                  11	23:58:38
45 Matthew Cordery (No Friends)                    10	23:16:25
46 Trent Morgan                                    10	23:54:16
47 Royce Flanagan                                  10	24:06:36
48 Jerome Zadro (Aquacell)                         10	24:15:49
49 Scott Campbell                                  10	24:16:00
50 Chris Chant                                     10	24:16:22
51 Dylan Clift                                     10	24:36:06
52 Mark Schmidt                                    10	24:44:30
53 Jacob Coles                                      9	23:01:22
54 Aaron Simmons                                    9	23:09:50
55 Simon Llewellyn                                  9	23:24:21
56 Adam Bellato                                     9	24:09:47
57 John Paul Zanatta                                8	23:18:20
58 Jon Rutledge                                     8	23:35:16
59 Carl Sommerville                                 8	23:56:58
60 Rob Parberry (Via Crucis)                        8	24:17:40
61 Jeremy Ross                                      7	23:17:33
62 Christophe Barriere-Varju (2009 Dakar Rally)     7	23:33:13
63 Martin Smith                                     7	23:54:13
64 Anthony Mair                                     7	23:56:04
65 Andrew Wearing                                   6	23:29:49
66 Bradley Hearn                                    6	24:28:17
67 Stuart Masson (Mountain Dude)                    5	23:54:18
68 Angus Hobson                                     1	23:07:26
DNF  Scott Chancellor                              13	11:12:16
DNF  Shannon McGann (My Wife's Cousin)             11	20:30:52
DNF  Jon King                                      10	22:29:10
DNF  Adrian Kingsell                               10	22:52:34
DNF  Scott Abercromibe                              8	10:33:20
DNF  Luke Bracks (Loophole)                         8	13:29:10
DNF  Rodney Pitkin                                  8	18:03:13
DNF  Eric Wensing                                   7	7:32:25
DNF  Jason Harrod                                   6	19:40:16
DNF  Scott Thompson                                 5	21:44:38
DNF  Gary Knight                                    5	21:45:57
DNF  Cameron Dalton                                 4	3:44:50
DNF  Anthony Connell                                4	5:02:06
DNF  Nicholas Zarifeh                               4	5:07:27
DNF  Chris Hatcher (Team Reagan)                    1	1:14:45
 	
Solo elite women	

1 Jessica Douglas                                  21   23:05:03
2 Philippa Rostan (Superflip)                      19	24:08:11
3 Penny Dustow                                     18	23:19:24
4 Karen Foat Blackman                              16	25:03:19
5 Jaime Warren ADN                                 11	23:23:28
 	
Elite men team	

1 GU Sram Niteriders                               37   24:16:12
2 Team Swell - Spank                               37	24:25:42
3 Merida Flight Centre MTB Team                    33	23:06:30
4 Felt Racing                                      23	23:54:25
DNF  Rockstar Racing                               25	21:29:43
DNF  VIG Racing Team                               14	11:38:33