MTB index page for all MTB content
Australian National Four Cross Series, Round #2 - NE
Sydney Olympic Park, NSW, Australia, October 19, 2008
Olympian Madill & Buchanan make it two in a row
Luke Madill just holds off a fast finishing Tom Hubert
Photo ©: Evan Jeffery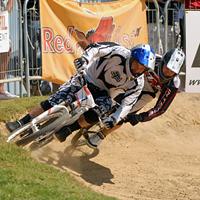 BMX Olympian Luke Madill reaffirmed his position as one of Australia's leading four cross riders after winning the first two rounds of the Red Ass National Series in Sydney over the weekend. The 28 year-old raced BMX at the sport's Olympic Games debut in Beijing, China, in August and has not rested since returning from a disappointing campaign where he bowed out in the quarter finals.

Madill is looking to broaden his racing experience and compete in the mountain bike version of BMX known as four cross. He is expecting to race many of the World Cup events next year.

In the first national round on Saturday, Madill won over last season's overall winner Leigh Darrel. In the second national round on Sunday, the win was hotly contested with 21 year-old Thomas Hubert from Newcastle clearly hot on the heels of Madill from the start. Madill led at the gate only to slip just before the third corner.

"The final was a bit messy," admitted Madill. "I felt pretty safe and knew I had a good lead then I slid and clipped out. I had to go to the outside and that took a bit more time."

Hubert led into the final straight with Madill claiming the win by just a few centimetres.

Caroline Buchanan
Photo ©: Evan Jeffery

"I was able to sneak through," Madill said.
Hubert's performance was outstanding following a disappointing semifinal at Saturday's round one when he suffered a broken chain and unable to make the final. "The points went a little bit missing on Saturday so on Sunday I definitely wanted to gain some points in the series," said Hubert.
"I took the inside line on the last corner and put the foot down. We were pretty much level pinned down the whole last straight," said Hubert. "I gave it all I had."
The women's reigning national champion, Caroline Buchanan, was in top form to win two national rounds and gained a secure series lead. Celebrating her 18th birthday next weekend did not deter the World Cup winner from Canberra in displaying strong first straights in every race.
Sarsha Huntington from Brisbane ended up second in the series isafter an unlucky fourth place in the first round on Saturday.
The third round of four cross will be held on the Gold Coast at the end of November. The first round of downhill and cross country will be in Adelaide in two weeks' time.
Photography
For a thumbnail gallery of these images, click here
Images by Evan Jeffery
Results
Elite men

1 Luke Madill           
2 Tom Hubert            
3 Leigh Darrell         
4 Timothy Dunn          
5 Cody Eichhorn         
6 Randal Huntington     
7 Dave Habicht          
8 Michael Jobson        
9 Alex Lloyd            
10 Riley Dacey          
11 Benjamin Clarke      
11 Shannon Rademaker    
13 Thomas Twentyman     
14 Richard Levinson     
15 Michael Young        
16 Ashley Gray          
17 Ryan Hunt            
18 Dale Percy           
19 Mitchell Scarr       
20 Terry Scarr          
21 Adam Nicholson       
22 David Bowden         
23 Matt Walker          
24 Tim Eaton            
25 Jarrad Connolly      
26 Daniel Castillo      
27 Thomas Rafferty      
28 Shaun Hughes         
29 Chris Evans          
30 Anthony Vaughan      
 
Elite women

1 Caronline Buchanan    
2 Sarsha Huntington     
3 Shannon Jobson        
4 Danielle Beecroft     
5 Vanessa Thompson      
6 Alice Minahan         
 
Expert men

1 Stephen Von Appen     
2 Nathan Couzin         
 
U19 men

1 Graeme Mudd           
2 Chris Jennings        
3 Liam Melville         
4 Sean Fitzpatrick      
5 Ben Dacunto           
6 Peter Larsen          
7 Oli Le Lievre         
8 Shaun O'Connor        
9 Corey Bagnall         
 
U19 women

1 Tayla Barnes          
2 Emma Tatum            
 
U17 men

1 Ben Leslie            
2 Max Hughes            
3 Bowen Muncaster       
4 Zachary Ford          
5 Jordan Nemet          
6 Wilson Hale           
7 Jake McStravick       
 
U15 men

1 Kyle Hughes           
2 Tim Kmetyk            
3 Aidan Vahtrik         
4 Tom Selway            
5 Cameron Ford          
 
U13 men
1 Andrew Hughes         
 
Veteran men

1 Brett Minion          
2 James Harris          
3 Stuart McClachlan     
4 Brett Thompson        
5 Shane Duce            
6 Steve McKenna         
7 Albert Bacci          
8 Mic Longhurst         
 
Sport men

1 Thomas Markus