MTB index page for all MTB content
Australian National Four Cross Series, Round #1 - NE
Sydney Olympic Park, NSW, Australia, October 18, 2008
BMX Olympian kick starts Australian series with win
BMX Olympian Luke Madill dominates
Photo ©: Evan Jeffery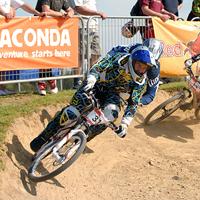 BMX Olympian Luke Madill is on track winning the first round of the Red Ass National Four Cross at Sydney Olympic Park today The 28 year-old national champion took the win away from last season's overall winner Leigh Darrell. Madill admitted he has his sights set on an international career in mountain biking.

"I'm just looking at getting to all of the World Cup rounds this year," Madill said. "Today was great. I always wanted to race it internationally and it's a change from BMX."

The stage was set in the final with Madill leading into the first corner with Darrell matching his every move. Third was Victoria's David Habicht (Sebastopol) while Sydney's Alex Lloyd (St Clair) claimed fourth.

The women's national champion Caroline Buchanan from Canberra secured her first win of the national series. After winning the World Cup round in Canberra recently the 17 year-old looked confident all day. A return to racing from top Australian rider Sarsha Huntington made a top quality field but Huntington was outdone in the second straight by Shannon Jobson and Danielle Beecroft. Jobson and Beecroft finished in second and third place respectively.

Graham Mudd won the Under 19 men's race while Taylor Barnes took out the women's category.

Round two in the national series will continue Sunday at noon at the Monster Mountain Cross track at Sydney Olympic Park.
Photography
For a thumbnail gallery of these images, click here
Images by Evan Jeffery
Results
Elite men

1 Luke Madill           
2 Leigh Darrell         
3 Dave Habicht          
4 Alex Lloyd            
5 Cody Eichhorn         
6 Tom Hubert            
7 Timothy Dunn          
8 Richard Levinson      
9 Benjamin Clarke       
10 Shannon Rademaker    
11 Thomas Twentyman     
12 Riley Dacey          
13 Ryan Henderson       
14 Terry Scarr          
15 Randal Huntington    
16 Dale Percy           
17 Adam Nicholson       
18 Ashley Gray          
19 Jarrad Connolly      
20 Shaun Hughes         
21 Ryan Hunt            
22 Matt Walker          
23 Chris Evans          
24 Tim Eaton            
25 Daniel Castillo      
26 Michael Young        
27 Gavin Turner         
28 Mitchell Scarr       
29 Michael Jobson       
30 Thomas Rafferty      
 
Elite women

1 Caroline Buchanan    
2 Shannon Jobson        
3 Danielle Beecroft     
4 Sarsha Huntington     
5 Vanessa Thompson      
 
U19 Men

1 Graeme Mudd           
2 Chris Jennings        
3 Shaun O'Connor        
4 Liam Melville         
5 Ben Dacunto           
6 Oscar Lapstun         
7 Peter Larsen          
8 Corey Bagnall         
 
U17 Women

1 Alice Minahan         
 
U19 women

1 Tayla Barnes          
2 Emma Tatum            
 
U13 Men

1 Andrew Hughes         
2 Joel Willis           
 
U17 Men

1 Ben Leslie            
2 Max Hughes            
3 Bowen Muncaster       
4 Zachary Ford          
5 Wilson Hale           
6 Jordan Nemet          
 
U15 Men

1 Kyle Hughes           
2 Aidan Vahtrik         
3 Tim Kmetyk            
4 Tom Selway            
5 Cameron Ford          
 
Veteran men

1 James Harris          
2 Stuart McClachlan     
3 Shane Duce            
4 Albert Bacci          
5 Lyle Okeefe           
6 Mic Longhurst         
7 Brett Barnes          
 
Sport men

1 David Bowden          
2 Thomas Markus         
3 Anthony Vaughan       
4 Sean Fitzpatrick      
5 Thamba Pat