MTB index page for all MTB content
Australian MTB Series #2 - NE
Illinbah, Gold Coast, Australia, November 29-30, 2008
Schedule
Gold Coast Mountains attract world riders
Chris Kovarik and fiancée Claire Buchar
Photo ©: Mountain Bike Australia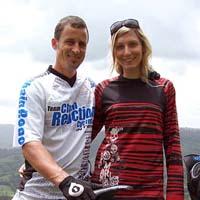 Over 500 mountain biker including world ranked riders will head to the Gold Coast hinterland this weekend for the second round of the Australian National Mountain Bike Series this weekend. After the first round of the series was held at in Adelaide last month, many of the leading riders will continue claiming valuable points.
The weekend's four mountain bike disciples start on Saturday morning with the Olympic discipline of cross country. The elite women's race is expected to see strong challenges coming from the TORQ team riders from Victoria namely Tory Thomas, Katherine O'Shea and Joe Wall. Brisbane's Jodie Willett will be aiming to retain her series lead but last year's winner Sydney's Zoe King may have other ideas.
The elite men's cross country is wide open with the absence of national champion and current leader Chris Jongewaard. Second place in the series, Canberra's Ben Henderson (Under 23), will face last year's winner on the Illinbah course Aiden Lefmann from Brisbane. A return to the season by Canberra's Shaun Lewis could see him in the leading bunch. Gold Coast favourite Dave Whitney is expected to use his course knowledge to give him an advantage.
Four cross riders will race on Saturday afternoon with BMX Olympian Jared Graves as the favorite. Fellow Olympian Luke Madill will be busy racing BMX in Victoria. Current series leader, Caroline Buchanan from Canberra will be challenged by Brisbane's Sarsha Huntington. BMX Olympian, Tanya Bailey from Perth will compete in her first mountain cross race.
Toowoomba's Jared Graves currently leads the national downhill series and will be challenged on Sunday by professional downhiller Chris Kovarik. Graves impressed fellow riders by returning to downhill after finishing in the BMX final at the Beijing Olympics. Kovarik however has had a successful World Cup season finishing in ninth place overall. Western Australian Ben Bell is expected to perform well in this round after placing second in Adelaide in the last round of the series. National Champion Nathan Rennie will be on the sideline following a knee operation a week ago.
Kovarik's fiancée, professional Canadian downhiller Claire Buchar, could upset the current series leader Claire Whiteman from Canberra. Tasmania's Leigh Douglas and South Australia's Sarah Booth are hopeful of at least retaining their current second and third places respectively.
Western Australian Will Gower is expected to have a tough challenge to retain his lead in the Under 19 division with two local riders, Rhys Willemse and Tamryn Murrell, sitting in second and third place respectively. Shaun O'Connor from the south coast of New South Wales is aiming to return to series leader after a crash in the final metres in Adelaide.
Cross country riders return to the race site on Sunday morning for the short course in a tough criterium style race.
Photography
For a thumbnail gallery of these images, click here
Images by Mountain Bike Australia
Images by Evan Jeffery / www.evanjeffery.com.au