MTB index page for all MTB content
MTB World Cup XC #5 & DH #3 - CDM
Fort William, Scotland, June 6-8, 2008
Main Page Results Previous Race
Race 6 - June 8: Elite men downhill
Minnar and Syndicate top podium
By Luke Webber in Fort William
Greg Minnaar (Santa Cruz) wins
Photo ©: Dave McElwaine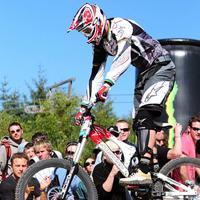 Greg Minnaar and his Santa Cruz Syndicate team-mates Steve Peat, Nathan Rennie and Josh Bryceland took over the podium at Fort William this afternoon with classy performances under the sun. The closest race in the World Cup so far produced high drama in a packed arena as one by one, the times tumbled.
In the tense closing stages, it looked like a Brit would claim the perfect victory in front of a home crowd left hungry after the World Championship. First Peat put together a great run, dislodging a surprise hot seat occupant Rennie who would finish fourth. Peat had no time to get comfy though as moments later Gee Atherton (Animal Commencal) stole top spot looking to make it his second consecutive World Cup win. But Minnaar, last man down and with the fastest semi final run, was the on-form man of the week and won the event.
His trademark moto-style was on show through the final Nissan arch and his race face was on. The longest and most punishing course so far this year produced a big winning margin of three seconds and Minnaar was once more king of the Fort. Unfortunately his swordsmanship skills need a little brushing up on, especially when it came to opening the celebratory champagne.
After the race Minnaar was hoping the win was a sign of things to come. "I haven't won a World Cup for a while so hopefully this is the start of a new trend. When I jumped in I couldn't hear as much noise as I did in the semi finals, so I thought I was down, I thought I really needed to pedal hard to get something. But over that last jump I could see my team-mates celebrating and that was the first time I realised I had the fastest time."
Gee Atherton (Animal Commencal)
Photo ©: Dave McElwaine
Atherton was the top placed Brit, nudged into second after the flying South African, but for him, it was another solid result keeps his hopes of the overall World Cup title alive.
"I was happy to stay upright out there today, the dry weather has made it so loose and gravely," said Atherton. "There were mistakes. I was riding really loose today but that was the only way to do it. I'm pleased to be on form for the Worlds."
Peat took third place while Aussie Sam Hill held (Monster Energy / Ironhorse) onto the leader's garment for the overall after he finished first and second in previous rounds and today fifth.
"Today went pretty well. Fourth is on the podium which means I am still in the overall lead," said Hill. "I don't think there's any extra pressure with the lead though, I just want to keep hold of it for the rest of the season. And now we've got some time before Mont St. Anne [next World Cup - ed.] to put in a bit of work. The worlds are the main goal every year and the track there is really fun, and I can have a good race there. The first three races this year have seen a different winner so it makes the racing unpredictable which is a whole new challenge."
In just over a week we will find out if Hill can repeat his result at the Worlds. For him it could be another rainbow jersey and a spot on the top of the most feared downhiller's list.
Photography
For a thumbnail gallery of these images, click here
Images by Dave McElwaine / www.trailwatch.net
Images by Luke Webber / Cyclingnews
Results
1 Greg Minnaar (RSA) Santa Cruz Syndicate                           4.43.52
2 Gee Atherton (GBr) Animal Commencal                               0.03.18
3 Steve Peat (GBr) Santa Cruz Syndicate                             0.03.88
4 Nathan Rennie (Aus) Santa Cruz Syndicate                          0.04.68
5 Samuel Hill (Aus) Monster Energy / Iron Horse                     0.05.18
6 Dan Atherton (GBr) Animal Commencal                               0.06.28
7 Justin Leov (NZl) Yeti Fox Shox Factory Race Team                 0.08.88
8 Ben Cathro (GBr) Mojo Orange                                             
9 Samuel Blenkinsop (NZl) Yeti Fox Shox Factory Race Team           0.09.48
10 Mickael Pascal (Fra) MSC Bikes                                   0.10.38
11 Florent Payet (Fra) Subaru Mountain Bike Pro Team                0.11.58
12 Julien Camellini (Fra) Chain Reaction Cycles/Intense             0.11.88
13 Chris Kovarik (Aus) Chain Reaction Cycles/Intense                0.12.08
14 Marc Beaumont (GBr) Team BikeRadar                               0.12.68
15 CÚdric Gracia (Fra) Commencal - Furious - Oakley Team            0.12.78
16 Josh Bryceland (GBr) Santa Cruz Syndicate                        0.13.58
17 Chris Hutchens (GBr) Mojo Orange                                 0.13.68
18 Pasqual Canals Flix (Spa) Massi                                         
19 Bernat Guardia Pascual (Spa) MSC Bikes                           0.14.08
20 Ivan Oulego Moreno (Spa) Massi                                   0.14.58
21 Bryn Atkinson (Aus) GT Bicycle                                   0.14.68
22 Fabien Pedemanaud (Fra) Team Pyrenees Morewood                   0.15.28
23 Brendan Fairclough (GBr) Monster Energy / Iron Horse             0.15.38
24 Filip Polc (Svk) Kenda Tomac                                     0.15.48
25 Neil Donoghue (GBr) Team BikeRadar                               0.16.78
26 David Vazquez Lopez (Spa) Lapierre Dh Powered By Saab Salomon    0.17.78
27 Mitchell Delfs (Aus) Kenda Tomac                                 0.18.08
28 Andrew Neethling (RSA) GT Bicycle                                0.18.18
29 Sam Dale (GBr) Cannondale Factory Racing                         0.18.28
30 Oscar Saiz Castane (Spa) Giant Mountain Bike Team                0.18.88
31 Kyle Strait (USA) Specialized Factory Racing                            
32 Joshua Button (Aus)                                              0.19.08
33 Matthew Simmonds (GBr) Chain Reaction Cycles/Intense             0.19.68
34 Dan Stanbridge (GBr) Mojo Orange                                 0.19.98
35 Danny Hart (GBr) Lapierre Dh Powered By Saab Salomon             0.20.38
36 Thibaut Ruffin (Fra)                                             0.21.18
37 Dominik Gspan (Swi)                                              0.21.48
38 Wyn Masters (NZl)                                                0.22.08
39 Ben Reid (Irl)                                                   0.22.98
40 Alan Beggin (Ita)                                                0.23.08
41 Samuel Zbinden (Swi) Argentina Bike Gravity Team                 0.24.08
42 Markus Pekoll (Aut) Solid Aclass Factory Team                    0.24.18
43 Daniel Critchlow (GBr) Chain Reaction Cycles/Intense             0.24.68
44 Mathieu Troquier (Fra) Solid Aclass Factory Team                 0.24.78
45 Valentin Juillard (Fra) Team Sunn                                0.25.28
46 Markolf Berchtold (Bra)                                          0.25.48
47 Joseph Smith (GBr) Tomac Factory Racing                          0.25.58
48 Marcel Beer (Swi) IXS Sports Division Racing Team                0.26.38
49 Aari Barrett (NZl)                                               0.26.48
50 Lars Sternberg (USA)                                             0.26.68
51 Antonio Ferreiro Pajuelo (Spa) Massi                             0.26.88
52 Ruaridh Cunningham (GBr) Chain Reaction Cycles/Intense           0.27.18
53 Brook Macdonald (NZl)                                                   
54 Claudio Caluori (Swi) Tomac Factory Racing                       0.27.38
55 Tom Deacon (GBr)                                                 0.27.58
55 Jack Geoghegan (GBr)                                                    
57 Andrew Mitchell (Can)                                            0.27.78
58 KÚvin Danh Pha (Fra) Team Pyrenees Morewood                      0.28.38
59 Will Rischbieth (Aus)                                                   
60 Ben Ineson (GBr) Reverse Components                              0.28.58
61 Arnaud Delente (Fra)                                             0.28.78
62 Amiel Cavalier (Aus) Giant Mountain Bike Team                           
63 Espen Johnsen (Nor)                                              0.29.78
64 Scott Mears (GBr)                                                0.30.08
65 Cameron Cole (NZl) Team Maxxis                                   0.30.58
66 Stuart Jenkinson (GBr) Printexpress UK MTB Team                  0.31.38
67 Kieran Bennett (NZl)                                             0.34.58
68 Joe Barnes (GBr)                                                 0.34.88
69 Marco Bugnone (Ita)                                              0.42.28
70 Herman Olund (Swe)                                               0.42.68
71 Jared Rando (Aus) Giant Mountain Bike Team                       0.56.08
72 Marcus Klausmann (Ger) Team Ghost International                  0.58.58
73 Damien Spagnolo (Fra) Subaru Mountain Bike Pro Team              1.32.58
74 Rowan Sorrell (GBr)                                              1.34.18
75 Dertell Dennis (Swe)                                             1.42.98
76 Fabien Barel (Fra) Subaru Mountain Bike Pro Team                 1.57.28
77 Cyrille Kurtz (Fra)                                              2.06.68
78 Philip Ashbridge (GBr)                                           5.34.98
79 Adam Vagner (Cze)                                               46.23.18

Teams

1 Santa Cruz Syndicate                                                  117 pts
2 Animal Commencal                                                       93
3 Yeti Fox Shox Factory Race Team                                        46
4 Kona                                                                   40
5 Mojo Orange                                                            37
6 Chain Reaction Cycles/Intense                                          37
7 Monster Energy / Iron Horse                                            36
8 Team Maxxis                                                            35
9 MSC Bikes                                                              33
10 Suspension Center                                                     31
11 MS-Intense Factory-Racing                                             30
12 Solid Aclass Factory Team                                             26
13 Massi                                                                 24
14 Norco World Team                                                      23
15 Team BikeRadar                                                        23
16 4 Elements Yeti/Hotec/Rsp                                             22
17 Playbiker - Iron Horse                                                21
18 Subaru Mountain Bike Pro Team                                         20
19 Sport Promotion                                                       18
20 Commencal - Furious - Oakley Team                                     16
21 GT Bicycle                                                            13
22 Kenda Tomac                                                           11
23 Team Pyrenees Morewood                                                 9
24 Lapierre Dh Powered By Saab Salomon                                    5
25 Cannondale Factory Racing                                              2
26 Giant Mountain Bike Team                                               1