MTB index page for all MTB content
Breckenridge 100 - NE
Breckenridge, Colorado, USA, July 19, 2008
Tostado wins fourth Breckenridge 100
By Rachel Barbara
Second-placed Evan Plews, first-placed finisher Josh Tostado and third-placed Greg Krause
Photo ©: Liam Doran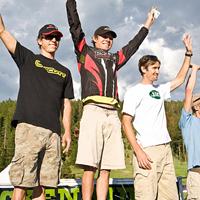 Josh Tostado (Bach Builders) won his fourth consecutive Breckenridge 100 and smashed his old course record by nearly 50 minutes. The Breckenridge local exceeded his goal of beating a time of 8.5 hours and won the race with a time of 8:14:37.95.
"I was definitely surprised how fast it turned out, but I feel a lot stronger this year and I'm feeling like I'm at the peak of my season right now," said Tostado.
Race promoters expected a showdown between Tostado and Evan Plews, who was ranked second in the National Ultra Endurance (NUE) Series going into the race.
"I was thinking maybe this was the year that I was going to lose the title," said Tostado. "Evan is a super-strong rider and I was expecting to battle with him, but I felt great and it turned out good."
Tostado beat Plews by just over 20 minutes. The race may have been closer if Plews hadn't wandered off course for some ten minutes, but Tostado was already in the lead when Plews missed a turn.
One of the top contenders Evan Plews
Photo ©: Liam Doran

The challenging course roamed 100 miles over three separate loops that all started and finished downtown. Designed by renowned course architect Mike Zobbe, the course included backcountry trails, dirt roads and bike paths. Racers climbed over 13,000 feet and spent considerable time above tree line.
"If I was coming from somewhere else and doing this race I would probably be a little slower just from looking around so much," said Tostado. "There are incredible views. It's an epic race."
The scenery didn't slow down Kelley Cullen, the women's winner who finished eighth overall in a time of 10:08:20, or Matt Turgeon, a singlespeeder who finished seventh overall in 10:06:19.
Riders Mark Thompson, Evan Plews and Josh Tostado roll through the streets
Photo ©: Liam Doran

The Breck 100 was the fourth of eight events in the 2008 NUE and the third of five events in the Rocky Mountain Regional Ultra Series. As in past years, the race raised money for Summit County's TAME Foundation, a non-profit that offers hippotherapy treatment to children with disabilities. A percentage of every rider fee was donated to TAME's scholarship fund, which allows more children to experience the benefits of treatment through horse therapy.
Additional fundraising was provided for the Mike Janelle Children's Trust, which offers support for the wife and young child of Mike Janelle. A local rider and past Breck 100 finisher, Janelle died suddenly in November of 2007.
Photography
For a thumbnail gallery of these images, click here
Images by Liam Doran /www.liamdoranphotography.com
Results (NUE #4)
100 mile race

Solo Senior 19-29 Male
 
1 Zac Ramras (Ski Utah)                          10.09.53
2 Nathan Miller (Tele Free Wasatch/Jans)             1.15
3 Peter Butt                                         7.02
4 Gabe Klamer (Fitzeralds Bicycles)                 30.17
5 David Nairn                                       33.31
6 Andrew Carney                                   1.13.09
7 Bradford Sims (Echelon Spokes And Slopes)       1.29.10
8 Thomas Arnold                                   2.29.11
9 Matthew Berdine                                 2.39.24
10 Brandon Newcomer                               3.22.11
11 Jasen Matyas (Columbia Bike Club Race Team)    3.34.58
12 Clayton Bell (Rock Ar Bell & Co Mt Biking)     4.21.32
DNF Jonathan Wolf                                        
DNF Andy Schuette (Columbia Bike Club Race Team)

Solo Senior 19-29 Female
 
1 Kelley Cullen (Rocky Mountain Racing)    10.08.20
2 Heather Unger (Cycling)                   3.24.40
 
Solo Veteran 30-39 Male
 
1 Josh Tostado (Bach Builders)                      8.14.37
2 Evan Plews (Scottusa/Csc)                           20.21
3 Greg Krause (Ellsworth Primal Wear)                 29.35
4 Jens Nielsen (Sport Systems Mtc)                    56.04
5 Garth Prosser (Sobe Cannondale)                   1.48.00
6 Ryan Huth (Yeti/Mso)                              2.04.14
7 Josh Cullen (Rocky Mountain Racing)               2.06.49
8 Steve Reiter                                      2.34.04
9 Brian Blair (The Path Bike Shop)                  2.47.24
10 Peter Piccolo                                    2.48.51
11 Kris Arnott (Ski Utah)                           2.50.07
12 Jeffrey Carter (Mafia Racing)                    3.01.08
13 David Wilson (Titus/Wtb)                         3.10.10
14 Jeffrey Rank                                     3.10.13
15 Corey Hanson (Great Harvest Bread Fort Colli)    3.30.19
16 Donnie Cole (Big Wheel Racing)                   3.36.50
17 Ryan Whitten                                     3.39.46
18 Andrew Gunn                                      4.06.58
19 Kevin Holliday (Jan/Tele-Free Wasatch)           4.13.34
20 McHael Melley (Landis Cyclery)                   4.23.09
21 Ralph Kuhlmeier                                  4.30.56
22 Dwayne Goscinski (Drj Racing)                    4.33.13
23 Mike Sherman                                     4.39.42
24 Tony Song                                        4.45.43
25 Jon Meeker                                       4.52.40
26 Aaron Fader (Twin Six)                           5.03.35
27 David Stokes                                     5.14.25
DNF Derek Scott (Scott Energy)                             
DNF Mitch Johnson (Ghisallo Sports)                        
DNF Brad Walleen                                           
DNF Shane Sandman                                          
DNF Bernie Romero                                          
DNF Phillip Marino                                         
DNF Cam Mayfield Flower                                    
DNF Mike Neumeyer (Yazoo Racing)
DNF Tim Check

Solo Veteran 30-39 Female
 
1 Amanda Riley Carey Victor (Kenda-Titus-Hayes)       10.21.49
2 Jennifer Tribe-Wilson                                1.06.06
3 Eriken Tieszen (Sitnah Cycling)                      1.18.24
4 Cat Morrison (Girls4Dirt-Serenity Spa-Orr)           1.39.06
5 Roslyn Stern (Team Bob)                              2.29.16
6 Elizabeth Vollmer (Mafia Racing)                     3.04.01
 
Solo Veteran 40-49 Male
 
1 Theodore Fleming (Spike Shooter Professional Cyc)    9.59.29
2 Kimo Seymour (Landis/Powerbar)                         53.55
3 Trever Bushnell (Hlhap)                              1.15.51
4 Danny Gnojek                                         1.18.57
5 Collin Price                                         1.58.15
6 Sean Raborn (Powerquip)                              1.58.32
7 Scott Bandoni                                        2.35.11
8 Christopher Richmond (Old World Painting)            2.36.28
9 Scott Fader                                          2.39.52
10 Daniel King (Procon)                                2.48.20
11 Leonard Goodell (Big Wheel Racing)                  3.21.35
12 Chad Townsend                                       3.25.41
DNF Mark Thompson (Spike Shooter)                             
DNF Kurt Ireland                                              
DNF Ron Harris                                                
DNF Wayne Smith (Vertex Innovations)                          
DNF Roger Terry (Spin City Cycling)                           
DNF Paul Millar (Racer Sportif)                               
DNF John Lien                                                 
DNF Ryan O'Dell (Kenda/Endura)                                
DNF Mice Pont                                                 
DNF Robert Woolf                                              
DNF Sean Groome (South Tampa Posse)                           
DNF Tony Shouse (Sore Bum)                                    
DNF Scott Summey (Open Road Bicycles/Velobrew)                

Solo Veteran 40-49 Female
 
1 Susan Chaffee (Co)                 13.57.19
 
Solo Master 50+ Male
 
1 David Grauer (Orthopro)            11.05.10
2 Rob Burgard                           13.05
3 Leon Fetzer                           53.32
4 Carl June (Human Zoom)                     
 
Solo Master 50+ Female
(No Finishers In This Category)
 
Singlespeed Male
 
1 Matt Turgeon (Big Wheel Racing)         10.06.19
2 Tom Ament (Adrenalin/Vassago)            1.11.49
3 Walt Peters (Team Bearclaw)              2.12.24
4 Mark Elsasser (Independent Fabrication)  2.49.01

Singlespeed Female

(No finishers in this category)

Breck100 Co-ed Teams

(No Finishers In This Category)
 
Breck100 All Female Teams
 
1 Big Wheel                    13.25.52
 
Breck100 All Male Teams

1 BBD                          11.56.25

68 mile race

Solo finishers
 
1 Jeffrey Kerkove (Topeak-Ergon)                 6.13.10
2 Steve Meyer                                       9.50
3 Dan Knight (Pikes Peak Velo)                     17.43
4 Dale's Pale                                      28.46
5 David Sprinkle (Scv)                             28.55
6 Tim Bolton (Liqui-Serve/Kenda)                   35.42
7 Daniel Teodoru (Copper/Hcrt)                     37.05
8 Ryan Soderberg                                   44.47
9 Jamie Becker                                     50.42
10 Christopher Button                              57.05
11 Ken Boyer                                     1.05.32
12 David Weik                                    1.11.56
13 Steven Pon (Justmyslowself)                   1.12.36
14 John Gibbons (Optimize Endurance Racing)      1.17.11
15 Heidi Godsil (Chipotle-Titus)                 1.28.28
16 Jocelyn Johns (Mud Honey's)                   1.30.28
17 Jenn Dice                                     1.31.05
18 Todd Neugent                                  1.34.12
19 Todd Krell                                    1.35.10
20 Rob Lockey (Optimize Endurance/Bikesource)    1.40.32
21 Curt Child                                    1.49.38
22 Thomas Wallace                                1.54.35
23 Steven Bolton (Stans/Liquiserve)              1.54.52
24 Kay Levesque (Chipotle-Titus)                 1.55.06
25 Boys On                                       2.09.09
26 Bethany Elson (Jan's)                         2.33.18
27 Bobbi Bensman (Bach Builders)                 2.42.30
28 Adam Massey                                   2.42.31
29 David Schilling                               2.57.17
30 Drew Hall                                     3.23.52
31 Matt Loscalzo                                 3.23.59
32 Katie Tuttle (Dcb Racing)                     3.24.01
33 Brad Peterson                                 3.24.11
34 Russell Peterson                              3.24.17
35 John Koch (Mn Pos)                            3.25.43
DNF Alexander Barcza                                    
DNF Sara Delano                                         
DNF Rick Gaukel                                         
DNF Lisse Gordon (Girls4Dirt)                           
DNF Todd Hauer                                          
DNF Les Schafer (Monkeys Will Fly Out Of My Ars)        
DNF Peter Young                                         
DNF Douglas Young (Big Wheel Racing)                    
DNF Aaron Sublett (The Donny And Marie Show)            

Solo Senior 19-29 Female

1 Jocelyn Johns (Mud Honey's)                   7.43.38
2 Katie Tuttle (Dcb Racing)                     1.53.33
 
Solo Veteran 30-39 Male
 
1 Jeffrey Kerkove (Co Topeak-Ergon)             6.13.10
2 Tim Bolton (Liqui-Serve/Kenda)                  35.42
3 Daniel Teodoru (Copper/Hcrt)                    37.05
4 Ryan Soderberg                                  44.47
5 Jamie Becker (Ca)                               50.42
6 Christopher Button (Co)                         57.05
7 Steven Pon (Justmyslowself)                   1.12.36
8 Todd Krell (Co)                               1.35.10
9 Rob Lockey (Optimize Endurance/Bikesource)    1.40.32
10 Steven Bolton (Stans/Liquiserve)             1.54.52
11 David Schilling                              2.57.17
12 Drew Hall                                    3.23.52
13 Matt Loscalzo                                3.23.59
DNF Alexander Barcza                                   
 
Solo Veteran 30-39 Female
 
1 Heidi Godsil (Chipotle-Titus)                 7.41.38
2 Jenn Dice                                        2.37
3 Bethany Elson (Ut Jan's)                      1.04.50
DNF Sara Delano (Co)                                   
DNF Lisse Gordon (Girls4Dirt)                          
 
Solo Veteran 40-49 Male
 
1 Steve Meyer                                   6.23.00
2 Dan Knight (Co Pikes Peak Velo)                  7.53
3 David Sprinkle (Scv)                            19.05
4 Ken Boyer                                       55.42
5 David Weik (Co)                               1.02.06
6 John Gibbons (Optimize Endurance Racing)      1.07.21
7 Todd Neugent                                  1.24.22
8 Curt Child                                    1.39.48
9 Thomas Wallace                                1.44.45
10 Adam Massey                                  2.32.41
11 John Koch (Mn Pos)                           3.15.53
DNF Todd Hauer                                         
DNF Aaron Sublett (The Donny And Marie Show)           
DNF Peter Young (Co)                                   
 
Solo Veteran 40-49 Female
1 Kay Levesque (Chipotle-Titus)                 8.08.16
2 Bobbi Bensman (Bach Builders)                   47.24
 
Solo Master 50+ Male
 
1 Brad Peterson                                 9.37.21
2 Russell Peterson                                 0.06
DNF Les Schafer (Monkeys Will Fly Out Of My Ars)       
DNF Douglas Young (Big Wheel Racing)                   

32 mile race
 
Solo Senior 19-29 Male
 
1 Brian Fuerst                                       3.43.15
2 Kyle Bonde                                           14.47
3 Jeremy Collins                                       31.53
4 Lee Draeger                                          35.48
 
Solo Senior 19-29 Female
 
1 Sonya Looney (Sobe Cannondale)                     3.10.39
2 Tiffany Cap                                          28.04
3 Katie Goodwin                                        58.30
 
Solo Veteran 30-39 Male
 
1 John Deibert (Johnnyrack.Com)                      3.08.11
2 Jamie Elsasser (Mob Cyclery/Bare Knuckle Brigade)    11.54
3 Kevin Parker                                         21.22
4 Jeff Sheehan                                         25.04
5 Michael Schoenly                                     31.33
6 Brad Walker                                          31.35
7 Tom Economou                                         34.22
8 Tom Carter (Mongoose)                                42.32
9 Brad Smith                                           49.27
10 Matthew Kicklighter                               1.28.06
11 Bill Richmond                                     1.38.35
12 Kevin Gilinsky                                    1.41.02
13 Jeremy Wilson                                     1.44.56
14 Keven Stewart                                     2.02.21
15 Kevin Prebil                                      2.48.45
 
Solo Veteran 30-39 Female
 
1 Stacy Moller                                       3.53.59
2 Sage Grossi (Landis Cyclery)                          5.26
3 Lisa Heisey (Squirrels Love Nuts)                    55.31
4 Chloe Copeland                                     1.26.37
 
Solo Veteran 40-49 Male
 
1 Scott Ruff (Colorado Freeride)                     3.08.44
2 Steve Dunn (Echelon Spokes And Slopes)                2.46
3 Greg Zych                                            25.08
4 Tim McNamara (Squirrels Rock)                      1.09.34
5 Michael Rawitscher                                 1.15.15
6 Daniel Libby                                       1.15.16
7 Darrin Sharp (Blue Sky Velo)                       1.16.36
8 Robert Eck                                         1.45.54
 
Solo Veteran 40-49 Female
 
1 Barbie Miller (Cmc)                                4.01.43
 
Solo Master 50+ Male
 
1 James McGuire                                      4.10.49
2 Steve Matyas                                       1.02.34
 
Solo Master 50+ Female

(no finishers in this category)
 
Singlespeed Male

(no finishers in this category)
 
Singlespeed Female
 
1 Latoya Park (Supa Dupa Dreads)                     4.13.13