MTB index page for all MTB content
MTB World Cup XC #7 & DH #5 - CDM
Bromont, Canada, August 1-3, 2008
Main Page Results Previous Race Next Race World Cup Standings
Race 6 - August 3: Elite women cross country
Pendrel wins her first World Cup
By Sue George in Bromont, Québec
Catherine Pendrel (Luna Womens MTB Team)
Photo ©: FJ Hughes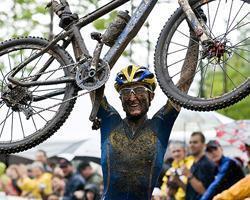 Catherine Pendrel (Luna Women's MTB Team) won her first-ever World Cup in extremely muddy and treacherous conditions due to rain the night before and throughout the elite women's race. Finishing in front of friends and family just weeks before the Olympic Games, the win was extra special for the Canadian Pendrel.
"I woke up this morning and felt really good, so I knew I had to go for it," said Pendrel. "It was muddy but it was lots of fun."
What was on the minds of most of the top women was preventing injury prior to competing in Beijing, China this month. Many made references to riding conservatively and having to catch a plane in the next few days. The women raced four laps on a 4.85km course which was shortened by 700m due to the day's conditions.
Pendrel and her compatriot Marie Helene Premont swapped places from last weekend's World Cup in Mont-Sainte-Anne. Premont rode a conservative race in response to the conditions to finish in second place.
"It was very wet, and I was very careful - especially on the downhills," said Premont. "Before the start, I asked myself if I would race or not. I just want to enjoy myself before the Olympics."
Premont will enjoy a two-week a rest at home before the Olympics. "I'm going to Beijing with confidence," she said.
Behind Premont was Katerina Nash (Luna Women's MTB Team), Lene Byberg (Specialized Factory Racing) and Georgia Gould (Luna MTB Women's Team).
United States of America Champion Mary McConneloug (Kenda/Seven)
Photo ©: Dave McElwaine

Pendrel and Premont got a gap together off the front from the start. Pendrel seemed smoother over the technical sections and also looked powerful on the climbs. Pendrel opened up a gap by the end of the first lap she would continue to extend until the finish.
The slippery conditions quickly separated the women, and most of the top finishers rode alone throughout the race. Many McConneloug (Kenda Seven) had a fantastic beginning, riding initially in third position, but the conditions got to her and she fell back to finish in 12th place.
"I had such a good start," said McConneloug, who was spotted running many sections her fellow competitors were riding. "Then I was so all over the place in the mud and I got nervous - that's the worst thing you want to do in the mud. You start getting rigid and then you can't ride, and you make more mistakes.
"My result today is indicative of the stress I've undergone this week in preparation for Beijing," added McConneloug. "I'm getting on a plane at 6:00 am tomorrow to go to California for a week and I haven't packed yet." From California McConneloug will head to South Korea, and finally, Beijing for the race on August 22.
At the end of the first lap, Nash was riding comfortably in third position, a place she would hold for the duration of the race.
"I love this kind of challenge - these conditions," said Nash, who ran a few uphills because it was faster than riding. "I tried not to make too many mistakes. It was a great ride for me."
Marie-Helene Premont (Rocky Mountain)
Photo ©: Dave McElwaine

Byberg and Gould were battling between themselves behind Nash. They stayed together for awhile, but then Byberg steadily pulled away.
"This race was not a priority for me right now," said Gould, with an eye toward the Olympic Games. "I was conservative. I took it easy in the trees. I didn't want to get hurt. I was going pretty slowly on the first few laps, but overall I was feeling strong and working hard on the climbs."
American Willow Koerber (Subaru / Gary Fisher) put in a strong performance after a tough rest of the season to finish sixth. Her technical skills shone as she rode smoothly over wet roots and rocks that had many others dabbing or running.
Near the end of the race she challenged Gould for the fifth and final place on the podium, but Gould triumphed in the end.
"Willow would catch me by the end of the lap [which was quite technical - ed.], and I'd pull away from her on the climbs," said Gould. "She just glides through and makes it look so easy. Katerina is the same way."
"I could ride most of the singletrack," said a contented Koerber, who seemed to float over the slippery, technical trails. "You know how those races are - there is always something going on - sticks stuck in your cleats and you can't get into gear, but everyone deals with the same thing so you just have to stay calm and not freak out."
"I wanted to feel fine," said Koerber. "I've had a really awful year and had to take a bunch of time off. I'm just finally starting to feel like I can ride my bike again, and I wanted to take advantage of that since there are not many races left this season."
American Lea Davison (Trek / VW) logged her best World Cup finish, for the second weekend in a row. "It was exactly like Vermont when it pours rain there," said Davison, who finished 10th. "I had to relax out there and ride the downhills smoothly. I had to become one with the mud. I got 11th last weekend and before that, my best was 19th."
Although she was listed on the start list, Gunn-Rita Dahle Flesjaa did not take the start.
Photography
For a thumbnail gallery of these images, click here
Images by FJ Hughes / www.fhughesphoto.com
Images by Dave McElwaine/www.trailwatch.net
Images by Marek Lazarski
Results

1 Catherine Pendrel (Can) Luna Womens MTB Team           1.37.43
2 Marie-Helene Premont (Can) Rocky Mountain                 1.53
3 Katerina Nash (Cze) Luna Womens MTB Team                  2.39
4 Lene Byberg (Nor) Specialized Factory Racin               3.56
5 Georgia Gould (USA) Luna Womens MTB Team                  7.06
6 Willow Koerber (USA) Subaru-Gary Fisher                   8.47
7 Tereza Hurikova (Cze) Ceska Sporitelna MTB                9.49
8 Katrin Leumann (Swi)                                      9.53
9 Cécile Rode Ravanel (Fra) Team Lapierre International    10.31
10 Lea Davison (USA) Trek-VW                               10.36
11 Elisabeth Osl (Aut) Team Ghost International                 
12 Mary Mcconneloug (USA)                                  11.50
13 Rosara Joseph (NZl) Team Ghost International            12.34
14 Sabrina Enaux (Fra) Team Lapierre International         13.53
15 Amanda Sin (Can)                                        15.09
16 Laura Metzler (Fra) BH-SR. Suntour                      15.43
17 Jean Ann Mckirdy (Can) Rocky Mountain                   15.59
18 Emiliy Batty (Can)                                      16.07
19 Helene Marcouyre (Fra) BH-SR. Suntour                   17.04
20 Wendy Simms (Can) Kona                                  17.37
21 Rie Katayama (Jpn)                                      17.39
22 Mical Dyck (Can)                                        18.22
23 Marie-Claude Surprenant (Can)                           18.36
24 Laura Turpijn (Ned)                                     20.21
25 Kelli Emmett (USA) Giant Mountain Bike Team             21.27
26 Sandra Walter (Can)                                     23.18
27 Julie Krasniak (Fra) Team Lapierre Internation          24.52
28 Caroline Villeneuve (Can)                               24.54
29 Laura Lorenzamex Morfin Macouzet (Mex)                  25.35
30 Marie Allaire (Can)                                     26.07

Behind one lap

31 Kathleen Villeneuve (Can)                                    
32 Heather Irmiger (USA) Subaru-Gary Fisher                     
33 Carla Salgado Gonzalez (Mex)                                 
34 Catherine Vipond (Can)                                       
35 Véronique Fournier (Can)                                     
36 Mikaela Kofman (Can)                                         
37 Marie Kunst (Den)                                            
38 Kyia Anderson (USA)                                          

Behind two laps

39 Jamie Dinkins (USA)                                          
40 Lisa Morgan (NZl)                                            
DNF Karine Travaillaud (Can)                                    
DNS Gunn-Rita Dahle Flesjaa (Nor)  

Team
 
1 Luna Womens MTB Team            100 pts
2 Rocky Mountain                   49
3 Team Lapierre International      43
4 Team Ghost International         38
5 Specialized Factory Racing       30
6 Bh-Sr. Suntour                   27
7 Subaru-Gary Fisher               26
8 Ceska Sporitelna MTB             24
9 Trek-VW                          21
10 Kona                            11
11 Giant Mountain Bike Team         6

World Cup standings after seven rounds
                             
1 Marie-Helene Premont (Can) Rocky Mountain                           1420 pts
2 Catherine Pendrel (Can) Luna Womens MTB Team                         973
3 Margarita Fullana Riera (Spa) Massi                                  910
4 Georgia Gould (USA) Luna Womens MTB Team                             812
5 Lene Byberg (Nor) Specialized Factory Racing                         780
6 Katerina Nash (Cze) Luna Womens MTB Team                             691
7 Gunn-Rita Dahle Flesjaa (Nor) Multivan Merida Biking Team            630
8 Mary Mcconneloug (USA)                                               583
9 Chengyuan Ren (Chn)                                                  578
10 Tereza Hurikova (Cze) Ceska Sporitelna MTB                          568
11 Ying Liu (Chn)                                                      555
12 Katrin Leumann (Swi)                                                547
13 Sabine Spitz (Ger) Central Ghost Pro Team                           535
14 Elisabeth Osl (Aut) Team Ghost International                        527
15 Petra Henzi (Swi) Fischer-BMC                                       522
16 Cécile Rode Ravanel (Fra) Team Lapierre International               465
17 Irina Kalentieva (Rus) Topeak Ergon Racing Team                     450
18 Nathalie Schneitter (Swi) Colnago Cap Arreghini                     435
19 Blaza Klemencic (Slo) Giant Italia Team                             434
20 Sabrina Enaux (Fra) Team Lapierre International                     421
21 Laurence Leboucher (Fra)                                            405
22 Wendy Simms (Can) Kona                                              376
23 Willow Koerber (USA) Subaru-Gary Fisher                             348
24 Heather Irmiger (USA) Subaru-Gary Fisher                            322
25 Eva Lechner (Ita) Colnago Cap Arreghini                             322
26 Sandra Walter (Can)                                                 318
27 Lea Davison (USA) Trek-VW                                           309
28 Adelheid Morath (Ger)                                               306
29 Laura Turpijn (Ned)                                                 304
30 Tanja Zakelj (Slo)                                                  290
31 Maroussia Rusca (Swi)                                               287
32 Kiara Bisaro (Can)                                                  278
33 Maria Osl (Aut) Sunshine Racers Asv Nals                            241
34 Jingjing Wang (Chn)                                                 239
35 Amanda Sin (Can)                                                    237
36 Nina Homovec (Slo)                                                  235
37 Mical Dyck (Can)                                                    221
38 Laura Metzler (Fra) BH-SR. Suntour                                  205
39 Emiliy Batty (Can)                                                  189
40 Anna Villar Argente (Spa) Massi                                     188
41 Helene Marcouyre (Fra) BH-SR. Suntour                               186
42 Esther Süss (Swi)                                                   180
43 Julie Krasniak (Fra) Team Lapierre International                    171
44 Susan Haywood (USA) Trek-VW                                         163
45 Ivonne Kraft (Ger)                                                  160
46 Jean Ann Mckirdy (Can) Rocky Mountain                               138
47 Marielle Saner-Guinchard (Swi) Bikepark.ch BMC                      132
48 Francisca Campos Salas (Chi) Massi                                  126
49 Githa Michiels (Bel)                                                120
50 Alexandra Engen (Swe)                                               118
51 Laura Lorenza Morfin Macouzet (Mex)                                 116
52 Marie-Claude Surprenant (Can)                                       114
53 Dellys Starr (Aus)                                                  110
54 Julie Bresset (Fra) Breiz Mountain                                  105
55 Rie Katayama (Jpn)                                                  102
56 Caroline Villeneuve (Can)                                           102
57 Arielle Van Meurs (Ned)                                             101
58 Janka Stevkova (Svk)                                                 96
59 Kate Potter (Aus)                                                    85
60 Maja Wloszczowska (Pol) Halls Professional Mtb Team                  85
61 Marie Allaire (Can)                                                  82
62 Carla Salgado Gonzalez (Mex)                                         82
63 Rosara Joseph (NZl) Team Ghost International                         80
64 Mikaela Kofman (Can)                                                 80
65 Kathleen Villeneuve (Can)                                            74
66 Katrin Schwing (Ger) Dolphin-Trek Mountainbike Racing Team           74
67 Séverine Hansen (Fra) BH-SR. Suntour                                 72
68 Maaike Polspoel (Bel)                                                71
69 Véronique Fournier (Can)                                             70
70 Magdalena Sadlecka (Pol) Halls Professional Mtb Team                 70
71 Alison Sydor (Can) Rocky Mountain                                    69
72 Sarah Koba (Swi)                                                     66
73 Catherine Vipond (Can)                                               64
74 Jaqueline Mourao (Bra)                                               64
75 Elsbeth Van Rooij-Vink (Ned) Beone Chainreaction Mountainbiketeam    64
76 Nina Wrobel (Ger) Multivan Merida Biking Team                        64
77 Sandra Santanyes Murillo (Spa) Cemelorca-Seguros10.Com               63
78 Vera Andreeva (Rus)                                                  63
79 Aleksandra Dawidowicz (Pol) Halls Professional Mtb Team              63
80 Marie Kunst (Den)                                                    61
81 Jamie Dinkins (USA)                                                  61
82 Karine Travaillaud (Can)                                             58
83 Kelli Emmett (USA) Giant Mountain Bike Team                          56
84 Lisa Morgan (NZl)                                                    55
85 Kyia Anderson (USA)                                                  54
86 Zoe King (Aus)                                                       50
87 Anna Szafraniec (Pol) Halls Professional Mtb Team                    48
88 Caroline Mani (Fra)                                                  44
89 Fiona Macdermid (GBr)                                                41
90 Joanna Harrington (Aus)                                              40
91 Nataliya Krompets (Ukr)                                              39
92 Cristina Mascarreras Sabria (Spa) Conor - Camping La Siesta          38
93 Emma Colson (Aus)                                                    34
94 Daniella Bunzli Rojas (Chi)                                          33
95 Rocio Gamonal Ferrera (Spa)                                          32
96 Bernardine Boog-Rauwerda (Ned)                                       30
97 Ruth Moll Marques (Spa)                                              29
98 Caitlyn Tuel (USA)                                                   28
99 Kaytee Boyd (NZl)                                                    28
100 Asa Maria Erlandsson (Swe) Subaru-Gary Fisher                       27
101 Sarka Chmurova (Cze) Max Cursor                                     26
102 Julie Sanders (Can)                                                 25
103 Maria Kalnes (Nor)                                                  24
104 Sandra Araujo (Por)                                                 24
105 Kaitlin Michener (Can)                                              23
106 Neus Parcerissas (Spa)                                              23
107 Anja Mcdonald (NZl)                                                 21
108 Laure Boulay (Fra) Team CIBF Keops                                  21
109 Sandra Dolcerocca (Den)                                             17
110 Claudia Seidel (Ger)                                                17
111 Rocio Martin Rodriguez (Spa)                                        15
112 Jennifer Fischer (Fra) Team CIBF Keops                              14
113 Liliana Alejandra Uzcategui Vasquez (Ven)                           12
114 Athina Chatzistyli (Gre)                                            10
115 Yolande Speedy (RSA)                                                10
116 Stephanie Wiedner (Aut)                                              9
117 Hanna Klein (Ger)                                                    9
118 Rowena Fry (Aus)                                                     8

Team standings

1 MS-Intense Factory-Racing                 280 pts
2 4 Elements Yeti/Hotec/RSP                 126
3 Commencal - Furious - Oakley Team         119
4 Suzuki-RB                                 107
5 Animal Commencal                          104
6 Norco World Team                           92
7 Team Ghost International                   80
8 Team Sunn                                  73
9 Cannondale Factory Racing                  64
10 Yeti Fox Shox Factory Race Team           64
11 Kenda Tomac                               56
12 Rocky Mountain UK                         28
13 Team Bike Radar                           19
14 Tomac Factory Racing                       5
15 Chain Reaction Cycles/Intense              5