MTB index page for all MTB content
MTB World Cup XC #1 - CDM
Houffalize, Belgium, April 19-20, 2008
Main Page Results Previous Race Next Race
Race 4 - April 20: Elite women cross country,
Chengyuan Makes It Two in Houffalize
By Luke Webber in Houffalize, Belgium
The women's cross country podium
Photo ©: Luke Webber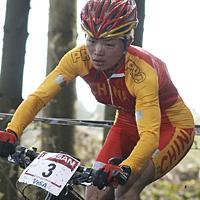 Ren Chengyuan made it two wins from two in this morning's race in Belgium, proving that she is the queen of Houffalize. Celebrating with arms aloft over the finish line this was a win taken in a very different fashion to her 2007 victory. Today's course was made slippery by the weekend's rain and was further cut up by Saturday's support races and eager supporters.
After the race Chengyuan spoke through an interpreter and explained a slow start. "The conditions were very different to the dust of 2007 - it took me some time to get used to the mud," she said. "But on the final two laps I became comfortable and found my rhythm. I could make up the early gap and take the win."
The result not only clinched the World Cup leader's jersey, but also first place in the under-23 competition.
How it unfolded
If you judged on the first lap results however the result was an unexpected one. Margarita Fullana took off from the start and got a large gap on the chasers who could do nothing to stop the assault of the climbing specialist. This attack however was short-lived and soon a group containing Marie Helene Premont, Irina Kalentieva and Georgia Gould set a pace that nobody could keep. Into the penultimate lap it looked like the result would go to one of these protagonists, but Chengyuan had other plans.
A steady start in the mud turned into a fast finish on the unforgiving course of never-ending climbs and descents and soon Kalientieva had to submit her lead. Premont would eventually finish third - she had the most consistent race but when the attacks went suffered a slow puncture and had to make a gas can repair.
Fullana faded to finish fourth while Gould was top American in fifth. Behind, Gunn-Rita Dahle Felsja was making her comeback to international racing with a quiet but concerted attack on the top positions and you can expect her to be back amongst the top ranks very soon.
With such an open race in Houffalize the following two weeks will prove interesting in the women's world cup competition.
Photography
For a thumbnail gallery of these images, click here
Images by Luke Webber
Results
1 Ren Chengyuan (Chn)                                       2.11.06
2 Irina Kalentieva (Rus) Topeak Ergon Racing Team              0.35
3 Marie-Helene Premont (Can) Rocky Mountain                    1.08
4 Margarita Fullana (Spa) Massi                                2.23
5 Georgia Gould (USA) Luna Womens Mtb Team                     2.47
6 Gunn-Rita Dahle Flesjaa (Nor) Multivan Merida Biking Team    4.00
7 Nathalie Schneitter (Swi) Colnago Cap Arreghini              4.13
8 Petra Henzi (Swi) Fischer-Bmc                                4.26
9 Tereza Hurikova (Cze) Ceska Sporitelna Mtb                   5.06
10 Sabine Spitz (Ger) Central Ghost Pro Team                   5.38
11 Elisabeth Osl (Aut) Team Ghost International                5.59
12 Ying Liu (Chn)                                              6.31
13 Catherine Pendrel (Can) Luna Womens Mtb Team                6.39
14 Kiara Bisaro (Can)                                          6.57
15 Sabrina Enaux (Fra) Team Lapierre International             8.17
16 Blaza Klemencic (Slo) Giant Italia Team                     8.36
17 Katrin Leumann (Swi)                                        9.15
18 Mary Mc Conneloug (USA)                                    10.15
19 Esther SŘss (Swi)                                          11.01
20 Nina Wrobel (Ger) Multivan Merida Biking Team              11.54
21 Jingjing Wang (Chn)                                        12.12
22 Heather Irmiger (USA) Subaru-Gary Fisher                   12.42
23 Laurence Leboucher (Fra)                                   12.45
24 Sandra Walter (Can)                                        13.00
25 Katerina Nash (Cze) Luna Womens Mtb Team                   13.36
26 Wendy Simms (Can) Kona                                     14.02
27 Nina Homovec (Slo)                                         14.15
28 Adelheid Morath (Ger)                                      14.33
29 Magdalena Sadlecka (Pol) Halls Professional Mtb Team       14.58
30 Tanja Zakelj (Slo)                                         15.21
31 Aleksandra Dawidowicz (Pol) Halls Professional Mtb Team    16.04
32 Marielle Saner-Guinchard (Swi) Bikepark.Ch Bmc             16.15
33 Laura Turpijn (Ned)                                        16.46
34 Sarah Koba (Swi)                                           16.54
35 CÚcile Rode Ravanel (Fra) Team Lapierre International      17.14
36 Susan Haywood (USA) Trek-Vw                                17.17
37 Bernardine Boog-Rauwerda (Ned)                                  
38 Amanda Sin (Can)                                           17.27
39 Anna Villar Argente (Spa) Massi                            17.51
40 Maria Osl (Aut) Sunshine Racers Asv Nals                   18.01
41 Sarka Chmurova (Cze) Max Cursor                            18.30
42 Helene Marcouyre (Fra) Bh-Sr. Suntour                      18.31
43 Eva Lechner (Ita) Colnago Cap Arreghini                    19.16
44 Willow Koerber (USA) Subaru-Gary Fisher                    20.08
45 Anna Szafraniec (Pol) Halls Professional Mtb Team          20.53
46 Arielle Van Meurs (Ned)                                    21.04
47 Francisca Campos Salas (Chi) Massi                         21.42
48 Julie Bresset (Fra) Breiz Mountain                         22.21
49 SÚverine Hansen (Fra) Bh-Sr. Suntour                       23.05
50 Claudia Seidel (Ger)                                       23.22
51 Ivonne Kraft (Ger)                                              
52 Emma Colson (Aus)                                          24.25
53 Nataliya Krompets (Ukr)                                    24.26
54 Kaytee Boyd (NZl)                                          24.54
55 Kate Potter (Aus)                                          25.01
56 Mical Dyck (Can)                                           25.36
57 Vera Andreeva (Rus)                                        26.01
58 Maaike Polspoel (Bel)                                      29.02
59 Laura Metzler (Fra) Bh-Sr. Suntour                         29.10
60 Caroline Mani (Fra)                                        31.25

One lap behind

61 Sandra Santanyes Murillo (Spa) Cemelorca-Seguros10.Com          
62 Hanna Klein (Ger)                                               
63 Stephanie Wiedner (Aut)                                         
64 Julie Krasniak (Fra) Team Lapierre International                
65 Tory Thomas (Aus)                                               
66 Ksenia Chernykh (Rus)                                           
67 Yolanda Speedy (RSA)                                            
68 Agnes Naumann (Ger)                                             
69 Renata Bucher (Swi)                                             
70 Alexandra Engen (Swe)                                           
71 Oxana Rybakova (Rus)                                            
72 Rowena Fry (Aus)                                                
73 Myriam Saugy (Swi)                                              
74 Asa Maria Erlandsson (Swe) Maria Subaru-Gary Fisher             
75 Susan Butler (USA)                                              
76 Kathrin Stirnemann (Swi)                                        
77 Kristien Nelen (Bel)                                            
78 Katrin Schwing (Ger) Dolphin-Trek Mountainbike Racing Team      
79 Laure Boulay (Fra) Team Cibf Keops                              
80 Sandra Dolcerocca (Den)                                         
81 Zoe King (Aus)                                                  
82 Judith Pollinger (Ita) Sunshine Racers Asv Nals                 
83 Cristina Mascarreras Sabria (Spa) Conor - Camping La Siesta     
84 Hanna Israel (Fra)                                              
85 Monika Heuveling (Ned)                                          
86 Monique Zeldenrust (Ned)                                        

Two laps behind

87 Nina Kunz (Ger)                                                 
88 Maja Wloszczowska (Pol) Halls Professional Mtb Team             
89 Maaris Meier (Est)                                              
90 Inbar Ronen (Isr)                                               
91 Ekaterina Melnikova (Rus)                                       
92 Nancy Bober (Bel)                                               
93 Sabine Bombaert (Bel)                                           
94 Iryna Slobodyan (Ukr)                                           
95 Jennifer Fischer (Fra) Team Cibf Keops                          
96 Karin Groen (Ned)                                               
97 Daniela Bunzli Rojas (Chi)                                      
98 Evgenia Belozerova (Rus)                                        
99 Ingrid Bosscha (Ned)                                            
100 Franciska De Vries (Ned)                                       
101 Karen Brouwer (Ned)                                            
102 Elisabeth Mottet (Bel) Windose Houffalize                      

Three laps behind

103 Kim Vrielink (Ned)                                             
104 Katherine O'shea (Aus)                                         
105 Sofia Shashova (Rus) Format-Udmurtia