MTB index page for all MTB content
Gran Premi Massi - Copa Catalana 8 - 2
Calaf, Spain, September 30, 2007
Trayter and Villar win GP Massi -International Catalan Cup
Trujillo and Bisaro win final event
Juan Pedro Trujillo (Massi)
Photo ©: Eduard Aguilera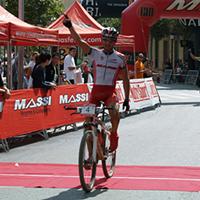 The GP Massi- International Catalan Cup 2007 was won Sunday by Marc Trayter (Spiuk-Tau Ceramic) and Anna Villar (Massi) while Juan Pedro Trujillo (Massi) and Kiara Bisaro (Opus/Ogc) took the wins in the sixth and final round.
Both Trayter and Villar were able to defend their leading position in the overall standings for in the last race, held in Calaf. The final round was blessed with good weather and drew crowds.
Trayter finished fourth in the final. Israel Núnez, third in the overall, did not race due to an injury from a crash two weeks ago, while competing in Vallnord, the last race of the Giant PowerBar Marathon. Juan Pedro Trujillo won the race in 1:37:10, just 37 seconds faster than his team-mate Sergio Mantecón, but 4'24" ahead of third placed Santiago Armero (Graman Valencia).
Both Massi riders escaped from their competitors from the start of the race, battling a close fight between them until the end. Trayter, had a bad start, but kept calm and increased his pace until he worked his way back up to fourth.
In the women's race, the championship was decided before the start of the race because Sandra Santanyes, who was the most dangerous contender for Anna Villar, did not race. Villar's second place in 1:29:49 was more than enough to win the series. Canadian Bisaro won the women's event by just over two minutes; she finished in 1.27.40. Third place for the daywent to Mercé Tusell (Massi).
Photography
For a thumbnail gallery of these images, click here
Images by Eduard Aguilera / Ocisport Serveis
Results
Elite Men

1 Juan Pedro Trujillo (Massi)               1.37.10
2 Sergio Mantecon (Massi)                      0.37
3 Santiago Armero (Graman Valencia)            4.24
4 Marc Trayter (Spiuk-Tau Ceramic)             4.56
5 Martí Gispert (Spiuk-Tau Ceramic)            5.12
6 Francesc Freixer (Starbike-Ghost)            7.19
7 David Molinero (Freebike-St.Jordi)           9.11
8 Ismael Ventura (Ismaventura.Com)            10.15
9 Xavier Viñas (Massi)                        11.33
10 Sergi Escobar (Cool Cycling Bilb)          15.21
11 José Juan Marrase (Central Tuning)         16.11
12 Ivan Segarra (Morenito-Colon In)           17.10
13 Josep Amill (Coluer-Oki-Manava)            17.35
14 Arles De Jes Tabares (Cai)                 18.21
15 Pablo Egeda (Ayala Team)                   18.29
16 Enric Forn (Habital)                       19.30
17 Xavier Jornet (Alc.Viveros Alcan)          22.00
18 Jordi Benavent (Bicisprint-Dolsar)         23.47
19 Jordi Sanmartin (Starbike-Ghost)           25.49
20 Felix Martinez (Gironella)                 30.34
21 Xavier Clopes (Probike Team)               31.55
22 Josep Amblas (Voltrega)                    31.57
23 Pau Reixachs (Allride)                     33.51
Lapped
24 Jordi Lleixa (Bicisport Aubanel)                
25 Ismael Rosillo (Cat Bike)                       
26 Francesc Grau (Bicisport Aubanel)               
27 Albert Juvanteny (Voltrega)                     
28 Ramon Torres (Ayala Team)                       
29 Jose Garcia (Bicicletes Sanc)

Elite Women

1 Kiara Bisaro (Opus/Ogc)                   1.27.40
2 Anna Villar (Massi)                          2.07
3 Mercé Tusell (Massi)                        10.27
4 Cristina Mascarreras (Spiuk-Tau Ceramic)    13.03
5 Mercè Pacios (Bicisprint-Dolsar)            14.28
6 Mariona Catedra (Cycles Ayats-Guix)         19.25
7 Marta Viladoms (Habital)                               
 
U23 Men

1 Dario Gasco (Massi)                       1.44.00
2 Xavier Bosch (Juanito)                      13.23
3 Enric Permanyer (Sanejament Sole)           24.26
4 Sergi Pujabet (Odena-Cicles Anoi)           27.22

U23 Women

1 Francisca Campos (Chile)                  1.33.22
2 Meritxell Roca (Odena-Cicles Anoi)          21.41
3 M´ Del Mar Sancho (Massi)                   23.19
4 Judith Franch (Ambisist-Disarp)             34.36
 
U21 Men

1 Benoit Igoulen (Cube Beaumes)             1.45.49
2 Davidanchu Kolgl (Malibú)                    4.41
3 Josep Puigpinos (Odena-Cicles)               7.34
4 Noel Trillo (Coluer-Oki-Manava)              9.43
5 Joel Martinez (Mobiplus Andorra)            13.22
6 Arnau Planas (Bike Tandem)                  14.57
7 Marc Vivas (Bicisprint-Dolsar)              21.02
Lapped
8 Alvaro Herrera (Bicisprint-Dolsar)               
9 Joan Marc Perarnau (Massi)                       
10 Oriol Badia (Segre- Moto C)                     
11 Eloi Preckler (Massi)                           
12 Zeuxis Romero (A.C. Balcon D)                   
 
Junior Men

1 Umbert Almenara (Freebike-St.Jordi)       1.21.01
2 Eduardo Recasens (Massi)                     0.13
3 Alexandre Couton (Cube Beaumes)              1.20
4 Albert Aubet (Segre- Moto C)                 2.56
5 Eliseo Joaqu Narvaez (Facpyr)                4.11
6 Enrique Morcillo (Illes Balears)             6.06
7 Xavier Gallego (Ambisist-Disarp)             7.14
8 Javier Muñoz (Litoplex-+Bici)                8.40
9 Guillem Pujols (Ambisist-Disarp)            10.44
10 Cristofer Bosque (Habital)                 10.47
11 Tommy Lentini (Cube Beaumes)               13.45
12 Miquel Salom (Illes Balears)               26.12
 
Masters 30 Men

1 Francesc Xa Carnicer (Massi)              1.20.30
2 Josep Betalu (Central Tuning)                0.37
3 Diego Fernandez (Medina Competic)            2.00
4 Xavi Luceño (Bike Tandem)                    3.39
5 Jordi Garrido (Coluer-Oki-Manava)            4.10
6 Antonio Gil (Coluer-Oki-Manava)              4.37
7 Toni Pacios (Bicisprint-Dolsar)              7.06
8 Alberto Jimenez (Medina Competic)                
9 Alejo Moya (Coluer-Oki-Manava)               8.33
10 Sergio Anton Portela (Morenito-Colon)       9.45
11 Carles Torrents (Freebike Sant J)          10.42
12 Alfonso Zafra (Bicisprint-Dolsar)          10.45
13 Mario Sole (Bicisport Aubanel)             10.48
14 Josep Budalles (Nineta.Com)                11.11
15 Sebastian Sureda (Bicicletes Sanc)         11.21
16 Alberto Gavilan (Medina Competic)          12.01
17 David Carneros (Dr. Bike Racing)           12.27
18 Antonio Caballero (Coluer-Oki-Manava)      12.30
19 Carlos Gracia (Probike Team)               12.34
20 Angel Eladio Nuñez (Cau De La Bic)         14.14
21 Jose Capdevila (Tot Vici En Bici)          14.27
22 Pedro Torres (Medina Competic)             15.22
23 Xavier Latorre (Habital)                   16.11
24 Juan Fco. Mercado (Morenito-Colon)         16.42
25 Alfonso Perez (Freebike-St.Jordi)          18.24
26 Angel Moreno (Bicisprint-Dolsar)           24.53
27 Manuel Perello (Diferentbikes R)           25.52
28 Josep Enric Agusti (Cambrils- Pc)          30.38
29 Albert Vera (Litoplex-+Bici)               31.25
30 Marc Villar (Ayala Team)                   33.05
31 Miguel Angel Garcia (Bicisprint-Dolsar)    45.32
 
Cadets

1 Josep Nadal (Coluer-Oki-Manava)             55.10
2 Carlos Sabadell (Tot Bici La Pal)            1.51
3 Adria Noguera (Ambisist-Disarp)              2.45
4 Xavier Domenech (Bicisprint-Dolsar)          3.52
5 Antonio Molina (Illes Balears)               4.31
6 Marc Casellas (Ambisist-Disarp)              5.15
7 Bernat Carbones (Nineta.Com)                 5.44
8 Oriol Domenech (Btt Premia De Dal)           6.04
9 Xavier Canton (Solsones- Btt)                6.13
10 Jorda Cullell (Remiendos)                   7.08
11 Cristian Astals (Bicisprint-Dolsar)         8.15
12 Jordi Canillas (Litoplex-+Bici)             8.40
13 Joshua Garth (Platges De Ca)                8.47
14 Carlos Hidalgo (Bicisprint-Dolsar)         12.29
15 Manel Tirado (Nineta.Com)                  15.30
16 Daniel Rodriguez (Inpanasa)                16.24
17 Cristian Ruiz (Bicicletes Sanc)            16.32
18 Sergi Moreno (Bicisprint-Dolsar)           16.45
 
Veterans 40

1 Fco.Javier Salamero (Ambisist-Disarp)       55.09
2 Eduardo Blasco (Odena-Cicles Anoi)           2.17
3 Javier Navarro (Medina Competic)             2.33
4 Emili Soler (Bike Tandem)                    2.39
5 Isaac Gutierrez (C.C. Alcañiz)               3.27
6 Jordi Vilella (Starbike-Ghost)               4.20
7 Francisco Pozo (Medina Competic)             4.47
8 Carles Josep Nadal (Cicles Tena)             7.24
9 Juan Jose Jimenez (Bicisprint-Dolsar)        7.42
10 Fernando Alonso (Litoplex-+Bici)            7.44
11 Jose Hidalgo (Bicisprint-Dolsar)            7.59
12 Jacint Franch (Tot Vici En Bici)            8.23
13 José Martinez (Bicisprint-Dolsar)           9.50
14 Agustín Millan (Geesteve)                  11.20
15 Miquel Calm (Nineta.Com)                   11.26
16 Jesus Martinez (Sanejament Sole)           11.27
17 Francesc Homs (Cc Granollers)              12.50
18 Pere Schmidt (Massegur-Bici)               14.22
19 Antoni Costa (Bicisprint-Dolsar)           19.23
20 Bernardo Flores (Medina Competic)          19.26
 
Veterans 50 to 60

1 Joan Carbones (Nineta.Com)                1.01.57
2 Ricardo Vela Del (Kandani)                   0.05
3 Antonio Muñiz (Tot Vici En Bici)             1.36
4 Rafel Corrales (Bicisprint-Dolsar)           6.22
5 Manuel Muñoz (Bike Tandem)                   7.12
6 Jose Soler (Cycles Ayats-Guix)              10.32
7 Juan Izquierdo (Cat Bike)                   16.38
8 Joaquim Colomer (Cat Bike)                  18.03
 
Teams

1 Massi                                         737.5 pts
2 Spiuk-Tau Ceramica                            396
3 Bicisprint-Dolsart                            324
4 Ambisist-Disarp                               313.5
5 Odena-Cicles Anoia                            275.5
6 Coluer-Oki-Manaval                            268
7 Freebike-St.Jordi                             208
8 Starbike-Ghost                                194
9 Habital                                       180
10 Bike Tandem                                  164
11 Bicisport Aubanell                            72
12 Ayala Team                                    71