MTB index page for all MTB content
British National Points Series, Round 6 - NE
Innerleithen, Scotland, Great Britain, October 13-14, 2007
Moseley and Atherton win British NPS Downhill final
By Axel Rose
Tracy Moseley
Photo ©: Jon-e Beckett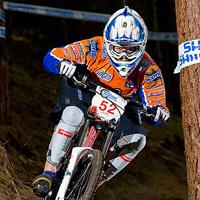 Innerleithen, normally a quiet Scottish Borders town, is often rudely awakened each year by the downhill circus making a visit. The National Points Series (NPS) returned to Innerleithen, which replaced a wet Rugog venue in the series. The track was a mixture of old technical classics and wide open, flat out new era, all with a few little twists to keep the locals on their toes.
Seeding runs happened Saturday, with most racers getting six to seven runs and some getting as many as 10. Saturday night, the Corner House Pub was full of English riders watching England pull the pants down of the French in Rugby before the finals set for Sunday.
Gee Atherton's (Animal Commencal) performance itself was another to behold in the elite men's race. He looked like a man in control as he rolled through the arena. Never ragged, nor on edge and just oozing skill, he made it through cleaner than Marc Beaumont (MBUK/Santa Cruz) and as the clock stopped with a 2.7 seconds lead, that was just confirmation of what the spectators already knew. Ben Reid (Iron Horse) rounded out the top three.
Tracy Moseley (Kona Les Gets) won the women's elite race ahead of Rachel Atherton (Animal / Commencal) and Helen Gaskell (Halfords Bike Hut).
Another notable performance was from Danny Hart in the Youth category who managed a time only eight seconds shy of Gee Atherton and less than two seconds shy of the current Junior World Champion two years his senior. Hart will move up to the junior category next year, but he's already got five years of racing under his belt.
Late in the year it may be, but the weather proved to be superb all weekend. A little mid-week rain left the top section of trees nice and greasy to keep skills in check and helped the newly cut middle section hold together as it was ridden in on Saturday. A few light showers on Saturday didn't affect things much and the track went from looking a little thrown together when walked on Friday night to a track which rode with good flow. Although tracks have been evolving at Innerleithen for over 15 years and top riders from all over the world have made a visit at some point in their careers, the latest chapter in it's history is that a chairlift is being considered to boost its facilities and increase the potential for more tracks and more riders.
Marc Beaumont
Photo ©: Jon-e Beckett

After a leisurely ride to the top in a coach and a slightly less leisurely push through the forest to the start of the track, you are met with the clearing from which virtually all the tracks start. This one started off fast, down through a break in the trees before firing you into the tight, greasy and rooty woods to the side. This was sideways fun although many overcooked the first left hander in their races and ended up pointing the wrong way. Survive that and dive through a gap between two trees, get on the gas and launch into oblivion down the quarry wall before launching into darkness from the road jump. This is now into traditional Innerleithen territory with the 39 steps. Damp, dark, rooty and tight to the trees with your shoulders grazing them on more than one occasion each run. This then cuts into a new link section, full of tight yet carvable turns on the loose gravely surface that makes this hill so special. Drop across the bridleway after turning across the camber on the roots and you get the smallest of rest bites before plunging back into the trees and into more flat out, tight lines cutting through the trees and across the furrows. From the mini-whoops that the furrows provide, next is one of the newer tracks and with it, a different character: wide and man-made. Straight into a double, a step down and then a 100m long chute into a fly off that most went around, most that is except for Youth rider, Danny Hart who was just about making terra firma before the next take off. Hit two doubles short and steep enough to be dirt jumps and back into the trees but mercifully not as tight as those further up.
Full of small drops, flowing single-track with multiple lines and bus stops galore, the trail constantly dives from wide back into trees. Three low jumps precede the arrival in a tight finish arena. The course travels from an eight foot wide smooth trail to a rough, rutted and rooty straight 30ft long loose, bermed 90 degree corner. Top guys were finishing the run in just under two minutes, and the average was between 3'25" and 3'40".
Photography
For a thumbnail gallery of these images, click here
Images by Jon-e Beckett Descent - World
Results
Elite Women

1 Tracy Moseley (Kona Les Gets)                       
2 Rachel Atherton (Animal/Commencal)                  
3 Helen Gaskell (Halfords Bike Hut)                   
 
Elite Men

1 Gee Atherton (Animal/Commencal)                     
2 Marc Beaumont (MBUK/Santa Cruz)                     
3 Ben Reid (Iron Horse)                               

Juvenile

1 Mark Scott (Ecosse DH Racing)                       
2 Lewis Buchanan (Dust-till-dawn/Last Bikes)          
3 Fraser McGlone                                      
 
Youth

1 Danny Hart (Balfa UK)                               
2 Alastair Wilson (Ancillotti UK)                     
3 Bernard Kerr (Extreme Medical)                      
  
Junior

1 Ruaridh Cunningham (Bike Love Glasgow)              
2 Chris Hutchens                                      
3 Ben Ineson                                          
 
Senior

1 Timothy Williams (Alpine Bikes)                     
2 Jack Reading                                        
3 Tom Rodgers (All Terrain Cycles)                    
 
Masters

1 David Tallontire (Biking Heaven/Uplift Scotland)    
2 Chris Whitfield (Leisure Lakes)                     
3 Sion Jones (Electric/Santa Cruz)                    
 
Veterans

1 Paul French (Ancillotti UK)                         
2 Martin Crocket                                      
3 Alastair MacLennan (Off Beat Bikes)                 
 
Non-Elite Women

1 Katy Curd (Giant)                                   
2 Aimee Dix (Team Skene)                              
3 Monet Adams (Descent-Gear.com)         
 
Expert Men

1 Billy Cheetham (Syncros Electric)                   
2 Nikki Whiles (Team Skene)                           
3 Rich Thomas (Ancillotti UK)