MTB index page for all MTB content
International Alb-Gold Trophy - 2
Münsingen, Germany, October 7, 2007
Genze and Schwing triumph
Team ALB-GOLD races
Photo ©: Team ALB - Gold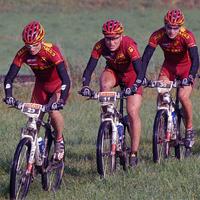 Hannes Genze (Team ALB Gold) and Katrin Schwing (RSC Neustadt) won the International Alb-Gold Trophy in radiant autumn weather. It was the last race of the year for some on German soil, so many racers were motivated to end the season on a high note. Especially those on Team ALB Gold, as their team's sponsor was also backing the race. The team did well with three of four top spots in the men's race and a second place in the women's race.
ALB Gold controlled the men's race from the start. One of the team's riders, Torsten Marx, was among those who intensified the pace early and helped to thin out the men's peloton. "After approximately 40 kilometers comes a quite steep short rise. There I tried it then and Hannes and I got away," said Marx. "At the mountain I could ride well, but on the last kilometers, it was then simply the faster person won." Marx finished second, 30 seconds behind Genze.
Urs Huber (Team-Stoeckli-Craft) finished third place ahead of Tim Böhme, another ALB Gold racer. The men covered the 100km race in a fast pace - over 30km per hour.
Women's podium
Photo ©: Team ALB - Gold

In the women's race Schwing (RSC Neustadt) and Gabi Stanger (Team ALB-GOLD Mountainbike) spent most of the day together off the front. Between Münsingen and Trochtelfingen, the two traded leads and put a large gap on chasers. The two were separated only by a one second gap with Schwing taking the win.
"I was not today really well... . Therefore the divided first place goes in order," said Stanger after the race. Kerstin Brachtendorf (Fiat Rotwild) finished third and rounded out the women's podium.
Photography
For a thumbnail gallery of these images, click here
Images by Team ALB - Gold
Results, 110km
Elite Men

1 Hannes Genze (Team ALB-GOLD Mountain)                      3.38.19 (30.23 km/h)
2 Torsten Marx (Team ALB-GOLD)                                  0.30
3 Urs Huber (Team-Stoeckli-Craft)                               3.12
4 Tim Böhme (Team ALB-GOLD)                                     3.50
5 Lukas Kubis (Best-Bike-Parts /Chemobau)                       8.04
6 Benjamin Rudiger (Team Rothaus Cube)                         11.06
7 Uwe Hardter (TSG Münsingen Radsport)                         11.09
8 Jochen Kaess (Team ALB-GOLD)                                 11.31
9 Karl Moll (Bike Station Blaubeuren)                          12.44
10 Stefan Sahm (Team Bulls)                                    15.59
11 Martin Lang (Team Atlas Romer's Hausbäck)                   21.20
12 Roland Golderer (Team TEXPA-Simplon)                        21.26
13 Matthias Ball (TV Mosbach)                                  21.48
14 Alexander Miano (Team Seeberger)                            22.04
15 André Ohndorf (Best-Bike-Parts / Chemobau)                  22.15
16 Matthias Leisling (Ghost-Hinterschwepfinger)                30.32
17 Marcel Reiser (Gonso-Rawoflex-Team)                         31.54
18 Christoph Leisling (Ghost-Hinterschwepfinger)               33.42
19 Herbert Lorch (VFL Pfullingen)                              34.00
20 Klaus Dinser (Spaichingen)                                  34.41
21 Gerhard Häberle (www.team-woba/scott)                       35.07
22 Christian Schneidawind (TEXPA-Simplon)                      35.13
23 David Voll (Team TEXPA-Simplon)                             35.14
24 Alexander Pscheidl (Team TEXPA-Simplon)                          
25 Thomas Schrenk (Sc-Willingen Team Texpa)                    35.15
26 Roland Matter (Bike Sport Matter)                           37.02
27 Bastian Speckle (KONA-NISSAN-Bike-Ranc)                     37.19
28 Jochen Nägele (Radhaus Winterlingen/Cann)                   38.51
29 Frank Schneider                                             39.26
30 Sascha Schwindling (Endorfin -Solvis)                       43.09
31 Niclas Kopp (BSG Sparkasse Ulm)                             43.30
32 Stefan Nädelin (IGL Reutlingen)                             44.14
33 Frank Düll (RV Göntringen)                                  44.47
34 Michael Löffler (Team Injoy.Mabitz)                         45.19
35 Jörg Beck (SV Erpfingen)                                    46.09
36 Gertjan Kanters                                             48.43
37 Bernd Bittmann                                              48.57
38 Norbert Hock (RV Send)                                      50.03
39 Ralf Hübler (Team Carthago)                                 50.18
40 Matthias Schmid                                             50.57
41 Martin Luippold                                             52.33
42 Ulrich Beger (SRS pro Sportler)                             54.14
43 Michael Venske                                              55.56
44 Alexander Bochtler (Bike-Team Laichingen)                   57.13
45 Hans-Jürgen Ammann (Vo dr Alb ra)                           59.35
46 Ronny Riedel (SC Truchtelfingen)                            59.39
47 Thomas Eisele (Team Albstrambler)                         1.00.47
48 Alexander Braun                                           1.00.55
49 Josef Löffler (Vo dr Alb ra)                              1.02.42
50 Christian Lindner                                         1.03.22
51 Werner Dr. Bader (Bad Waldsee)                            1.04.08
52 Rene Bollinger (Bike Sport Matter)                        1.09.55
53 Stefan Lorch                                              1.09.58
54 Hubert Zickl (Byzickl)                                    1.10.23
55 Alexander Kumpf (AC Weinheim Team Berg MHHL 09:00:11      1.12.06
56 Christian Nebel (Biketeam Stenger)                        1.12.18
57 David Müller (RSV Edelweiss Hartung)                      1.12.44
58 Detlef Buser (Die Pulloverschweine)                       1.12.58
59 Robert Frießnegg                                          1.13.56
60 Oliver Hirsch                                             1.14.16
61 Andreas Hahn (Die Pulloverschweine)                       1.14.17
62 Uwe Siebert (HJC-Bike-Studio.de)                          1.14.37
63 Michaoj Hübelstein                                        1.15.01
64 Lars Köhler (RC Hühnerbein)                               1.17.38
65 Michael Beck (Radhaus Winterlingen                        1.18.04
66 Nico Weller (HeilbRunners on the bike)                    1.18.12
67 Christian Heidl (Leucate Pirates)                         1.18.15
68 Roman Hölzle (Zweirad Bäuml                               1.18.16
69 Andreas Decker                                            1.20.31
70 Matthäus Lorenz(Zwiefalter Klosterbräu)                   1.20.40
71 Günter Wittmann (Einzelfahrer)                            1.20.46
72 Thomas Beiersdörfer (ASV Triathlon Landau/ MM1L           1.20.49
73 Andreas Ulrich (Warndt-Biker)                             1.22.00
74 Olaf Jahn                                                 1.22.04
75 Wolfgang Kaim                                             1.22.34
76 Stefan Koller                                             1.24.07
77 Ronald Stolze                                             1.24.30
78 Andreas Herkommer (ToolsForBikes.de)                      1.25.30
79 Clemens Huber                                             1.25.53
80 Klaus Jeutter                                             1.26.59
81 Gerhard Rainer                                            1.27.11
82 Norbert Fischer (Uphill)                                  1.27.38
83 Frank Porysiak (MTB-Club Pfullingen)                      1.28.37
84 Robert Doldinger (Tour de Trance) MHHL 09:00:11           1.29.42
85 Thomas Fiedler (RSG Würzburg)                             1.30.21
86 Jörg Schmid (RV Gomaringen Team Axel                      1.31.27
87 Sven Hennauer (Fahrrad Holzer)                            1.32.02
88 Jan Edel                                                  1.33.31
89 Arnold Planker                                            1.34.34
90 Joachim Zepf (VFL Pfullingen Triathlon)                   1.35.30
91 Hannes Ensminger                                          1.35.49
92 Elmar Mauthe (Schwabenpfeile.de)                          1.37.26
93 Oliver Schulz                                             1.38.14
94 Mike Müller                                               1.38.26
95 Michael Gerz (MGS Westerwald)                             1.40.46
96 Ralf Schmidt (SG Dettingen Erms)                          1.42.14
97 Florian Eisele (TSV Ertingen)                             1.43.20
98 Dietmar Walter (Lucky Rider)                              1.46.37
99 Roland Wolf (TC Trailsurfer)                              1.46.53
100 Torsten Schidzick (Die Tachycarden)                      1.47.45
101 Reiner Künzel (SC Truchtelfingen)                               
102 Jürgen MM1L Clausecker                                   1.48.16
103 Frank Hasler (RV Gomaringen/Team Axel                    1.48.25
104 Michael Gnannt                                           1.48.42
105 Christian Lemke                                          1.49.33
106 Claus Hoffmann (SPFR Starzeln)                           1.50.16
107 Karl Stumpf (VfR Waldkatzenbach)                         1.51.15
108 Wolfgang Zangerl                                         1.52.13
109 Manfred Lendle                                           1.53.15
110 Willi Niethammer (Team EWE)                              1.54.15
111 Jens Köhler (RC Hühnerbein)                              1.54.16
112 Klaus Pröpstler (Sportfreunde Starzeln) MM1L             1.57.43
113 Thomas Zöberer (Ski und Rad Neckartenzlin)               1.58.51
114 Dieter Coconcelli                                        1.58.53
115 Hermann Schaible (Mister Bike, Pforzehim)                1.58.54
116 Thomas Merten (Team IPWS Sigmaringen)                    2.06.37
117 Thomas Schmidt                                           2.06.57
118 Jürgen Böhringer (Windschattenschleicher)                2.07.24
119 Marco Käppler (BSG Sparkasse Ulm)                        2.13.38
120 Volkhard Wenzel (IGL Reutlingen)                         2.16.10
121 Joachim Löffel                                           2.16.34
122 Hermann Oesterle (Freerider Kochertal)                   2.18.44
123 Andreas Pfrommer                                         2.19.06
124 Adrian Weißhäuptel                                       2.24.52
125 Hendrik Haddorp (Ritzelquäler)                           2.26.03
126 Albin Abt (RV Adler Empfingen)                           2.27.27
 
Elite Women

1 Katrin Schwing (RSC Neustadt)                              4.30.14 (24.42 km/h)
2 Gabi Stanger (Team ALB-GOLD Mountainb.)                       0.01
3 Kerstin Brachtendorf (Fiat Rotwild)                           5.13
4 Tatjana Dold (Team Fuji-Bikes)                               22.40
5 Astrid Wagner (MTBC Wehrheim)                                31.17
6 Rebecca Burbach (Team Steinlach -Wiesaz)                     46.21
7 Stefanie Hock (RV Send)                                      51.51
8 Stefanie Hartmaier (SC Truchtelfingen)                       55.51
 
Men Hobby

1 Karl Moll (Bike Station Blaubeuren)                        3.51.03
2 Alexander Miano (Team Seeberger)                              9.20
3 André Ohndorf (Best-Bike-Parts / Chemobau)                    9.31
4 Thomas Schrenk (Sc-Willingen Team Texpa-Simplon 09:00:11     22.31
5 Jochen Nägele (Radhaus Winterlingen/Cannondale)              26.07
6 Niclas Kopp (BSG Sparkasse Ulm)                              30.46
7 Michael Löffler (Team Injoy.Mabitz)                          32.35
8 Gertjan Kanters                                              35.59
9 Bernd Bittmann                                               36.13
10 Martin Luippold                                             39.49
11 Ulrich Beger (SRS pro Sportler)                             41.30
12 Alexander Bochtler (Bike-Team Laichingen)                   44.29
13 Thomas Eisele (Team Albstrambler)                           48.03
14 Alexander Braun                                             48.11
15 Christian Lindner                                           50.38
16 Stefan Lorch                                                57.14
17 Alexander Kumpf (AC Weinheim Team Bergstraße)               59.22
18 Christian Nebel (Biketeam Stenger)                          59.34
19 David Müller (RSV Edelweiss Hartung)                      1.00.00
20 Oliver Hirsch                                             1.01.32
21 Uwe Siebert (HJC-Bike-Studio.de)                          1.01.53
22 Lars Köhler (RC Hühnerbein)                               1.04.54
23 Nico Weller (HeilbRunners on the bike)                    1.05.28
24 Christian Heidl (Leucate Pirates)                         1.05.31
25 Roman Hölzle (Zweirad Bäuml                               1.05.32
26 Andreas Decker                                            1.07.47
27 Olaf Jahn                                                 1.09.20
28 Stefan Koller                                             1.11.23
29 Ronald Stolze                                             1.11.46
30 Gerhard Rainer                                            1.14.27
31 Frank Porysiak (MTB-Club Pfullingen)                      1.15.53
32 Robert Doldinger (Tour de Trance)                         1.16.58
33 Jörg Schmid (RV Gomaringen Team Axel                      1.18.43
34 Sven Hennauer (Fahrrad Holzer)                            1.19.18
35 Elmar Mauthe (Schwabenpfeile.de)                          1.24.42
36 Mike Müller                                               1.25.42
37 Ralf Schmidt (SG Dettingen Erms)                          1.29.30
38 Florian Eisele (TSV Ertingen)                             1.30.36
39 Torsten Schidzick (Die Tachycarden)                       1.35.01
40 Reiner Künzel (SC Truchtelfingen)                                
41 Michael Gnannt                                            1.35.58
42 Christian Lemke                                           1.36.49
43 Wolfgang Zangerl                                          1.39.29
44 Jens Köhler (RC Hühnerbein)                               1.41.32
45 Thomas Zöberer (Ski und Rad Neckartenzlingen)             1.46.07
46 Thomas Merten (Team IPWS Sigmaringen)                     1.53.53
47 Jürgen Böhringer (Windschattenschleicher)                 1.54.40
48 Marco Käppler (BSG Sparkasse Ulm)                         2.00.54
49 Andreas Pfrommer                                          2.06.22
50 Adrian Weißhäuptel                                        2.12.08
51 Hendrik Haddorp (Ritzelquäler)                            2.13.19

Women Hobby

1 Stefanie Hartmaier(SC Truchtelfingen)                      5.26.05
 
Men Licensed

1 Hannes Genze(Team ALB-GOLD Mountainb.)                     3.38.19
2 Torsten Marx(Team ALB-GOLD)                                   0.30
3 Urs Huber(Team-Stoeckli-Craft)                                3.12
4 Tim Böhme(Team ALB-GOLD)                                      3.50
5 Lukas Kubis(Best-Bike-Parts / Chemobau)                       8.04
6 Benjamin Rudiger(Team Rothaus Cube)                          11.06
7 Uwe Hardter(TSG Münsingen Radsport)                          11.09
8 Jochen Kaess(Team ALB-GOLD)                                  11.31
9 Stefan Sahm(Team Bulls)                                      15.59
10 Martin Lang(Team Atlas Romer's Hausbäckerei)                21.20
11 Roland Golderer(Team TEXPA-Simplon)                         21.26
12 Matthias Leisling(Ghost-Hinterschwepfinger)                 30.32
13 Marcel Reiser(Gonso-Rawoflex-Team)                          31.54
14 Christoph Leisling(Ghost-Hinterschwepfinger)                33.42
15 Christian Schneidawind(TEXPA-Simplon)                       35.13
16 David Voll(Team TEXPA-Simplon)                              35.14
17 Alexander Pscheidl(Team TEXPA-Simplon)                           
18 Bastian Speckle(KONA-NISSAN-Bike-Ranch)                     37.19
19 Sascha Schwindling(Endorfin -Solvis)                        43.09
20 Matthias Schmid                                             50.57
21 Ronny Riedel(SC Truchtelfingen)                             59.39

Women Licensed

1 Katrin Schwing(RSC Neustadt)                               4.30.14
2 Gabi Stanger(Team ALB-GOLD Mountainb.)                        0.01
3 Kerstin Brachtendorf(Fiat Rotwild)                            5.13
4 Tatjana Dold(Team Fuji-Bikes)                                22.40
5 Astrid Wagner(MTBC Wehrheim)                                 31.17
6 Rebecca Burbach(Team Steinlach -Wiesaz)                      46.21
 
Masters Men I

1 Matthias Ball (TV Mosbach)                                 4.00.07
2 Herbert Lorch (VFL Pfullingen)                               12.12
3 Klaus Dinser (Spaichingen)                                   12.53
4 Gerhard Häberle (www.team-woba/scott)                        13.19
5 Roland Matter (Bike Sport Matter)                            15.14
6 Frank Schneider                                              17.38
7 Stefan Nädelin (IGL Reutlingen)                              22.26
8 Frank Düll (RV Göntringen)                                   22.59
9 Jörg Beck (SV Erpfingen)                                     24.21
10 Norbert Hock (RV Send)                                      28.15
11 Ralf Hübler (Team Carthago)                                 28.30
12 Michael Venske                                              34.08
13 Werner Dr. Bader (Bad Waldsee)                              42.20
14 Rene Bollinger (Bike Sport Matter)                          48.07
15 Hubert Zickl (Byzickl)                                      48.35
16 Detlef Buser (Die Pulloverschweine)                         51.10
17 Robert Frießnegg                                            52.08
18 Andreas Hahn (Die Pulloverschweine)                         52.29
19 Michaoj Hübelstein 09:00:11                                 53.13
20 Michael Beck (Radhaus Winterlingen                          56.16
21 Günter Wittmann (Einzelfahrer)                              58.58
22 Thomas Beiersdörfer (ASV Triathlon Landau/Pfalz)            59.01
23 Andreas Ulrich (Warndt-Biker)                             1.00.12
24 Wolfgang Kaim                                             1.00.46
25 Andreas Herkommer (ToolsForBikes.de)                      1.03.42
26 Clemens Huber                                             1.04.05
27 Klaus Jeutter                                             1.05.11
28 Norbert Fischer (Uphill)                                  1.05.50
29 Jan Edel                                                  1.11.43
30 Arnold Planker                                            1.12.46
31 Joachim Zepf (VFL Pfullingen Triathlon)                   1.13.42
32 Hannes Ensminger                                          1.14.01
33 Oliver Schulz                                             1.16.26
34 Michael Gerz (MGS Westerwald)                             1.18.58
35 Dietmar Walter (Lucky Rider)                              1.24.49
36 Roland Wolf (TC Trailsurfer)                              1.25.05
37 Jürgen Clausecker                                         1.26.28
38 Frank Hasler (RV Gomaringen/Team Axel                     1.26.37
39 Claus Hoffmann (SPFR Starzeln)                            1.28.28
40 Manfred Lendle                                            1.31.27
41 Willi Niethammer (Team EWE)                               1.32.27
42 Klaus Pröpstler (Sportfreunde Starzeln)                   1.35.55
43 Dieter Coconcelli                                         1.37.05
44 Thomas Schmidt                                            1.45.09
45 Joachim Löffel                                            1.54.46
46 Albin Abt (RV Adler Empfingen)                            2.05.39

Women Masters I

1 Stefanie Hock(RV Send)                                     5.22.05
 
Masters Men II

1 Hans-Jürgen Ammann(Vo dr Alb ra)                           4.37.54
2 Josef Löffler(Vo dr Alb ra)                                   3.07
3 Matthäus Lorenz(Zwiefalter Klosterbräu)                      21.05
4 Thomas Fiedler(RSG Würzburg)                                 30.46
5 Karl Stumpf(VfR Waldkatzenbach)                              51.40
6 Hermann Schaible(Mister Bike, Pforzehim)                     59.19
7 Volkhard Wenzel(IGL Reutlingen)                            1.16.35
8 Hermann Oesterle(Freerider Kochertal)                      1.19.09