Recently on Cyclingnews.com
MTB index page for all MTB content
Australian MTB Series - NE
Eagle Park, South Australia, Australia, November 3-4, 2007
Main Page Results Previous Race Next Race
Race 2 - November 3: Olympic Cross Country
Jongewaard takes home soil spoils
Chris Jongewaard taking the win
Photo ©: Evan Jeffery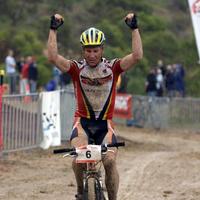 Current National Champion Chris Jongewaard from Adelaide proved local course knowledge was an advantage in the Elite Men's race. Jongewaard took over the lead in the first lap but started to suffer in boggy conditions.
"I thought I might have gone out too hard at the start," he said. "On the second lap I backed it off a bit. Then Sid (Taberlay) caught me."
After the first lap the 28 year-old professional rider then decided to get serious and ride his own race. Jongewaard was challenged by Tasmania's Taberlay in the second and third laps, however Jongewaard pushed ahead in the last half of the six lap race to win in two hours and five minutes.
Athens Olympian Sid Taberlay found himself in second place with Dylan Cooper threatening to gain time in the second last lap. Taberlay was last season's overall leader with Dylan Cooper second overall and positions remained unchanged.
In the Men's Under 23 division Canberra's Ben Henderson stayed away from Victoria's Cal Britten to take the win. Gold Coast's Dave Whitney showed good form by taking third.
Rowena fries the competition
Tasmania's Rowena Fry deep in thought
Photo ©: Evan Jeffery

Tasmania's Rowena Fry won her first National Cross Country Olympic race today in just her second season by winning the first round of the National Mountain Bike Series at Eagle Park in Adelaide. Despite muddy conditions, the 24 year-old from Launceston set the pace in the first of four laps and won in a time of 1 hour 42 minutes. Since joining the Australian Sports Commission program to develop females in the sport for the London Olympics, Fry has blossomed under the 'Dirt Roads to London Program' by also winning the national marathon championship in July.
Pleased with her current form and results Fry predicts that the women's racing this season will be close. "There is going to be good racing all season. We are all close," she said. "Tory (Thomas) came past me a few times and we were jostling to get onto the single track first."
"I'm riding technically a lot better and I'm a lot fitter so now I can concentrate on what I'm doing," Fry added.
Current National Champion Tory Thomas,
Photo ©: Evan Jeffery

Newcomer to the national season, Jodie Willett from Brisbane placed second after passing Sydney's strong Zoe King and National Champion, Victorian Tory Thomas in the final lap.
Sydney's Zoe King was unable to repeat last year's performance by winning the first race of the season and placed third. Current National Champion and last season's overall leader, Tory Thomas finished in fourth after suffering mechanical trouble
Local rider Terri Rhodes made it into sixth place in the early laps, but the exertion saw her fade and finish a creditable 20th. Rhodes however placed first in the Under 23 division with second going to Anna Beck from Harbourd.
Photography
For a thumbnail gallery of these images, click here
Images by Evan Jeffery/www.evanjeffery.com.au
Results
Elite Men
 
1 Chris Jongewaard (Avanti Bikes/JT cycles/Shimano)                                 2.05.32
2 Sid Taberlay                                                                         2.01
3 Dylan Cooper (Conceptis.com.au, Fictive.com.au, Swell Design)                        2.32
4 shaun lewis (Mongoose, SRAM, Crank Brothers, MAXXIS, Smith Optics)                   3.31
5 Aiden Lefmann (Cannondale. Sram, oakley, maxxis, scud)                               3.53
6 Ben Henderson (Mongoose, SRAM, Maxxis, Crank Brothers, Adidas Eyewear)               5.20
7 Cal Britten(U23) (KONA/MT BULLER FACTORY TEAM & Victorian Institute of Sport)        5.43
8 Ben Mather (ORBEA, WileyX eyewear, BiKE RiDE)                                        9.23
9 John Claxton (Giant, Nightlightning, Geax, DIY MTB,)                                 9.36
10 David Whitney (Merida, advance traders, Gus MacAnally acupuncture)                  9.40
11 Glenn Stewart (cannondale, sram, maxxis tyres, sugio clothing, oakley, enervit)    10.22
12 Andrew Blair (Giant Bicycles, Spearman Cycles, Maxxis Tyres)                       12.17
13 Ben Grieve-Johnson                                                                 13.10
14 Paul Traynor                                                                       18.42
15 dave merritt (standish cycles unley)                                               20.14
16 Mark Fenner (Specialized Total Rush, High Five)                                    20.45
17 Camm Winn (MafiaRacing.com)                                                        22.22
18 Steele von Hoff (TORQ Performance Nutrition)                                       23.22
19 Ashley Wass                                                                        25.03
20 Ben Hogarth (Mitcham Cycle Centre, Scott Bikes)                                    25.21
21 Scott Liston (Apollo Bicycles, Michelin, TEC)                                      25.27
22 Luke Graydon (CORC)                                                                28.38
23 Phillip Haughton                                                                   28.43
Two laps down
24 Paul VanderPloeg (Kona Mt Buller Factory Team)                                          
Three laps down
25 Gavin Finlay (ashgrovecycles.com)                                                       
DNF Ian McGraw (Clipsal Domain)                                                            
DNF Travis Frisby (Gawler Cycles, SASI)                                                    
DNF Mark Flood                                                                             
DNF Darren O'Grady (continental tyres rudy project helmet / glasses)                       
DNF Josh Keep (Race Elements For The Riders)                                               
DNS Sam Bach (Total Rush, Specialized Concept Store)                                       
 
Elite Women
 
1 Rowena Fry (ORBEA, WileyX eyewear)                                                1.42.29
2 Jodie Willett (E'Discovery Tools; River City Cycles)                                 0.26
3 Zoe King ( Maxxis,Sugoi,Oakley,Cateye,Scud,Enervit,USM)                              0.51
4 Tory Thomas (TORQ, Orbea, Sram, Polar, Oakley, Hutchinson, VIS)                      4.24
5 Imogen Smith                                                                         5.25
6 Katherine O'Shea (Fitzroy Cycles, PowerBar, Michelin and X-Bionics)                  5.40
7 Julie Blake                                                                          5.41
8 Katrin Van der Spiegel (Trek, Clarence Street Cyclery)                                   
9 Rosemary Barnes (Giant Bicycles)                                                     6.49
10 Rebecca Armstrong (Cyclemania North Perth)                                          7.46
11 Jenni King (spoke(n) tune)                                                          8.16
12 Emma colson (Giant Bicycles, Topbike Tours, Geax Tyres)                             8.32
13 Jo Wall (A & I Helicopter Services)                                                 9.03
14 Jacqui Hickey (Spoke(n))                                                            9.20
15 Claire Haugh (TORQ)                                                                10.12
16 Jayne Rutter (BIOMECHANICS CYCLES AND REPAIRS)                                     12.57
17 Claire Graydon (TORQ Australia, Mal-Adjusted bicycles)                             13.05
18 Bronwyn Ryan (Bicycle Superstore)                                                  14.54
19 Philippa Rostan                                                                    15.31
20 Therese Rhodes (Trek, Exact Mining Services)                                       17.37
21 Lee Schultz                                                                        19.24
22 Merridy Pearce                                                                     23.26
23 Anna Beck (King Of The Mountain Cyclery)                                           25.03
DNF Lindsay Gorrell (Clarence St Cyclery McGee's Cycling Store TREK Australia)             
DNF Jayne Grubits (Bicycle Superstore)                                                     
 
Expert Men
 
1 Josh Carlson (Spearman Cycles)                                                    1.57.09
2 Stuart Keep (Sram rockshox Trivative)                                                1.44
3 Adrian Whitworth                                                                     3.35
4 Tom Cree                                                                             5.55
5 Thomas Burford                                                                       7.54
6 KYM GRIVELL (ALDGATE BIKE SHOP)                                                      9.50
7 Chris Fryer                                                                         10.49
8 Marty Krieg                                                                         13.18
9 Darren Smith                                                                        17.53
10 Joel Ryan                                                                          22.21
DNF Ben Patrick                                                                            
DNF David Kubler                                                                           
 
Masters Women
 
1 Michelle Watkin                                                                   1.30.06
 
U19 Women
 
1 Rebecca Henderson                                                                 1.25.08
2 Shelly Flood                                                                         8.27
 
Veteran Women
 
1 Kim Harrop                                                                        1.45.48
 
Sport Women
 
1 Sarah Holmes                                                                      1.14.34
2 Mandee Theil                                                                         0.20
DNF Kylie Webb                                                                             
 
S/Masters Men
 
1 Brian Scarborough                                                                 1.21.12
2 Neville George                                                                       1.05
3 John Allison                                                                         4.39
4 Nick Tilbrook                                                                        4.47
5 Andrew Tupalski                                                                     15.14
One lap down
6 Dez Clarke                                                                        1.22.03
Did Not Finish
DNF Malcolm Robertson                                                                      
DNF Simon Playfair                                                                         
 
Masters Men
 
1 Evan James                                                                        1.16.57
2 Matt Sanderson                                                                       1.03
3 Alan Carpenter                                                                       2.51
4 John Henderson                                                                       4.15
5 Mark Lewis                                                                           5.29
6 Craig Peacock                                                                        5.38
7 Tim McGrath                                                                          6.13
8 Stephen Leske                                                                       11.09
9 Craig Watkin                                                                        14.40
10 Tim Ellison                                                                        23.54
11 Brian Sandercock                                                                   34.26
DNF Baden Brosnan                                                                          
DNF Paul Reed                                                                              
DNF Tim Bellotti                                                                           
DNS Olav Marold                                                                            
 
S/Masters Men
 
1 Brian Scarborough                                                                 1.21.12
2 Neville George                                                                       1.05
3 John Allison                                                                         4.39
4 Nick Tilbrook                                                                        4.47
5 Andrew Tupalski                                                                     15.14
One lap down
6 Dez Clarke                                                                        1.22.03
DNF Malcolm Robertson                                                                      
DNF Simon Playfair                                                                         
 
U15 Men
 
1 Luke Ellison                                                                      1.03.17
2 Jack Allison                                                                      1.10.12
DNS Trent Ellison                                                                          
 
U17 Men
 
1 Michael Baker                                                                     1.12.39
2 Liam Melville                                                                        3.33
3 Ryan MacAnally                                                                       5.12
4 James Hanus                                                                         11.38
One lap down
5 Ryan Standish                                                                     1.21.40
DNF Matthew Keays                                                                          
DNS Brendan Jones                                                                          
 
Rec Open
 
1 Kahl Ryan                                                                         1.05.50
2 Chad Thiel                                                                           2.13
3 Tom Portas                                                                           6.54
4 Katie Webster                                                                       28.52
DNF Stuart Heseltine                                                                       
DNS Bryce Dolman                                                                           
DNS Janek Mucha