MTB index page for all MTB content
Race under the Sun - 1
Yermasogia, Cyprus, March 11, 2007
Results
Kulhavy takes suprising win; Spitz starts season with solid win
The women's podium
Photo ©: Mike Hadjioannou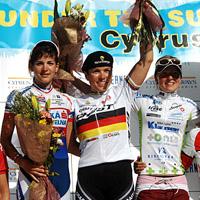 Jaroslav Kulhavy took a surprising win in men's competition of the Race Under the Sun in Yermasogia, Cyprus. In an exciting race, the Czech rider beat Italian riders Yader Zoli and Toni Longo. On the women's side, Sabine Spitz (Ger) staged a successful season-opening race. Spitz beat Tereza Hurikova (Cze) and Elisabeth Osl (Aut) during a hot day of racing.
In the men's race, favorite Fredrik Kessiakoff (Swe) crashed on the first lap. He then abandoned, leaving a group of four men to set the pace. One of them, Roel Paulissen (Bel) fell back in the fifth lap.
Kulhavy spent most of the time in the last position of the lead group until the final lap. Then the 2003 Junior World Champion attacked. He got a small gap ahead of Zoli and Longo and eventually celebrated his victory with a margin of six seconds. He finished in 1:52:44. The 22-year-old rider showed that he has finally arived amongst the elite after several years in the senior ranks.
Last year's winner Karl Platt (Ger) suffered an early flat tire and abandoned the race, while his compatriot Stefan Sahm (Ger) outsprinted Paulissen at the finish for fifth place behind Johann Pallhuber (Ita).
The women faced temperatures of 25 degrees, an advantage for Sabine Spitz, who likes racing in the heat. After some troubles for the women's peloton, which went the wrong way during the start loop, Spitz lead the field onto the demanding course. In her first race this season, she was left Tereza Hurikova behind on the second of four laps. Spitz took a commanding solo win, finishing 1:30 minutes ahead of her young Czech challenger.
Spitz was happy with her race. "It was better than I thought (it would be) before the race. On this course, it was good to have a full suspension bike."
Over six minutes back, 21-year-old Elisabeth Osl finished third after going faster than 38-year-old Swiss racer Petra Henzi, who took fourth.
In the shorter U23 men's race, Norwegian Anders Hovdene won.
Photography
For a thumbnail gallery of these images, click here
Images by Mike Hadjioannou/www.bikincyprus.com


Elite Men

1 Jaroslav Kulhavy (Cze)                                 1.52.44
2 Yader Zoli (Ita) Italian National Team                    0.08
3 Tony Longo (Ita) Italian National Team                    0.11
4 Johann Pallhuber (Ita) Italian National Team              1.11
5 Stephan Sahm (Ger) Germany National Team/Team Bulls       2.06
6 Roel Paulissen (Bel)                                      2.09
7 Filip Eberl (Cze) SCANIA-APACHE-TEAM KOLIN                4.10
8 Andreas Kugler (Swi) Fischer BMC                          5.25
9 Maxim Gogolev (Rus) Russian National Team                 5.40
10 Martino Fruet (Ita) Italian National Team                5.54
11 Christof Bischof (Swi) Bikin'cyprus Int'l MTB team       6.28
12 Michael Weiss (Aut) Bikin'cyprus Int'l MTB team          7.51
13 Vaclav Hlavac (Cze) Scania-Apache-team Kolin             7.57
14 Swedish Magnus (Swe)                                    10.02
15 Ond?ej Zelený (Cze) SCANIA-APACHE-TEAM KOLIN            14.21
16 Truls Haugseth (Nor)                                    15.01
17 Kristian Torgersen (Nor)                                15.36
18 Andras Melts (Hun)                                      17.30
19 Evgeny Petchenine (Rus) Russian National Team           19.04
20 Sergey Nikolaev (Rus) Russian National Team             19.13
21 Nilsson Mattias (Swe)                                   19.46
One Lap Down
22 Ekstam Oscar (Swe)                                           
Two Laps Down
23 Victor Trokhin (Rus) Russian National Team                   
24 Petros Tyrologos (Gre) Hellenic National Team                
25 Alexey Kolodin (Rus) Russian National Team                   
Three Laps Down
26 Alexey Belokrylov (Rus) Russian National Team                
27 Per Kumlin (Swe) Spårvägen CF                                
28 Vladislavs Neroznaks (Lat)                                   
DNF Christian Schart (Ger) Team Guttenberger/RF Hilpoltstein    
DNF Francesco Panza (Ita)                                       
DNF Tobias Ullmann (Ger) Haibike/RF Hilpoltstein                
DNF Robert Michaelis (Ger) Stevens Mountain Bike team           
DNF Mikael Salomonsson (Swe) Spårvägen CF                       
DNF Hakon Austad (Nor)                                          
DNF Marco Aurelio Fontana (Ita) Italian National Team           
DNF Karl Platt (Ger) Germany National Team/Team Bulls           
DNF Fredrik Kessiakoff (Swe) Cannondale-Vredestein              
DNF Mirko Pirazzoli (Ita) Italian National Team                 
DNS Christian Fagerli Ole (Nor)                                 
DNS Petros Petrakis (Cyp)                                       
 
Elite Women

1 Sabine Spitz (Ger)                                     1.27.20
2 Tereza Hurikova (Cze)                                     1.11
3 Elisabeth Osl (Aut)                                       6.32
4 Henzi Petra (Swi) Fischer-BMC                             7.50
5 Franziska Roethlin (Swi) X.O Felt-Team                    7.57
6 Evelyn Staffler (Ita) Italian National Team               9.54
7 Rocio Gamonal Ferrera (Spa) Spain                        11.05
8 Amy Hunt (GBr) Great Britain Cycling Team                11.32
9 Elina Sophokleous (Cyp) Bikin'cyprus Int'l MTB team      14.46
10 Ksenia Chernykh (Rus) Russian National Team             16.53
11 Oxana Rybakova (Rus) Russian National Team              21.55
12 Ivanda Eiduka (Lat)                                     26.53
13 Evgenia Belozerova (Rus) Russian National Team          27.41
One lap down
14 Elena Gogoleva (Rus) Russian National Team                   
15 Yelena Petrova (Lat)                                         
DNF Maria Osl (Aut)                                             
DNF Eva Lechner (Ita) Italian National Team                     
DNS Ruth Moll Marques (Spa) Spain      

U23 Men

1 Anders Hovdene (Nor)