MTB index page for all MTB content
MTB World Cup Marathon #1 - CDM
Maspalomas, Gran Canaria, Spain, March 16-17, 2007
Main Page Results Overall standings Previous Race Next Race
Race 2 - March 17: Elite Men Marathon, 90km
Páez claims victory in Gran Canaria
Leonardo Paez (Col) crosses the finish line
Photo ©: MTB World Cup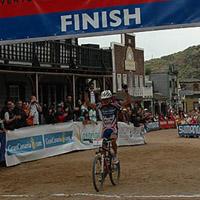 Colombian Leonardo Páez won after completing the demanding 91-km route in a time of 3:27:24. The French Thomas Dietsch and the Austrian Alban Lakata completed the podium placings with second and third.
Páez was the favorite going into the race. He worked hard to stay away from Dietsch, who kept pace with him practically during the entire route until he broke free on the last climb at La Ventocilla. "The route has been very hard in the hills and in the descents," explained Leonardo Páez when he finished the race.
"The objective is the overall title, and this victory allows me to dream about that possibility," continued Páez, already looking ahead to the rest of the World Cup series.
The presence of Italian Gilberto Simoni was one of the many interesting highlights of this event. The Italian biker though, could only manage sixth place, with eight minutes down on the winner, a position which he considered "good."
"My preferences are for road cycling," said Simoni on the finish line. "The mountain bike is only a discipline which attracts me and permits me to prepare myself." He called the race course demanding due to its hardness and the land's characteristics.
The Elite Men's field passes through Sioux City.
Photo ©: MTB World Cup

Italian Marzio Deho suffered four punctures during the race. Although he led the race in at different stages, the many punctures dropped him down to fourth place.
"He was very strong, but the blowouts impeded him in his fight for the victory," said Páez about Deho's misfortunes.
Some were surprised to see Abraham Olano at the start line. He raced in the 90km amateur event held at the same time as the World Cup. The former world road champion and winner of the Tour of Spain, captured the attention of cameras and the hearts of fans. The Basque racer completed the route in a time of 3:52:27.
"It was very hard, but as well as the wonderful experience, I never thought it would be so demanding," said Olano after the race.
Photography
For a thumbnail gallery of these images, click here
Images by MTB World Cup Gran Canaria
Results
1 Leonardo Paez (Col)                                            3.27.24
2 Thomas Dietsch (Fra)                                              1.01
3 Alban Lakata (Aut)                                                3.25
4 Marzio Deho (Ita)                                                 3.37
5 Massimo De Bertolis (Ita)                                         4.46
6 Gilberto Simoni (Ita)                                             8.35
7 Roman Peter (Swi)                                                 9.10
8 Ivan Rybarik (Cze)                                                9.57
9 Frank Schotman (Ned)                                             10.14
10 Oriol Morata (Spa)                                              11.04
11 Nicolas Vermeulen (Bel)                                         11.30
12 Stefan Sahm (Ger)                                               11.52
13 Max Friedrich (Ger)                                             12.48
14 Mike Felderer (Ita)                                             13.09
15 Peter Ven (Bel)                                                 14.17
16 Andreas Strobel (Ger) Be One Mountainbike Team                  14.30
17 Björn Rondelez (Bel)                                            15.28
18 Allan Carlsen (Den)                                             15.37
19 Johannes Pallhuber (Ita)                                        15.55
20 Paolo Alberati (Ita)                                            16.10
21 James Ouchterlony (GBr)                                         16.18
22 Daniel Gathof (Ger) Flat Rotwild                                16.21
23 Karl Platt (Ger)                                                16.43
24 Urs Huber (Swi)                                                 16.58
25 Caro Silva (Col)                                                17.19
26 Alex Moos (Swi)                                                 17.50
27 Ismael Ventura Sánchez (Spa)                                    17.52
28 Olivier Maignan (Fra)                                           17.54
29 Martin Horak (Cze) Cube-Rothaus                                 19.01
30 Balz Weber (Swi)                                                19.26
31 Eero Jäppinen (Fin)                                             19.34
32 Mauro Bettin (Ita)                                              20.31
33 Flurin Riedi (Swi)                                              21.09
34 Dario Steinacher (Ita)                                          21.59
35 Thomas Spichtig (Swi)                                           22.20
36 Lukas Buchli (Swi)                                              22.34
37 Ola Kjøren (Nor)                                                23.05
38 Janes Silvano (Ita)                                             24.10
39 Daniele Zucconi (Swi) Spkl Rye                                  24.27
40 Ramses Bekkenk (Ned)                                            25.09
41 Tobias Witzack (Ger)                                            25.29
42 Ja Ruíz De Larrinaga Ibañez (Spa) Best Bike Parts / Chemobau    26.07
43 Lukas Kubis (Ger)                                               26.16
44 Thomas Degoulet (Fra)                                           26.33
45 Pavel Martinek (Cze)                                            26.54
46 Alexander Pscheidl (Ger)                                        27.10
47 Christian Schneidawind (Ger)                                    28.28
48 David Lozano Riba (Spa)                                         29.10
49 Piero Pellegrini (Ita)                                          30.23
50 Steffen Thum (Ger)                                              30.31
51 Olivier Lamarque (Fra)                                          30.35
52 Peter Buggle (Irl)                                              30.53
53 Lucien Peterhans (Swi)                                          32.26
54 Michael Loits (Bel)                                             32.43
55 Lars Ragne Manengen (Nor)                                       32.57
56 Bartosz Janowski (Pol)                                          33.13
57 Ignacio Moron González (Spa)                                    33.50
58 Stefan Schaufuss (Ger)                                          34.08
59 Eric Weber (Fra)                                                34.47
60 João Marinho (Por)                                              34.56
61 Alexander Wetterhall (Swe)                                      34.58
62 Johnni Nielsen (Den)                                            35.03
63 Thomas Stoll (Swi)                                              35.04
64 Bartosz Van Hecke (Bel) Tri Source Racing Team                  35.23
65 Marco Hinrichs (Swi)                                            35.29
66 Samuel Faruhn (Ger)                                             36.52
67 Tim Ottens (Ned)                                                37.08
68 Yannick Bernasconi (Swi)                                        37.56
69 Ruben Álvarez Cedillo (Spa)                                     38.53
70 Julián Adrada (Spa)                                             40.58
71 Jorge Rodríguez García (Spa)                                    41.17
72 Wolfgang Mayer (Ger)                                            41.49
73 Pierre-Yves Facomprez (Fra)                                     41.50
74 Arnstein Nagell (Nor)                                           42.24
75 Adam Ferrari (Swi)                                              43.00
76 Marius Thorstad (Nor)                                           43.15
77 Mats Larsen (Nor)                                               43.57
78 Rick Evers (Ned)                                                44.45
79 Grah Branko (Aut)                                               45.02
80 Hilan Spolc (Cze)                                               45.16
81 Xavier Nadal Soy (Spa)                                          45.52
82 Jo T. Nordskar (Nor)                                            46.50
83 Michael Jordan (Aus)                                            46.53
84 Mikko Siltanen (Fin)                                            47.41
85 Nefatlí Jiménez Rodríguez (Spa)                                 49.34
86 Raúl Castillo Castillo (Spa)                                    50.25
87 José Antonio Garrido Lima (Spa)                                 50.41
88 David Voll (Ger)                                                51.24
89 José González Gómez                                             51.36
90 Thibaut Legastelois (Fra)                                       51.52
91 John Karlsson                                                   52.23
92 Alejandro Gonzalez Quintana (Spa)                                    
93 Pablo Diago González (Spa)                                      52.24
94 Javi Jiménez Pulido (Spa)                                       52.29
95 Ricardo Figueiredo (Por)                                        53.18
96 Fred Van Zetten (Ned)                                           53.32
97 Javier Domínguez (Spa)                                          53.53
98 Matteo Mucci (Ita)                                              54.41
99 Simon Scheible (Ger)                                            54.45
100 Dominick Trenodden Hegarty Xc Elite                             7.01
101 Yann Rivard (Fra)                                              55.01
102 Jörg Scherle (Ger)                                             55.32
103 Unknown                                                             
104 Jonay Herrera Diaz                                             59.21
105 Jonay Gil Menéndez (Spa)                                       59.35
106 Abel Sánchez Fernández (Spa)                                   59.36
107 Johan Neevel (Ned) Ibc Dimb/ Trisource Racing Team           1.00.39
108 Emiel Kunkeler (Ned)                                         1.00.40
109 Javier Prieto Polvillo (Spa)                                 1.00.47
110 Vanni Balboni (Ita)                                          1.01.17
111 Anthony Mann (Ger)                                           1.01.43
112 Isaac Reina Castillo (Spa)                                   1.01.57
113 Youssef Mansour (GBr)                                        1.03.14
114 José María León Manzano (Spa)                                1.03.59
115 Manuel Martín Jiménez (Spa)                                  1.04.05
116 José Miguel Martín Aparicio (Spa)                            1.04.17
117 Tom Larsen                                                   1.04.53
118 Alf Roger Holme (Nor)                                               
119 Almar Mager (Ned)                                            1.04.54
120 Nathan Deibert (USA)                                         1.06.21
121 Javier Heras Salichs (Spa)                                   1.06.40
122 Xavie Garzón Triado (Spa)                                    1.07.38
123 Juan Pedro González Álvarez (Spa)                            1.07.49
124 Pedro Martín Saiz (Spa)                                      1.08.30
125 Javier Herrera Álvarez (Spa)                                 1.10.57
126 Migu Betancourt Hernández (Spa)                              1.11.12
127 Daniel Eriksson                                              1.11.55
128 Juan Je De La Cruz Quintero (Spa)                            1.12.04
129 Joaquin D Martín Hernández (Spa)                             1.12.13
130 Luke John Manning                                              26.36
131 Enrico Bucefalo (Ita)                                        1.14.34
132 Manuel Cantos Sánchez (Spa)                                         
133 Carmelo Ruíz Rodríguez                                              
134 Albert Turné (And)                                           1.14.58
135 Alejand Castrillo Hernández (Spa)                            1.15.33
136 Marcos Klein Goldewijk (Ned)                                 1.15.47
137 Cesar Colomer Gargallo (Spa)                                 1.17.17
138 Jose Luis Nespereira Gomez (Spa)                             1.17.41
139 Jose Galguera Candás (Spa) Tandembike                        1.17.59
140 Edwin Jose Quzada Guaraca                                    1.18.16
141 Henk Van Vuure (Ned)                                         1.18.36
142 Andres González González                                       34.02
143 Jean-Christophe Guinchard (Swi)                              1.23.37
144 Bernd Kohlhaas (Ger)                                         1.24.12
145 Eduardo Placeres Reyes (Spa)                                 1.26.45
146 Dave O' Shea                                                 1.26.46
147 Daniel Mayato Mesejo (Spa)                                   1.27.33
148 Cor Van Wijngaarden (Ned)                                    1.30.14
149 Edmundo Esplugas Ramos (Spa)                                 1.30.39
150 José Silva (Por) L`Arcobaleno Carraro Team                   1.33.25
151 Jose Anto Rodríguez Sánchez (Spa)                            1.34.35
152 Francisco Nicol Armas Moreno (Spa)                           1.35.10
153 Angelo Marinelli (Ita)                                       1.36.36
154 Lorenzo Pla Martín                                           1.36.52
155 Antonio Fabi (Ita)                                           1.37.27
156 Jose Luis Castellano Viera (Spa)                             1.38.02
157 Néstor Rodríguez Díaz (Spa)                                  1.38.21
158 Joan Delgado Chaubell (And)                                  1.41.01
159 Leslie Walpole (GBr)                                         1.43.43
160 Antonio Ramos Ramos (Spa)                                    1.44.01
161 Jesus Conesa Martínez Team Stöckli - Craft                   1.44.29
162 José Quintana Pérez (Spa)                                    1.46.17
163 Carlos Morante Jares (Spa)                                   1.46.18
164 Manuel Jesus Zapata Cano (Spa)                               1.46.49
165 Jaime Alexi González Cabrera (Spa)                           1.46.57
166 Claudio Quintana Madeheim (Spa)                              1.50.19
167 Fernando Neto Team Texpa - Simplon                           1.52.33
168 Jesús Aguilera (Spa)                                         1.52.36
169 Aldo Baggioli (Ita)                                          1.53.26
170 Sergio Méndez Caamaño (Spa)                                  1.53.35
171 Esteban Santiago Quintana (Spa)                              1.56.30
172 Juan Francisco Gil Jiménez (Spa)                             1.56.37
173 Umberto Cornella (Ita)                                       1.56.39
174 Victor Manue García (Spa)                                    1.57.22
175 Juan Salas Marichal (Spa)                                    2.00.21
176 Sergio Tapia Vicien (Spa)                                    2.00.36
177 Antonio Curbelo Bermúdez (Spa)                               2.04.41
178 Orlando Déniz Déniz (Esp)                                    2.04.44
179 Rob González Romero (Spa)                                           
180 Rudolf Noppe (Fra) Bike Natura                               2.05.51
181 David Steele (GBr)                                           2.16.45
182 Ruud Te Woerd (Ned)                                          2.17.44
183 Alberto Rodríguez Castro (Spa)                               1.31.31
184 Vice Colomer Romero (Spa)                                    2.22.35
185 Romá Pérez Quintana (Spa)                                    1.34.49
186 Denz Holtman (Spa)                                           2.23.02
187 Nauzet Ascanio Ramírez (Spa)                                 2.24.50
188 Jesús Sánchez Armas (Spa)                                    1.41.23
189 Carlos Rodríguez Correa (Spa)                                2.33.22
190 Valentin Navarro Batista (Spa)                               2.33.23
191 Carlos Báez Santos (Spa)                                            
192 Manuel Lopez Medina                                          2.36.58
193 Anton Padrón Suárez (Spa)                                    2.37.08
194 Paul Knippenborg (Ned)                                       2.37.35
195 Víctor Hugo Betancor Acosta (Spa)                            2.37.46
196 Luciano Godoy Peña (Spa)                                     2.39.44
197 Giuseppe Bagliani (Ita)                                      2.45.50
198 Raúl Araña Martín                                            2.47.26
199 Daniel Martín Carrillo (Spa)                                 2.49.18
200 Daniel Esp Rivas Díaz                                        2.49.19
201 Rubén Mayor González                                         2.49.48
202 Ángel Rivero Suárez (Spa)                                    2.05.51
203 Alf Roger Holme (Nor)                                        2.55.23
204 Francisc Olivares Abengozar (Spa)                            2.24.03
205 Antonio Ibáñez Ruiz (Spa)                                    2.46.34
206 Francisco Manuel Cano Osuna (Spa)                            3.34.37